MLB DFS Lineup (8/17/2020)
Big day today with NBA playoffs but that doesn't mean we can ignore MLB!
For today, we will be using the reverse Coors effect to our advantage. What does that mean? Read my article from August 3. Here is the link.
sportsmanac.com/mlb-dfs-lineup-8-03-2020
Texas just left Colorado where they had mild success. Typically teams who leave Colorado tend to struggle based on my analysis in the link above. The Rangers new stadium has been enclosed with the oppressive Texas summer heat outside. This has now made the Rangers new venue a pitcher's park so fire up Zack Davies in all of your lineups. He will be awesome value just as the Padres pitchers were this past weekend (who played Arizona ... the most recent victim of the reverse Coors effect).
For offense, I love LA! No, not the Randy Newman song even though it is catchy. Both the Angels and Dodgers have high implied run totals based on the Vegas lines and you might as well grab both of the top batters for each team: Mike Trout and Mookie Betts. Both are legit MVP contenders and should shine tonight. Throw in some of the bats who bat behind and head of them. The correlation is very strong based on the analysis you can get at Advanced Sports Analytics (ASA). The link for ASA is shown below and is well worth the monthly membership. Sample correlation tables for both the Angels and Dodgers are also displayed below which you can easily view at ASA.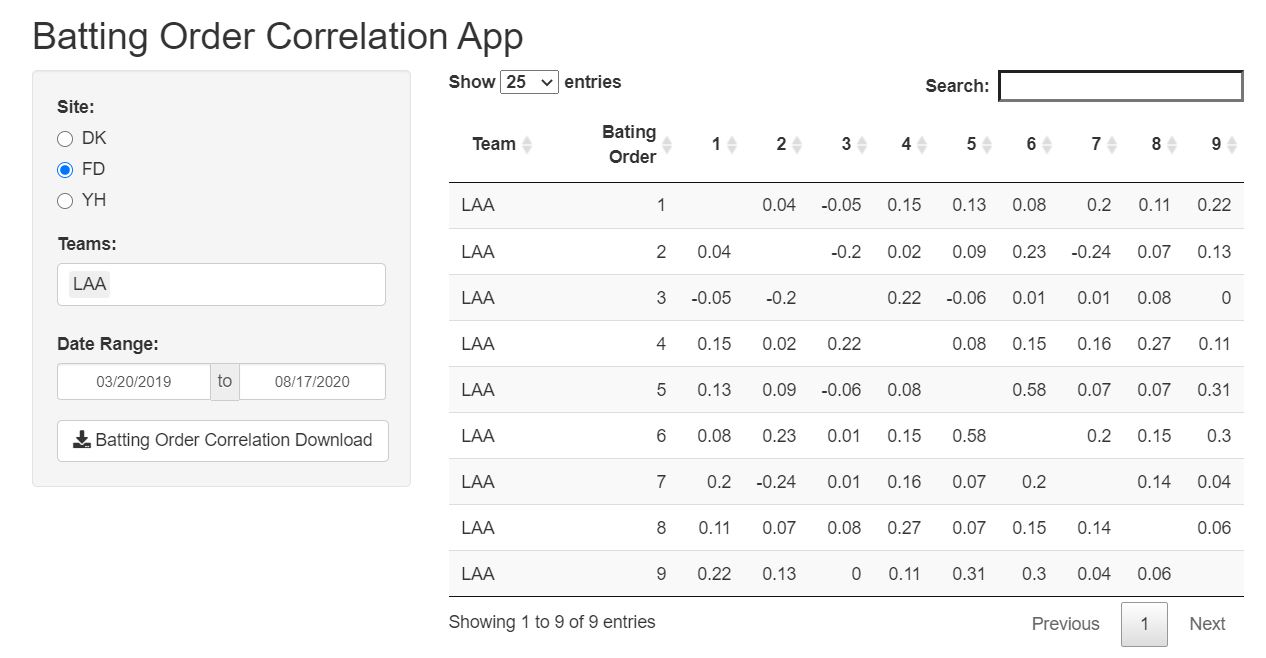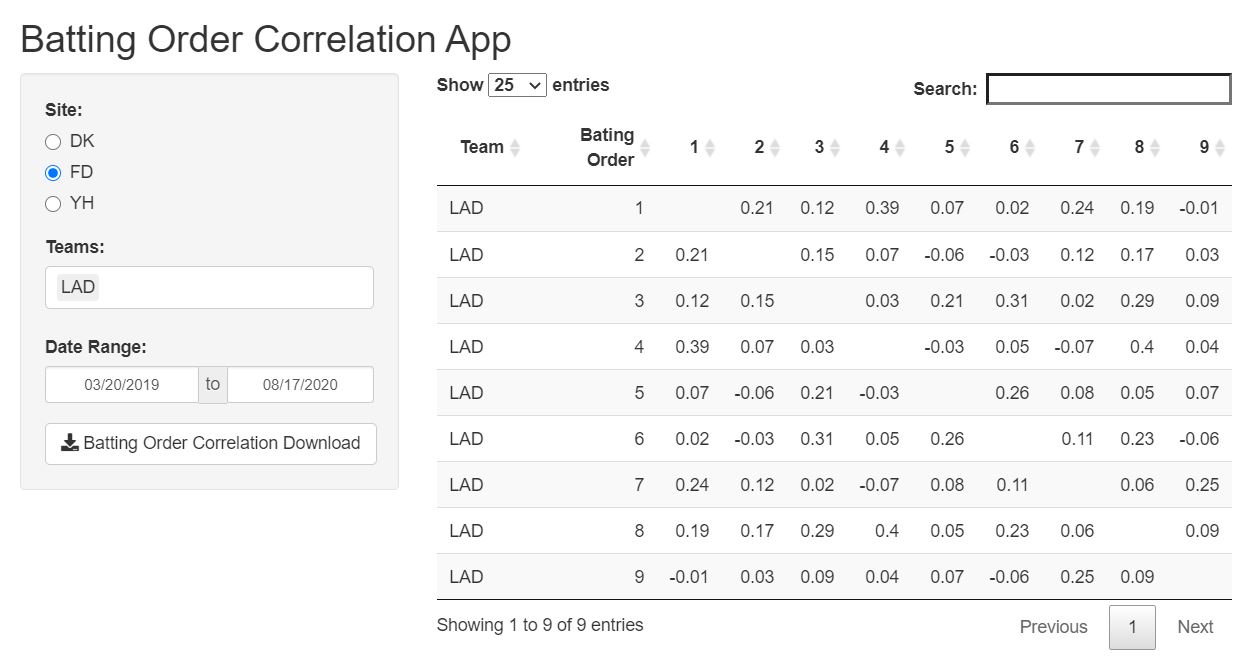 With the 1-2-3 hitters in place for both stacks, you can finish off your FanDuel lineup by going with Joc Pederson who owns right-handed pitching and Tommy La Stella who will be batting 8th which makes for a nice wrap-around stack when the 1-2-3 hitters come up to the plate. By the way, both San Francisco and Seattle have atrocious bullpens with each of them ranking near the bottom of the league. Also, if you are firm believer in FIP, both Tyler Anderson and Justin Dunn are due for major regression given that their FIP values are 2 - 3 runs higher than their ERA. Expect the Angels and Dodgers to tee off on these starting pitchers, especially in this unusual heat wave for California.
Sample DraftKings and FanDuel lineups are shown below.


If this cashes, maybe I will blast Randy Newman later tonight! Good luck everybody!