NBA DFS Lineup (8/19/2020)
Last night for NBA was a weird one. Some coaches didn't give certain players enough minutes (Erik Spoelstra ... I am talking about you!) and some outcomes were strange such as Orlando beating Milwaukee by 12 when Orlando was a 12 point dog. Also, what can you do when a player has an off shooting night. We just dust oursevles off and try again.
I just ran my analysis and I feel we have a better idea of how the minutes and usage will play out. After all, the teams playing today saw each other 2 days ago so if we go with roughly the same minutes and usage and input those values into the model I built, we should get reliable outputs. Of course an adjustment needs to be made for Gordon Heyward's injury and potentially Kristaps Porzingis if he does not play. Also, the Utah - Denver game went into OT so a minutes adjustment was made there as well.
The model loves Luka Doncic. He may not have been the top scorer but was a beast. For center, don't go cheap. Grab Embiid. When I had the model generate the top 10 lineups, Embiid showed up 8 times while Jokic just twice. Of course how do we not roster Donovan Mitchell? Our lineup two days ago did not have him and we still cashed but we could have made so much more money if we had him in there. He is a must start today given that Mike Conley must quarantine for 4 days until he can play again. Jayson Tatum is another stud we will play today. He is one of the biggest beneficiaries when Heyward is off the court. He gets a nice boost in usage and should see a high number of minutes.
With Doncic, Mitchell, Tatum, and Embiid on board, we will need some savings in FanDuel but that should be possible with plenty of players in the $4500 - $5000 range.. For DraftKings, it will be hard to get all four so you will need to pick your spots. Maybe go with Mitchell and Tatum so that way you don't have to make too big of a sacrifice for the rest of your lineup.
Here are some sample lineups for both DraftKings and FanDuel.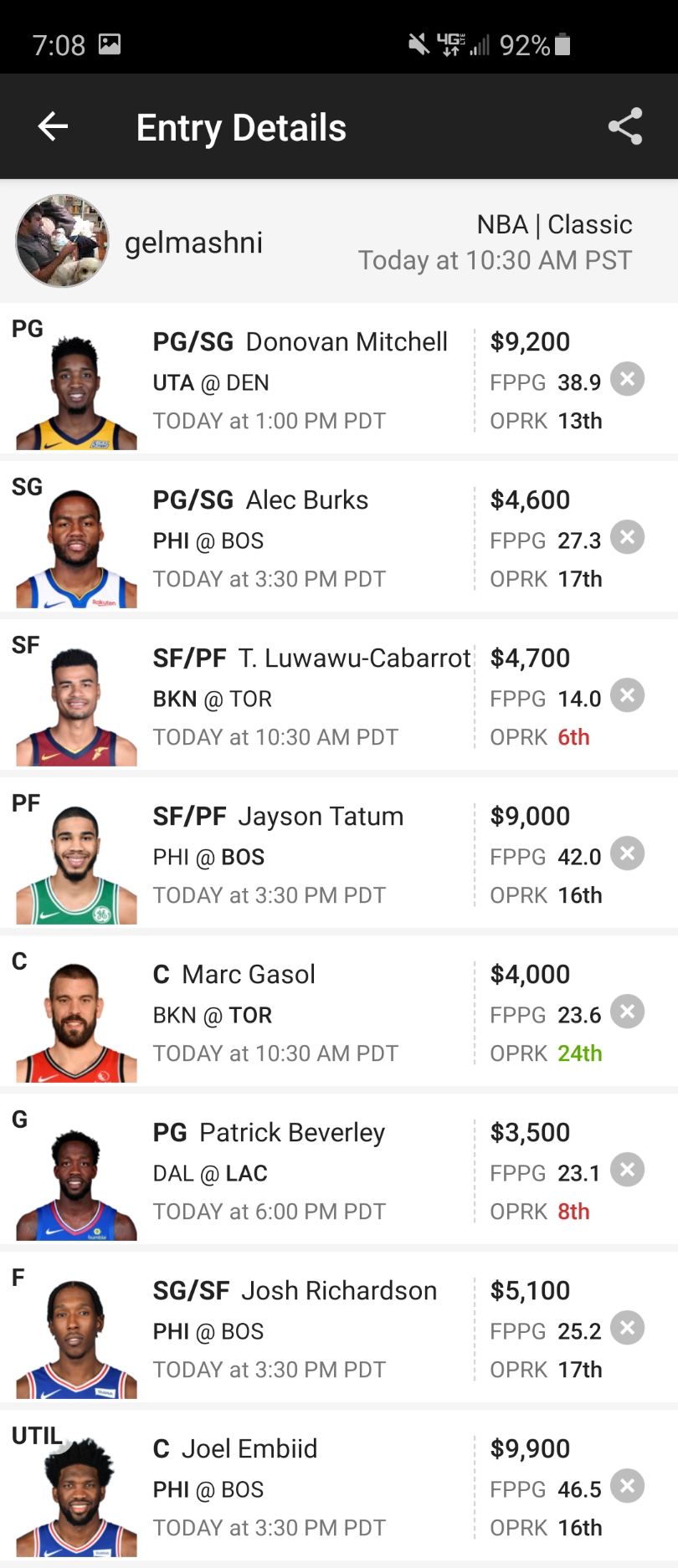 Good luck and we will do better today!