MLB DFS Lineup (8/03/2020)
You might be wondering why I have Ben Stein as the image for this article. If you are a child of the 80s or have at least been influenced by someone who loves 80s movies, you would know that the photo is from one of the greatest movies of all-time: Ferris Bueller's Day Off. Ben Stein repeatedly calling out Bueller's name only to discover that our most loveable truant is not in the classroom (instead enjoying a glorious day in downtown Chicago unbeknownst to most people at the school who think Bueller is dying) is perhaps one of the most iconic and heavily quoted movie scenes of the 80s.
If you haven't figured it out by now, Walker Buehler (different spelling but same pronunciation) is my pitcher for tonight and I am not going to 2nd guess my decision here. Why? Have you heard of the reverse Coors effect?
We all know that teams that travel to Colorado experience a bonanza of runs (either to their benefit or peril) mainly due to the ball getting more distance in the thin air. What some people don't quite realize is that pitchers are not able to get much movement on their fastballs in at Coors Field. That means that batters have the luxury of sitting on pitches for an extra split second before deciding what to do. Once visting teams leave the Rocky Mountains and play their next game at sea level, the pitches these batters face will have significantly more movement than what they have been accustomed to for the previous 3 - 4 games. That right there my friends is an optimal betting opportunity which happens about 25 times during a normal baseball season. There is a great website dedicated to this phenomenon called baseballvmi.com. I highly recommend you use their data when making your DFS lineup decisions. I am more than happy to walk through their site and how you can use their data to get an edge on the competition.
For today, we have the Padres as this latest victim. Walker Buehler is a K master and gets to face the Padres at Petco Park, arguably the best pitcher's park in MLB. Yes, Buehler is expensive but will be low owned given that Gerrit Cole and Jacob DeGrom are also pitching tonight. You clearly cannot go wrong with Cole or DeGrom but if you can save money with Buehler and perhaps get 15 - 20 more FD points or 5 - 10 more DK points, you should do it. That can make the difference between losing money and hitting the cash line or barely finishing in the money and winning the GPP tournament. The table below displays teams who experienced the reverse Coors effect and you will notice that most of the opposing pitchers were able to earn at least 6 innings pitchers, give up 2 or fewer runs, average at leat 1 K per inning, and get the W along with a quality start.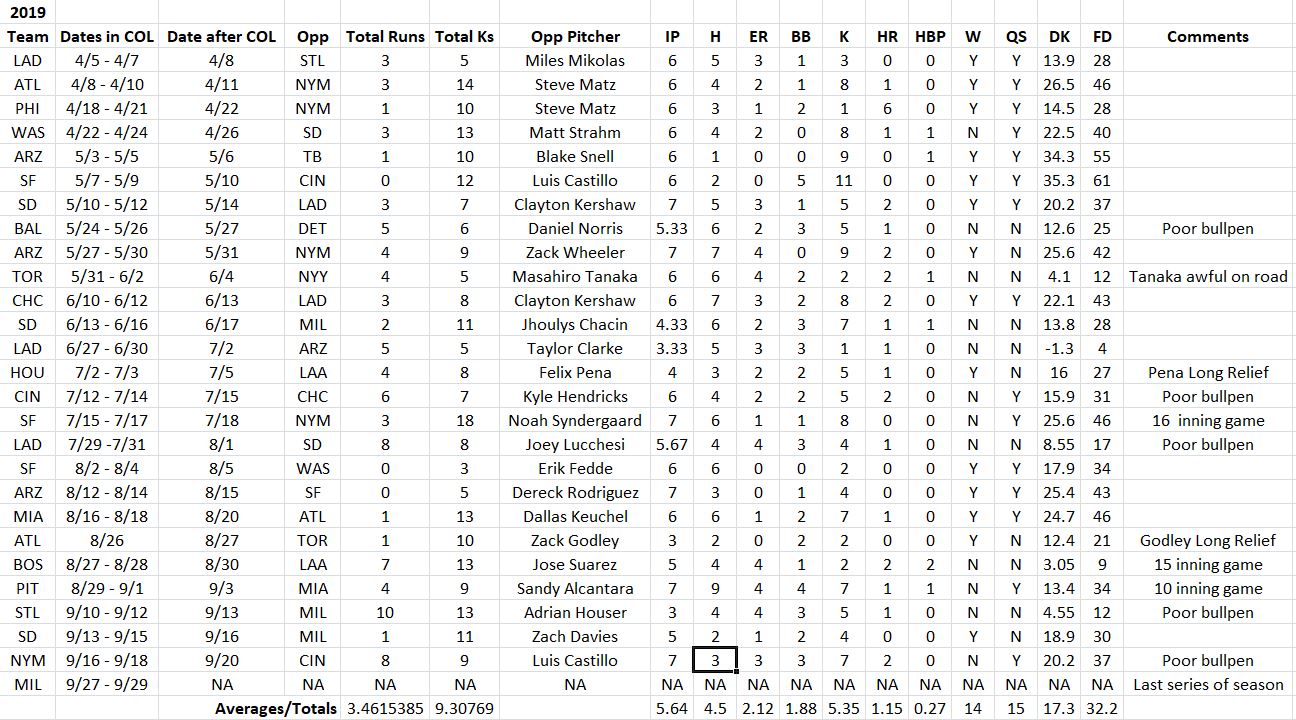 Now that we are settled at pitcher, what about our bats? Well there is a game at Coors Field and the visiting team has been hitting the ball well lately. The SF Giants might get high ownership but deservedly so. Rockies starting pitcher Chi Chi Gonzalez is a gas can who has struggled to keep the ball in the park when pitching at home. He especially has troule against lefties and the #5 hitter. Without question you will want Mike Yastrzemski. I would also throw in Alex Dickerson and Evan Longoria and then make a decision between Brandon Belt or Brandon Crawford in FD. For DK, you can do all 5 but they are very expensive meaning that you are doing a super cheap #2 pitcher with the remaining 3 batters being total scrubs. Still, I would go this route in FanDuel along with Buehler.
For the other stack, I like the Twins. Don't be fooled by Derek Holland. The Twins are very capable of knocking him around. Focus on righties. I love Miguel Sano who probably has found his groove again after a 2 HR day this past Saturday. Nelson Cruz is another favorite along with Mitch Garver who will be leading off. That makes for a very nice 1, 3, 4, stack. In fact the #1 hitter for Minnesota has a decent correlation with the #3 and #4 hitter. Check out the image below from www.advancedsportsanalytics.com (ASA).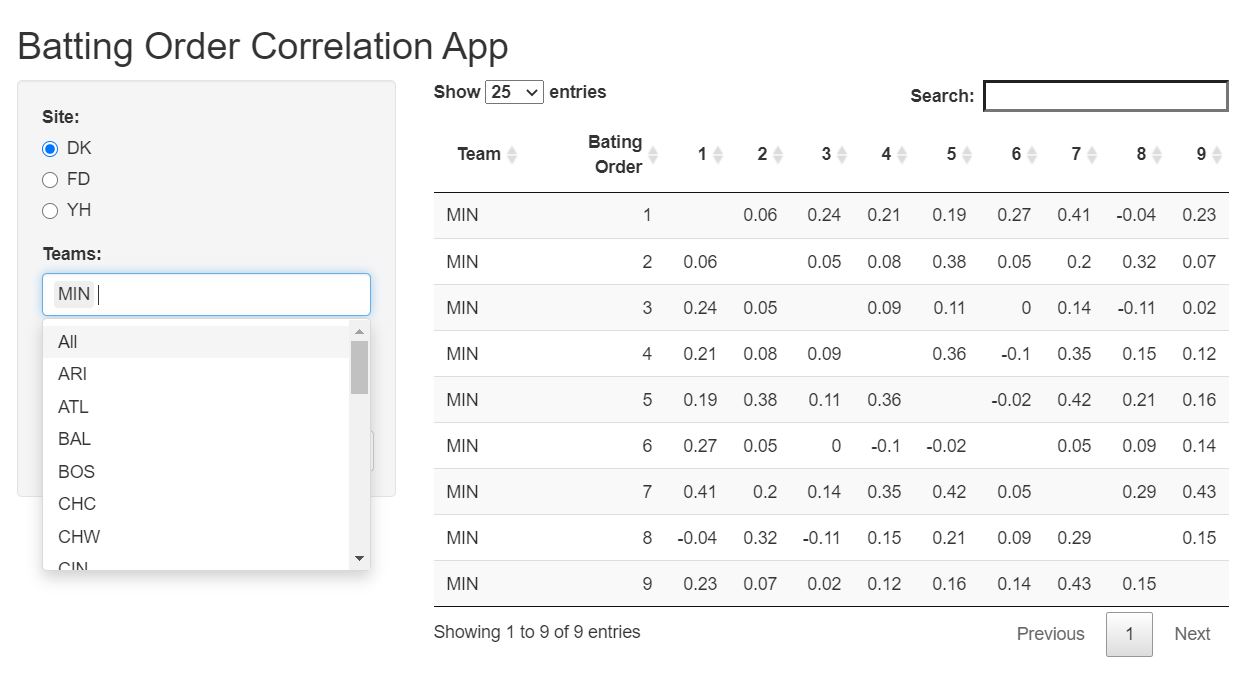 A Cubs, A's, or Brewers stack is also a viable path given that they can all hit and face weak pitchers. Whatever you do, make sure you get Buehler in there and try to squeeze in some Giants bats. There could be some savings with the other teams I have mentioned.
Here are my sample lineups for DraftKings and FanDuel.


Good luck and Danke Schoen!