NBA DFS Lineup (8/17/2020)
No more meaningless NBA games. We now get the real thing with the NBA playoffs so now is the time to make some real money!
The predictive model I built last year paid off big time in March and for a good chunk of the postseason as we had plenty of in-season data at our disposal. The same could be applied to this year's NBA playoffs even with the restart. We have a clear picture of what the minutes played and usage percentages should be for all NBA players participating in the NBA postseason bubble in Orlando.
For today, Luka Doncic is your must start player. He is the highest priced player for a reason. Even against a good defense like the LA Clippers, Doncic should score 30+ points along with double digits in assists and rebounds. Win or lose for Dallas, Doncic still gets his monster stats and the model believes so as well.
Two other studs you can add to Doncic in FanDuel are Kawhi Leonard and Joel Embiid. They are moderately priced and have the capability of blowing up, especially on a big stage. Both are well rested and ready to carry their teams deep in the playoffs.
We will need some value. Jordan Clarkson is my favorite sleeper today. No Mike Conley means more playing time for Clarkson. Just take a look at what Clarkson was able to do when Conley was off the court.
One site that can help you with your analysis is NBAWowy. Just enter the team and the player who is missing and you will get some awesome analysis and how each of the other players perform with the missing player off the court. Clarkson sees a huge boost in usage and also tends to be one of the top scorers when Mike Conley has been out. Here is the empirical evidence to back up this analysis.
August 7: 24 points, 2 rebounds, 4 assists (33.00 DKP and 29.4 FDP)
February 21: 15 points, 2 rebounds, 3 assists (25.50 DKP and 24.9 FDP)
February 12: 21 points, 4 rebounds, 3 assists (33.50 DKP and 31.3 FDP)
February 10: 25 points, 5 rebounds, 8 assists (46.25 DKP and 44.0 FDP)
January 30: 24 points, 2 rebounds, 4 assists (46.50 DKP and 42.4 FDP)
As for point guard, go with the best quality out there: Jamal Murray and Kyle Lowry. Both have had 50+ fantasy point nights on FanDuel during the NBA restart and each of them had strong games in last year's NBA postseason.
In addition to NBAWowy, I strongly recommend you check out Advanced Sports Analytics (ASA) for distribution charts, correlation tables, and projections. In fact, there is an app called Inactive Pivot that serves the same purpose as NBAWowy but goes a bit further by revealing the actual fantasy point boost when a certain player is off the court. Click on the link below.
www.advancedsportsanalytics.com
Keep in mind that in DraftKings it will be hard to roster Doncic, Leonard, Embiid, Clarkson, Murray, and Lowry but you can in FanDuel and still have enough salary for 3 more players with starter's minutes. However, you can still roster 4 of the 6 aforementioned players in DraftKings and find value in other places. Here are sample lineups for both sites.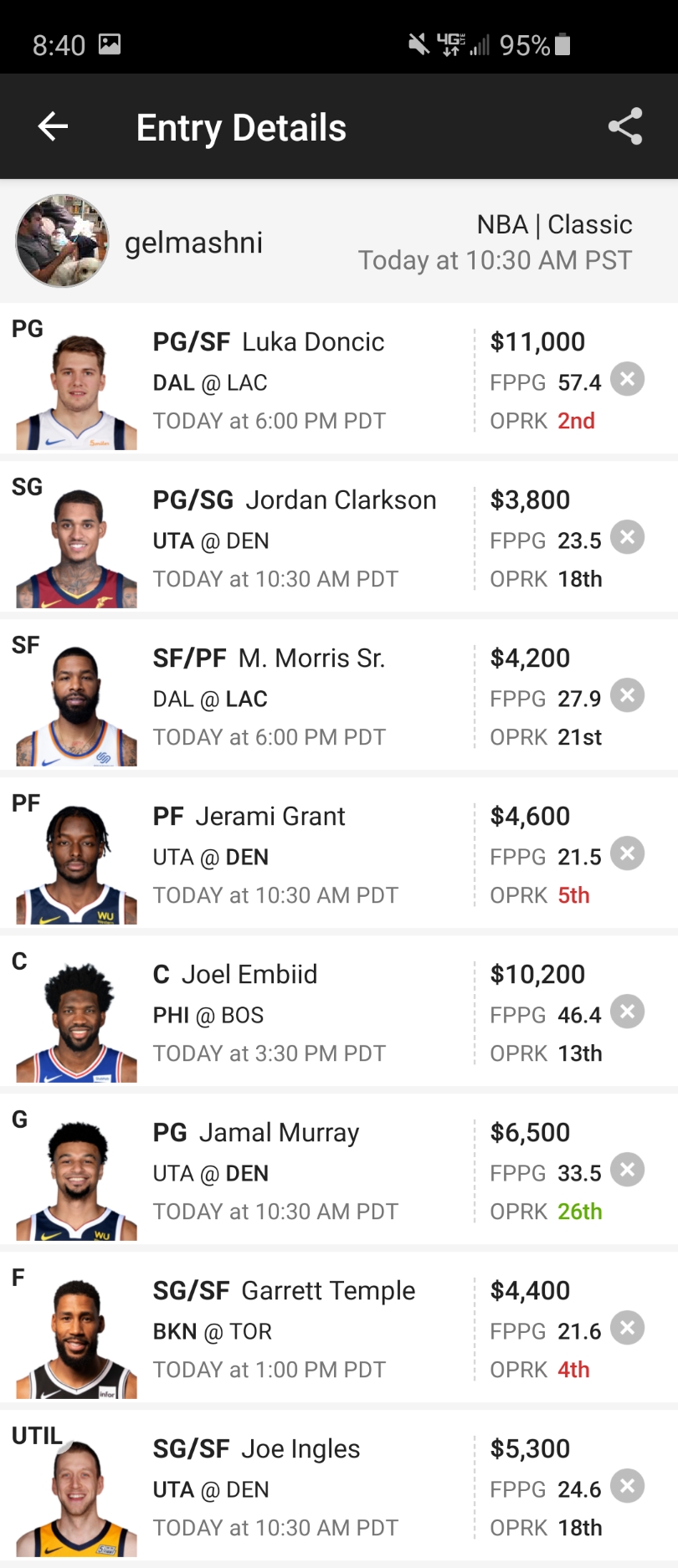 Good luck today and enjoy the games!