Here we are near the midpoint of the NFL season. The fall weather is taking hold and injuries are piling up. We also know which teams are contenders and pretenders. Now is the time to fully dive into all of the available in-season data to get some major leverage on the competition.
Check out the images below. I ran my NFL DFS QB analysis only using 2021 data and you can see that the best value play for DraftKings is Ryan Tannehill while for FanDuel it's Patrick Mahomes.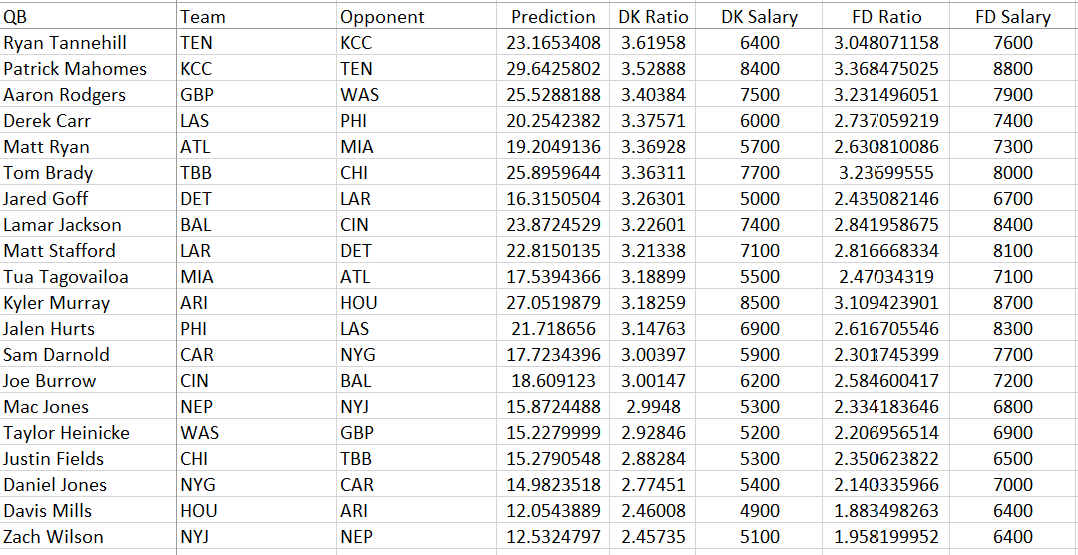 Now check this image. I will compare DVOA from Football Outsiders for each team's offense and the opposing defense. The differential is heavily in favor of both the KC and Tennessee offenses. The last time we saw differentials this high was Week 11 during the 2018 season on Monday Night Football. If you don't know which game I am talking about go to Pro Football Reference and then come back to this article.

Yes, that 54-51 barn burner between the Chiefs and Rams is the game I am talking about which is one of the greatest displays of offense in NFL history. While I don't think we will see the point total exceed 100 points between the Chiefs and Titans today, I would not be surprised if the point total finishes somewhere between 80 - 90 points. Here is why I feel that way.
What does KC do well? Pass the football good for a 4th in Pass Offense DVOA. Where does Tennessee struggle? Defending the pass which is 6th worst in Pass Defense DVOA.
What does Tennessee do well? Run the football ranking 4th in Rush Offense DVOA. Where does KC struggle? Defending the run which is 2nd worst in Rush Defense DVOA.
While there is no metric in the NFL for pace like we see in the NBA, you can look to # of offensive plays each team runs per game. Tennesse ranks 4th and KC ranks 7th in that category. For the last 3 weeks, KC ranks 1st.
The weather in Nashville is very conducive for offense. 80 degrees and sunny.
Don't overthink this one. Mahomes/Hill stack and run it back with Derrick Henry. That is hard to do given how expensive each of them are but you pay up for quality, especially when the matchup is very juicy. You could try to be contrarian by going with a Tannehill/Brown stack and run it back with Kelce which will surely save you some money. You can also get sneaky with Mecole Hardman but I wouldn't consider any other pieces unless you like to play slot machines and think you will win all the time.
There are ways you can save money to fit in your KC/TEN stack. Consider the Jets for defense. While I like Arizona in DraftKings, there is a good chance that the Jets and Cardinals defenses could earn the same points. The drop off won't be much. Forget about the Cardinals defense in FanDuel where you can save $1700 by going with the Jets.
For tight end, Dallas Goedert is your guy. He did very well last season when Zach Ertz was hurt from Weeks 7 - 12. Guess who is no longer with Philly? It's the Dallas show now in the City of Brotherly Love.
At RB, Devonta Freeman is great value. He is very experienced and he will be the primary ball carrier thanks to the never ending injuries in the Baltimore backfield. It is risky since Cincinnati has done a better job this season at defending the run but Freeman is also a skilled receiver. I love Freeman on DK with the full point per reception.
There are other ways you can save money at RB since you don't need to pay big money for big production. For example, Darrell Henderson, Josh Jacobs, and Chuba Hubbard all have soft matchups and are under $7K on DraftKings.
Here are some sample lineups for both DraftKings and FanDuel using the information I have provided in this article. Let's make it a great day!