Big Five Picks for NFL Week 7 (2021)
The hot streak continues! Another 4-1 week! The third time we have done that in the last 5 weeks! The record for the Big Five Picks for the 2021 season is 18-12. 60%! Overall, the record for picks against the spread is 52-42 or 55.3% which is profitable. The strategy is to bet two units for each of the Big Five Picks and one unit for all other selections. Assuming one unit is $100 (hence two units is $200) and each game has a 10% juice (-110 payout), we are up $963.64. That is an ROI of +7.8%. Week 1 was awful with a 3-13 record against the spread and 2-3 for the Big Five Picks. If we throw out that week, then the ROI jumps to +20.5% and overall profit is $2,109.09. Lesson learned: wait until Week 2 to start betting on the NFL and use a good model (I just went with pure feel for Week 1).
As I have mentioned in previous articles, the input for the model is DVOA from Football Outsiders. Now that we are 6 weeks into the 2021 season, I will give 50% weight for 2020 DVOA and 50% weight for 2021 DVOA. The model is simply linear regression and the model was trained on data from 2017 - 2019. Here is what the model likes for Week 7.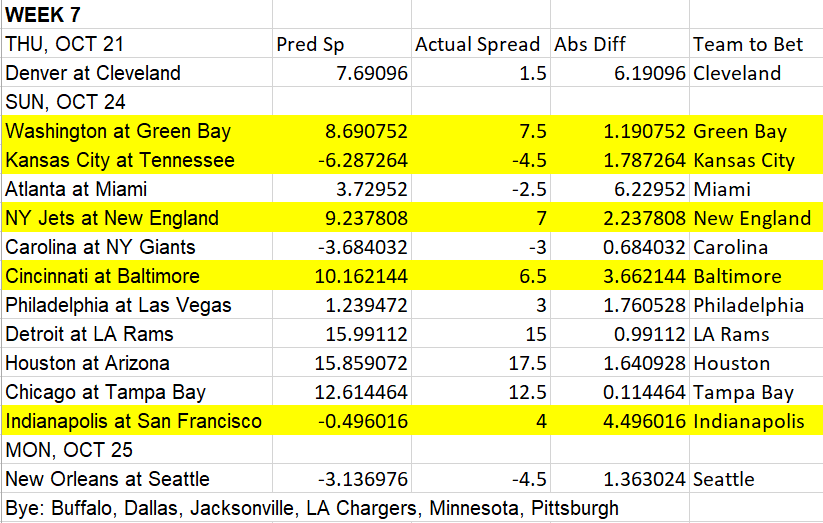 This will be a tough week for making picks since the model is pretty much spot on with the published point spreads. The one game where the model is fairly divergent with the public is the Atlanta - Miami game. Usually I like to take home dogs, especially if my model favors them to win. However, Miami has struggled all season long and just came back from their London game against Jacksonville, a game they lost to a rather inferior opponent. Miami is just a mess right now and Atlanta just pulled together a couple of wins after a slow start and just had a bye week after their London game. Why the NFL did not give Miami a bye week after overseas travel makes no sense to me. Long story short, avoid this game.
Usually when the model is very close to the actual point spreads, I like to lean on the chalk. After all, they are chalk for a reason: they cover. Without further ado, here are the Big Five Picks for Week 7.
Green Bay -7.5
Green Bay is 5-1. Washington is 2-4. Except for a Week 1 embarrassment in New Orleans during Week 1 and Mason Crosby missing more field goals in Week 5 than he missed in 2019 and 2020 combined (seriously!), the Packers have covered the point spread and have won 3 of those 4 games by at least 10 points. The Packers technically covered in Cincinnati during Week 5 if you got the Packers at -2.5 (but it wasn't an easy cover!). Meanwhile Washington has been pulverized when facing good quality teams. Buffalo beat them 43-21, New Orleans beat them 33-22, and Kansas City beat them 31-13. The Packers' offense is humming with big games from Aaron Jones and Davante Adams at various times this season. The game is at Lambeau Field where the Packers have only played twice so far but have done well. They will be eager to put on a show for their devoted home town fans. I will predict a 31-21 victory at the frozen tundra.
Kansas City -4.5
This one is a difficult pick to make. The Chiefs' defense has struggled in 2021 and rank near the bottom with most defensive metrics. The Chiefs are especially vulnerable at stopping the run. The Titans' offense has looked outstanding at times and other times pedestrian. The Titans success largely hinges on RB Derrick Henry who is putting up another successful campaign. He is on pace to break 2000 yards again and can challenge the NFL record for TDs scored. When he rushes for over 100 yards and scores 3 TDs, the Titans score 30+ points and win. When he doesn't score 3 TDs, they lose. It is really that simple. So why do I think KC not just wins but covers? Because the Titans can't handle a prolific passing attack. Mahomes and the Chiefs finally got their "get right" game against Washington and I can see Tyreek Hill putting up video game like numbers in Music City. This game should be a shootout and I expect the point total to exceed 70. Both teams play at a fast pace which bodes well for Kansas City. The cover won't be easy for the Chiefs but something tells me they win on a last minute TD to go up by 7. I like the Chiefs to win 35-28.
New England -7
Except for a 15 point loss to New Orleans earlier this season, the Patriots have been a very competitive team regardless of the opponent. Mac Jones may not be Tom Brady but he is displaying strong leadership qualities which should be no surprise given that he played for a college football powerhouse at Alabama. Defensively the Patriots have looked solid. They kept Tampa Bay under 20 points and nearly shut out the Jets 5 weeks ago in New York. Now the Patriots get the Jets at home and only need to win by a TD to cover. That should be easy and I expect the Patriots to double that spread. The Jets offense is just downright pathetic. They rank dead last in offensive DVOA and most of their starters would be 2nd or 3rd string players on most NFL teams. They are truly a JV squad and Belichick typically goes for blood when he plays the Jets given his longstanding feud with that franchise. The game won't be pretty but the Patriots will notch another victory. I am calling 27-13.
Baltimore -6.5
More chalk but this is good chalk. If not for an overtime loss in Week 1 in Las Vegas, the Ravens would be undefeated. Even with all of the injuries they sustained at the RB position during the preseason, the Ravens have proven to be a resilient bunch by transitioning from a run-first team to a pass-heavy one. No doubt this is a big game with Cincinnati trailing Baltimore by just one game in the standings. If the Ravens win and they are one step closer to earning the tiebreaker over the Bengals and build a 2 game lead in the AFC North. If the Bengals win and they will be the one who is a step closer to the tiebreaker and will pull even with Baltimore. So why give up 6.5 points against a fierce divisional opponent? Because the model has loved the Ravens all season and the Ravens have responded by covering. The Ravens seem to have settled on a three-headed monster in the backfield (Murray, Freeman, and Bell) and don't forget about Ravens QB Lamar Jackson who is a great runner himself. With the Chiefs no longer looking like the class of the AFC and so much attention shifting to Josh Allen and the Buffalo Bills, perhaps Lamar Jackson feels more at ease and can just play his game instead of trying to please the NFL critics. I like what the Bengals have done to rebuild their team and they should be exciting to watch this year and beyond but the Ravens' time is now. A 30-20 victory at home sounds about right.
Indianapolis +4
We can't go with all favors so our one dog will be a road dog and on national TV. While the 49ers should be well rested after a bye last week and playing at home, here is the problem: rain. The weather in Northern California will be nasty all weekend with high wind speeds and heavy rain. This bodes well for the run game and besides for Derrick Henry there is no RB hotter right now than Jonathan Taylor. Over the last three games, Taylor has surpassed 100 yards from scrimmage in all of them and has scored a total of 5 TDs. His yards per carry for those three games is 6.69 and he is also a very good receiver. For those who know me well, I have a man crush on Taylor. He fits the bill when it comes to fantasy RBs. He is young, has a strong offensive line, great college pedigree, and is a superb athlete. I typically will gravitate to RBs who shined in track and field as a teenager and Taylor precisely did that while attending high school in New Jersey by winning two state titles in the 100-meter dash. The 49ers defense is solid but nowhere near as good as it was 2 years ago when it went to the Super Bowl. My model has this game as a pick'em and I can see either team winning by a last second FG. Either way, we cover and you might as well stick with the team with a healthier rushing attack. I will predict a 49ers victory since they are my team but it will be ugly. Let's go with a 24-23 victory for the 49ers and we cover on Sunday Night Football. A win-win for everybody!
As for betting strategy, keep it simple. 2 units on GB, KC, NE, and BAL. 1 unit for the other 2 morning games and 4 afternoon games. Then press your winnings on Indianapolis. That sounds like a great Sunday to me! Good luck and stay dry!