Big Five Picks for NFL Week 8 (2021)
Overall last week was not a great one (6-7) but the Big Five Picks performed well again (3-2). For the season the Big Five Picks are 21-14 or 60% while the overall record against the spread is 58-50 or 53.7%. What this tells me is that the model is helping us be judicious when determining the top 5 plays based on the delta between the predicted point spread and the published one. Now that we are heading into Week 8, I will now apply 100% weight to 2021 DVOA. There might be some hiccups along the way since some teams still need to regress to the mean (for example can Cincinnati maintain its current pace with the passing game and is Kansas City really a sub .500 team?) but now that November is upon us, we should only be using in-season data.
By the way, our model would rank 305th out of nearly 2000 entries in the Westgate SuperContest. The top player is Wolfgang who has an impressive record of 26-8-1 with a couple of 5-0 weeks. An image of his picks so far this season is shown below.

Here is what the model likes for Week 8.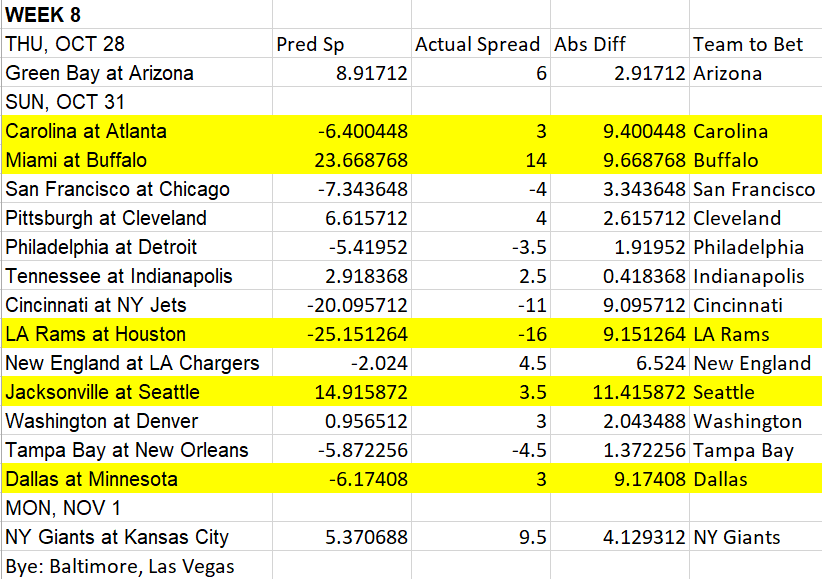 You can see that the deltas are very large, especially with the teams who are giving up a lot of points. Chalk City it will be! Without further ado, here are the Big Five Picks for Week 8.
Carolina +3
This one is risky. Sam Darnold has regressed like crazy since starting the season 3-0. Last week was an embarrassment for Carolina. They lost 25-3 to an inferior opponent in the NY Giants and Panthers head coach Matt Rhule benched Darnold in the 4th quarter only for his backup QB to play much worse (3 for 14 for 33 yards and sacked 3 times). Now there are rumors that the Panthers are in talks with the Texans for Deshaun Watson. Can you imagine how dynamic the Panthers offense will become with both Watson and Christian McCaffrey once CMac is off the IR?! Still, we must focus on what the Panthers can put on the field this Sunday. So why am I sticking with Carolina? Because Darnold's job is on the line and he must perform well to either convince Carolina to stick with him or to entice another team to take a chance on him should Carolina pull the trigger on Watson (maybe Darnold is shipped to Houston). Also, the Atlanta pass defense is awful and except for the Week 7 loss to the Giants, the Panthers have lost their other three games by one score with one of those losses happening in over time. I am going to trust DVOA here and the model. Panthers win this game by 6 points 25-19 (ugly game with lots of field goals) and let the controversy ensue should Watson be traded to Carolina.
Buffalo -14
This one is easy. Yes, lots of chalk but Buffalo just had a week off to recover after its loss to Tennessee. All Buffalo has done this season is pulverize weak opponents: Miami 35-0, Washington 43-21, and Houston 40-0. They get Miami again and at home. The model has Buffalo winning by nearly 24 points and that sounds about right. 34-10 is what I will predict. Interestingly the model also has the point total at 44. I don't need to spend any more time analyzing this game. Just eat the chalk and watch your money grow.
Los Angeles Rams -16
This one is also easy. I know it's not easy to eat so much chalk but Houston is simply shit. When Houston plays teams with a winning record and a strong defense, the results are ugly: Buffalo 0-40, Indianapolis 3-31, and Arizona 5-31. This is a team in full-on tank mode. QB Davis Mills is clearly not the answer and Watson is gone very soon. Like Buffalo, when the Rams play an inferior team, they feast: Chicago 34-14 and NY Giants 38-11. The model has the Rams winning by 25 points so I will predict 35-10. The model also has the predicted point total matching the published point total of 46.5 but I will go slightly under. Again, don't over think this one. You pay up for quality.
Seattle -3.5
If Russell Wilson were healthy, you can bet that the spread would be over 10 points. Even though Seattle has struggled with Wilson recovering from finger surgery, they haven't been blown out of games. During Week 6, Seattle lost a close game in OT to Pittsburgh and also lost a close one a week later on Monday Night Football to New Orleans. Both are very good teams so I would expect Seattle to beat Jacksonville convincingly. This will be a long travel day for Jacksonville after just coming back from London. The drastic time zone changes will also impact Jacksonville and it would not surprise me if they have some major jet lag. Defensively Jacksonville is a joke and now that QB Geno Smith has proven that he can hit his WRs for long gains, I will expect DK Metcalf and Ty Lockett to dominate. The model has Seattle winning by 2 TDs which sounds about right. Expect a high scoring affair: 34 - 20.
Dallas +3
The last three Sunday nights have treated us well. For Week 5, the model liked Buffalo to win in KC by 4.5 points. The Bills actually exceeded our expectations by winning 38-20. Then for Week 6, Seattle nearly won on the road in Pittburgh. The model had Seattle winning by 6 points which of course was skewed by Wilson's recent injury which is not factored into the model. Still Seattle covered the +5 spread. Then last week Indianapolis won a nasty weather game in San Francisco 30-18. All three were road teams that covered under the lights. It will be four in a row after tomorrow night. Minnesota is decent against teams with losing records but they disappear when playing serious playoff contenders. The proof is in the pudding: 24-27 Cincinnati, 33-34 Arizona, and 7-14 Cleveland. Dallas is a much different team when QB Dak Prescott is healthy. That should not be a surprise when you upgrade from Andy Dalton to Prescott. Both teams are well rested after a bye week and the game will be indoors so we should have a high quality game. The model likes the Cowboys to win by 6 points with a predicted point total of 50 points. Let's go with a 28-22 victory in overtime and maybe Prescott will hit WR CeeDee Lamb again for a dramatic game winning TD.
We have some balance again with our picks. Two dogs and three favors. Three road teams and two playing at home. The deltas are very wide for all of our picks (each by 9 points) so either the model is overfitting the predictions or the public is way off. I think it will be the latter and you should too! Parlay three morning games and then press your winnings on Seattle in the afternoon followed by Dallas at night. 5-0, here we come!