First off, Happy Halloween! If you are 15 - 20 years younger than me and don't have kids, I am sure you are sleeping off your hangover right now or dealing with it! I am so far removed from my party days but I suppose keep drinking (hair of the dog!) but hydration and nourishment are good things! If you are closer in age to me and have little ones, enjoy the evening given that trick-or-treating last year was pretty much non-existent thanks to COVID. Either way, it's a festive weekend so make the most of it.
Secondly, I don't know about you but I kind of don't like these super dark mornings, especially when it's 7 AM on the West Coast. Daylight savings is next weekend which is good and bad: at least you can see some daylight during your morning commute but dusk will hit us before dinner time. It is pitch black right now so it's hard to believe that football will start in less than 3 hours!
OK, now I got those two things off my chest, let's focus on what really matters: fantasy football! More specifically, I am here to discuss DFS roster construction for the main NFL slate for Week 8. The best place to start is to look at my QB model. We can identify good values and then start our lineup build from there. FYI, the inputs for the model are the following: logarithm of DraftKings salary, home/road, Vegas point total, # of first downs per game, 3rd down conversion %, % of total plays that passes, turnovers per game, completion %, and sacks per game. All of the data is used is in-season from the previous 7 weeks. I also consider these stats for the QB's opposing defense and average them with the QB's stats. The model is multiple linear regression which was trained using 2017 - 2019 data. The expectation is that a QB will continue to maintain his current season averages and likewise with his opposing defense. Including DraftKings salary (transformed using a logarithm so that the distribution is normal) and Vegas point total takes into consideration any recent developments as well as matchup for the QB. Positive weight is given for QBs playing at home and of course turnovers and sacks receive negative weight. In case you are curious, here are images of the formula and the residual plots.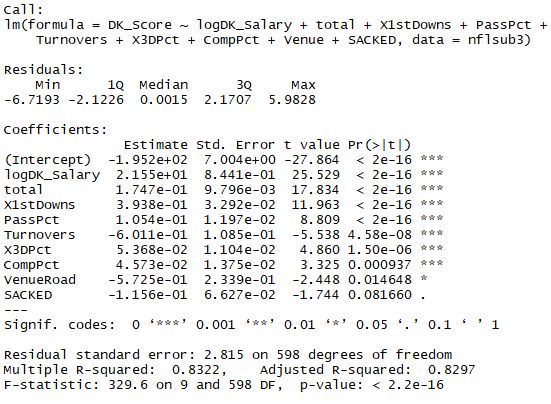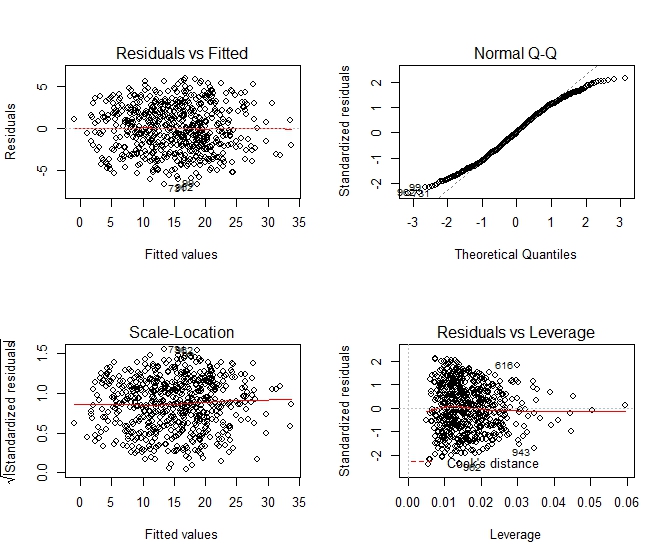 I am done geeking out on machine learning! Let's show he outputs from the model for Week 8.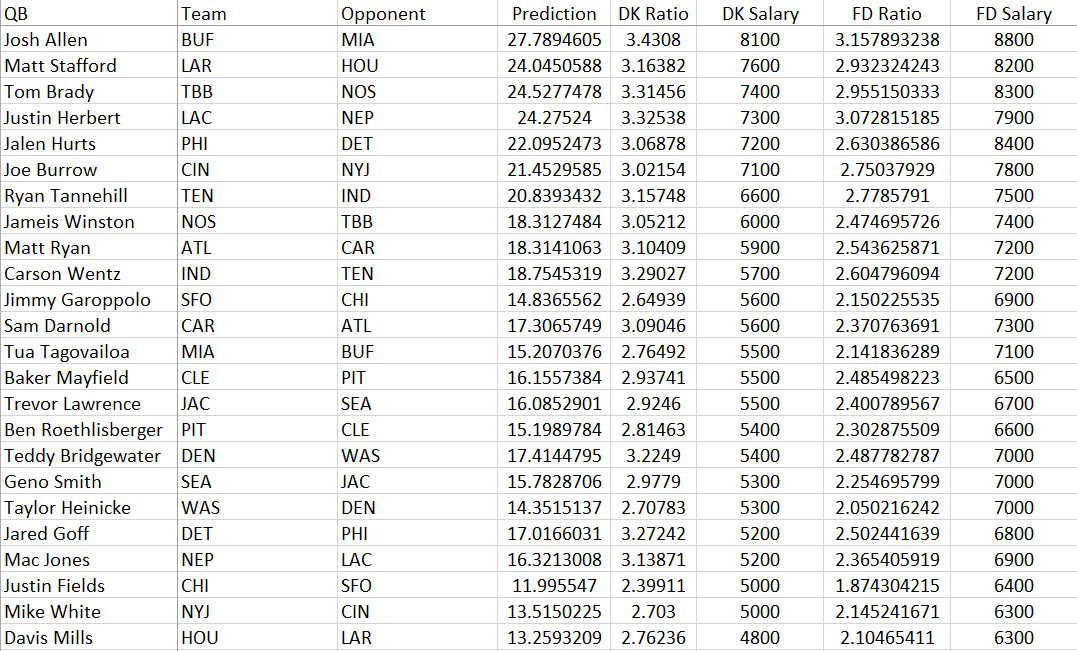 There are several paths to success. Last week, it was Joe Burrow. This week, it could be him again but something tells me that we consider two QBs today: Josh Allen and Jalen Hurts.
Without question, Allen is the premier QB for today. He is at home and playing against a team the he crushed 40-0 earlier this season. Interestingly, Allen's numbers were quite pedestrian in that game since it was the Buffalo defense that ruled that day. Still, Allen is the highest priced QB for both DraftKings (DK) and FanDuel (FD) platforms and justifiably so. He is helping the Bills march on to the top record in the NFL and potentially home field advantage throughout the AFC playoffs. Now that Arizona has lost its first game, the Bills seem like a lock as an early Super Bowl favorite with Allen as the most likely NFL regular season MVP. There are so many reasons to love Allen for today given the matchup and where he is in his maturation process. I don't like his salary in DK since pairing him with Stefon Diggs doesn't leave much salary for other positions but an Allen/Diggs pairing in FD is viable.
Jalen Hurts is another great option. He is not quite the prolific passer that Allen has become but give Hurts some time. When it comes to rushing ability, I would give Hurts the nod. Another thing going for Hurts is the matchup. The Lions are downright awful against the pass. Checkout these stats from ESPN.com.

The Lions tend to struggle most when playing man defense. The Eagles don't necessarily have the WRs/TEs that dominate in man coverage so the hope is that Hurts will recognize when the Lions are playing man defense and that his first looks will be WR Devonta Smith and TE Dallas Goedert. Something tells me, however, that he will lean on Kenneth Gainwell today. Two years ago at Memphis, Gainwell was a dual threat rushing for 1459 yards on 231 carries (6.3 yards per carry) while scoring 13 TDs on the ground. Through the air, Gainwell caught 51 passes for 610 yards and 3 TDs. With Miles Sanders out and underperforming since he started his NFL career two years ago, the opportunity for Gainwell to seize the starting the role and not let it go is ripe for the picking. The correlation between Hurts and Gainwell is strong. Same can be said between Hurts and Smith. Check out the table below from Advanced Sports Analytics (ASA). The link can be be found right below the table and a subscription to ASA is nominal compared to how much money you can make using ASA's apps.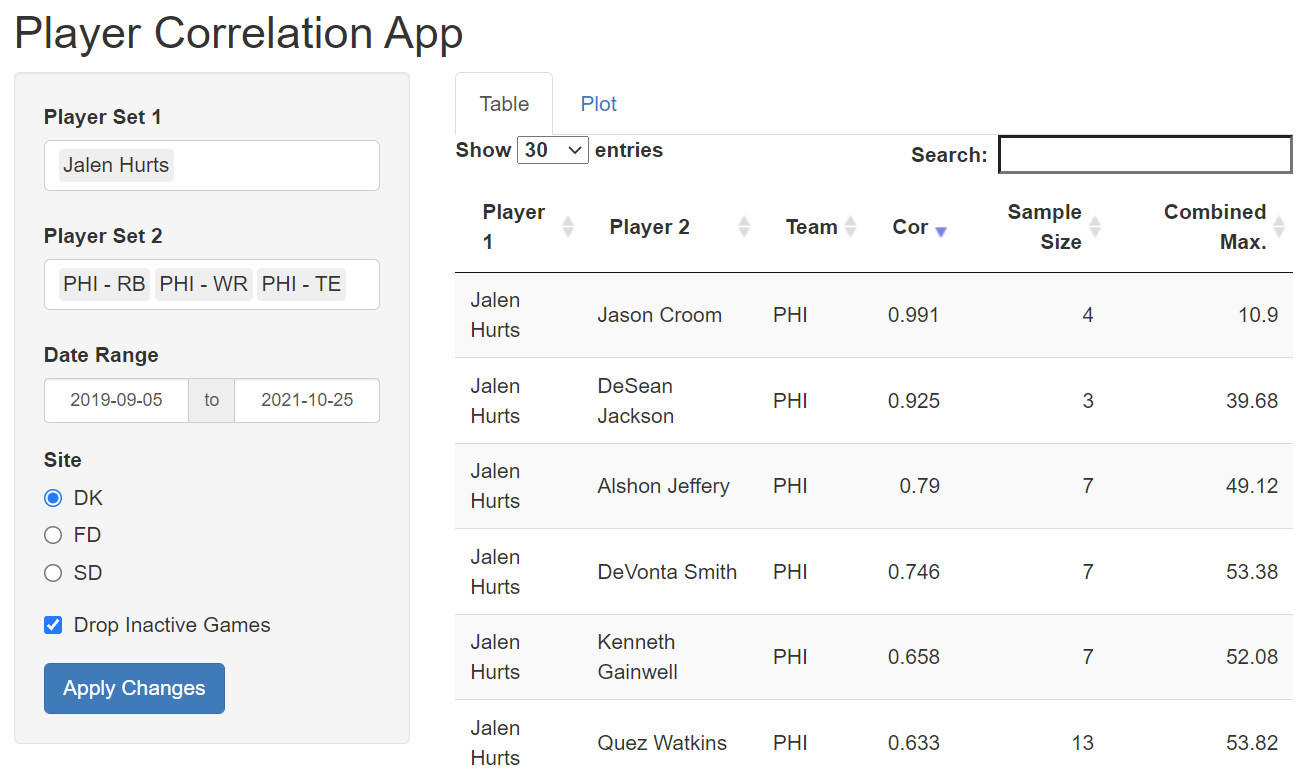 www.advancedsportsanalytics.com
As for Josh Allen, he correlates well with Stefon Diggs and Diggs is finally showing positive regression. There is a good chance that Allen and Diggs connect for 10+ receptions, 140 - 160 yards, and 1 - 2 TDs. That will be a popular stack and a pricey one but can also be a very lucrative and highly productive stack. If you consider that Bills TE Dawson Knox is out, that could mean more targets for Diggs.
On DK, I would much prefer an Eagles stack given the pricing. On FD, a Bills stack seems better since the scoring is more TD dependent and the pricing is not too obscene. Now that we are set with out Bills or Eagles stack, we will pay up for WRs and hit the bargain bin for RBs. I am loving either Elijah Mitchell or Khalil Herbert. Both have become the focal points of their team's offenses and I expect a ground and pound type of game in the Windy City. I also like running back my Eagles stack with D'Andre Swift of the Lions. Of course Detroit stinks but the Eagles run defense is one of the worst in the NFL and Swift is pretty much a poor man's Christian McCaffrey. He does everything for the Lions and his price is not too prohibitive. Damien Harris of New England is another great option given the matchup.
For WRs, I think we should get some afternoon delight! Skyrockets in flight! There is nothing better than the late afternoon hammer when playing NFL DFS (except for the real afternoon delight!). Ownership is typically suppressed in the lat games and if your players pop off, you shoot up the standings in your DFS tournaments. On DK, I like Jerry Jeudy now that he is back. He is cheap and his high number of air yards from last year pretty much tells me that he is very capable of some big plays, especially against an anemic Washington pass defense. Chris Godwin should continue to excel thanks to injuries to Antonio Brown and Rob Gronkowski. Then we have DK Metcalf. Even though Metcalf should have put up stronger numbers on Monday Night Football last week, that 84 yard TD to start the game was a thing of beauty and perhaps QB Geno Smith has developed some chemistry with him. Metcalf is a beast and he should feast on a travel weary Jaguars defense that ranks as one of the worst pass defenses in the NFL.
You can see the theme here. Play the matchups but consider pricing and ownership. For our final two positions (TE and DST), I am liking Pat Freiermuth of the Steelers and the Bengals defense. Freirmuth will now get the lion's share of targets for TEs with Eric Ebron out due to injury and Freirmuth is very talented. The Steelers didn't invest a 2nd round pick in him for nothing and he has already shown good chemistry with Ben Roethlisberger. As for the Bengals defense, the Jets will feature a no-name QB and offensively the Jets are a mess. The Bengals are riding high and should continue their upward mobility in the Big Apple. Another strong defense to consider is the Rams against a Texans squad in a perpetual downward spiral. The pricing is prohibitive on DK and but reasonable on FD when you compare the salary fo the Rams defense to that of the Bengals.
Sample lineups for both DK and FD are shown below. Good luck!