NFL DFS Week 12 Thanksgiving (2021)
First off, thank you to all of those who have been loyal readers of this blog. I started it 5 years ago with the intent of sharing my passion for sports and the wagering that comes along with certain events. I also find it rewarding if my analysis can help someone become more engaged with the sport and of course make a little bit of extra money. If you scan through all of my articles, it is clear that football is the primary focus of this blog but I love baseball and basketball just as much. In fact, baseball was my first love. However, football has a larger audience and the frequency of football makes it easy for yours truly to write articles without missing any games.
Speaking of missing games, how can you miss the games on turkey day? Even if you casually follow football, turning the TV onto whatever game is being played while entertaining guests is something most Americans do. Thankfully the NFL made the decision nearly a decade ago to schedule a third game in addition to the the traditional turkey day games played in Detroit and Dallas. After all, both teams were quite awful around that time so we needed more entertainment!
Even if you don't care to see two perennially bad teams like the Bears and Lions square off in a game that will most likely have no playoff implications, the NFL was wise to forge a partnership with DraftKings (DK) and FanDuel (FD). After all, whatever you can do to boost fan engagement is good for business! So how do we approach the three games today should we put a little action down to make turkey day a bit more interesting? Start your roster construction by considering the outputs of my models. I don't have models for WRs and TEs but I do for QBs, RBs, and DSTs. Check out the tables below.



It's clear that either Josh Allen or Dak Prescott is the way to go for QB. Both kind of worry me since they struggled last week when I had thought they would both excel, especially Prescott given the matchup. I believe Prescott will rebound since he is at home and gets a very weak defense that has been shredded the last two weeks. Plus his price is more reasonable than Allen's on both DK and FD. That means my roster construction will focus squarely on Prescott and those who correlate well with him.
As for RB, there are not many options. DeAndre Swift and David Montgomery both stand out as well as Ezekiel Elliott. My problem with all three of those RBs is that if you wish to pay up for QB, there won't be much money left for the other positions if you spend too much at RB. Plus, I expect WR production to be higher on Thanksgiving than RB production. Stefon Diggs and CeeDee Lamb are both slate breaking WRs who are Pro Bowl quality players. Same can't be said for the RBs. That means we will do our best to find value at RB without completely punting away that position. The two I will consider are Mark Ingram and Josh Jacobs. Of course if Ingram is inactive, swap in Tony Jones. I don't like the Saints' matchup against Buffalo but whoever is the lead back for New Orleans will see at least 20 touches. Also, look at what Jonathan Taylor did to Buffalo last week! As for Jacobs, he has had a quiet season but the Raiders still lean on him and there have been games where the Cowboys pop off but the opposing RB still has a solid day. Plus there could be high ownership with Raiders TE Darren Waller so it would be best if we can be somewhat contrarian.
DST is easy. Don't overpay for Buffalo or get too cute by thinking the Bears will feast on the Lions, arguably the most anemic offense in the NFL. Just stick with value which belongs to the two teams who have experience playing on turkey day and didn't have to travel on a short week. The Lions DST is only $2400 on DK and actually have played quite well the last two weeks. Likewise with the Cowboys DST which is $4000 on FD and had a great game two weeks ago against Atlanta.
Given that Prescott is our QB (or maybe you will consider Allen), you will want Lamb as your WR who now seems poised to pass the NFL concussion protocol. Of course if he is inactive, swap in Michael Gallup and use the savings for upgrades elsewhere. Whether or not you roster Allen over Prescott, Diggs is your guy. He is a target and yardage machine. Ownership will be high but you will need the raw points on a small slate. He serves as a great anchor for your lineups. Interestingly the optimizer on the Advanced Sports Analytics (ASA) site (see link below) is urging me to roster Hunter Renfrow and Cole Beasley on DK. We have a FLEX spot open so why not grab both WRs who can each exceed 100 yards and get us that 3 point bonus. I am not a big fan of either WR but I am a fan of money so I will trust the data and technology. On FD, I love Darnell Mooney who has played great the last two weeks. With Allen Robinson set to miss another game, Mooney should continue to be the focal point of the Bears offense.
www.advancedsportsanalytics.com
TE could make or break your day. Waller is great and deserves high ownership. Likewise with TJ Hockenson. Forget about any TEs on the Saints. What a mess there! Dalton Schultz is a solid option if you can afford him. I also like Dawson Knox, especially if you are rostering Allen at QB. Cole Kmet is an interesting choice. If we consider the narrative that the Bears offense will struggle and that the Lions defense shows up (and perhaps the Lions finally win a game!) then maybe Dalton will look Kmet's way a few times. After all, I already mentioned that Allen Robinson is out and Kmet's salary and projected ownership are both very enticing, especially on DK. However, I will stick with Schultz on FD since his pairing with Prescott makes sense. Besides, FD is more TD dependent and we will need to select a TE on the FD platform who has the best chance of getting into the endzone.
As we take a step back at our roster construction, we are going heavy at WR and we should. Lamb, Diggs, and Mooney stand out from the rest of the crowd and could carry us to a very profitable day. All three of them have been dominated the air yards for their teams during the last 5 weeks and the table below is your evidence.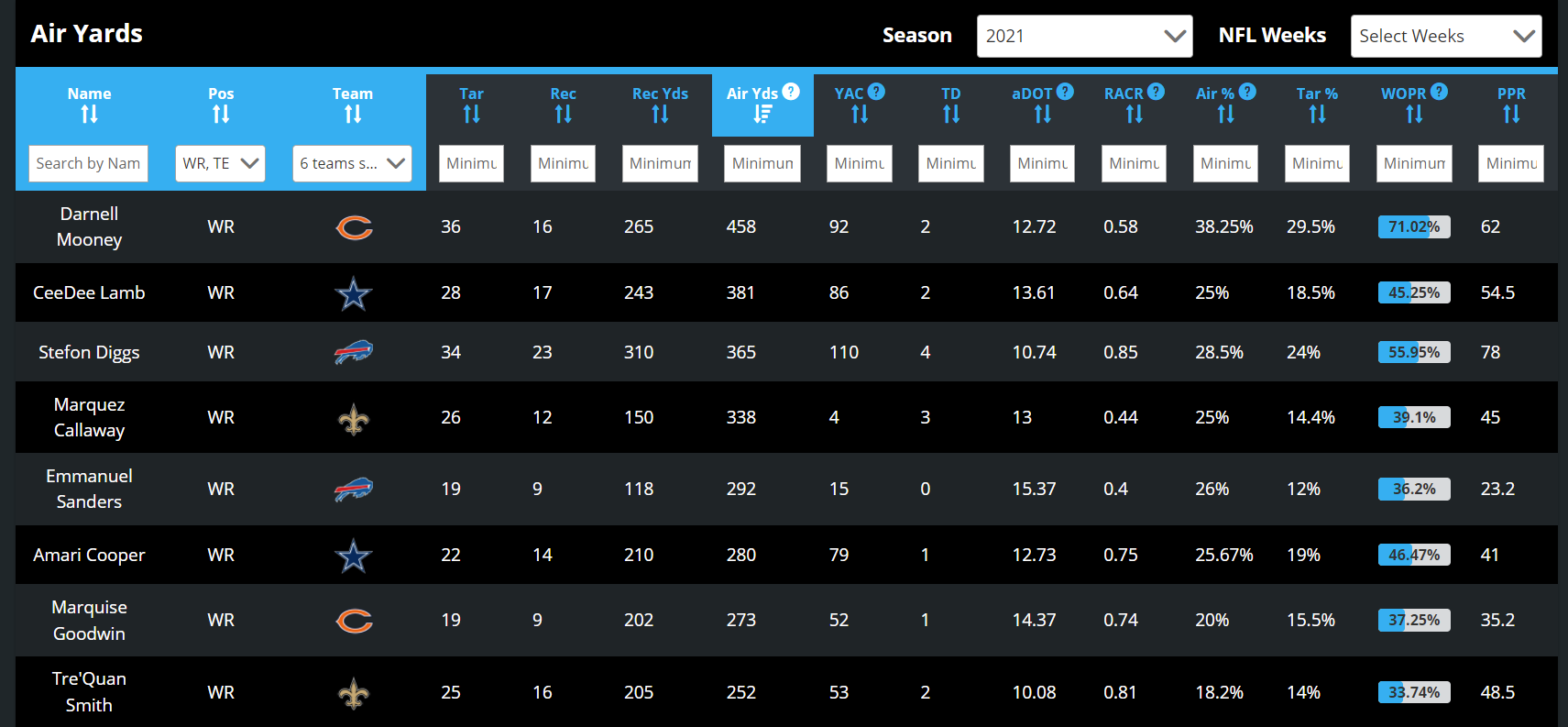 Oddly the optimizer for FD is not working on the ASA site so I will share the optimal lineups for DK as well as sample lineups I plan to submit for both DK and FD. Good luck and Happy Thanksgiving!