Big Five Picks for NFL Week 12 (2021)
Not our best effort last week: 2-3. It really should have been 3-2 since I would have placed New England in the Big Five Picks but they played on Thursday and I publish these picks on Saturday morning. I like to be consistent so I will gladly stick with 2-3 for Week 11. That brings the Big Five Picks record to 34-20-1. Still very solid but we need to get back to our 4-1 ways and hopefully get that elusive 5-0 week!
We will keep this short and sweet. Here is the data table that displays my model's predicted point differential, the published point spread, whether a team covered or not in its previous game, and which team to bet.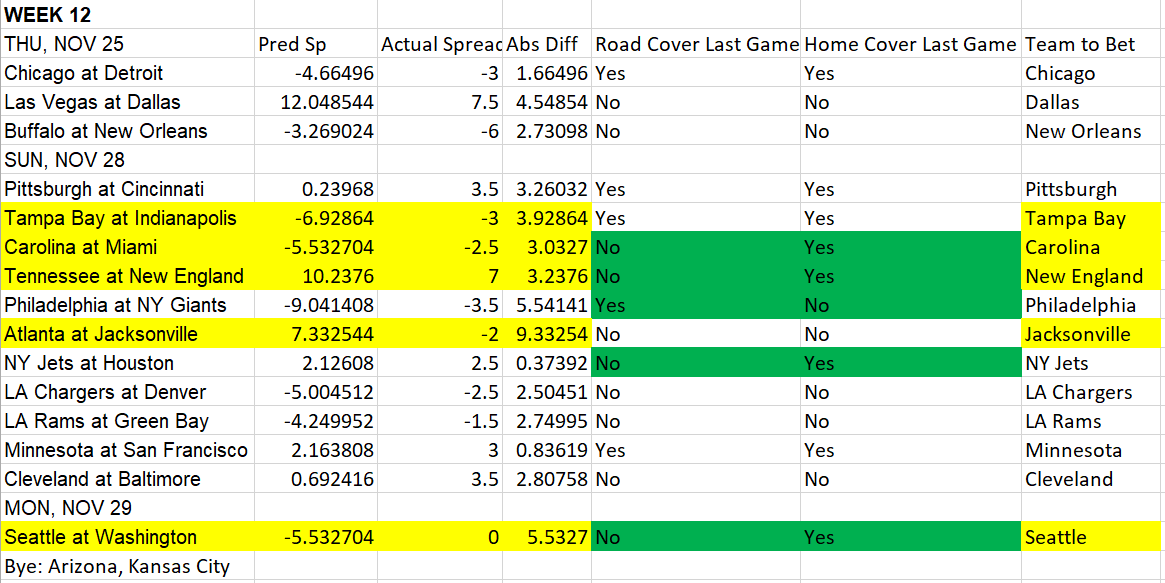 After you have stared at this table for at least a minute or two, you will notice that there are 5 games that follow the cover/no cover trend I discussed in my Week 10 article for the Big Five Picks. However, only two of them strongly agree with the model while one is close (NY Jets - Houston). I don't feel comfortable betting on the Jets in a game that could be quite ugly given that it's in the best interest of both teams to lose to earn a high pick in the 2022 NFL Draft. I also don't feel comfortable betting against New England especially since the Patriots and Titans are heading in opposite directions. Likewise with the Eagles and Giants.
The differentials between the published point spread and the model are not as dramatic as they were earlier in the season and that is to be expected. We are seeing more of a regression towards the mean as we get deeper into the season. Still, if we carefully analyze those differentials, we can get a better understanding of where our money should go. Without further ado, here are the Big Five Picks for Week 12.
Tampa Bay -3
So what does a defending NFL Champion do when they get embarrassed on the road and have their head coach call them out in public? You win by 20 points on national TV. The Bucs win at home against the Giants was the exact "get right" game they needed. With just 5 - 6 games left for the regular season and a tight playoff race, you can bet that Tom Brady has now kicked things into high gear and is highly motivated to win an 8th Super Bowl title. The Colts have looked impressive lately after an 0-3 start. Carson Wentz is still a tough nut to crack. Some weeks he looks great and other weeks you wonder why he was drafted so high. While I feel that making the Colts a home dog is a big slap in the face, especially after a dominant win on the road in Buffalo, I have to lean towards Tampa Bay. Where the Bucs excel is run defense. I love Jonathan Taylor (he was my preseason pick to dominant in fantasy football this year) and the Colts run game is a major strength but I feel that the run game will be neutralized tomorrow. This will be a fun game to watch (it has the highest Vegas point total) and perhaps these two will see each other again in LA in early February. Prediction: Tampa Bay 29 - Indianapolis 23.
Carolina -2.5
The Panthers have had quite a roller coaster ride this season. They started off 3-0 and everyone is thinking that Sam Darnold is a great QB. Remember, USC QBs stink in the NFL (for those who know me well, I cannot stand USC football). Christian McCaffrey gets hurt and the team struggles (to no surprise). Then McCaffrey returns and the Panthers bring back Newton after a 2 year hiatus. What happens? A 34-10 win on the road against the Cardinals, arguably the best team in football. Of course Kyler Murray did not play in that game but you get the sense that there is renewed optimism with the Panthers. Given the fact that the Panthers lost last week to their former coach and that Miami overall has struggled this season, I feel that Carolina has a chance to get things right in South Beach. Both Newton and McCaffrey represent matchup nightmares for the Miami defense that has given up 30+ points four times already this season. Don't be fooled by Miami's D the last 3 weeks. Two of those opponents were Houston and the NY Jets, both ranking near the bottom in Total Offense DVOA. The other opponent is Baltimore and they have had the injury bug hit them hard again. This will be a low scoring, ball control type of game which plays to Carolina's favor. Panthers win 24-17.
New England -7
Whenever Bill Belichick faces a former player or assistant who is the head coach on the other side, Belichick usually prevails. I will argue that Mike Vrabel has been the most successful coach from the Belichick coaching tree and if Derrick Henry were healthy, I would be picking the Titans not just to cover but possibly win. However, the Titans are heading in the wrong direction after a great first half to the season. On the other hand, Belichick is proving why he is the smartest coach of all time. He won his first Super Bowl 20 years ago with a young QB and it looks like history is about to repeat itself with another young QB under his tutelage. Brady was more of an unknown in 2001 whereas Mac Jones started for one of the most highly regarded college football programs. Still, it is very impressive what the Patriots have accomplished during their 5 game winning streak. They have outscored their opponents 175-50 during that stretch. Who cares about the cover/no cover trend for this game. The model likes New England and this is a classic situation of both teams going in opposite directions. The master wins out over his pupil again with a 27-17 victory in Foxborough.
Jacksonville +2
Can someone please explain to me how a team like Atlanta, which has been demolished the last two weeks by scoring just THREE points total and giving up 68 points, is favored to win on the road? That is THREE points score over EIGHT quarters! I know Jacksonville is not very good but this is a team that beat Buffalo 9-6 just 3 weeks ago. The Jaguars also won another game at home against Miami with a 23-20 score. One thing that Jacksonville has going for itself is an improving defense and the Falcons simply cannot move the football. They are also very turnover prone. This game will be close but the Jaguars will win. I won't go into too many details since this game is meaningless when it comes to the playoffs but it should be fairly entertaining. I expect Trevor Lawrence to pull off a game winning drive for a 27-20 victory which should help him build some confidence and respect in the locker room.
Seattle EVEN
The return of Russell Wilson has not gone exactly as planned. They were shutout at Lambeau Field two weeks ago and then lost 23-13 at home to Arizona. To the Seahawks defense, they played the two best teams in the NFC and Wilson has shown some rust. However, Wilson tends to shine in the spotlight and he will get a chance to redeem himself on Monday Night Football in our nation's capital. The Washington Football Team has one of the worst pass defenses in the league so if Wilson can't get things right on Monday, then stick a fork in the Seahawks. This is pretty much a must-win game for Seattle and something tells me that the resiliency of Wilson will shine through. I can see this game going to OT with a Wilson strike to DK Metcalf to end an exciting week of football with a 29-23 score.
We are avoiding major chalk this week. Each team we have picked is supported by the model and other analyses. I am confident we will have ourselves a profitable week and finish the season strong!