By the time I finish this article and publish it, there will be 90 minutes prior to kickoff. Just enough time to get your Sunday morning coffee/pastry, pretend you're paying attention to your kids/significant other, and consider my recommendations for today's NFL slate! Maybe you can also sneak in a walk with the dog while setting your lineups on your phone!
For the past few weeks I have only run my QB model since it takes time to run the models for both RBs and DSTs. Fortunately I have been on break for a week! FYI, I don't have models for WRs and TEs. Instead I use a more holistic approach given the high variance that comes with those two positions. Here are the data tables displaying the outputs from my QB, RB, and DST models.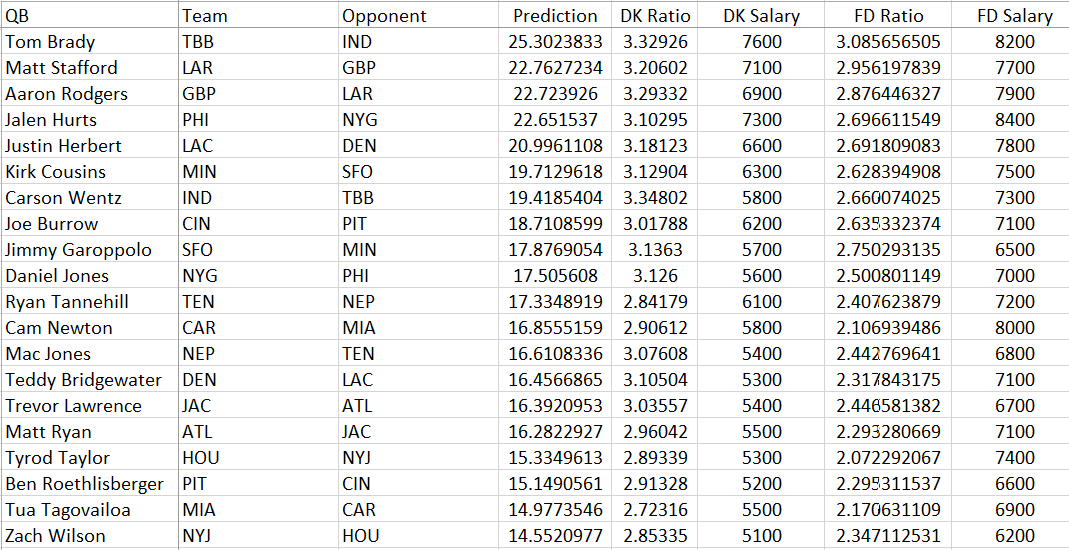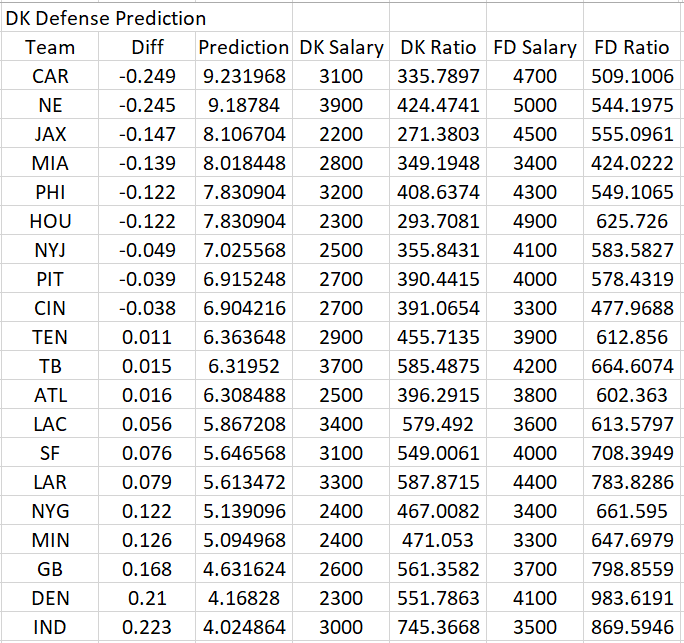 While we could take a strictly statistical approach to NFL DFS roster construction and then use an optimizer to generate the best lineups, there is an art to building your lineups that the science sometimes does not get right. For example, our QB should almost always be paired with a pass catcher who correlates well with him. We should also consider matchups on a more granular level. One site I used often the last two years is Sports Info Solutions or SIS. I would argue that their Data Hub application is one of the most sophisticated NFL statistics tools on the market (even better than Football Outsiders, the industry leader with NFL stats). You can break down team and player stats by the personnel formation, pass coverage, game situation, and more. Here is a quick look at the SIS Data Hub interface.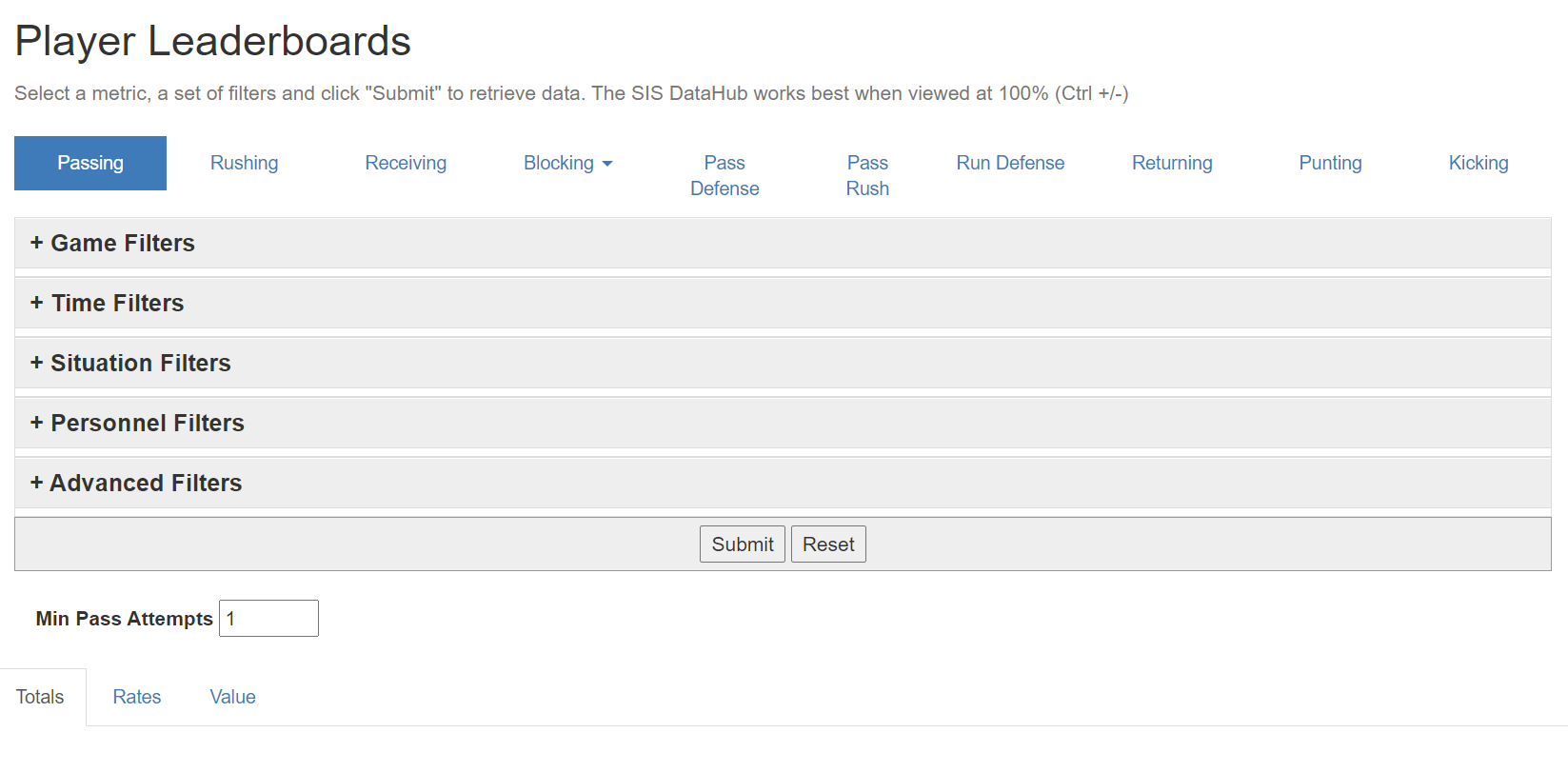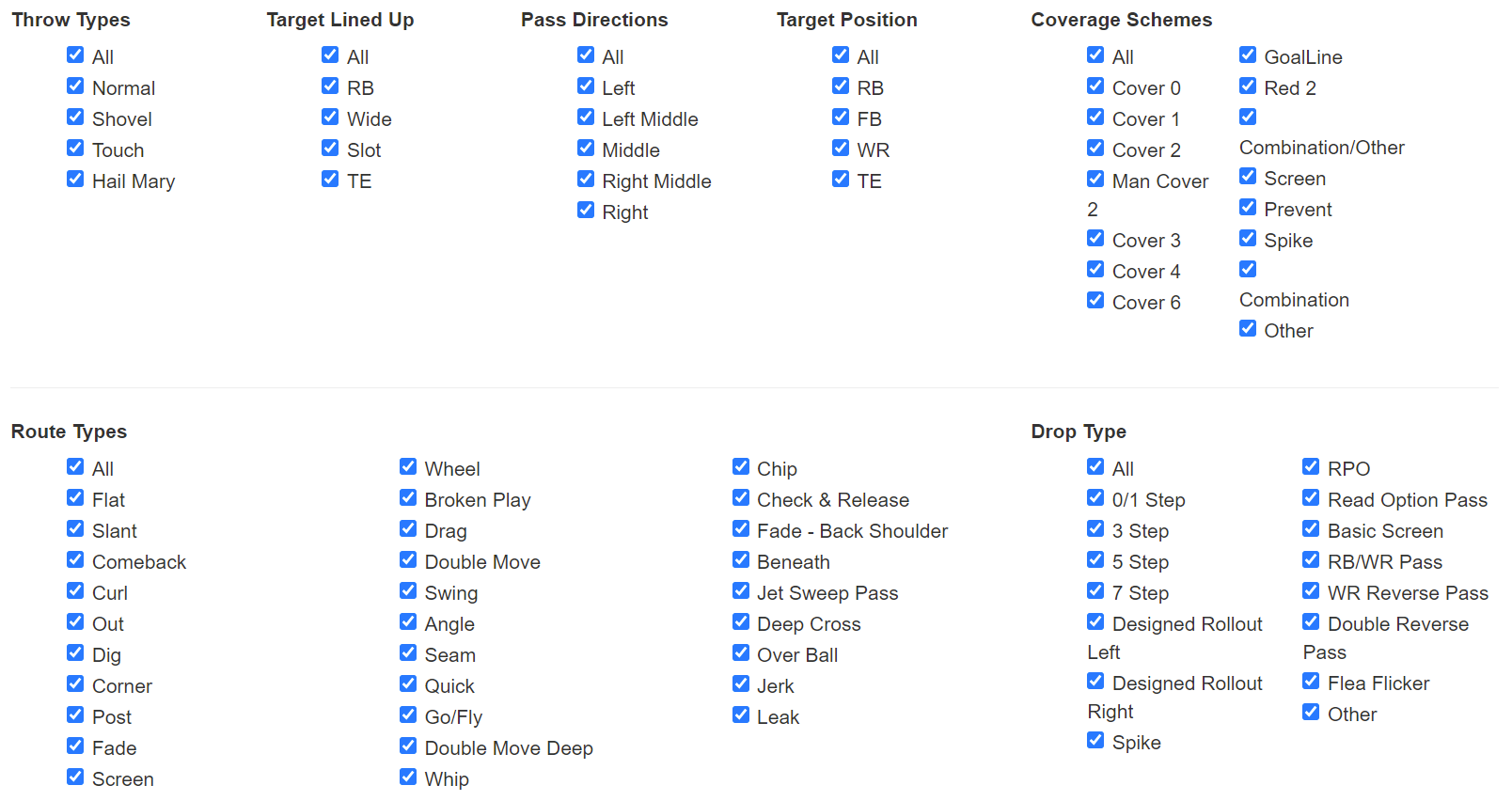 I sometimes spend a few hours a week playing around with the Data Hub tool but I must also remind myself to not over analyze the slate. We will stay focused for Week 12 by considering man vs zone coverage for the 2021 season up to this point. We can glean amazing insight when we compare the type of coverage for NFL pass defenses to NFL WRs who face a particular type of coverage. To keep things simple, man coverage will include Cover 0, Cover 1, and Man Cover 2 while zone coverage will include Cover 2, Cover 3, Cover 4, and Cover 6. The first table below shows the teams who struggle with man coverage and the second table is for zone coverage. Both tables are sorted by descending order of allowed QBR.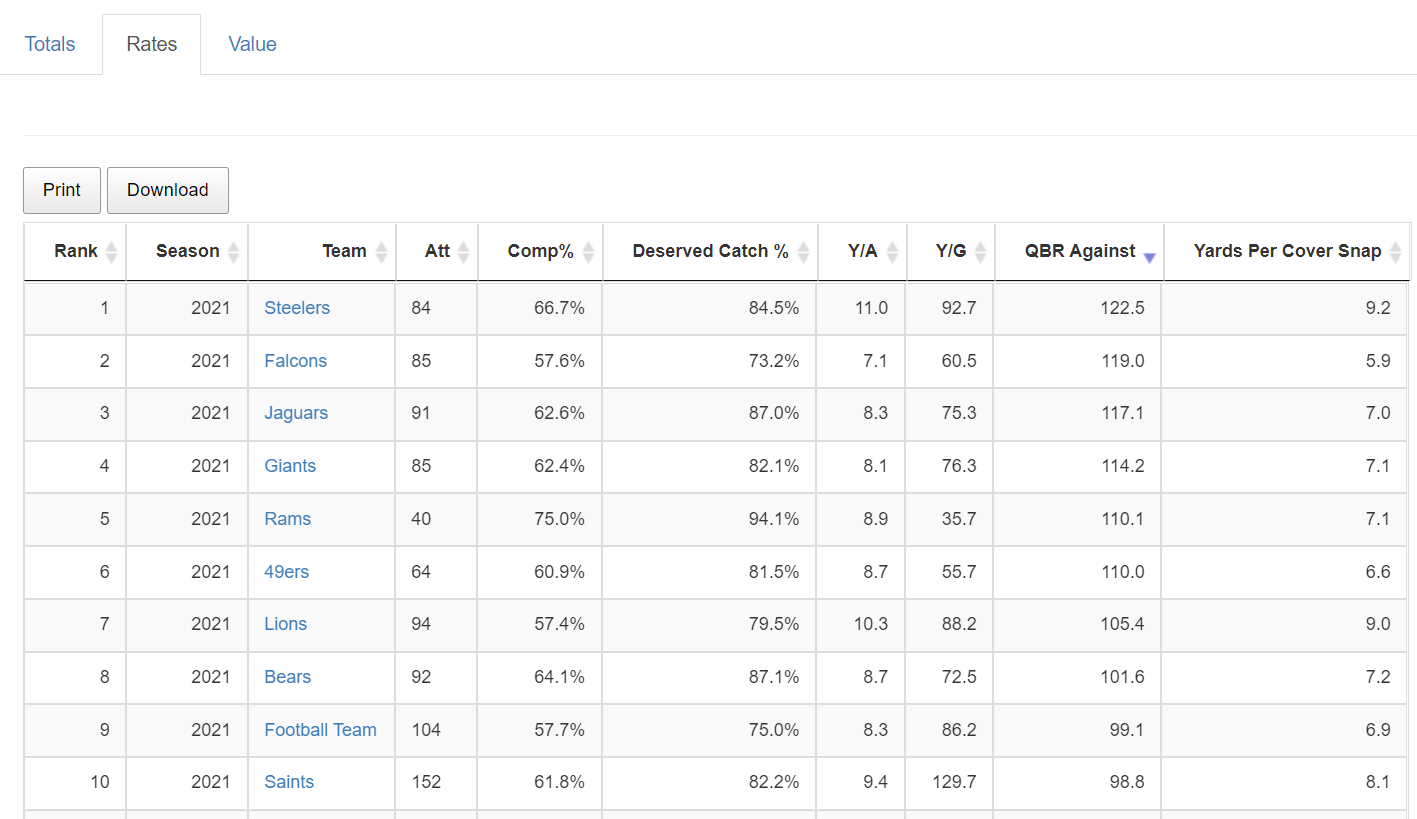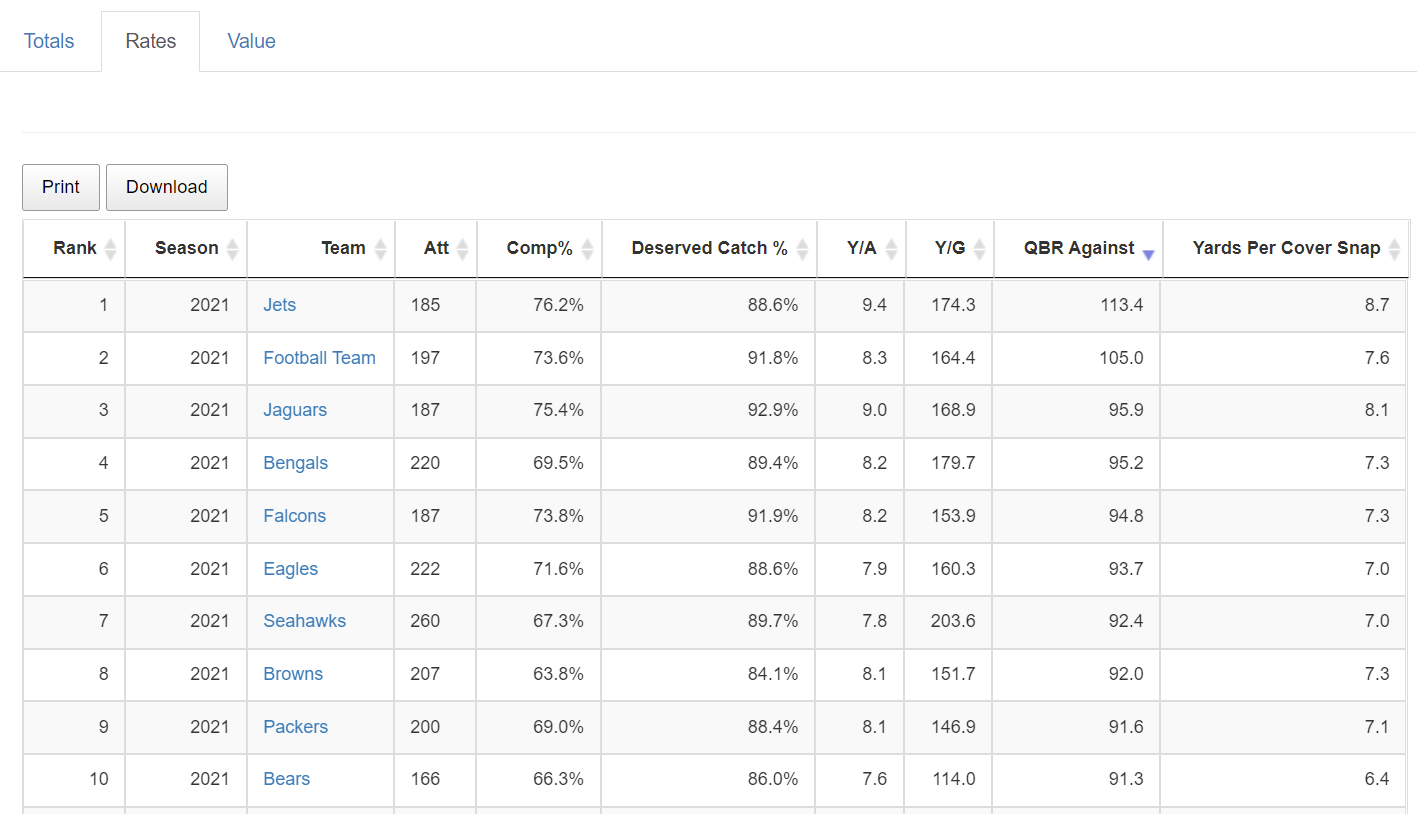 Before you get too lost with those tables, let's now look at the WRs/TEs who excel against man and zone coverage. Again, the first table is for man and the second table is for zone. The tables are sorted by Points Earned which is an advanced metric SIS devised to evaluate a player's performance.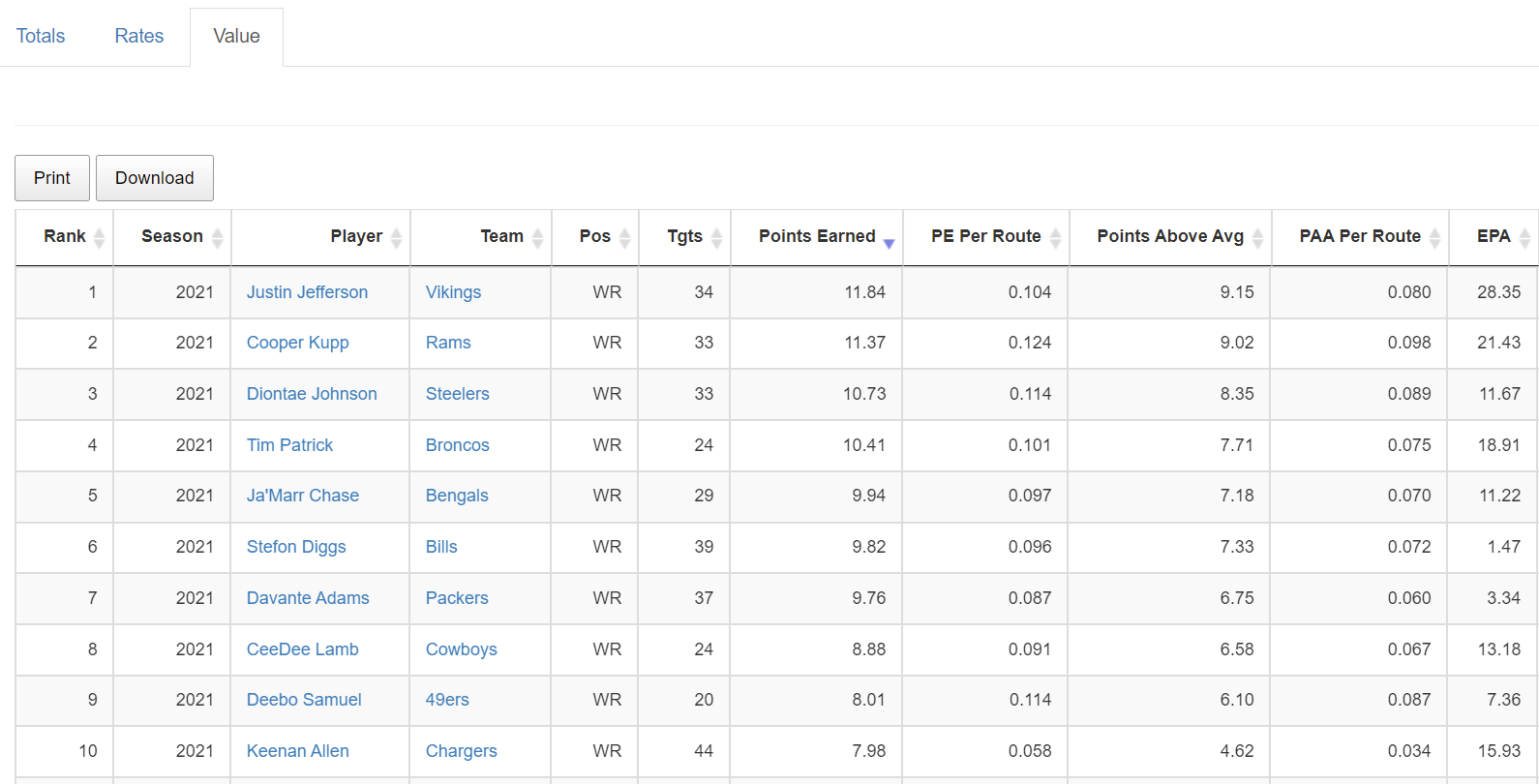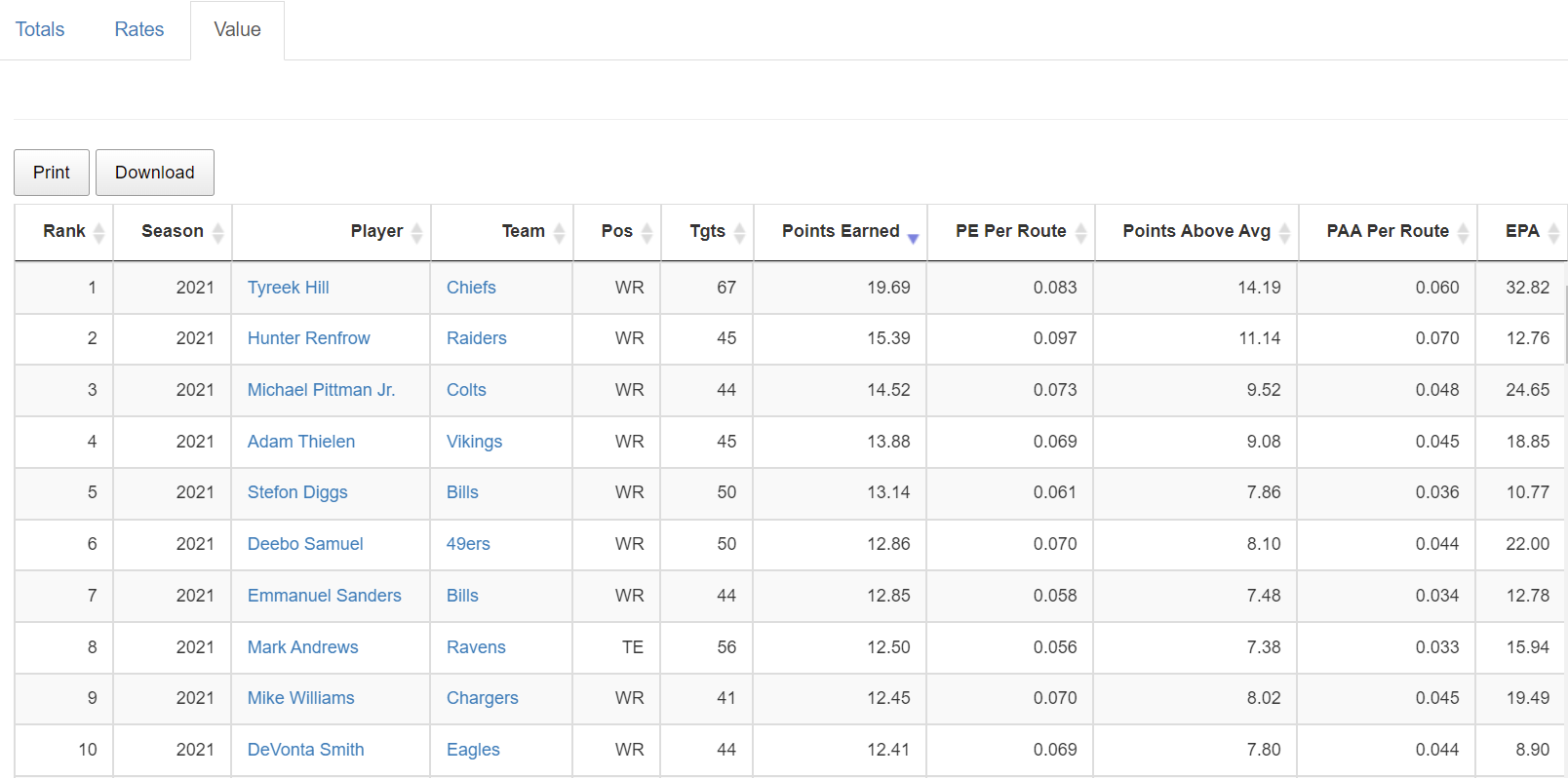 There are three WRs who stand out for Week 12: Davante Adams, Justin Jefferson, and Ja'Marr Chase. All three of them excel against man coverage and that should be no surprise. Adams is a beast who reminds me of Calvin Johnson: big target who runs well in the open field and is incredibly hard to bring down. Jefferson and Chase are two of the most electric WRs in the NFL. Both came from LSU which probably explains why the LSU offense was so ridiculously good in 2019 (when they went undefeated en route to the national title). The 49ers man defense is weak and all you have to do is look at what Adams did to them during Week 3 and the great games DK Metcalf has had against them. The Steelers man coverage is also weak and is arguably the worst in the NFL. Earlier this season Chase had 2 TDs against Pittburgh so we can expect history to repeat itself.
Of course all three WRs are expensive but we can roster all three of them if we hit the bargain bin for all other positions. I would choose Joe Burrow over Aaron Rodgers and Kirk Cousins given the pricing. I would also consider CJ Uzomah who had a couple of awesome games. After all, the Steelers were burned by the Chargers last week. Burrow, Chase, and Uzomah all correlate well with each other as shown in the table below. By the way, Uzomah is very good against man coverage. Small sample size with just 7 targets but FOUR TDs! One of Uzomah's big games this season was against Jacksonville, 3rd worst team against man coverage when you consider allowed QBR.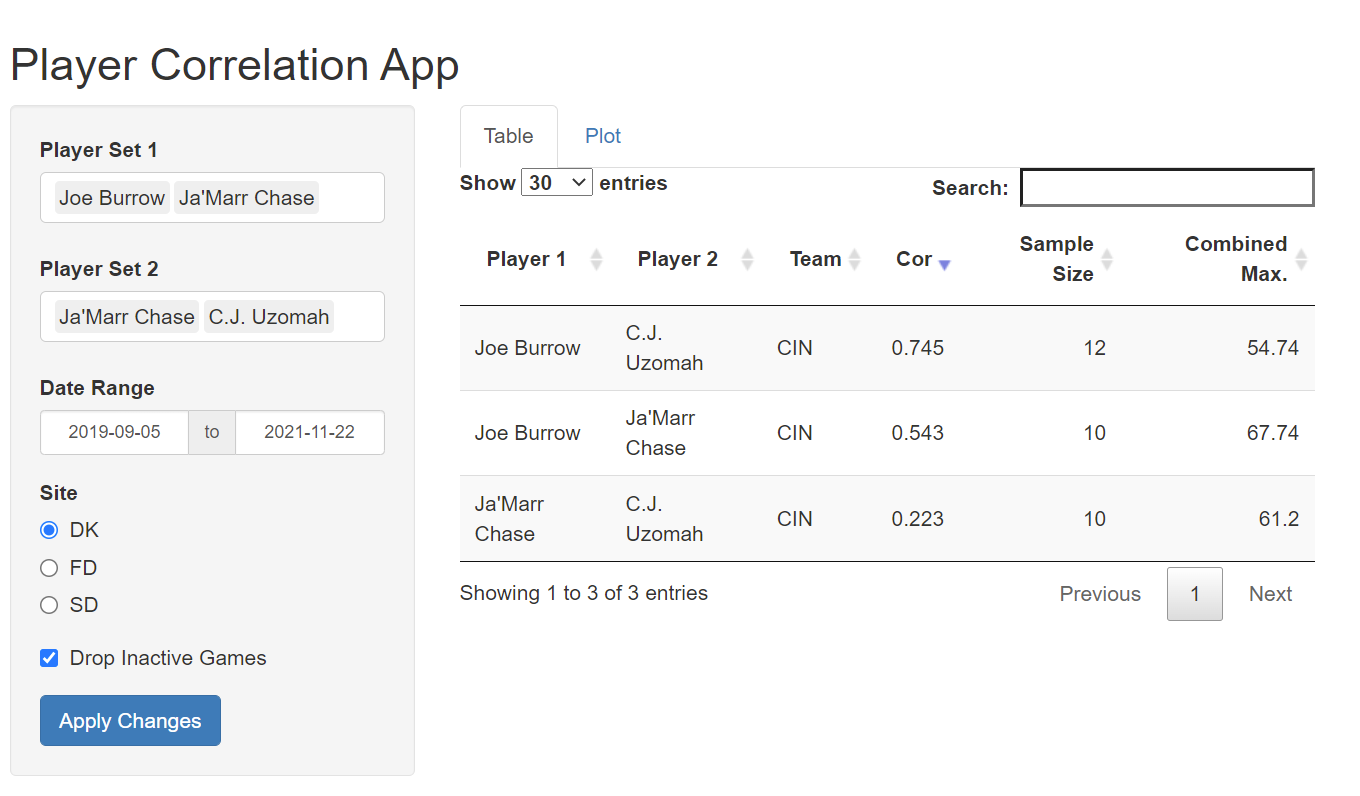 For DST, I love the Jaguars, Texans, and Panthers. All three represent tremendous value and face weak offenses. I will probably lean towards the Panthers given the favorable differential between the Panthers Total Defense DVOA and Miami's Total Offense DVOA.
Now that we are set at QB, WR, TE, and DST, what do we do for RB? Clearly we don't have any salary left for the big names such as Najee Harris, Jonathan Taylor, and Christian McCaffrey but if we consider snap counts, salary, matchup, and projected ownership, there are three I like: Rex Burkhead, Ty Johnson, and Dontrell Hilliard. All three are especially great to have on DraftKings where you get the full point per reception. Even though there is nothing sexy about the offensive units for the Texans, Jets, and Titans, we can expect those teams to stick with no more than 2 RBs and to use those RBs often in the passing game given the injuries they have had to endure with their key offensive weapons. This is a gamble but so is DFS! Let's roll the dice here with these no-name RBs! On FanDuel, we can upgrade from Hilliard to James Robinson who can blow up against an anemic Atlanta defense.
Sample lineups are below. Please note that these lineups are clearly built for a GPP, not a cash game. I like our "triple threat" at WR. Adams, Jefferson, and Chase can each earn 30+ points today and if we get 100 combined points from all three, count your lucky stars. With the correlations and values elsewhere, this unique roster construction is precisely how we take down a GPP today. Good luck and we will check in again once the dust settles today.