Big Five Picks for NFL Week 13 (2021)
Another 2-3 week. If Seattle was able to get the game-tying 2 point conversion near the end of regulation, perhaps Seattle wins the game and we finish 3-2. Clearly we have hit a rough patch but overall the Big Five Picks record is solid at 36-23-1. That is 60.83% for you math majors which is well above the 52.4% accuracy that is needed for profitability. Our record would also still rank high in the Westgate Super Contest: 57th out of 1933 entries and just 4.5 games behind the leader.
The cover/no cover trend hasn't been as successful as it was earlier in the season (read my Week 10 article about that trend) so perhaps that trend is regressing towards the mean (as most trends do). However, I think we can be judicious with that trend if we closely examine each of the matchups that trend satisfies. Here is table displaying my analysis for Week 13.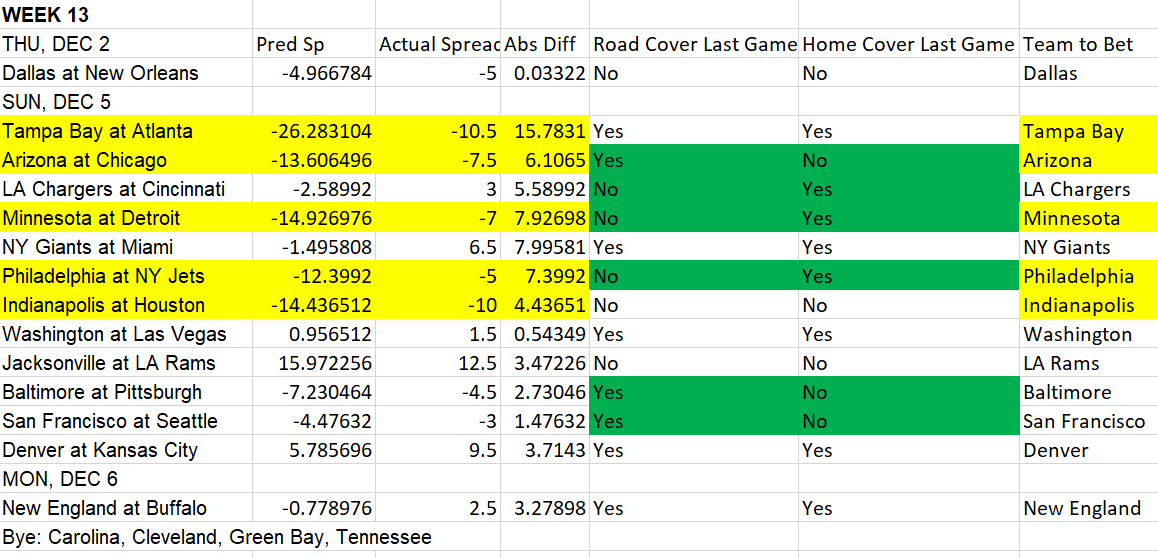 It's interesting to see so much chalk for the road teams this week. In fact there are 4 road teams favored by a TD or more and 2 more road teams close to being favored by a TD. The model seems to like those teams and the cover/no cover trend agrees with two of those matchups. Why stray from what has worked for most of this season! Without further ado, here are the Big Five Picks for Week 13.
Tampa Bay -10.5
This one is too easy. The model like the Bucs to absolutely pulverize the flightless Falcons. The true football team the state of Georgia is rooting for these days are the Georgia Bulldogs. Atlanta ranks dead last in overall DVOA while Tampa Bay is #1. There are weaknesses abound for the Falcons with a 2nd to last ranking for Total Offense DVOA ranking as well as 4th to last ranking for Total Defense DVOA. Meanwhile Tampa Bay has rarely skipped a beat this season during its Super Bowl title defense by ranking 1st for Total Offense DVOA and 6th for Total Defense DVOA. Surprisingly the Falcons are 5-6 while the Bucs are 8-3. However, the Bucs beat the Falcons convincingly earlier this season with a 48-25 score when the Falcons had a more complete roster. During the last 4 weeks the Falcons have won twice but I would consider the Falcons lucky with the schedule since those wins were against New Orleans (a team in a total tailspin right now thanks to a lack of QB stability) and Jacksonville (bound for another awful record). The two serious playoff contenders the Falcons played during that stretch beat the living crap out of them: 43-3 loss to Dallas and 25-0 shutout by New England. The Bucs had a blip on the radar with their loss to Washington three weeks ago. I expect the Bucs to keep scoring 30+ points per game for the rest of the regular season while allowing no more than a couple of TDs and a FG. Prediction: Bucs dominate with a 38-13 victory.
Arizona -7.5
The one nice thing about waiting to write this article until Sunday morning is that we now have word that both Kyler Murray and DeAndre Hopkins will play today. If you got the point spread at 7 or fewer points, consider yourself lucky! It is bound to move right before kickoff. The Bears are stuck with Andy Dalton again who is serviceable but barely wins games. Yes, the Bears have won 4 games this years but take a closer look. Two of those wins were against Detroit, the only winless team in the NFL. In fact, the Bears barely beat Detroit on Thanksgiving and the Lions were missing their top offensive weapon (DeAndre Swift) for most of the game. Then the Bears beat the Raiders who were heavily distracted with news of Jon Gruden's racial/misogynistic tendencies for most of his NFL career. The only legit win for Chicago is a 20-17 victory against Cincinnati during Week 2. I bet the Bengals would destroy the Bears if they played today. Arizona has the best record in the league even with their top two players missing several weeks. This is a very good team that has a legitimate chance of winning the Super Bowl and all we have to do is give up a TD. The Bears have had double digit losses at home to Green Bay and San Francisco. The Cardinals are stronger than those teams right now. Arizona wins 30-16.
Minnesota -7
Another easy one. Detroit is on pace to have the 3rd winless season in NFL history. The Vikings may look like a mediocre team on the surface with their 5-6 record but every one of their 6 losses has been within 1 score. Maybe it's their mediocre defense or the fact that Kirk Cousins is not as good of a finisher as the Pro Bowl level QBs who are a notch or two ahead of him. Regardless, the Vikings are an uber talented team which should take care of business in Motor City. The Lions have already lost 6 games this season by a TD or more. Make that 7 games today. The Lions won't have any answers to Adam Thielen, Justin Jefferson, and Alexander Mattison with Thielen/Jefferson the most dynamic WR duo in the NFL and Mattison arguably the best backup RB we have seen in quite some time. Vikings win this one easily: 31-17.
Philadelphia -5
Now this pick might make you feel uneasy. The Eagles won't have Jalen Hurts behind center. However, Gardner Minshew is plenty capable. He put up strong numbers in Jacksonville. It's not his fault that his defense stunk and that the Jaguars were not capable of drafting talented RBs and WRs. The Jaguars also had an offensive lines full of holes which contributed to Minshew's high sack total. However, Minshew was able to rise above all of that adversity by posting a QB rating of 90+ during his first two years in the NFL and cementing a QB/INT ratio of greater than 3-to-1. His completion percentage was also greater than 60% in Year 1 and over 65% in Year 2. Of course you can't blame the Jaguars for wanting to use the 1st overall pick on Trevor Lawrence who could wind up becoming one of the best QBs in the league for the next 9 - 10 years. He has the pedigree and support of the franchise. Still, Minshew's rookie year was MUCH better than Lawrence's first year in the NFL. Lawrence's completion % is below 60% and he has thrown more INTs than TDs. It probably doesn't help to have a head coach who is better suited for college football and likes to party at dive bars with young women less than half his age. To quell any hesitation we have about Minshew, the Jets are the worst defense in the NFL. They rank 32nd in Total Defense DVOA, 30th in Pass Defense DVOA, and 31st in Rush Defense DVOA. They allow the highest QB Rating at 107 and bottom 3 in most other pass defense categories including completion %, yards per completion, and passing yards allowed per game. Eagles win and don't think twice. 31-20 sounds about right.
Indianapolis -10
I won't get too analytical here. The Colts running game is the reason why the Colts win big today in Houston. The offensive line for the Colts ranks 2nd with second level yards and 1st with open field yards (courtesy of Football Outsiders). That means that once Jonathan Taylor gets past the line of scrimmage and sees daylight, it is game over for the opposition. This rising star was super track and field athlete in high school and played great in college. Some might be surprised by his success but I never was. He checked off all of the boxes when you consider the traits necessary for top 3 RB status. Maybe Taylor doesn't repeat this success next year or the year after but right now this is his time to shine just how it was Derrick Henry's last year and Christian McCaffrey's the year before. Meanwhile Houston struggles when RBs make it to the second level and are in open field: 31st and 27th rankings respectively. This may not quite be the game Taylor had against Buffalo two weeks ago but it will be close. I can see 150+ yards with 2-3 TDs. The defense for the Colts is good as well and the Houston offense is totally inept if they can't score against the Jets, the worst defense in the NFL which I already mentioned. Colts win 28-14 thanks to another splendid rushing attack by the Colts.
I know, lots of chalk but we will eat the points. Usually a weekend like this, Vegas gets killed when the chalk covers or we get killed when big time dogs cover/win. I have a feeling we take Vegas to the cleaners today. Good luck!