Just a warning that my energy might seem off while I discuss the main slate NFL DFS for Week 8. My wife and I decided to start a 30 day diet/cleanse this past Monday. The timing makes sense given that our cleanse ends the day before Thanksgiving which of course is the start of the decadent drinking/eating season and I am sure most of us will be celebrating the end of 2020 (not because it was a good year but good riddance this year will be over soon!). As part of this cleanse, you have 4 deep cleanse days when you pretty much eat nothing and simply consume this drink loaded with minerals 4 times per day along with 2 - 3 small packaged snacks. We chose to do the cleanse days on Fridays since our son is in preschool for most of the day and I am not teaching classes. Overall we each had a shade under 400 calories yesterday. As soon as I finish this article this morning I can guarantee you that I will be eating something!
OK, maybe my energy is still there but if I am not writing in my usual conversational way near the end of this article, you will know why. The Week 8 slate will be quite unique compared to the previous weeks. Fall weather has finally arrived for most of the country (especially California which has been ravaged by crazy heat spells and wildfires) and that means that we will see inclement weather in the foreseeable future. In fact, there are four games that will have sub 40 temperatures and high winds. Check out the image below from Rotogrinders.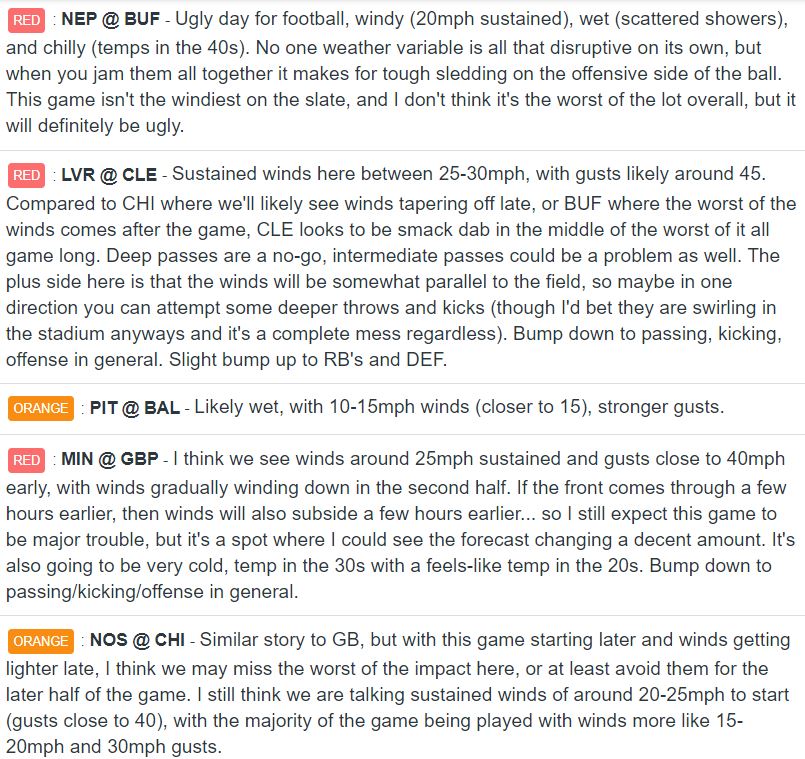 We won't have the Sunday Night Football (SNF) game as part of the main slate (which was a total anomaly last week thanks to the NFL shuffling the schedule around due to COVID-19) and with 4 teams on bye and the typical 4 other teams who play on Thursday Night Football (TNF) and Monday Night Football (MNF), that leaves us with just 11 games on the main slate. Of those 11 games, I will be crossing off the aerial attacks for 4 of them. No way will I stack a QB/WR in a game with wind speeds over 20 mph. I understand that sometimes we can overreact to the weather when there is rain or snow. It's not unusual for the passing game to actually thrive in those conditions since the defenders can find it challenging to find proper footing making it easier for a gifted WR/TE to get the separation he needs for accumulating major yards after the catch. However, when the wind speed is high, I don't care how strong of an arm your QB has. You simply cannot make crisp throws with high precision. Likewise when there are freezing conditions which makes the ball feel as hard as a rock and of course uncatchable (unless you were the Patriots in the 2014 AFC title game against the Colts!).
The 4 games I will be avoiding when it comes to building my QB/WR/TE stacks will be the following: NE-BUF, LV-CLE, MIN-GB, and NOS-CHI. That leaves us with 7 games. Only 3 of those 7 games will feature a Vegas point total of 50+: SF-SEA, TEN-CIN, and IND-DET. I don't quite trust either offense for the Colts or Lions and the Colts defense has been solid this year. You could consider the Chiefs at home hosting the hapless Jets but I suspect that the Chiefs will wind up resting most of their 1st string players once the games gets out of hand in the 3rd quarter. Only 8 other times in NFL history have we seen a point spread break the 20 point barrier and it's been a while since we have seen such a disparity in quality between two NFL teams in the same game. Patrick Mahomes happens to be the highest rated QB according to my model but I can't justify his insane salary if he does not play the whole game. I can probably see him getting about 200 years with 3 TDs in the first half good for a 28-0 or 35-0 halftime lead and then giving way to the 2nd string players in the 2nd half of the game.
All of this means is that there are just two games I wish to stack: SF-SEA and TEN-CIN. In fact, my model loves all 4 QBs in those games based on the DK predicted points/salary ratio (see image below for my QB model analysis). Here are some possible pairings.
SF: Jimmy Garoppolo & Brandon Aiyuk or Jimmy Garoppolo, Kendrick Bourne, & George Kittle
SEA: Russell Wilson & DK Metcalf or Russell Wilson & Tyler Lockette
TEN: Ryan Tannehill & AJ Brown (or add on Jonnu Smith)
CIN: Joe Burrow & Tyler Boyd (or add on Giovani Bernard or Tee Higgins)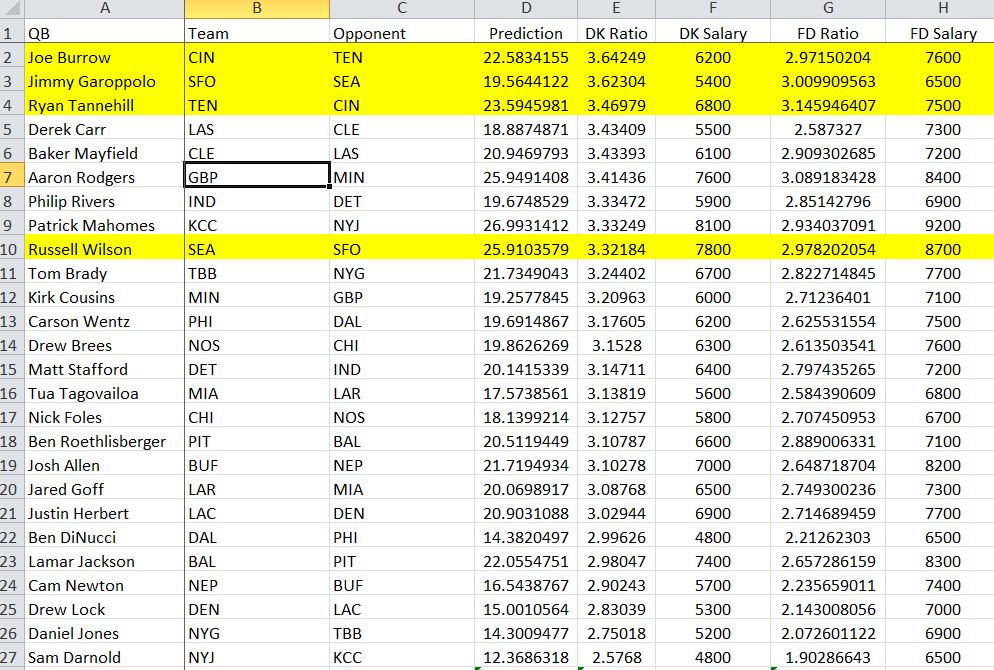 When building my stacks, I love to use the tools on the Advanced Sports Analytics (ASA) site. The Player Correlation app and the NFL Optimizer are the way to go. With correlation, I can determine which players tend to do well when the QB pops off. With the optimizer, I can get snap percentage, air yards, and target share data which can help validate the correlations. Here are images from the ASA site for the four aforementioned teams. The ASA link is below.
www.advancedsportsanalytics.com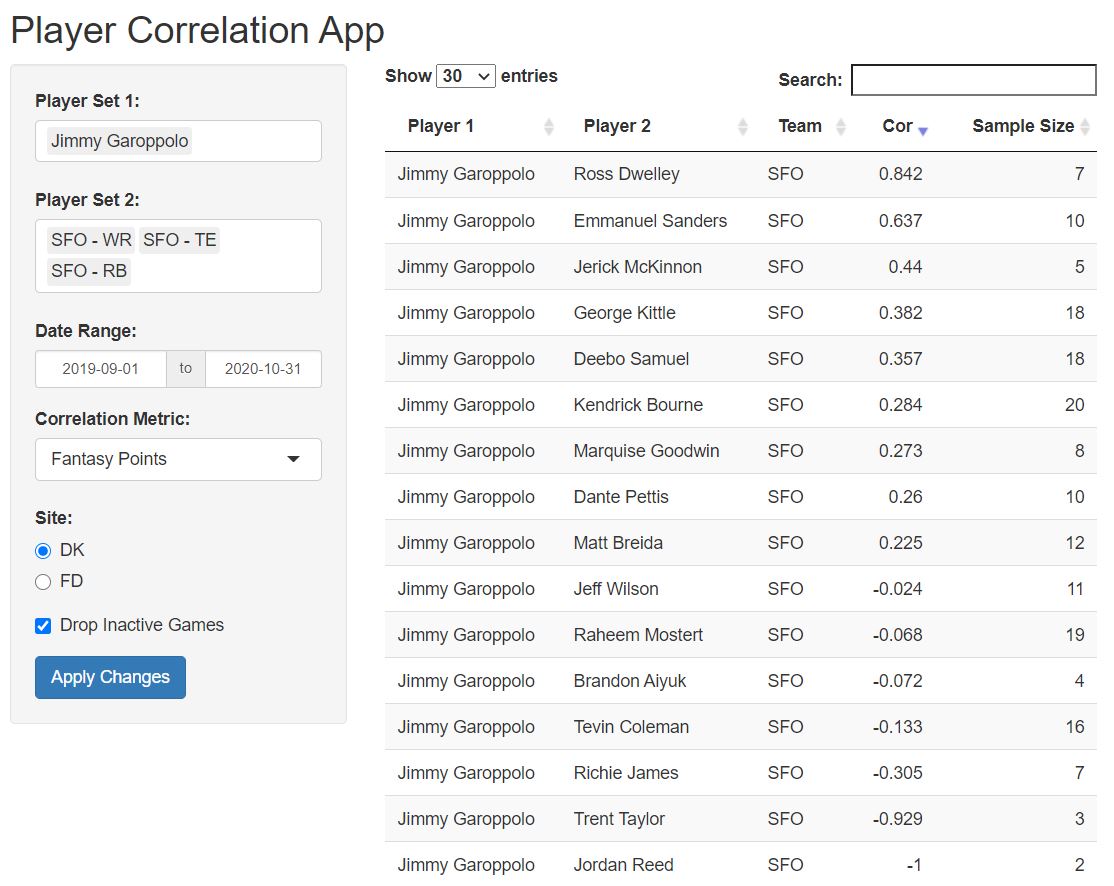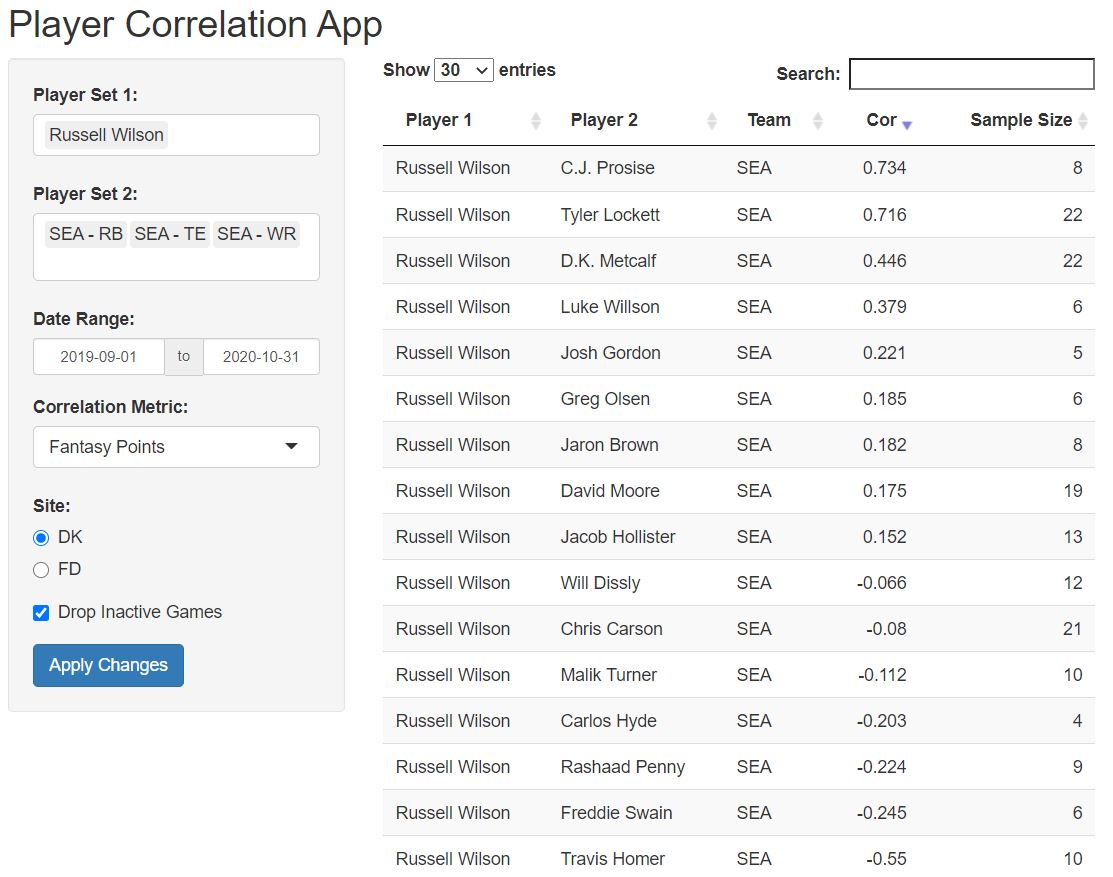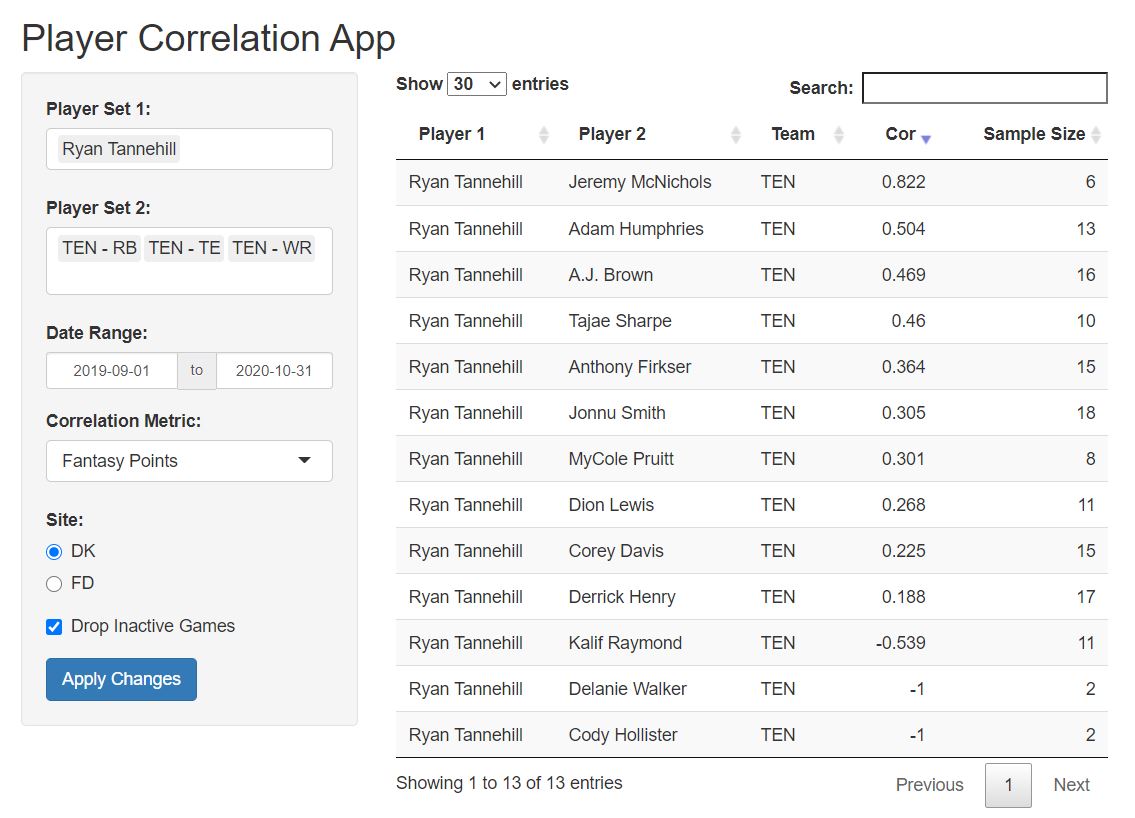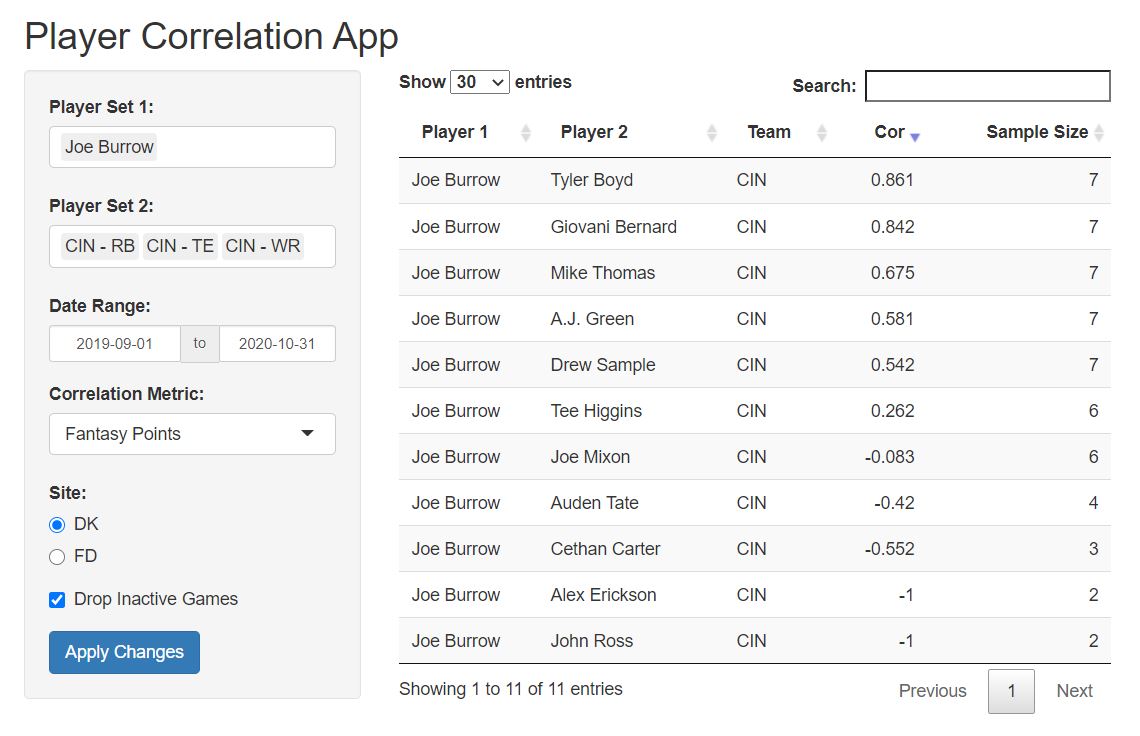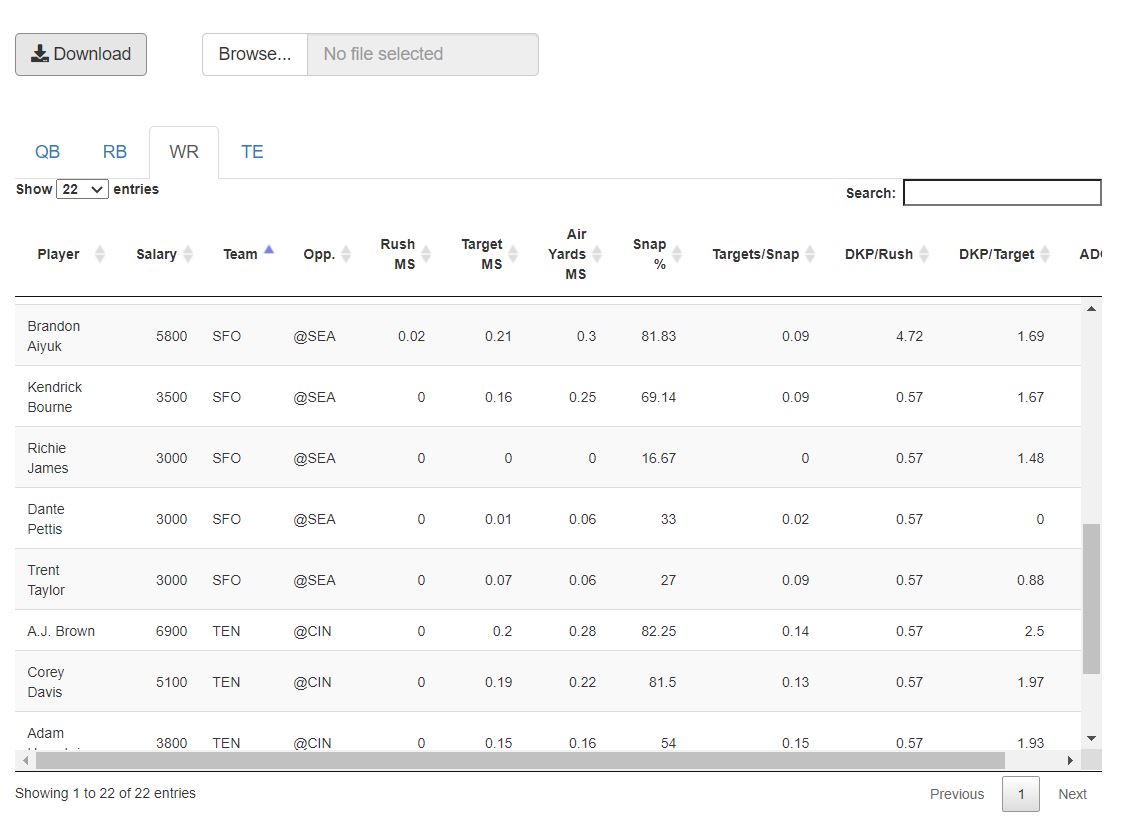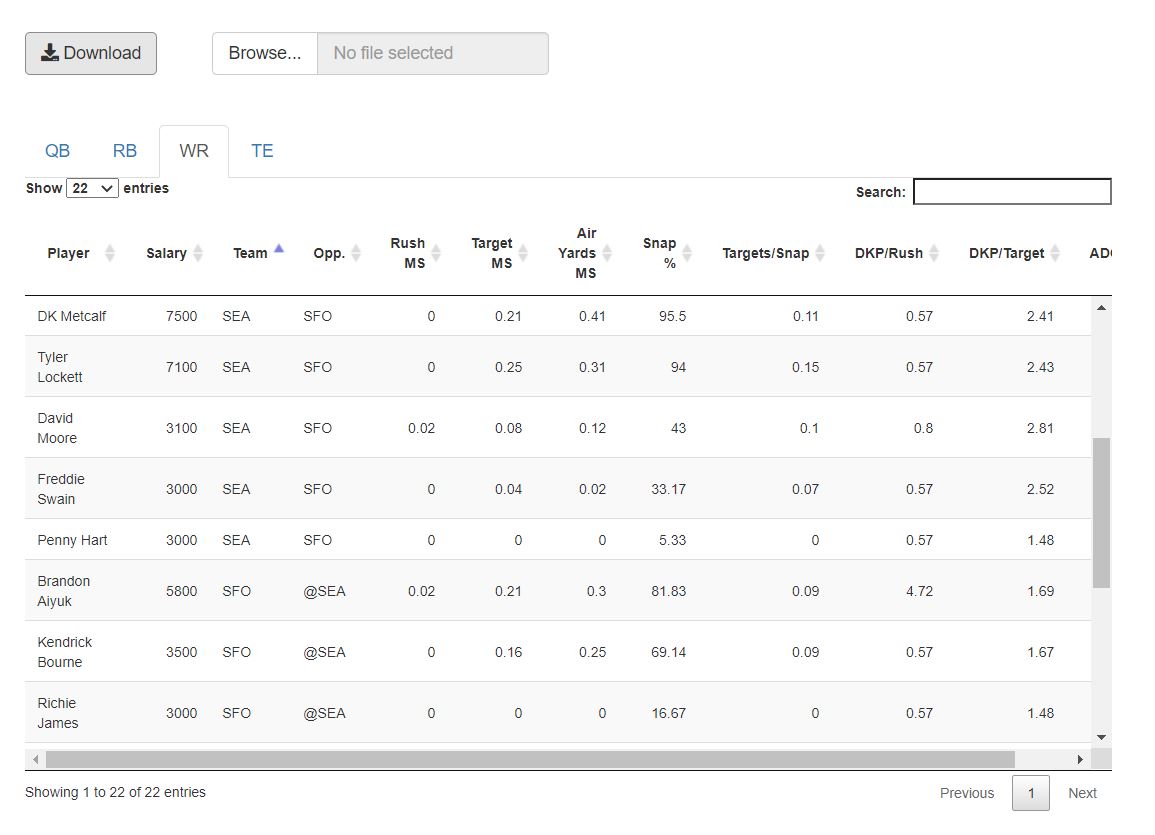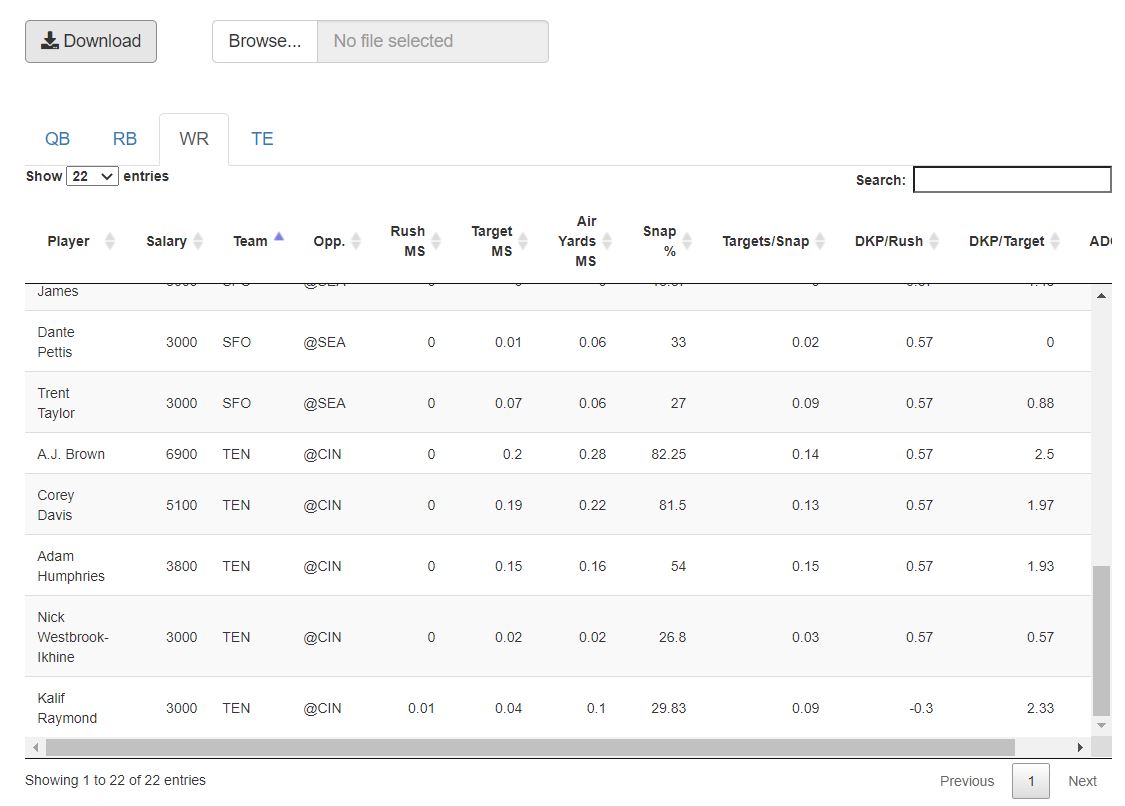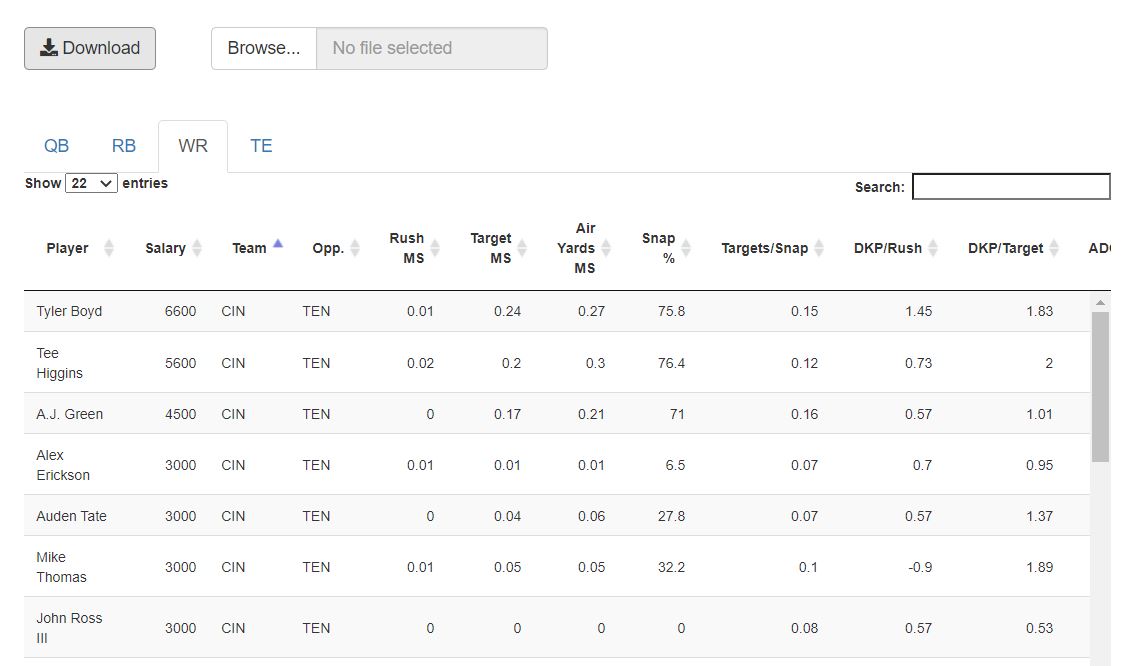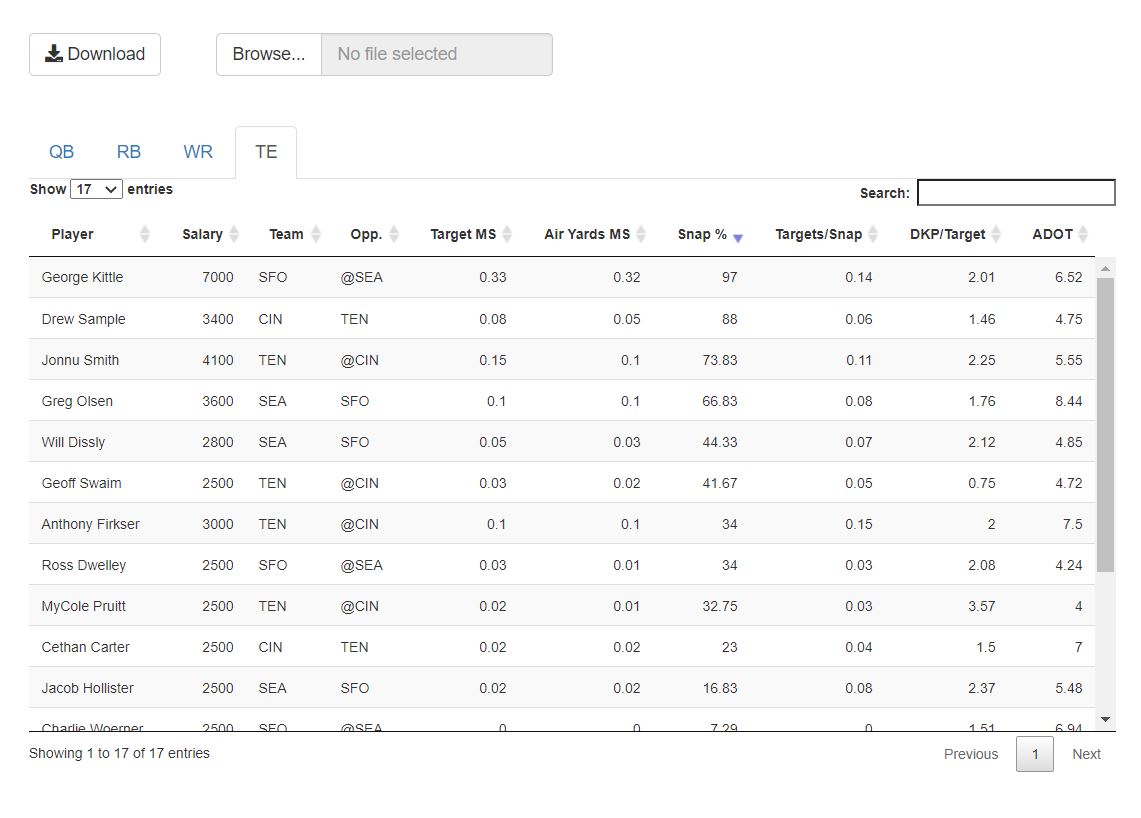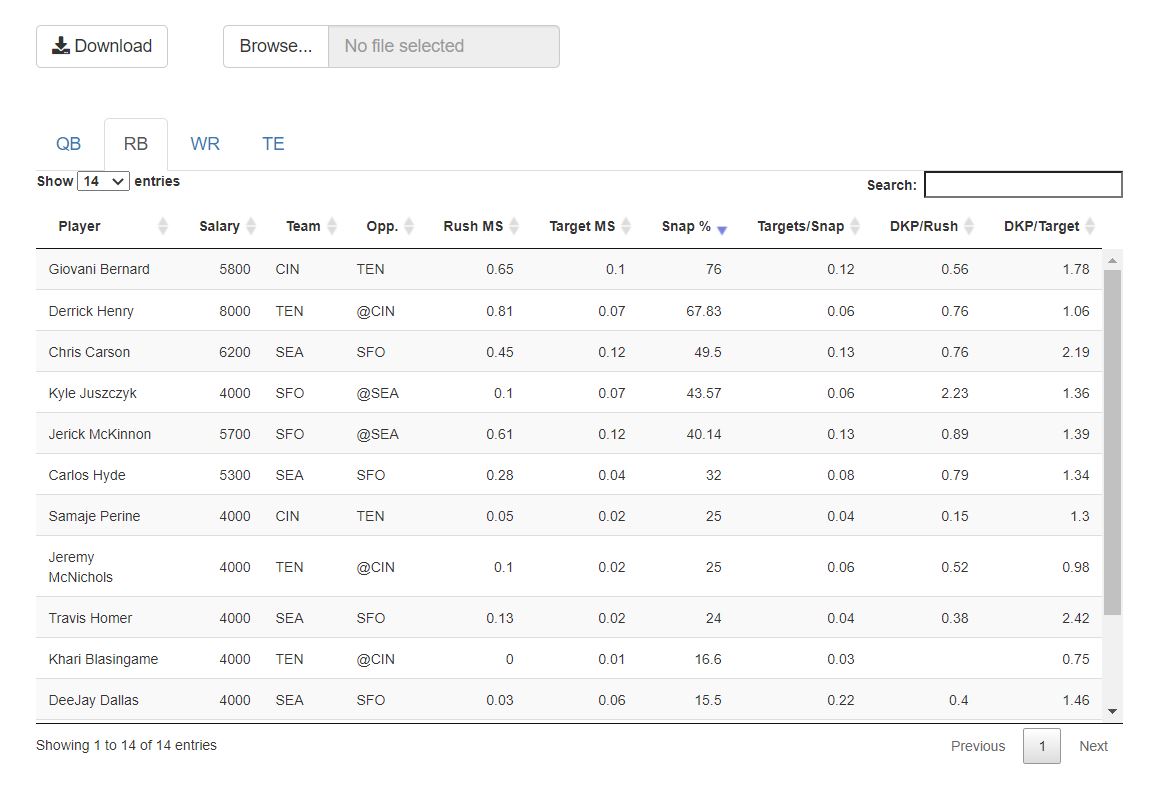 FYI, the correlation analysis dates back to September 1, 2019. I figure that 2018 data would be useless given that Garoppolo missed most of 2018 due to a torn ACL, Burrow was still at LSU, Tannehill's talents were wasting away in Miami, and Wilson did not have Metcalf then.
No doubt there are several ways we can build our stacks but we would be wise to go with the strongest correlations as well as players who will be seeing the most opportunities in the passing game. Our stacks will also include a key pass catcher from the other side. If you are anticipating a shootout, you will want players from both teams.
Once our stacks are built, it's time to get the RBs and other ancillary pieces. RB is kind of tricky this week with so many injuries and high priced options. Personally, I like the RBs in the cold weather games. It will be hard to throw in Green Bay, Cleveland, Buffalo, and Chicago. That means I will be looking to roster Dalvin Cook, Jamaal Williams, Kareem Hunt, Josh Jacobs, and Alvin Kamara. Some of our stacks will be cheap (primarily the San Francisco stack) so we could squeeze in some of these high priced RB options but our Seattle stack will be expensive so no way will we able to add Cook or Kamara to that lineup. However, there is some value to be had: Leveon Bell. I cannot think of a better revenge narrative. Shame on the Jets (well really shame on Adam Gase, easily the biggest doofus in the NFL right now) for under-utilizing Bell in the Big Apple. The Chiefs have a high implied point total and given that the game could give way to the 2nd string players, perhaps Bell will see the field often. Plus, the Chiefs have proven to be quite flexible with the RB position and by no means has Chiefs rookie RB Clyde Edwards-Helaire assumed an every-down role with Kansas City. Bell is super cheap on DraftKings and quite affordable on FanDuel.
So we have a Chiefs player and we should since they are expected to win convincingly. If that is the case, why not run it back with the Chiefs defense? We were spot on with featuring the Chiefs defense last week and this seems like a good week to repeat those efforts. Remember, good offense also leads to good defense. The Jets will find themselves in an early deficit to the Chiefs which could get them out of their comfort zone. That is when the mistakes happen and the Chiefs know how to capitalize on the other team's errors. The KC defense/special team is very expensive but I will pay up for it. Ownership might be low due to the high price and that is fine by me.
Finally, we will need to save some money somewhere and tight end could be place to find those savings. If I am not using Kittle in a 49ers stack, then Trey Burton is my guy. He showed up for the Colts in their last game and Philip Rivers loves to throw to the tight end position. Burton would have himself some nice games for the Eagles and Bears so I am fine with paying down for tight end since the potential for a big game is there and I don't need much from Burton to hit value. Even 3 - 4 receptions for 40 - 50 yards will do but a TD would be even nicer!
Here are my sample lineups for both DraftKings and FanDuel.


OK, my energy level is still fine right now and the kids are just waking up as I am wrapping up this article. Time to make them breakfast and for me to finally eat some real food! Happy Halloween everyone and let's hope that Sunday treats us well!