NFL Thursday Night DFS - Week 8
No more MLB for a while. No more NBA for a while (well at least for the next 2 months if the new NBA can start right before Christmas). That means I can fully focus on the NFL for the foreseeable future! My plan is to publish an article by 12 AM PT on Thursdays for the Thursday Night Football (TNF) single game showdown and 12 AM PT on Mondays for the Monday Night Football (MNF) single game showdown. That way those on the east coast can read my analysis right when they wake up. I know that publishing content on the day of the MNF and TNF games can be tricky since by the time I wake up on the west coast and get an article done, it's already 12 PM ET for you east coasters and you might already have your mind made up about the MNF and TNF slates. Count on me to burn the midnight oil for you guys! For the main slate on Sundays, I will continue to publish those on Saturday mornings (hopefully before 9 AM PT) since I need Friday nights to complete my analysis.
Now that I have made a pledge to consistently publish NFL DFS articles three times per week, let's get the week started right! We have 7 weeks of in-season data at our disposal which I feel is a decent sample size. That means using correlation analysis can be a worthwhile endeavour and you can locate such analysis at the Advanced Sports Analytics site. The link is below and if you want the same edge I have had during my amazing DFS run in October, subscribe to ASA now!
www.advancedsportsanalytics.com
There are a three ways we can tackle the TNF slate.
Assume that Carolina will dominate.
Assume that Atlanta will dominate.
Assume a close game.
Before you start calling me Captain Obvious from the Hotels.com commercial, we really should consider which players will pop off for each of those three scenarios. For example, if Carolina controls the tempo on TNF, logic would dictate that Teddy Bridgewater will have a great game. Who correlates well with Bridgewater? See the image below from the ASA site.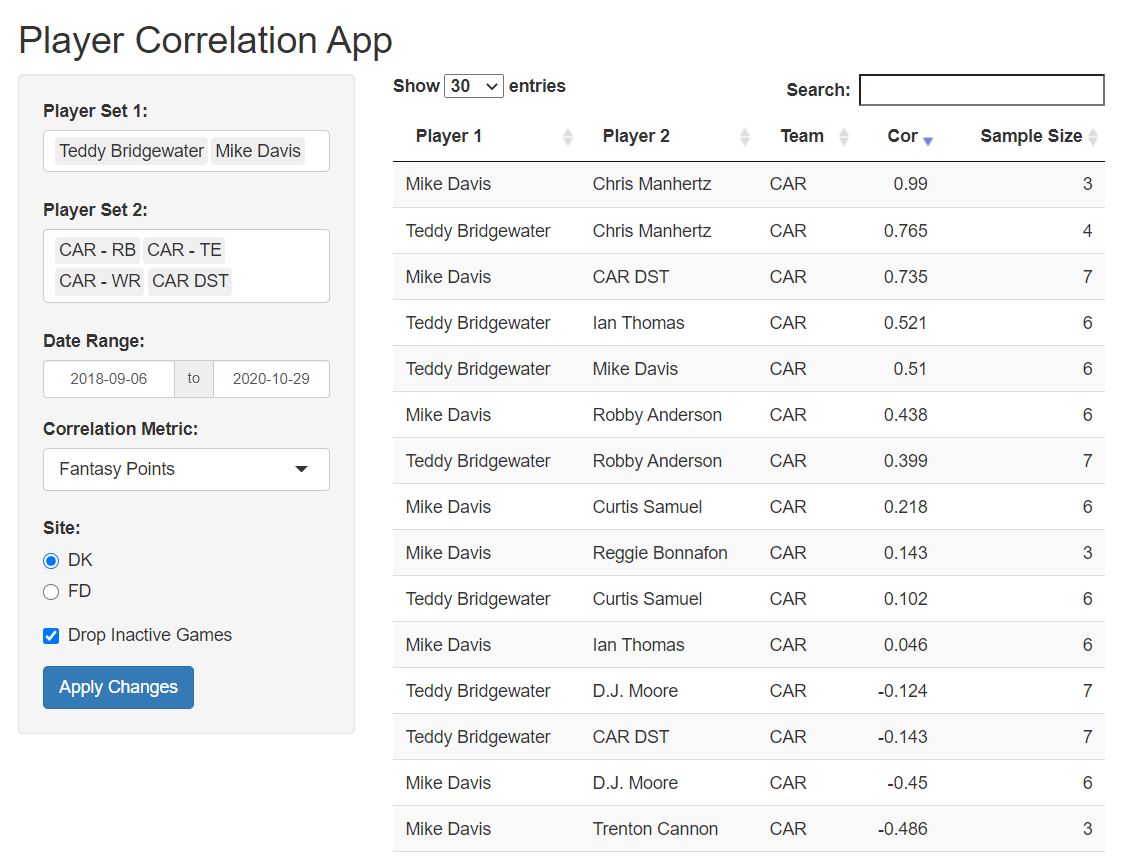 Bridgewater correlates very well with Robby Anderson and Mike Davis. We can also throw in Curtis Samuel and Ian Thomas. Seems like a clear path to success, right? Well, the water gets muddier if Christian McCaffrey returns. We won't know if he is released from Injured Reserve (IR) list until 1 PM PT so we will need a contigency plan should McCaffrey become active for TNF. High ankle sprains typically heal in 5 - 6 weeks which is when McCaffrey last played. If McCaffrey plays on TNF, don't overanalyze it. You play him! Carolina is not going to activate him to just let him play a limited number of snaps. He will return to his workshorse status. So which players correlate well with McCaffrey? Pretty much no one!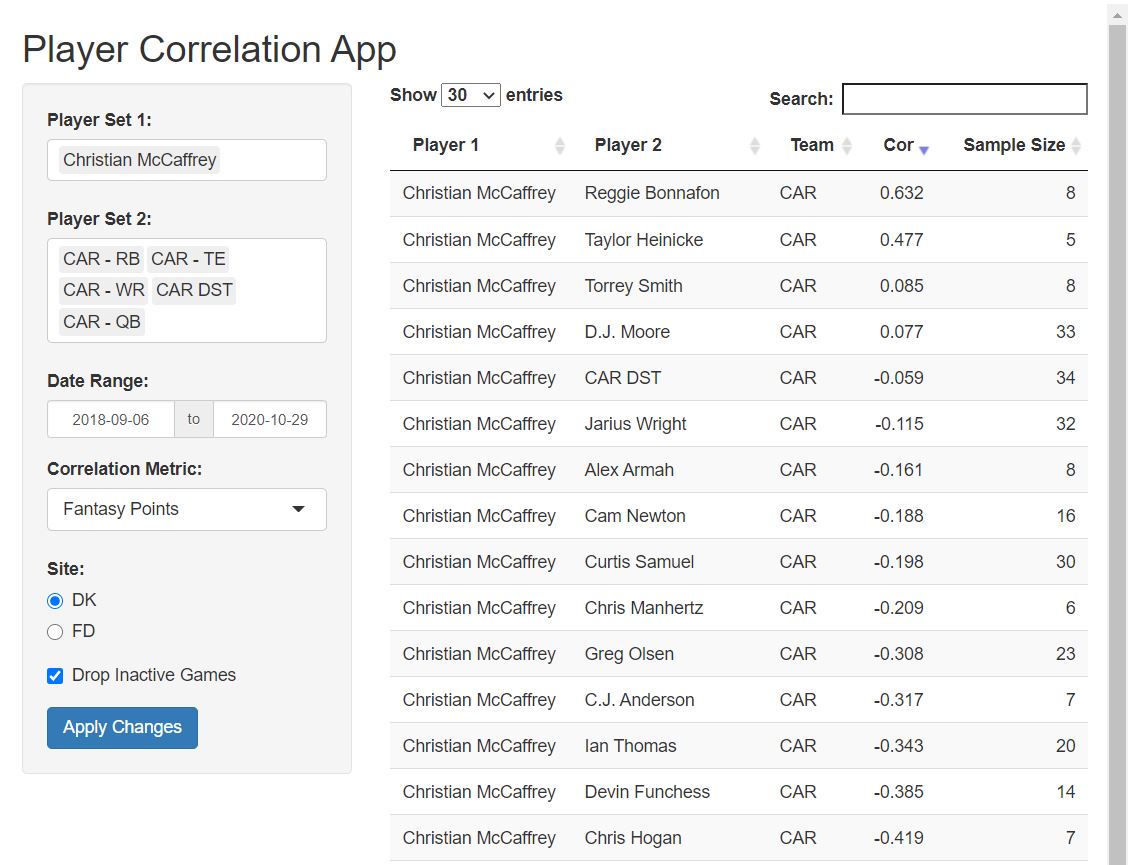 The analysis above should not be surprising. Last year McCaffrey was the entire Panthers' offense. He is simply a one-man wrecking crew. We must keep this in mind when building our lineups. I suppose Panthers placekicker Joey Slye would be a wise choice since if Carolina plays well because of McCaffrey. Slye is bound to benefit with plenty of FG and XP opportunities. Pairing Bridgewater with McCaffrey could also make sense since McCaffrey is very capable of scoring as a receiver but that would not leave you with enough salary for other quality players. My hope is that McCaffrey is not activated tomorrow since Davis is way cheaper but of course we must be ready for either scenario.
Let's assume Atlanta dominates. Matt Ryan is your MVP on FanDuel whereas either Calvin Ridley or Julio Jones is your Captain on DraftKings. Ryan Gage and Younghoe Koo are also viable options. Gage might play 3rd fiddle among the Falcons WRs but he is cheap and has a decent snap count. He should not have a problem getting involved if the Falcons offense is flying high and of course if he scores, Ryan benefits. I also like Hayden Hurst and he is an intriguing choice for Captain on DraftKings. No doubt there are a few combinations of Falcons players that can work in the scenario that Atlanta leaves Charlotte with a convincing victory. Notice that I have not mentioned Todd Gurley until now. He does not correlate well with his new teammates (Falcons correlation analysis is shown below). The Panthers run defense was gouged earlier in the season but has shored things up since then. Still, if Gurley has a big game, then don't expect much from the Falcon' aerial attack. I would rather use Gurley in my lineups that are Carolina heavy.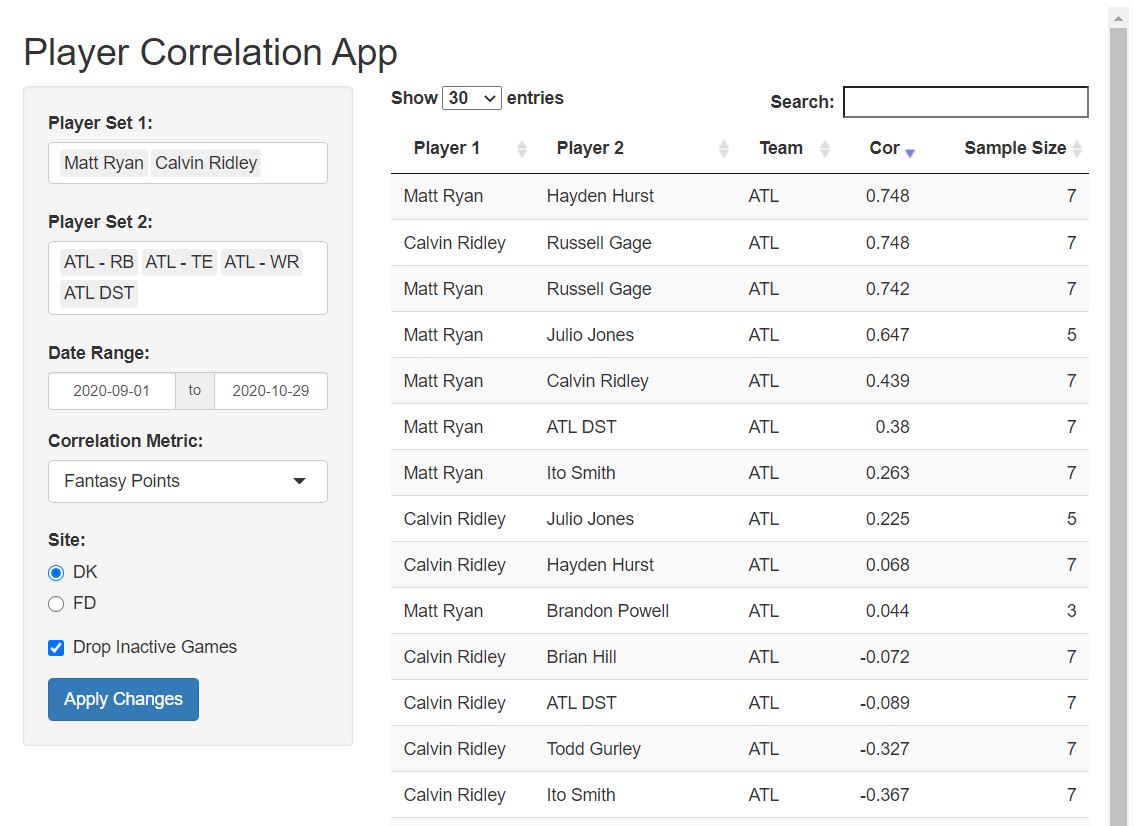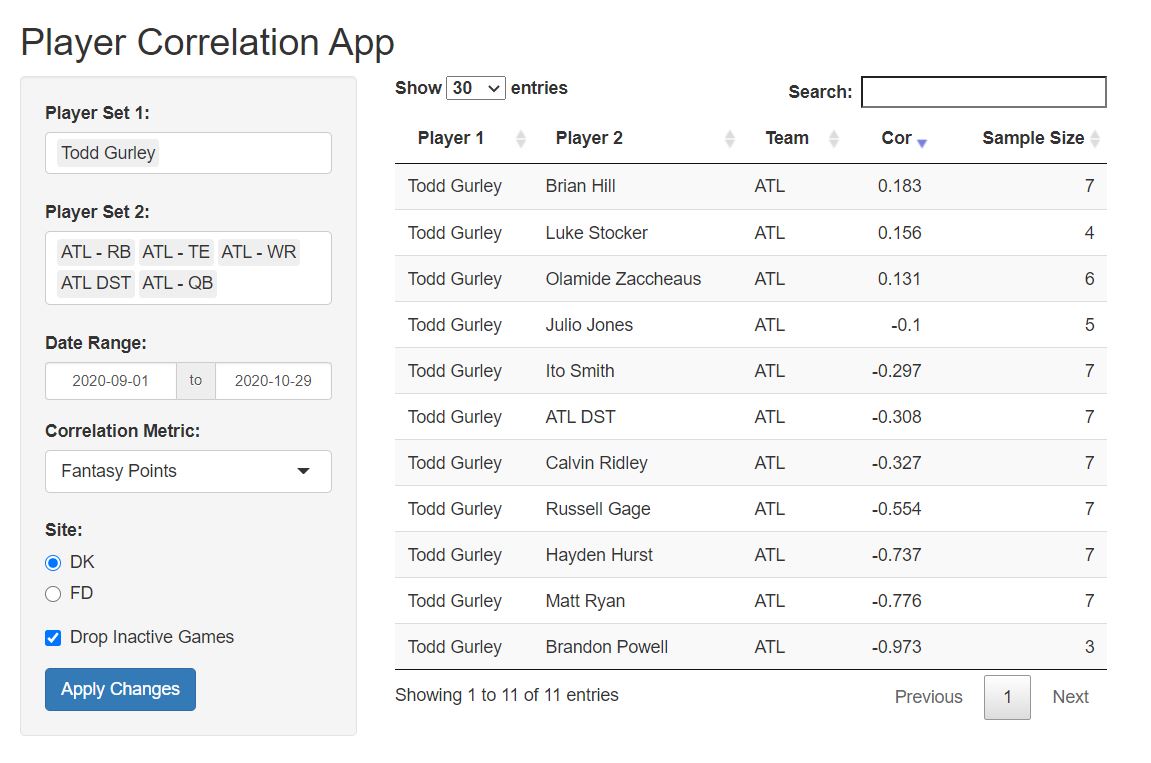 Finally, we have the scenario where we get a close game which is what most people are expecting. I cannot stress enough that in DFS, you have to consider situations that run counter to what the public feels will happen. That is how you separate yourself from the pack in DFS. However, we will build the best lineup we can should this game go down to the wire. Again, if McCaffrey plays, then you roster him but you will then need to go heavy with Falcons players given McCaffrey's high price. No McCaffrey means we can have some fun. Consider a Ryan-Ridley pairing with Anderson. Or perhaps a Bridgewater-DJ Moore pairing with Jones. I actually kind of like Moore with Ridley given that both are very strong in the air yards department. There are a few ways you can mix and match players in this scenario. On DraftKings, don't feel the need to do an even 3-3 split between Falcons and Panthers players. You can still make money with a 4 players from one team and 2 from the other team in a close game.
Here are my favorite lineups for the three scenarios we have discussed. Hopefully the labels above each image is easy to follow. That is all and let's end the month of October with a bang!
Carolina heavy (McCaffrey plays)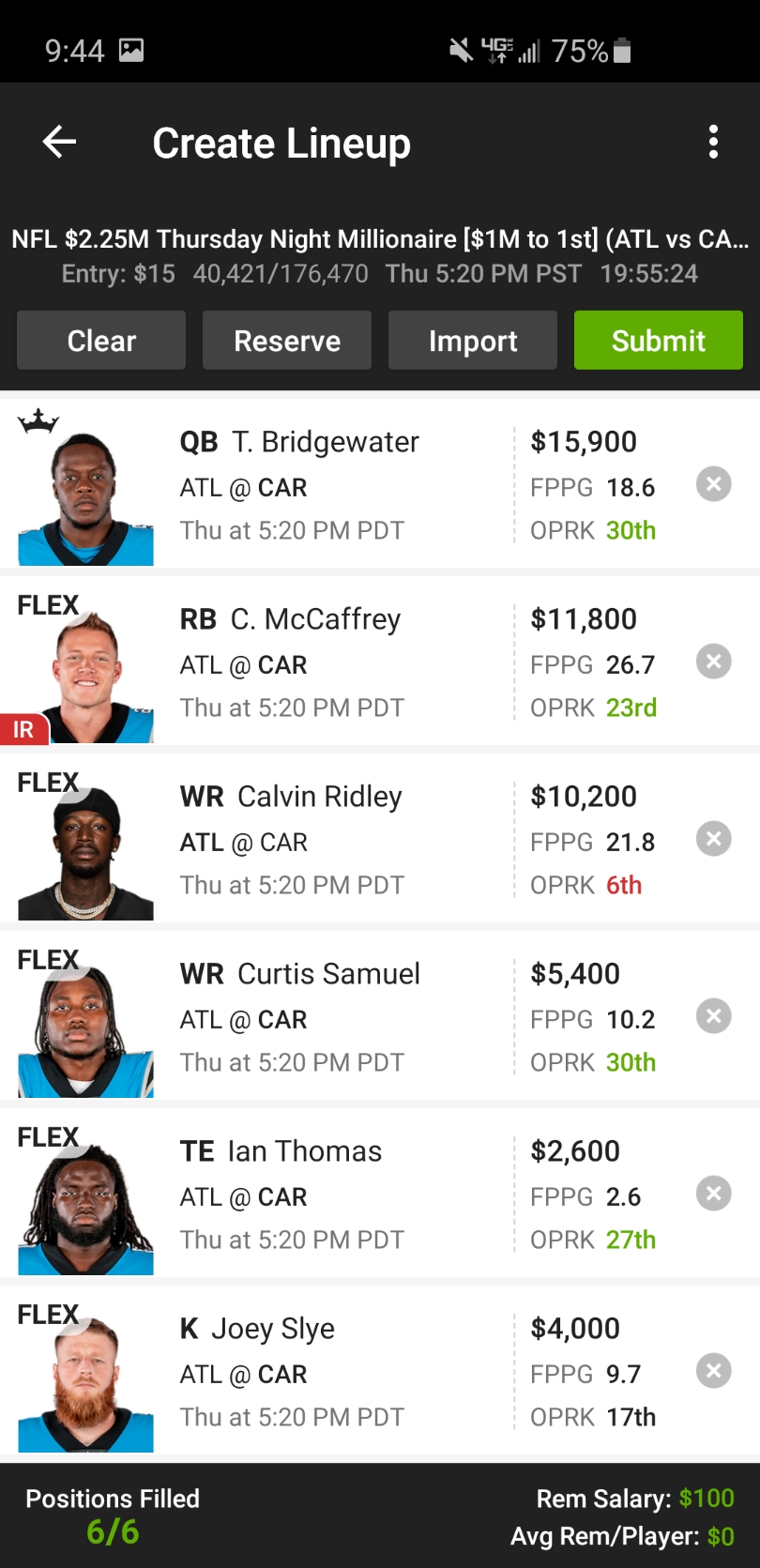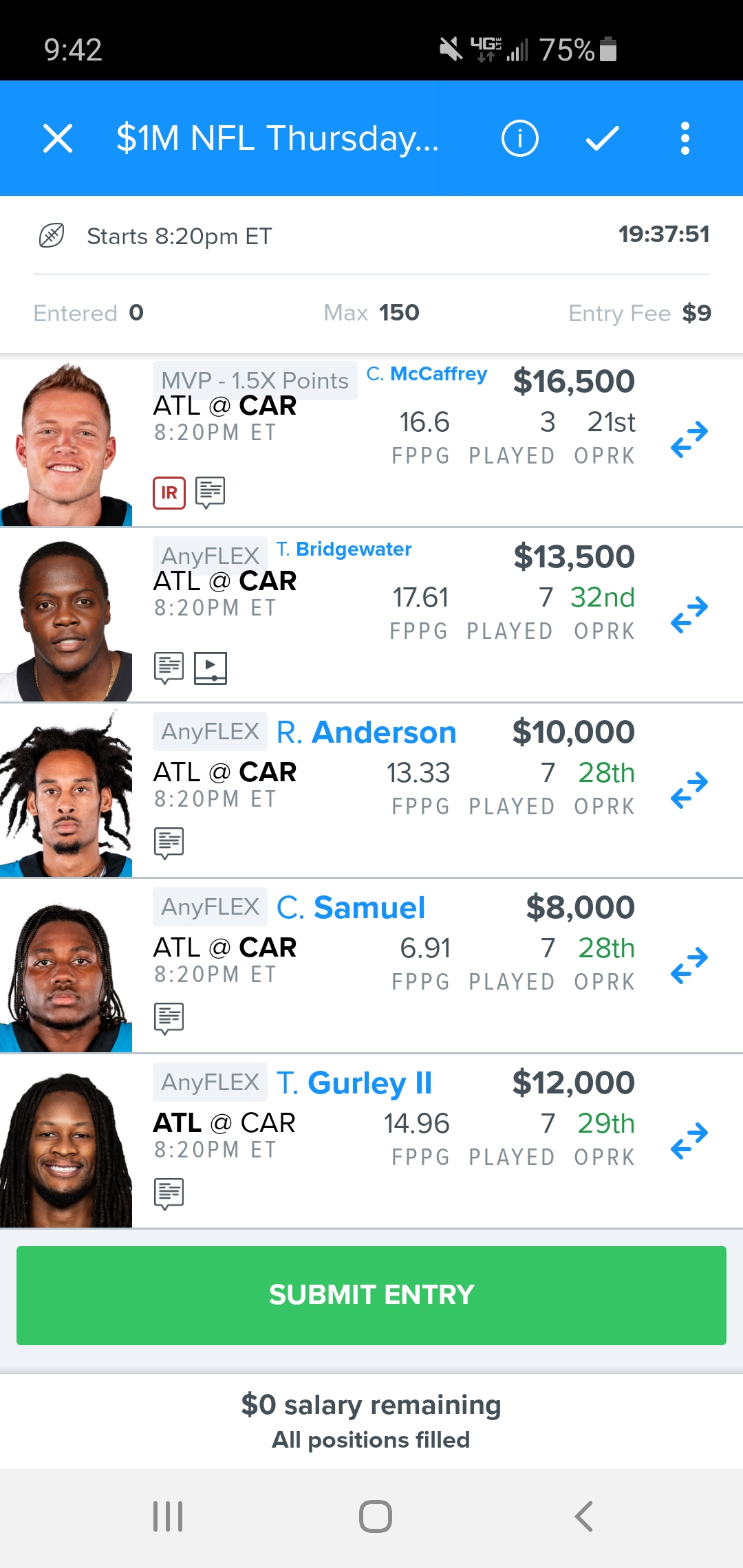 Carolina heavy (McCaffrey sits)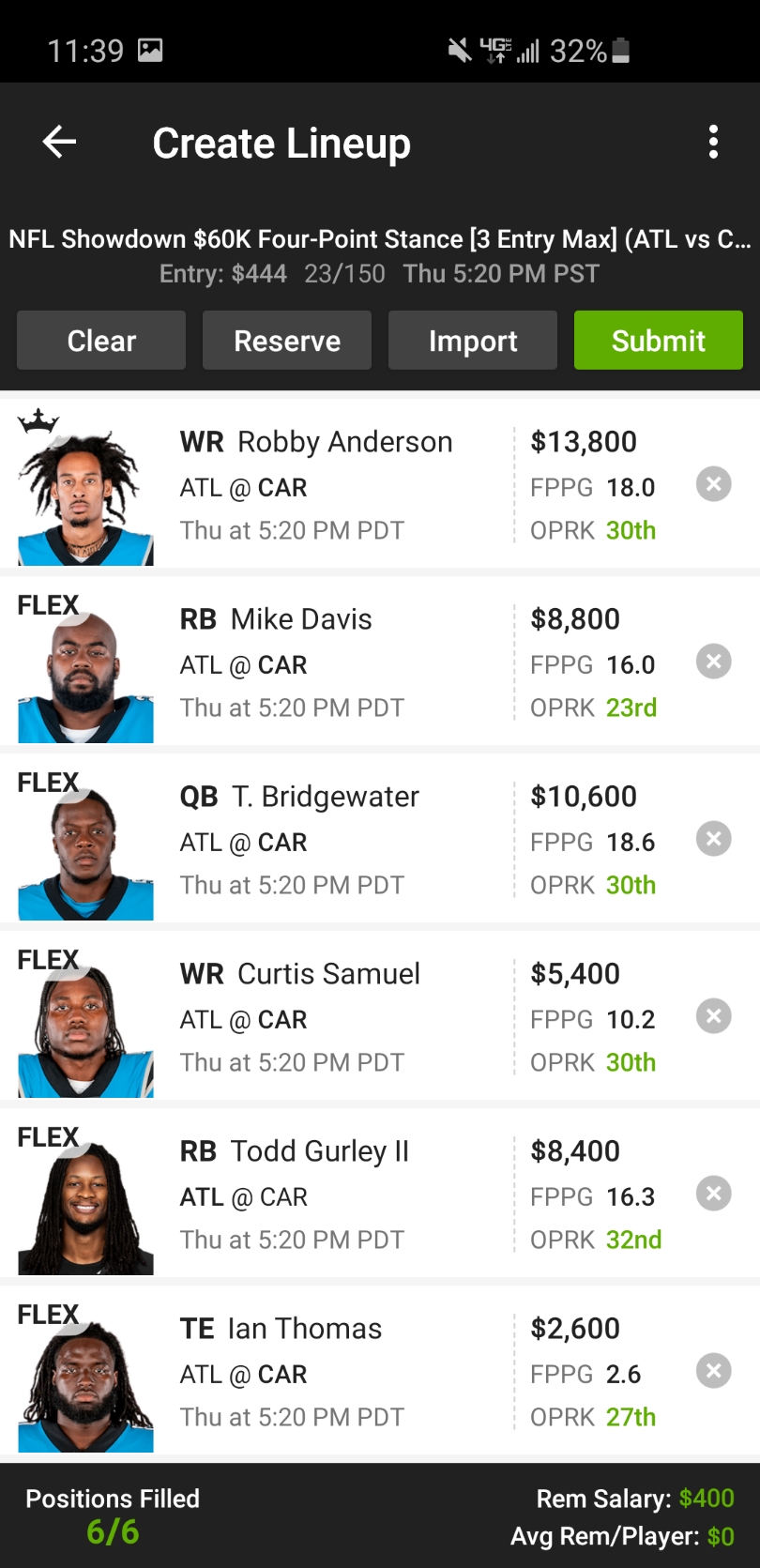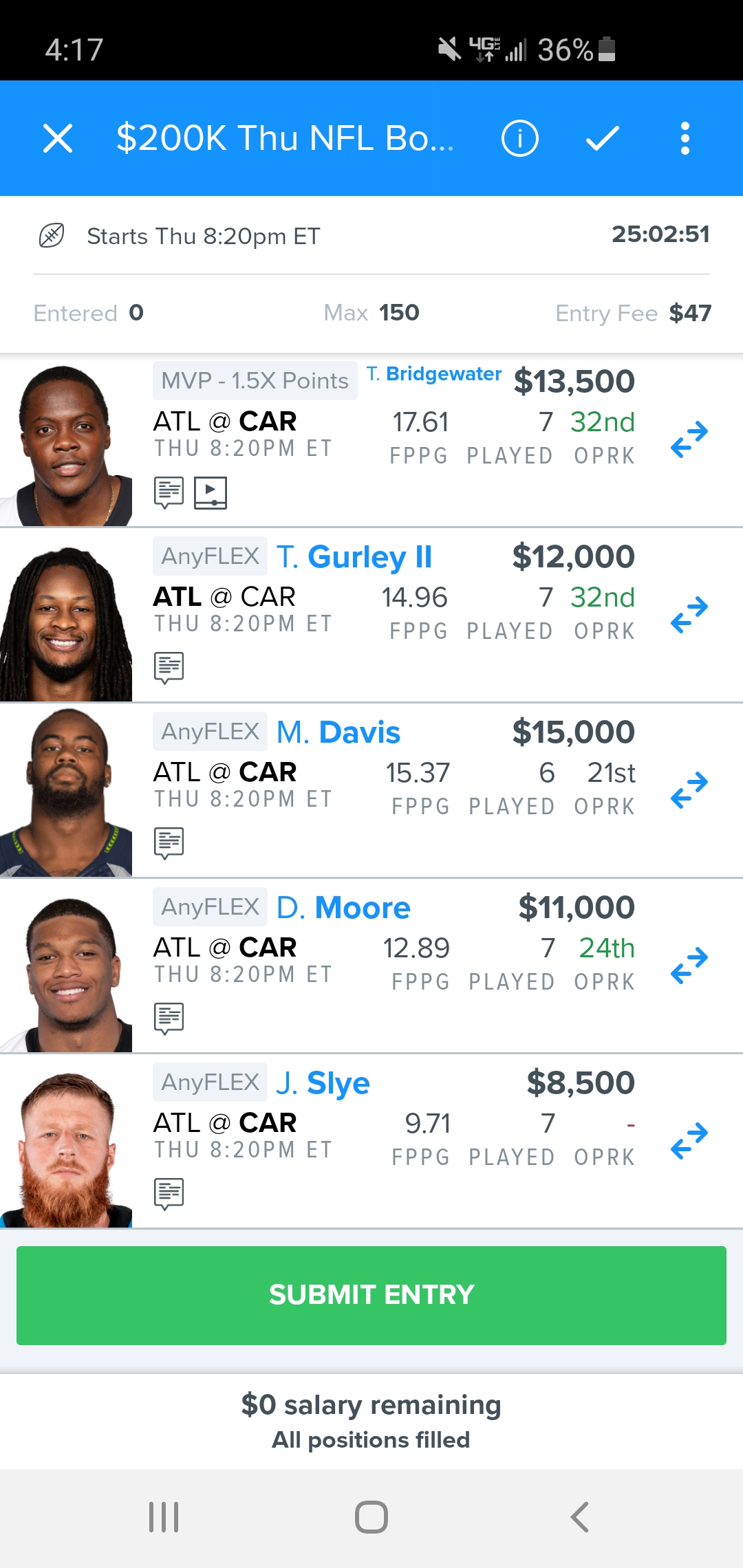 Atlanta heavy (McCaffrey plays)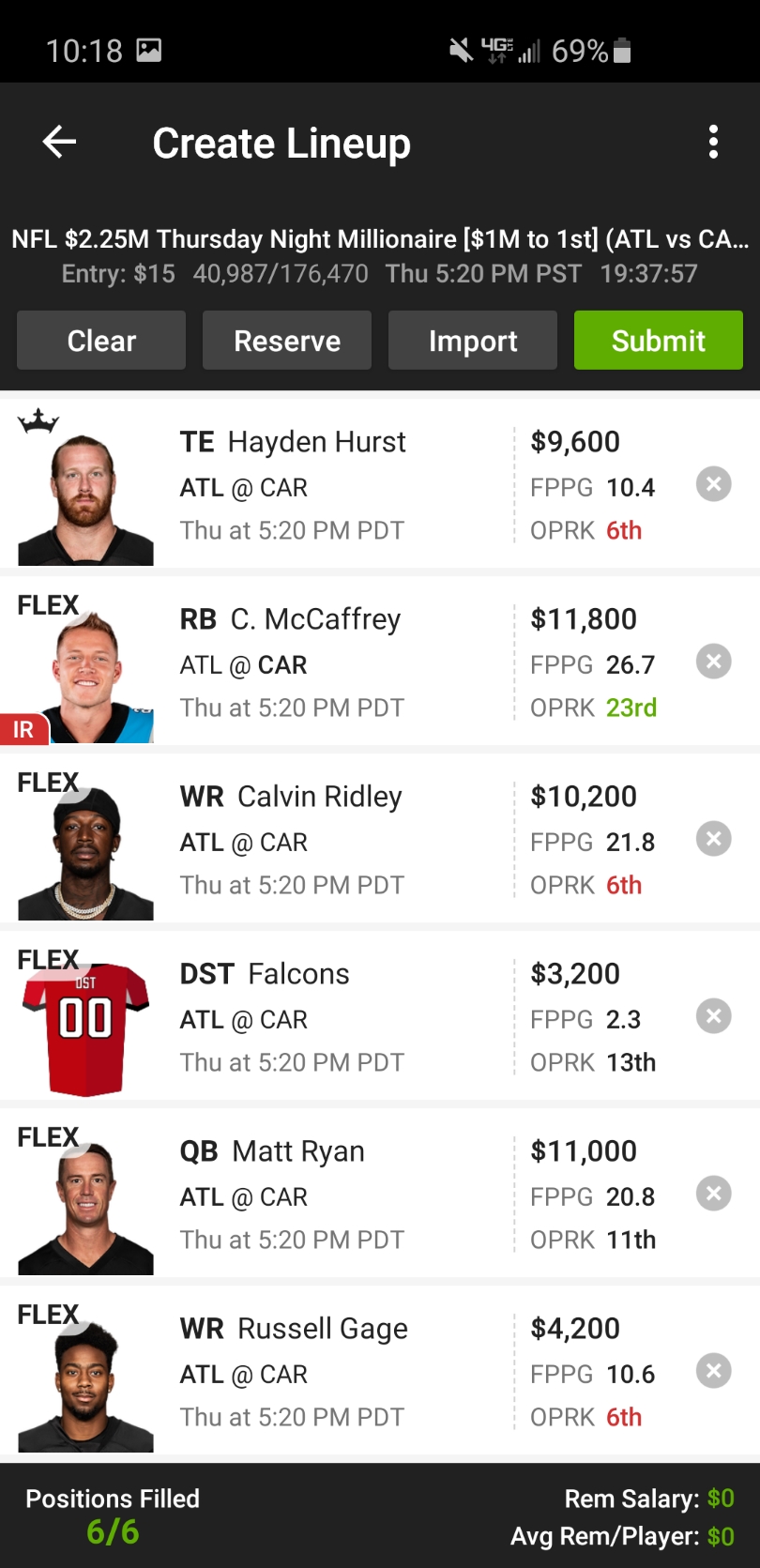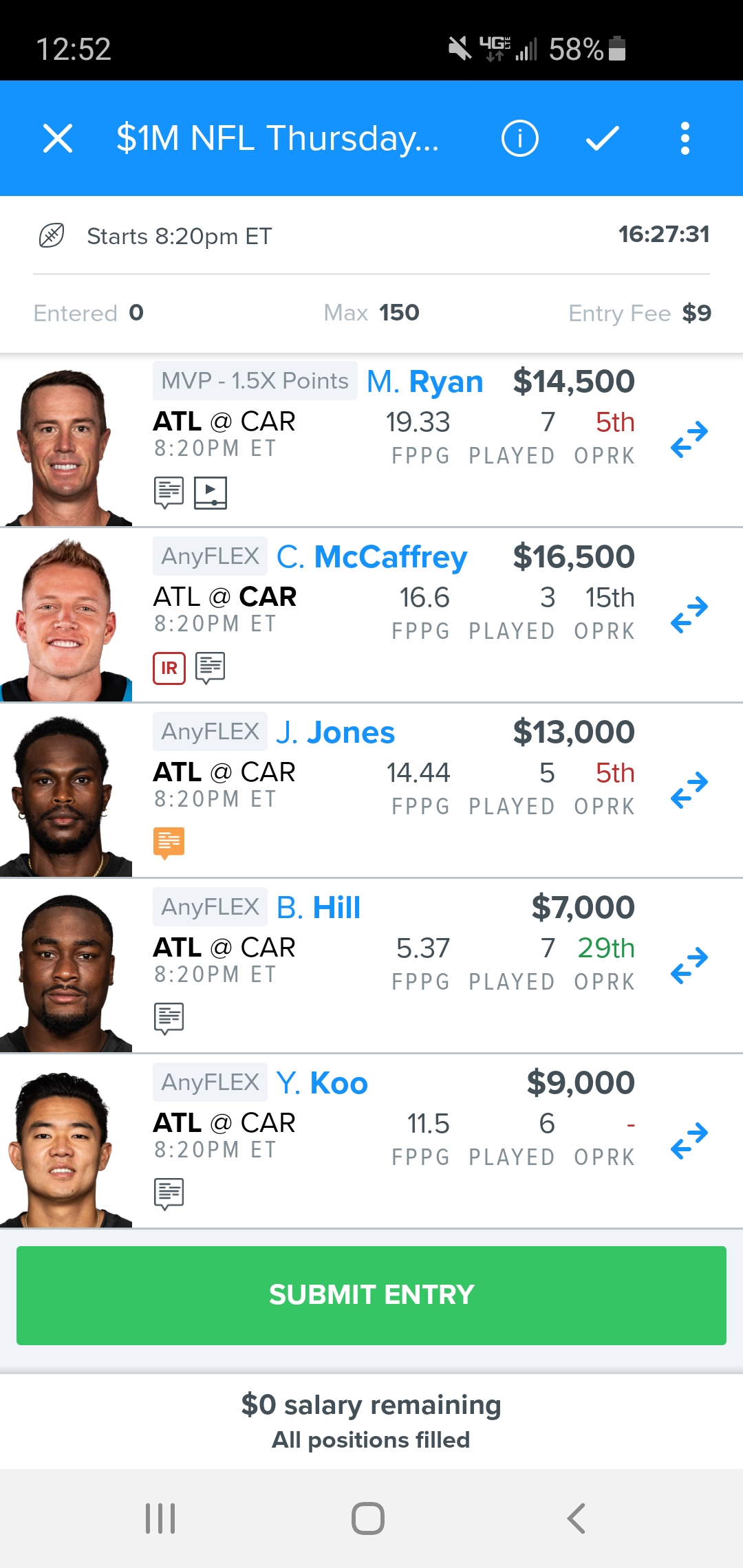 Atlanta heavy (McCaffrey sits)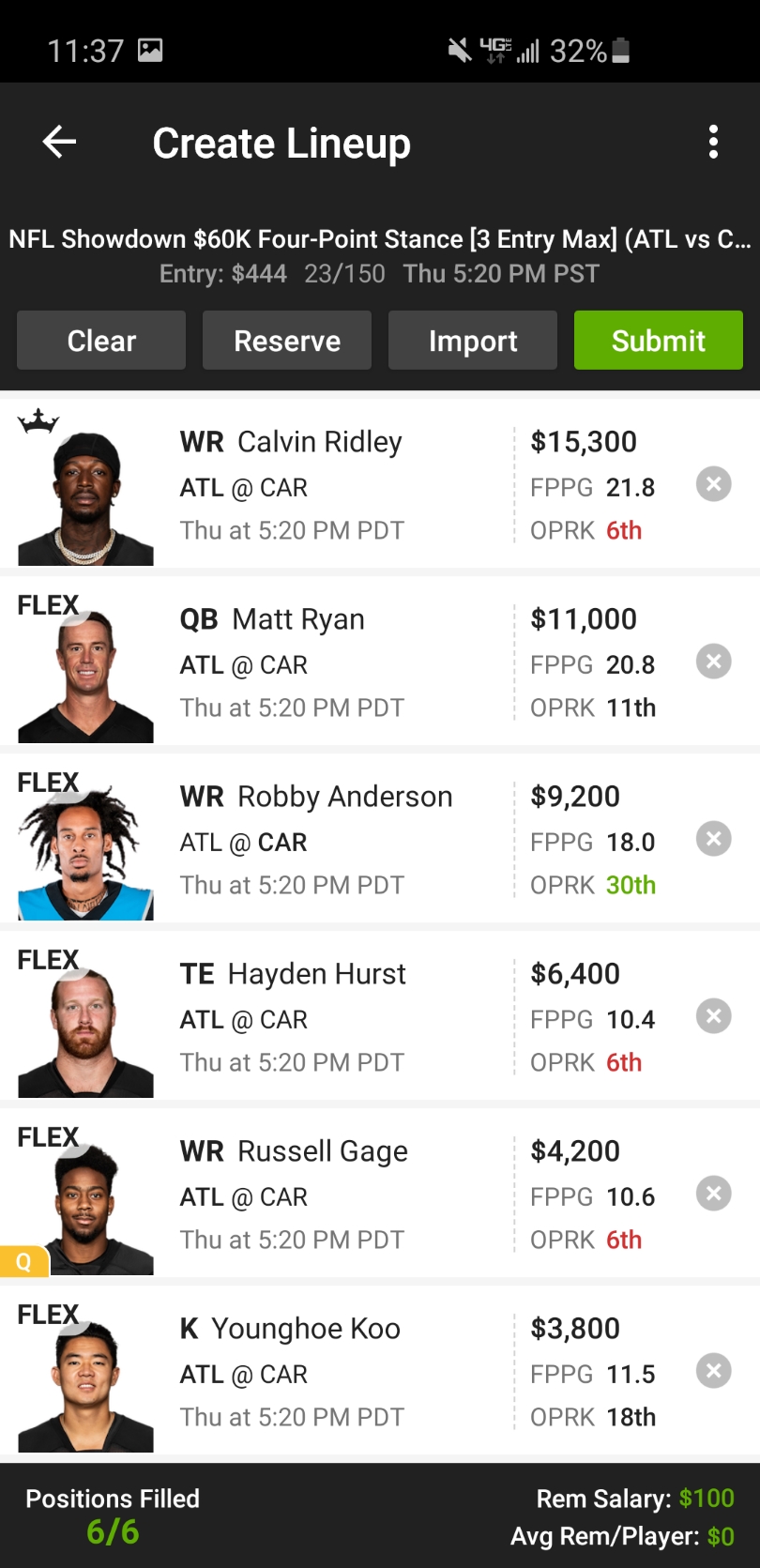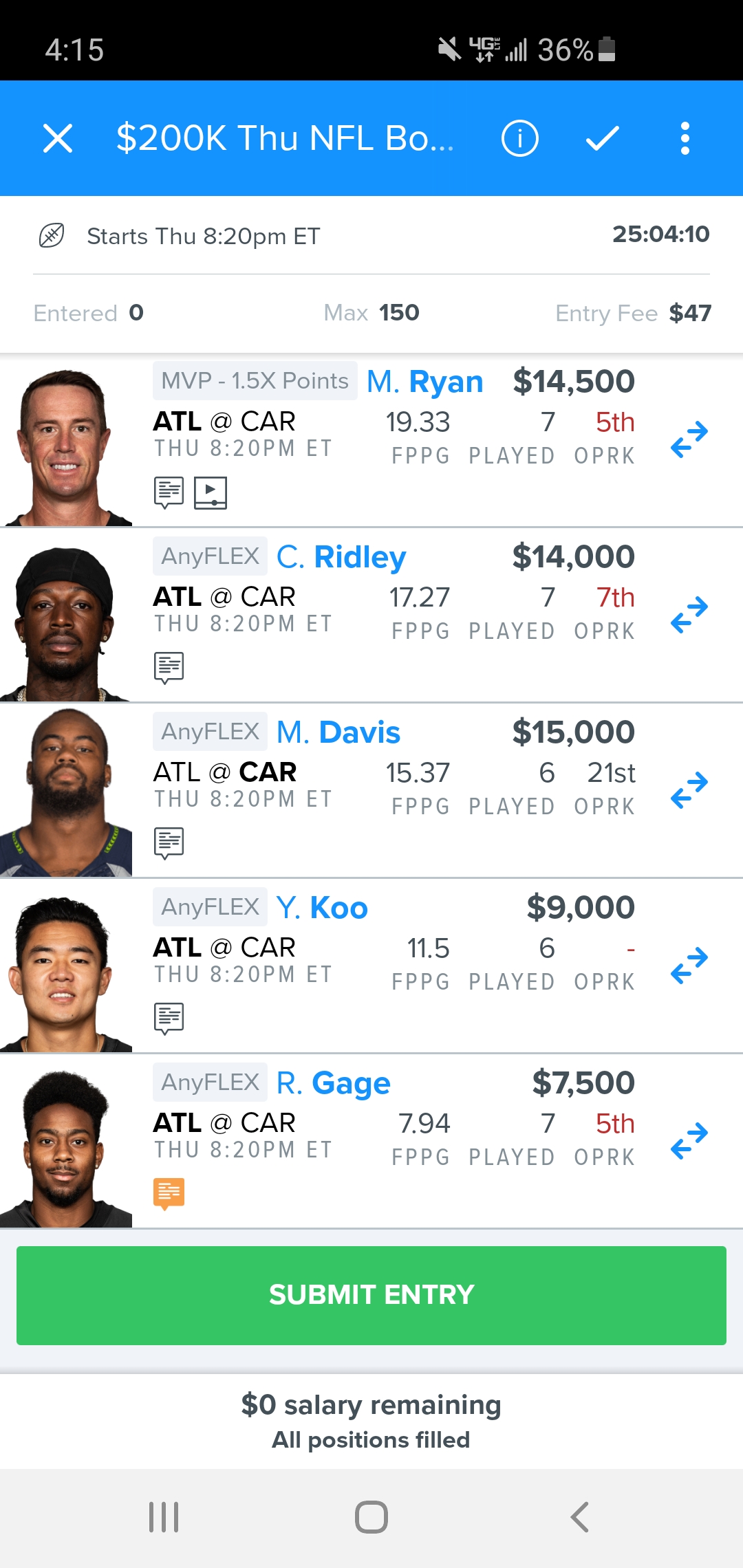 Close game (McCaffrey plays)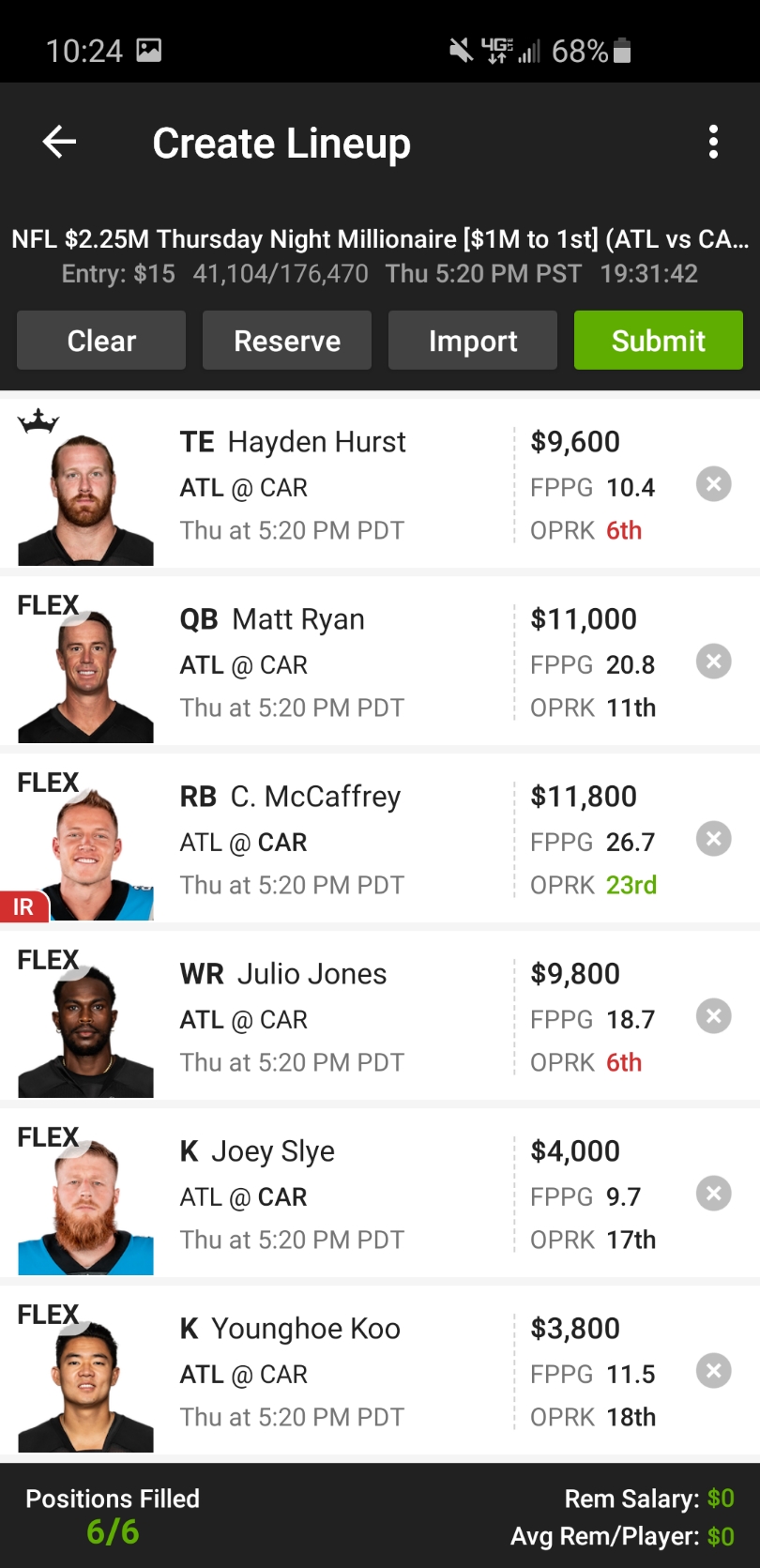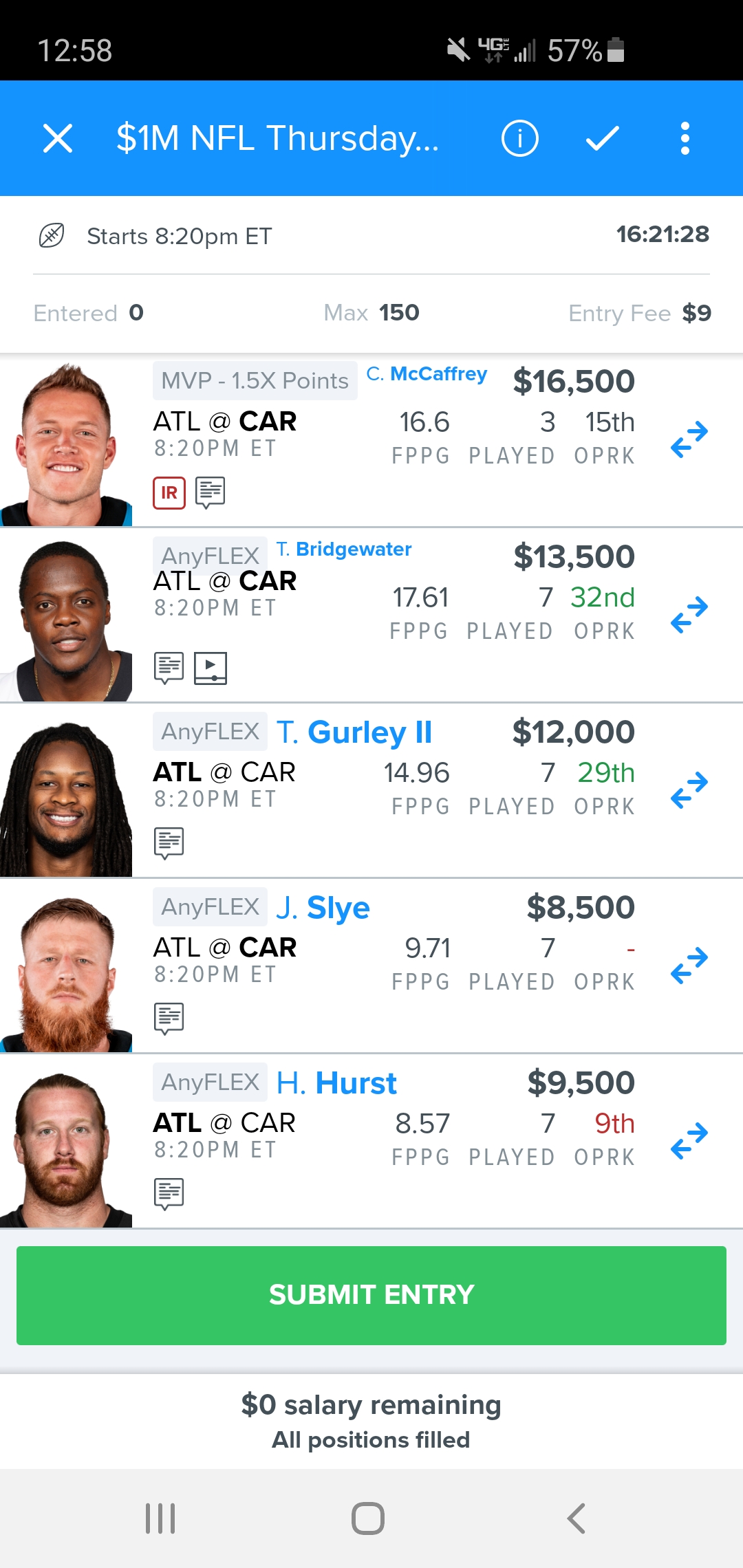 Close game (McCaffrey sits)