First off, I must apologize for not following through on my promise to publish articles for Monday Night Football and Thursday Night Football each week for the rest of this season. Even though I typically post my lineups to Twitter a few hours before each of those games, I still feel compelled to articulate my thought process for my roster construction. The past few days have been quite unusual. Needless to say, the Presidential election has been very distracting and exhausting. On the bright side we have a smattering of birthday celebrations in our family: my daughter's 1st birthday last week, my son's 4th birthday this weekend, yours truly next week, and my mother's also next week. Sorry, I won't be revealing ages for myself or my mother! I will try to publish more consistently going forward now that the Presidential election seems settled (well sort of) and that we should be past all of the festivities in my family.
Secondly, we are going to pay up for QB this week. Enough messing around. QB is easily the most important position in football and we should get the best QBs money can buy. Look no further than Patrick Mahomes. As much as it pains me to use a photo from his Super Bowl LIV victory (I am a diehard 49ers fan), he is a champion and is still playing like one this season (and being paid like one too!). Three times this season he has had the highest DFS score out of all QBs and there is no reason why he cannot make it four times after Week 9 is over. My model gives Mahomes the highest predicted DraftKings (DK) and FanDuel (FD) scores for Week 9 and rightfully so. It might be hard to roster Mahomes in DK given his high price compared to the salary cap ($8,100/$50,000) but we can make him work in FD ($9,300/$60,000). I still find it odd how easy it is to build rosters with high priced players on FD but seems nearly impossible on DK.
My choice for QB on DK for Week 9 will be Josh Allen. After a blazing start to this season (Allen was in the top 3 for DFS scores for Weeks 1 - 3), Allen has cooled down but he is due to return to the top of the DFS leaderboard. On deck is a porous Seattle defense that will need to travel cross country for an early game. Allen represents the best value for QB based on DK predicted score/DK salary ratio (per $1000 dollars). See my QB model analysis below.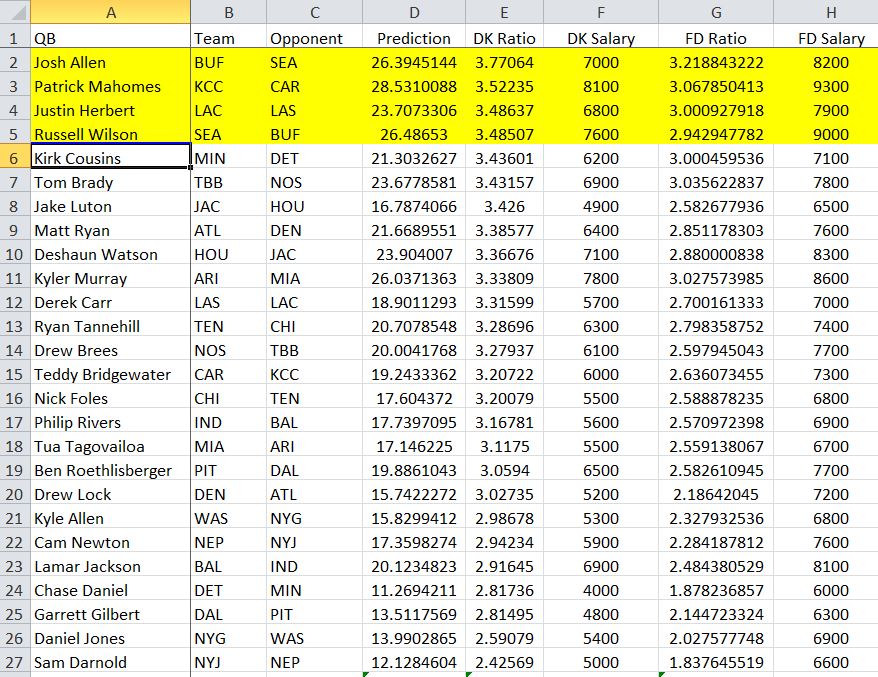 I also like Justin Herbert and you can never go wrong with Russell Wilson this season who is on a record breaking pace for passing TDs. Still, I want Allen on DK. Now, who do we pair with our QBs? This is where I lean on Advanced Sports Analytics (ASA). The correlation app on the ASA site (see link and images below) tells us that Travis Kelce is the one for Mahomes while Stefon Diggs is Allen's main man. I also believe in rostering a player from the opposition since the hope is that you get a shootout. For KC's opponent, the choice is easy ... CMC! Christian McCaffrey should be activated from the IR and the hope is that he returns to his usual 30+ DK and FD outputs. You could use DJ Metcalf or Tyler Lockett in the Buffalo stack but they cost too much. I will instead take advantage of Seattle's depleted backfield by rolling with RB Travis Homer. He was outsnapped by DJ Dallas last week but Dallas was quite underwhelming. Even if Homer and Dallas split playing time evenly, I like Homer on DK given his receiving capability. Plus he is $1,000 cheaper on DK.
www.advancedsportsanalytics.com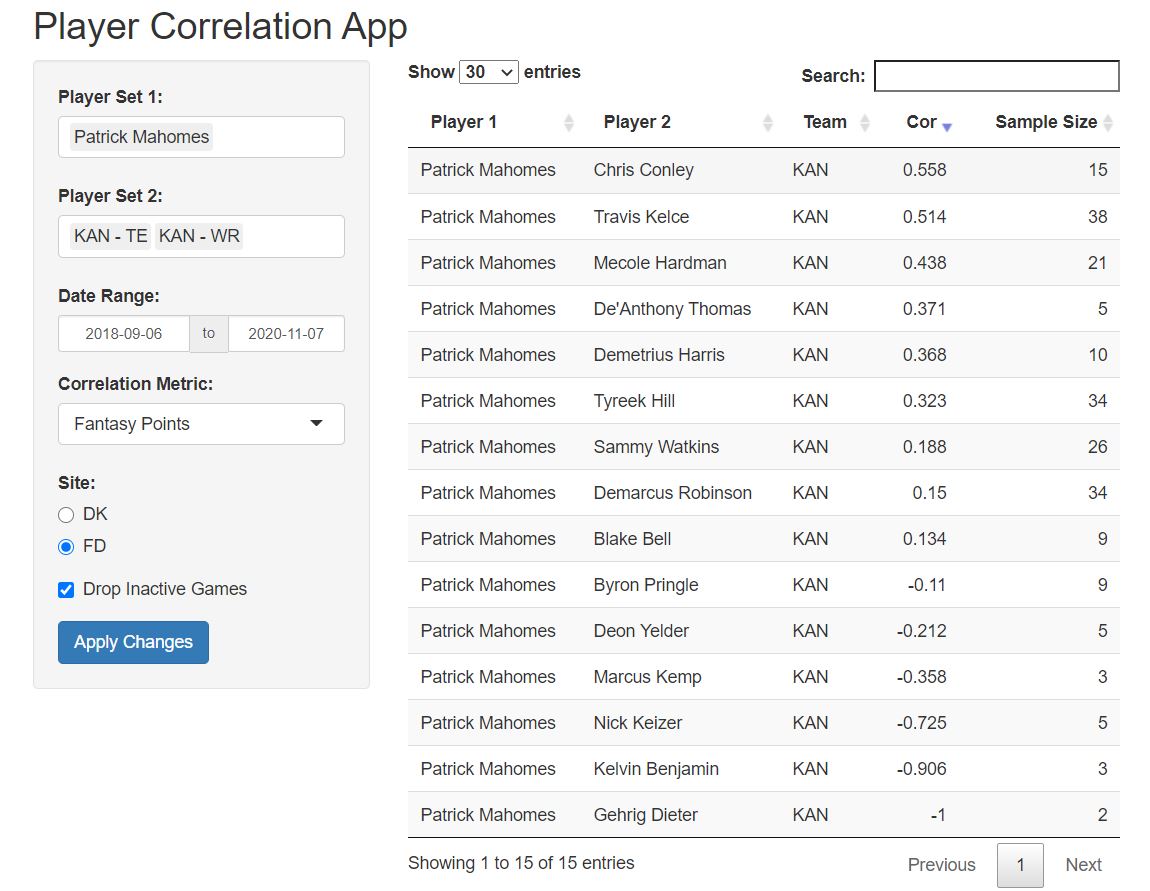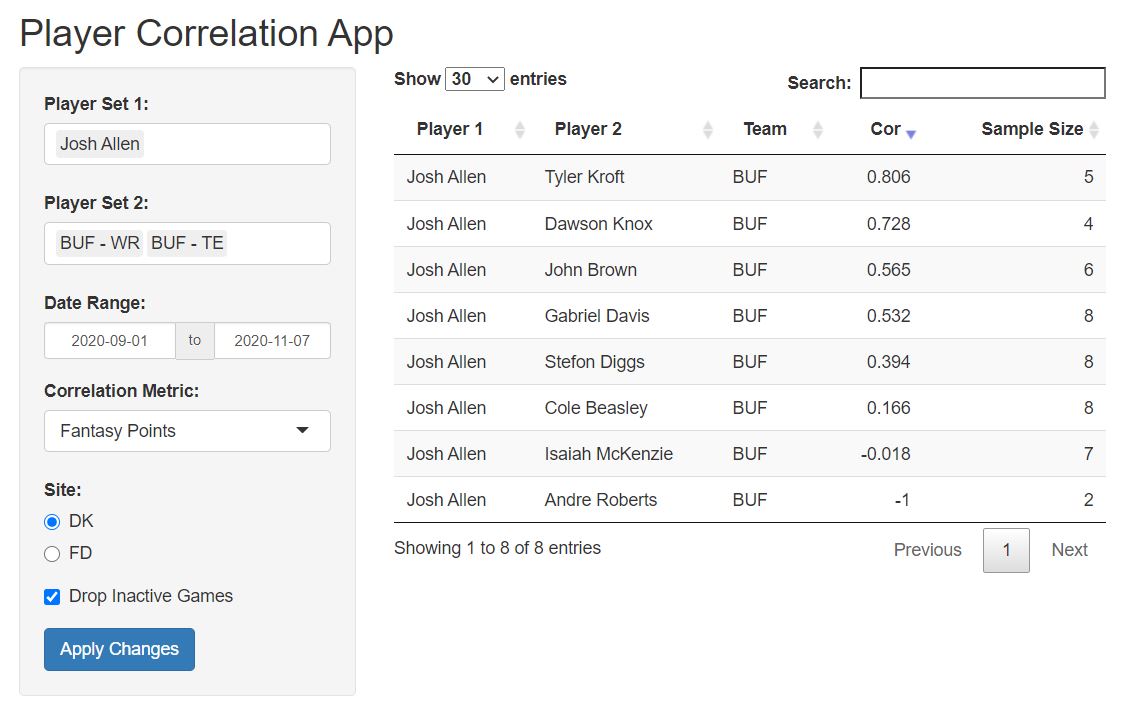 Another stack I will be building is a RB/defense one. I haven't done that in a while and I really like what I am seeing from the team in the desert. OK, that can be confusing since I forgot the Raiders moved to Vegas (I can't keep up with the number of times they have moved!). Of course I am referring to the Arizona Cardinals who look poised to making the postseason this year. With Kenyan Drake officially out for Week 9, Chase Edmonds will have every opportunity to become the top RB for Arizona. Miami's run defense is allowing 4.9 yards per carry which is 4th worst in the NFL and their DVOA for run defense is dead last. If you don't know what DVOA is, check out this explanation at the Football Outsiders site.
www.footballoutsiders.com/info/methods#DVOA
Miami is also missing their top two RBs and are in the "Tua" era for QB. Even though Miami won last week in Tua Tagovailoa's first NFL start, he didn't even crack 100 passing yard! The Arizona defense is not bad and I have said before, good offense leads to good defense. Kyler Murray should be able to run circles around the Dolphins horrendous defense (well we hope Edmonds gets most of the rushing production) which means Miami should find themselves in a deep hole early on in the game. That is when the mistakes happen and Arizona will capitalize on those errors in much the same way when they played a depleted Dallas team during Week 6. Expect a 30 - 10 type of game which means the run game and defense should correlate very well for Arizona. The price for Edmonds is kind of high but manageable on both DK and FD. The Cardinals defense on DK is an absolute steal at $2,900. While I like the Pittsburgh Steelers to shutdown the Cowboys, I can't justify paying $2,000 more for them when the Cardinals could end up with a better DFS score.
Another player who I feel can blow up is Justin Jefferson. Yes, Jefferson has been inconsistent but consider that Jefferson's two amazing games this season were at home against two weak pass defenses (Atlanta and Tennessee). Jefferson's only other home game was Week 1 against Green Bay but we should give Jefferson some slack there: it was his first NFL game. Of course Minnesota will be hosting Detroit (another weak pass defense) and one has to wonder if Jefferson was simply born to dominate indoors. The first time I watched him play was in the College Football Playoffs semifinal last year in Atlanta. I was in awe when I saw him score four touchdowns ... all in the first half! Yes, Joe Burrow was great too but I have never seen such domination by a WR at the college level. With Jefferson's size, blazing speed, and plenty of other star players (such as Dalvin Cook and Adam Thielen) on his team, Jefferson should find himself in plenty of 1-on-1 matchups where he will have the advantage. For only $6100 on DK and $6800 on FD, I will gladly roll the dice with him en route to a 5x or even 6x return on salary.
We will need to save some money and the best place to do that is at WR. There are several injuries to key players such as Kenny Golladay, TY Hilton, and Calvin Ridley which will open up opportunities for the lesser known players. On DK, you can add Quintez Cephus, Marcus Johnson, or Christian Blake for only $3,000. All you need is 4 - 5 receptions for about 40 - 50 yards and you are already getting decent return. A TD would be gravy so don't be no jive turkey so close to Thanksgiving (name the 80s movie where that line came from?!).
Speaking of gravy and turkey, I am halfway done with my cleanse so I can't wait for it to be over later this month so that I can finally enjoy real food. For now, it's shakes, sensible dinners, and making more money on DFS. We started the week off right with a huge win on TNF this week (see image) so let's keep the money train rolling as we approach the holiday season with my sample lineups below. Good luck!