Welcome to another NFL DFS article. The season is still young but we have learned much thus far. First off, the Green Bay Packers offense is ridiculously good! Sadly I did not have Davante Adams in any of my Week 1 lineups nor did I have Aaron Jones last week (even though Jones is on my traditional fantasy team which is playing very well right now!). It can be hard to win in NFL DFS when you don't have a slate-breaking player who happens to have at least 25% ownership. The good thing is that Green Bay plays on Sunday Night so we don't have the burden of playing any of them for the main slate tomorrow.
Secondly, in my 31 years of following the NFL closely (I was one of the football stats nerds back in middle school), I have never seen so many devastating injuries this early in the season but I suppose we should not be surprised. We are in an unprecedented time with the pandemic which meant no preseason games. Even though these players had training camp, much of it did not have the same full contact that you have during the regular season. The laundry list of season ending injuries could grow this week but I hope not!
Of course with injuries come opportunity in NFL DFS. There are several awesome value players to be had and we will construct our roster this week with such a mentality. However, before we delve into the pool of savings, we need to determine who our core will be. What good is a cheap RB who might put up 20 - 25 points if our QB and the rest of our stack falls flat? Also, we won't finish in the money in a large slate if we don't focus on a game environment that yields some of the highest DFS scores. So, how do we become a millionaire on DraftKings or FanDuel?! I suggest you check out the link below that shows previous winning lineups for the DK Millionaire Maker tournament.
hellorookie.com/nfl/2019-draftkings-millionaire-maker-winners/
I believe most, if not all, of the winning lineups had a QB paired with one of his pass catchers. Rarely do you see a strong correlation between a QB and his RB but you do with his WRs and starting TE. You don't necessarily need to stack a QB with 2 more players on his team but it would make sense to pair him with at least one teammate. Also, you need to grab a QB at low ownership. There are several popular options for Week 3 and they are popular for two reasons: they are very talented and the implied point total is high. I suggest you steer clear of those QBs. To truly separate yourself from the pack, we need a QB/WR/TE combo that will pop off but will also fly under the radar. Your stack will do even better if you include a player from the opposition. After all, if you are targeting a particular team to do well, the hope is that they will be involved in a high scoring affair against a team with a shaky defense. This leads me to the core below.
QB: Mitch Trubisky
WR: Allen Robinson
WR: Calvin Ridley
Before you start shaking your head, work with me here! Yes, Trubisky has regressed since his breakout season in 2018. However, his QB rating this year is back in the 90s. He is also playing for a big contract being that this is his 4th season and that the Bears declined to pick up the fifth year option on his current contract. Now, check out the image below. Which team has been getting burned by opposing QBs so far this season? The Atlanta Falcons allow a QB rating of 124.7.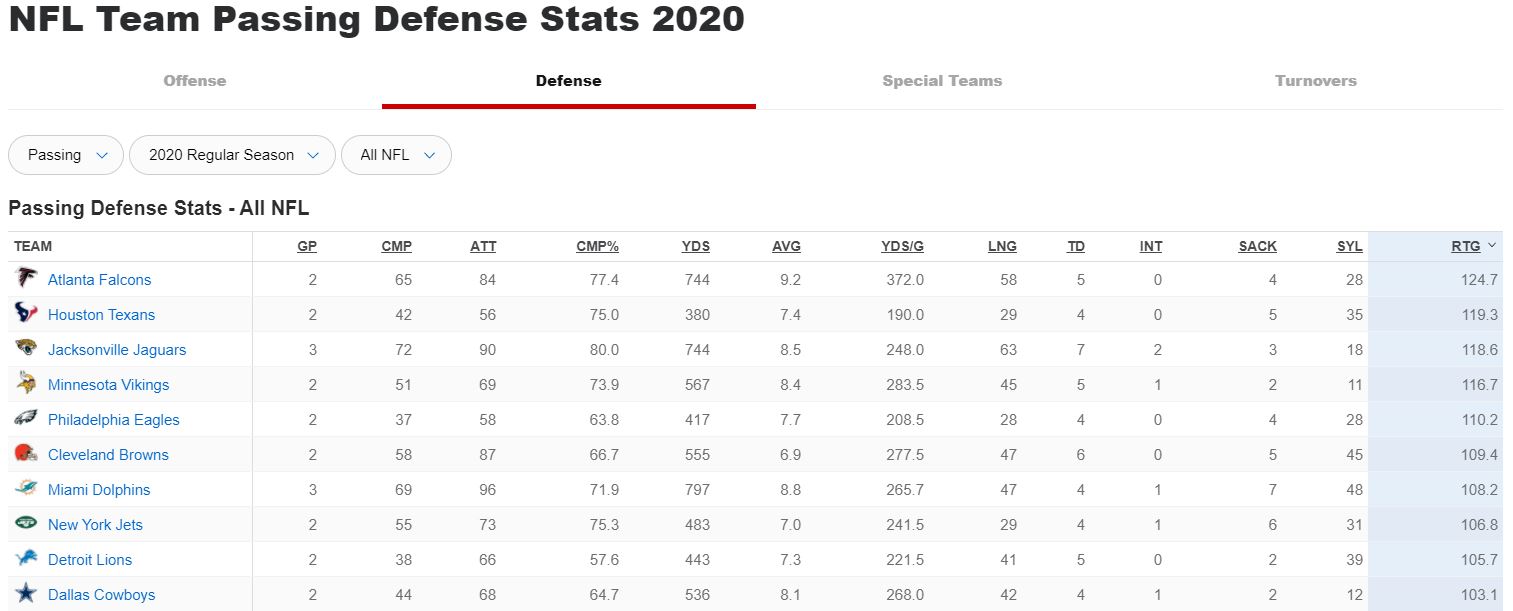 Here is another image to consider. Since the start of last year, the Falcons have allowed the 2nd most DK and FD points to the QB position. Miami has allowed the most but that number is heavily inflated thanks to their dismal defense for the first few weeks of the 2019 season.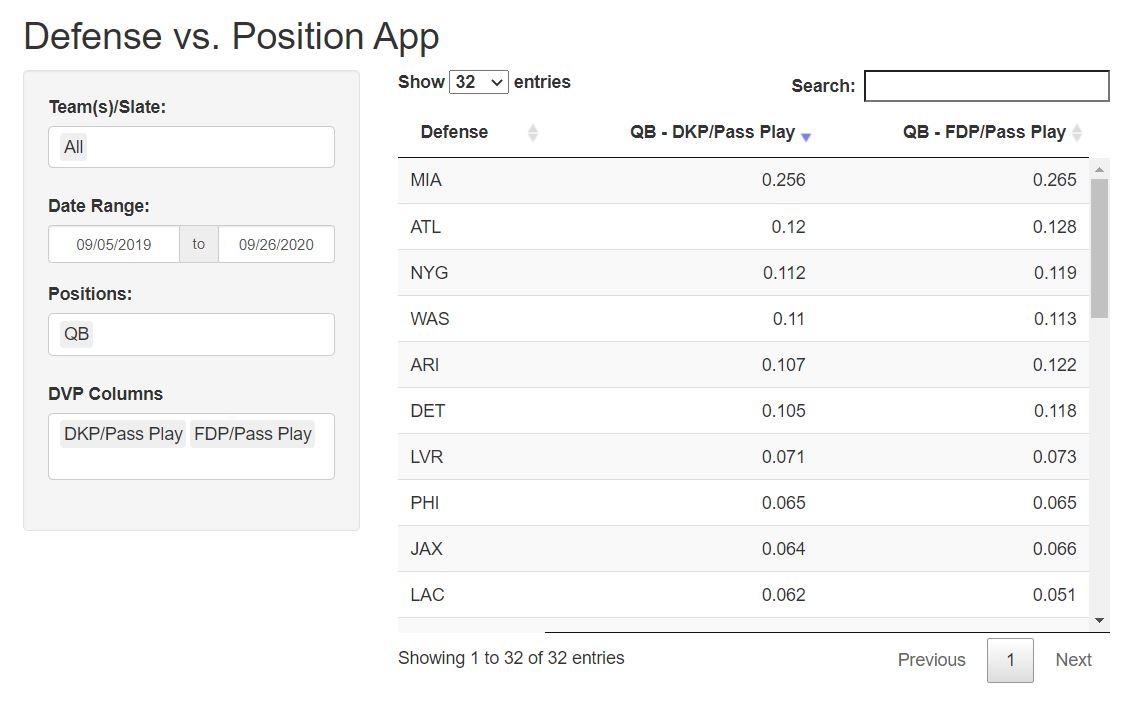 The table above can be found at the Advanced Sports Analytics (ASA) site. You can sign up today for a membership. Their tools are unparalleled to what you will find on most sites when it comes to building DFS lineups, especially for the NFL.
www.advancedsportsanalytics.com
Another reason to go with Trubisky is that he is super cheap and most DFS players will be focusing on the big names for QB this week such as Russell Wilson, Dak Prescott, and Kyler Murray. Thos QBs are great but they will eat up a good chunk of your salary and you might get 3 - 4x return on DK. We need 4 - 5x return on DK to win money which we can get from Trubisky. Perhaps we can even get 6x return. Again, we are getting a soft matchup and low ownership.
Why pair him with Robinson? Well who else are you going to pair him with?! Robinson has been Trubisky's top pass catcher since 2018 and put up solid numbers last season. Of course those who are analytically minded like me will want to see more empirical evidence to justify the pairing. Check out the image of the player correlation output (correlation coefficient for DK and FD scores from the last 2 seasons) which I believe only ASA has. This is why ASA is such a great site!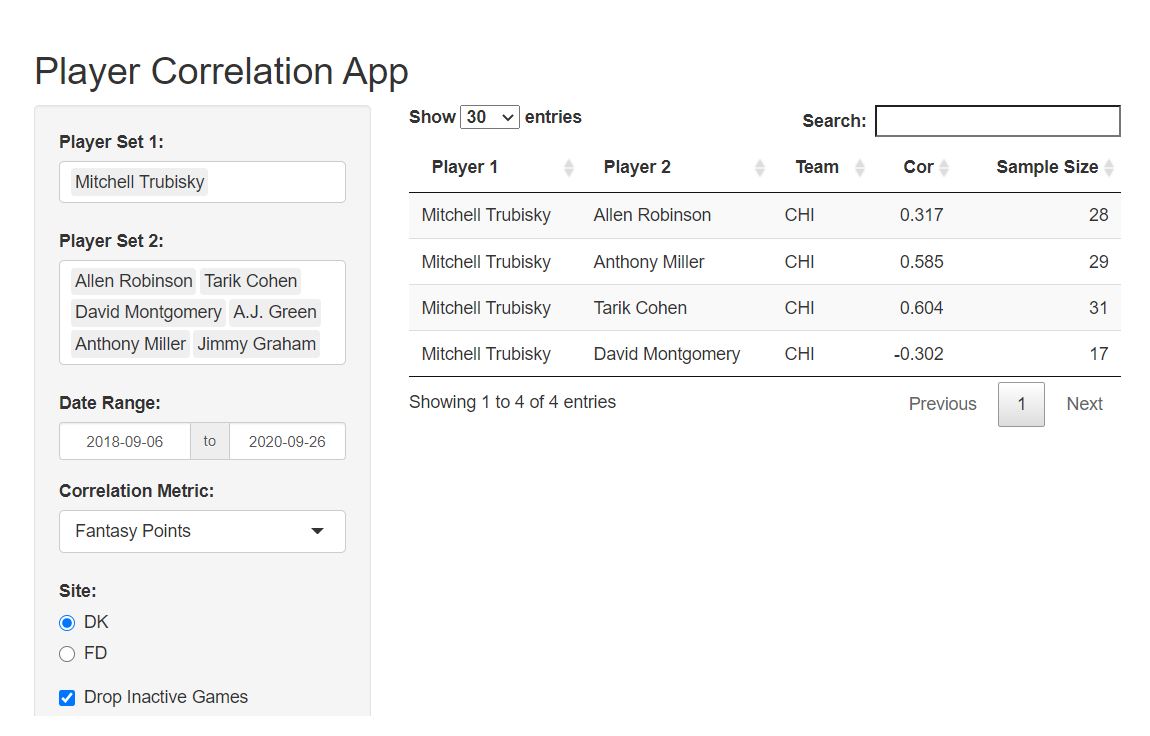 You can also include Tarik Cohen and Anthony Miller and it might not be such a bad idea to do a 3 players Bears stack. If there are some high priced RBs, WRs, or TEs you wish to play and need salary relief, then this could be a good route to take.
How else can the Player Correlation app on the ASA site help you? You can investigate how a certain player correlates with his opposition. Opposing WRs apparently correlate well with Trubisky so if we expect a big game from him, then expect a big game from Ridley. If you turn the tables around to see how Ridley correlates with the opposition, he has a similar correlation coefficient with the opposing QB. The evidence below does not lie.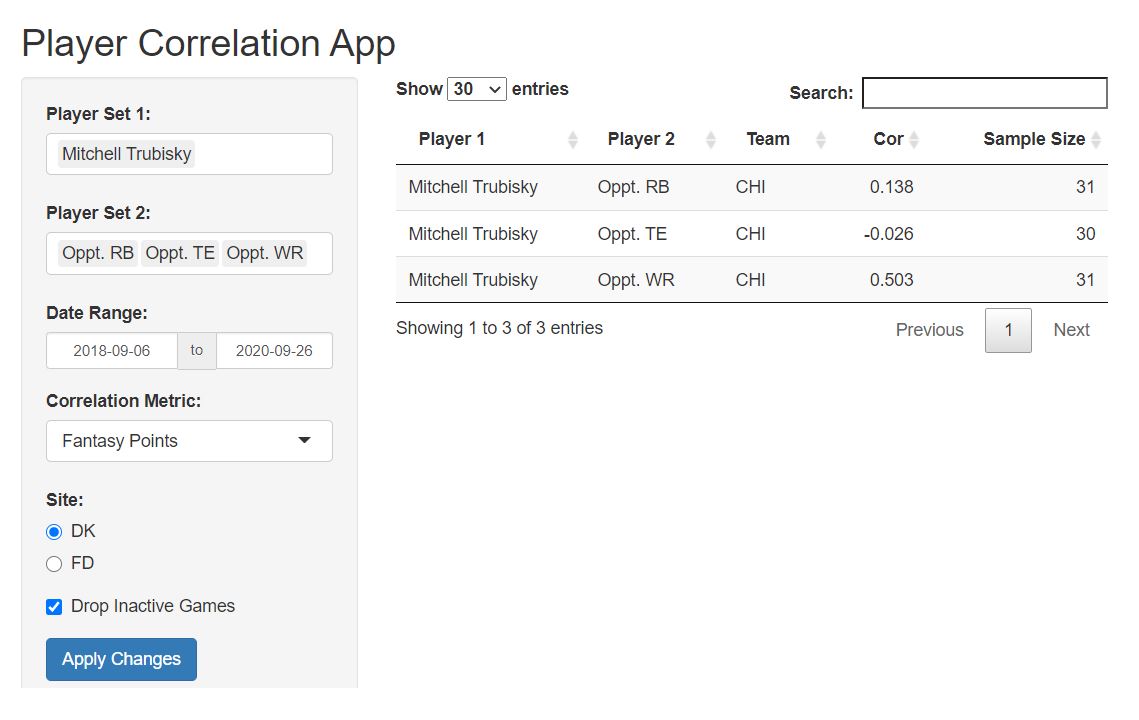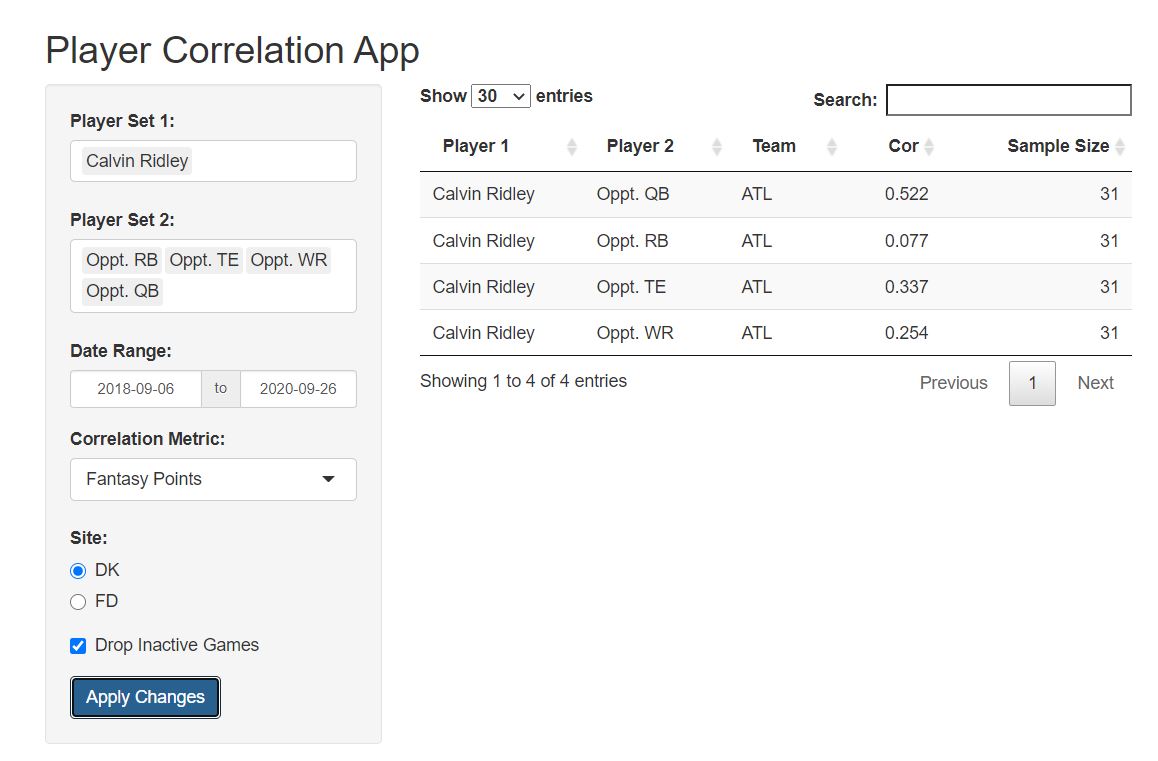 Now we have our core in place: Trubisky, Robinson, and Ridley. I might consider Cohen as a flex RB if I need the salary relief. Who else do we get? We all know that Dallas, Seattle, and Arizona all have the highest implied point totals. Since we are not getting the QB from any of those three teams, then why not grab the 3 starting RBs? After all, Ezekiel Elliott, Chris Carson, and Kenyan Drake will most likely get at least 20 touches/targets and that number might even get close to 30. That way you can still benefit from those high scoring environments yet get differentiation with our Chicago/Atlanta stack.
I would then go cheap at tight end and defense. I really like Dalton Schultz. He had a great game last week and Prescott loves throwing to the tight end. Plus the Dallas - Seattle game should be high scoring as we have mentioned a few times already in this article. You could pay up for a defense and the Colts look like a good option. The NY Jets are down to their 2nd and 3rd string players for most offensive positions. However, so are the Jets opponent from last week: the 49ers. I am not a big fan of the NY Giants defense but the DK and FD point difference for the top defense and the rest of the field is not much. Why pay the extra $1000+ in salary for defense when you can get better value with the Giants defense? The 49ers won't have Jimmy Garoppolo, Raheem Mostert, Tevin Coleman, Deebo Samuel, and George Kittle. Ouch!
To polish off our lineup, we can find a cheap WR. I like Curtis Samuel of the Panthers. He has served a runner for the Panthers and there is clearly a void with McCaffrey's injury that must be filled. Samuel can be what Ty Montgomery was for the Packers in 2016 when he qualified as a WR but in reality received the volume of touches that a RB would usually get.
Here are some sample lineups for both DK and FD.


You can see that in FD I can easily do my Bears/Falcons stack and still squeeze in Zeke, Carson, and Drake. That will be harder to pull of in DK which is why Cohen might be a good flex option. I wound up upgrading from Schultz to Darren Waller at tight end while also rostering Adam Humphries. Waller is the highest rated tight end according to the machine learning models used to project fantasy scores on the ASA site. It's not even close. One more image for you below (DK projections for tight end).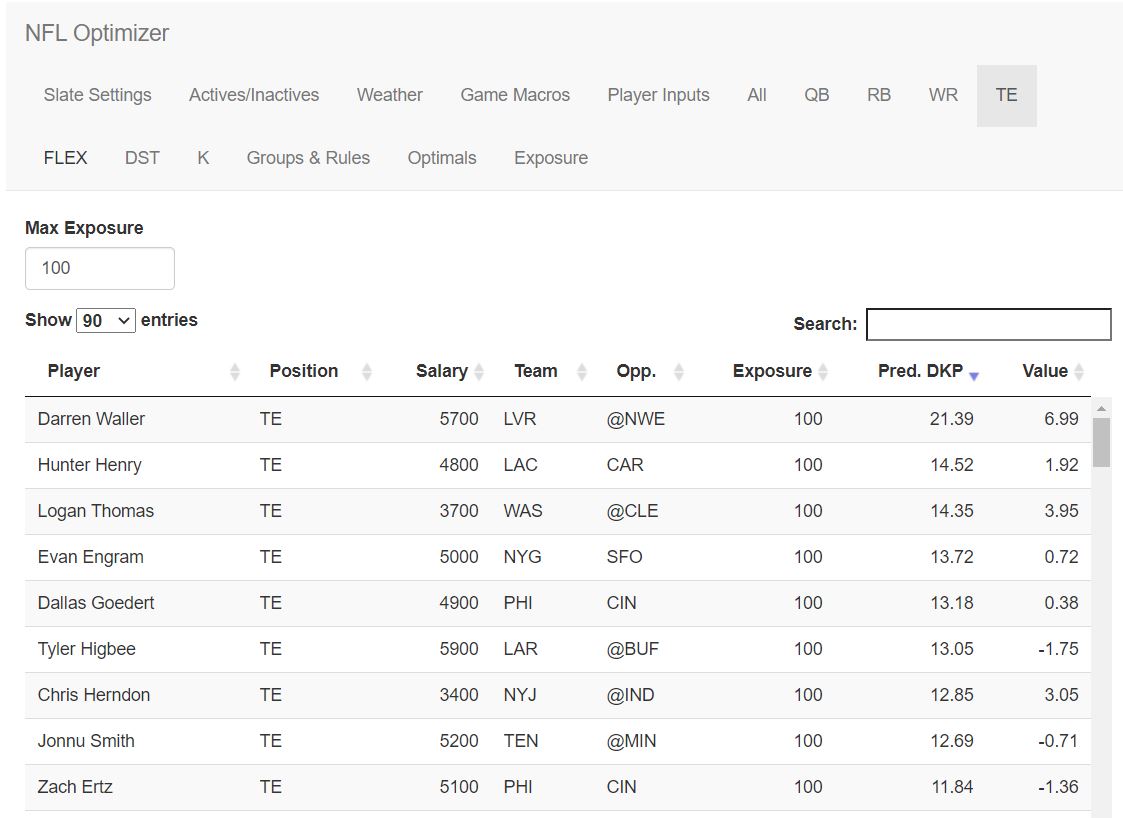 That is all for now. Thank you for stopping by and enjoy the weekend!