As we enter the 4th week of the NFL season, we should be able to leverage the current in-season data when building our lineups. Yes, the sample size is still not ideal but given that the outcome of each game represents 50 - 60 players from each team per game, this should provide a decent amount of data for our models. Of course a new issue we must deal with is the current COVID-19 outbreak from some teams. The Tennessee-Pittsburgh game has been rescheduled for later in the year and news came out this morning that Cam Newton has tested positive for COVID-19. We should not be surprised given that NFL teams are doing cross-country travel. MLB eventually kept COVID-19 cases to a minimum but without the bubble environments that we have seen the NBA and NHL, I worry that we will see more NFL cancellations.
Before we get into our NFL DFS lineup builds, I am happy to announce that I had my biggest MLB DFS win every! $10,000! 1st place out of 134 entries! The image of my winning lineup is shown below.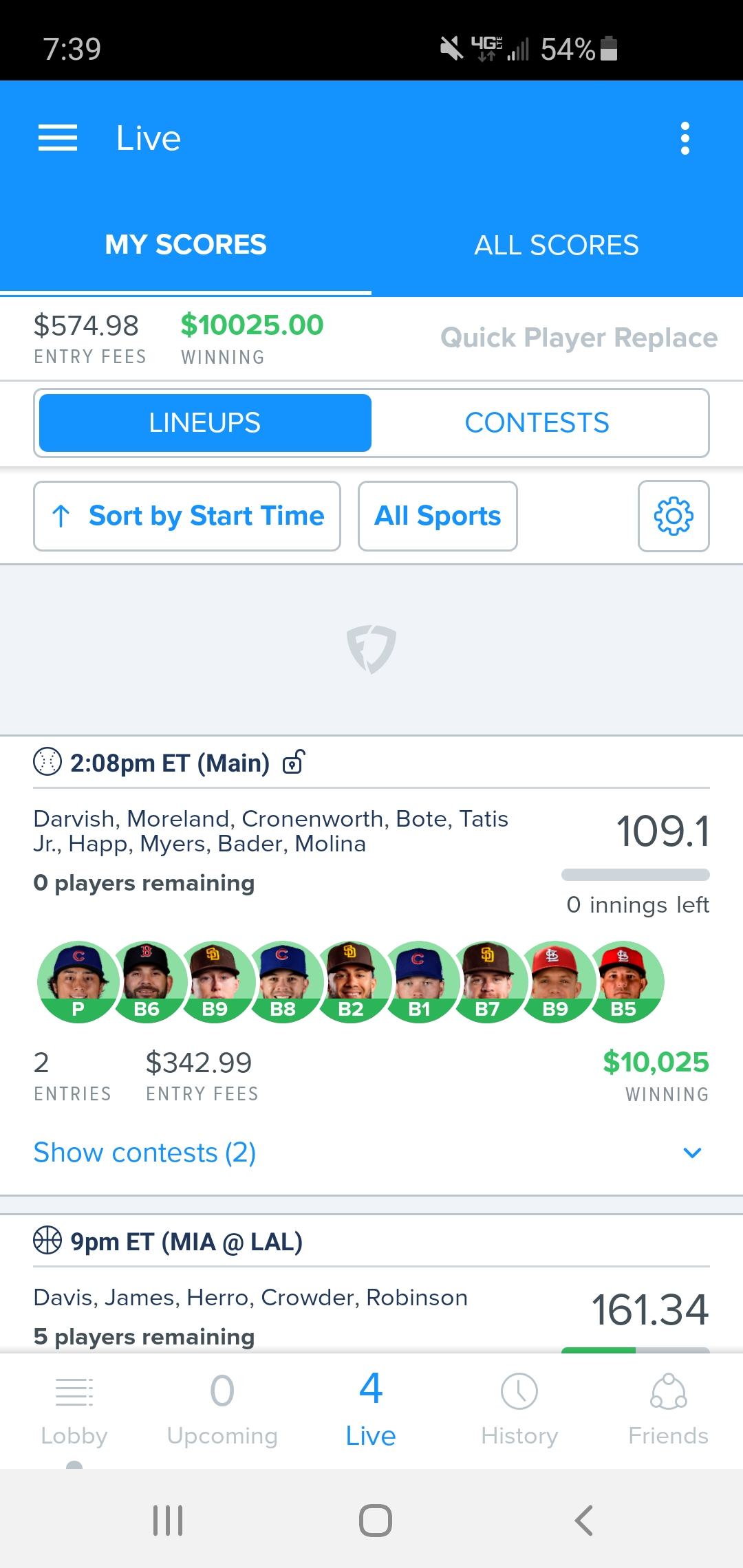 I am very grateful for the apps found on the Advanced Sports Analytics (ASA) site since I used their Statcast app for my lineup build. It was Jake Conenworth's 8th inning homerun that gave me the late night hammer I needed to take down that GPP. Conenworth has a very high barrel rate and ranks high with other advanced metrics such as contact %, exit velocity, and launch angle. Low ownership also helped so if you truly want to build robust and unique lineups, you need to use the tools at ASA. The link is below and it's well worth the investment. I am happy to do a short video or hop on a Zoom call if you would like to know how to use those tools to your advantage.
www.advancedsportsanalytics.com
With no MLB games until Monday and just a handful of NBA games (NBA Finals Game 3 is tomorrow but the series is pretty much over), our focus this weekend will solely by the on NFL. This week will be interesting since we have several teams with high implied point totals. Typically there are just 2 - 3 games to target but with so many paths to take to the promised land in the DFS world, we should see ownership spread out. You can find implied point totals at the ASA site but if you want something that is free and very accessible, I like using Fantasy Labs. The link is below and they do a great job with their data visuals.
Do you pay up for Lamar Jackson who can be a one-man wrecking crew against a weak Washington defense? Do you stick with what has worked which is Russell Wilson or Dak Prescott? Both are putting up video-game like numbers. Do you take the best QB in the world in Patrick Mahomes? What about sneaky plays like Josh Allen, Deshaun Watson, or Jared Goff? There are also viable cheap options such as Joe Burrow and Ryan Fitzpatrick. It's quite dizzying when you consider all of the different lineup options since your QB can pretty much dictate how you will spend the rest of your salary on DraftKings or FanDuel.
I stayed up late last night to run my QB model which takes into consideration the following variables for both the QB's offense and his opposing defense: logarithmic transformation of DK salary, Vegas point total, 3rd down conversion rate, home/away, total 1st downs, sacks allowed, turnovers, completion percentage, and passing play percentage. You can easily find all of these stats at TeamRankings.com. I identified 5 QBs for FanDuel who had a projected value of 3x or higher. Here they are in no particular order.
Dak Prescott
Jared Goff
Patrick Mahomes
Joe Burrow
Josh Allen
Not saying the other QBs starting tomorrow are not viable but we want 3x return if we wish to hit the cash line in any of the DFS games we play. For each lineup you build, it would be wise to pair your QB with his top passing catching option. Most likely it will be the WR with the greatest market share of targets but it could also be a tight end and in some cases the running back. This is where ASA can be very helpful. When you access the optimizer app, you can view market share of targets for all players.
It would also be smart to stack the opposition. After all, if you are hoping that your QB/WR combo is involved in a shootout, there will be production on the other side. The correlation app on ASA can help with that. For example, Prescott correlates well with Amari Cooper and team's opposing WR. This means the core of our Prescott lineup will involve Prescott, Cooper, and Odell Beckham Jr.
After that, we try to fit in all of the other puzzle pieces. The key piece for tomorrow will be Alvin Kamara. It has been announced that Michael Thomas won't play and we all saw on Sunday Night Football what Kamara is capable of doing when Thomas is not on the field. He is pricey and will have high ownership but is a very dangerous fade, especially against a porous run D like Detroit's. According to Football Outsiders, Detroit is 3rd to last in adjusted rushing yards allowed. If you dig deeper, the Lions rank dead last in 2nd level rushing yards. Here is how Football Outsiders define that metric.
Second Level Yards: Yards earned by opposing running backs against this team between 5-10 yards past the line of scrimmage, divided by total running back carries.
This would mean that Detroit's linebackers/secondary is terrible at stopping RBs who make it past the line of scrimmage unscathed. This should bode well for Kamara who will most likely find himself catching passes 5 - 10 yards past the line of scrimmage. Last year New Orleans ranked #1 in adjusted rushing yards gained so just plug-in Kamara and move on.
For the specialized positions such as tight end and defense, I will plant my flag somewhere and not waver. Jimmy Graham stands out as a cheap tight end who should repeat his success from last week. The matchup is not the greatest but with Tarik Cohen out for the season and Nick Foles' penchant for throwing to the tight end position, Graham should have a 3x or 4x day tomorrow. There will be some lineups where I will pay for Travis Kelce or Darren Waller as correlation plays but most of my lineups will have Graham who has been a very reliable TE for the last 10 seasons. Usually I try not to pay up for defense but Baltimore and the LA Rams are awfully tempting given that Washington and the NY Giants offenses look JV squads compared to the rest of the NFL. Still, I want to zero in on the Tampa Bay Bucs. Their defense has been outstanding so far this season. They rank 4th in total yards allowed, 8th in points allowed, and are tied for 2nd with takeaways. The LA Chargers are an overrated bunch. They will have to travel cross country and play an early game with 3 hour time zone change. Plus they have a rookie QB in his first road game.
After that, we just need to figure out which pieces fit into this giant puzzle which is so much fun to solve. Brandin Cooks could be a boom-or-bust type of WR who can fly under the radar. His air yards indicate that he is due for some positive regression. Darrell Handerson is a nice RB who should be heavily used in a potential blowout against Giants. He also correlates well with Goff and Cooper Kupp. Again, there are several paths you can take. Here is an image of the correlation app from the ASA site.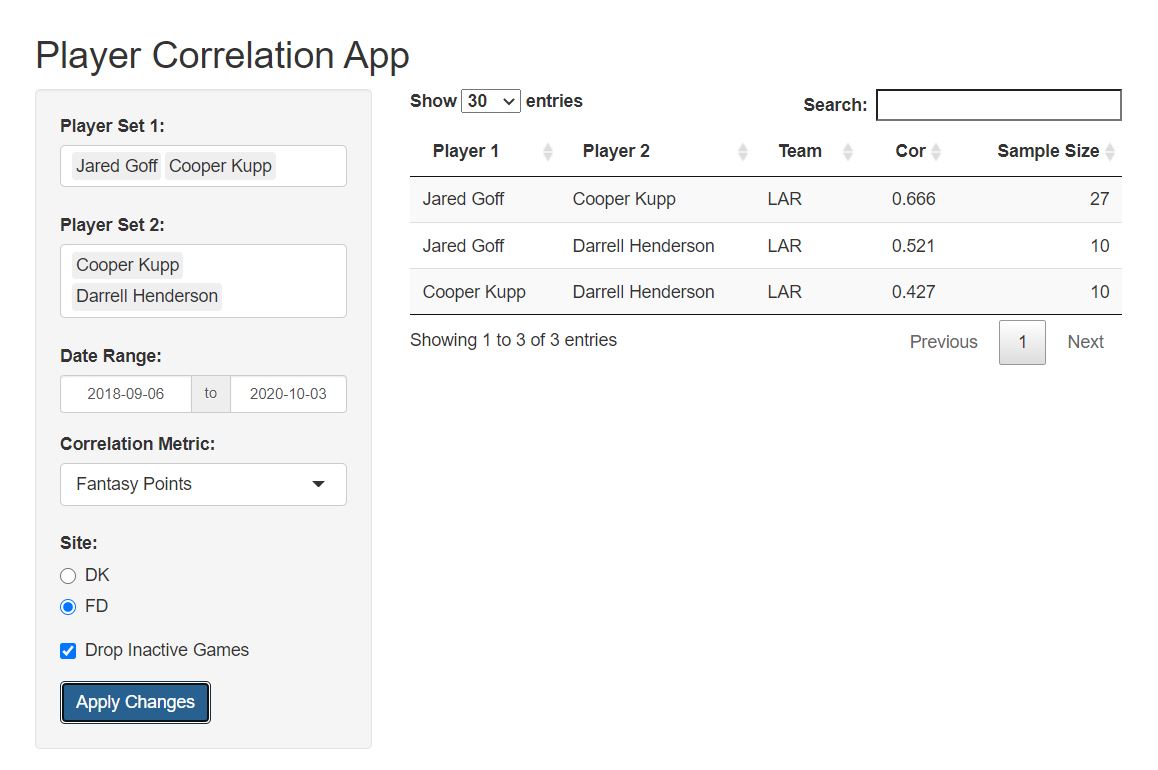 Down below are 5 lineups I built in FD and one for DK.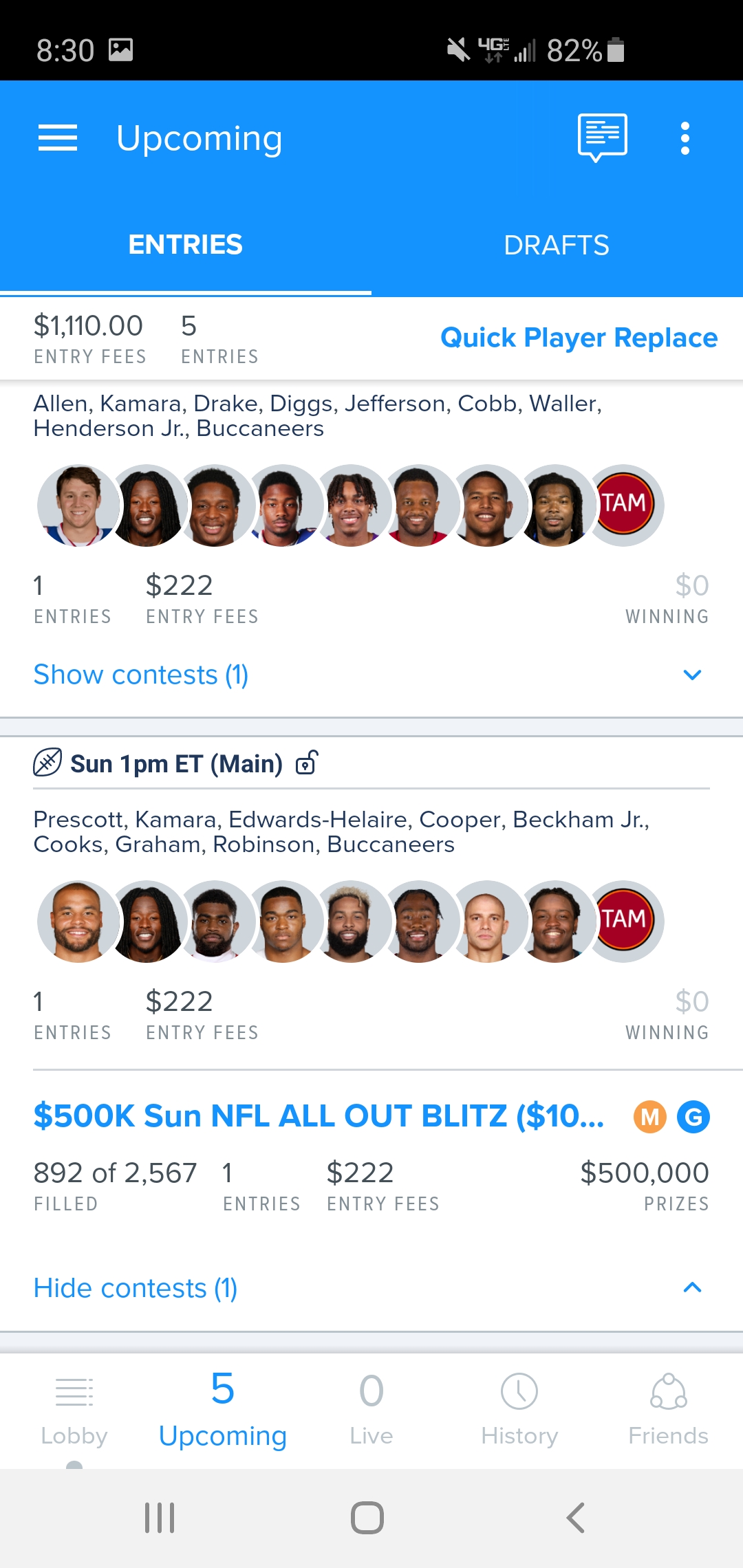 Please share your comments via Twitter. This should be a fun week and I look forward to seeing the games tomorrow morning. For sure I will be glued to NFL Red Zone channel. Good luck and let's keep the money train rolling!