Welcome back everyone! I was pleasantly surprised at the quality of football we experienced last weekend given that there was no preseason. Several of the big names looked great and we had some entertaining games. Of course when playing daily fantasy sports (DFS) for football, it can be challenging to early in the season to predict which players will break the slate. Preseason or no preseason, so many teams change their player personnel in the offseason so it is tough to gauge which defenses are the ones to attack.
Still, success in NFL DFS hinges on opportunity and finding those diamonds in the rough that can provide tremendous value. The one thing I love most about DFS is that it's like solving a complex puzzle. You have a constraint in the form of a salary cap and within that constraint you do your best to produce the optimal lineup. Some will use their gut instinct and some will be more analytical like yours truly. For the more analytical approach, there are several methods people will use for roster construction and of course a plethora of resources to aid in the decision making process. Some of those resources are free and some cost money. It is hard to tell which site is worth the investment since there are so many to select. For example, Pro Football Focus and Football Outsiders are two of the big names in the industry that offer advanced metrics for the NFL which an advanced modeler can use incorporate his/her algorithms. There are other sites such as numberFire and Fantasy Labs that will provide you with projections and optimizer tools for those who simply want to plug and play those lineups.
Lately I have been using the apps on Advanced Sports Analytics (ASA) and the link is below.
www.advancedsportsanalytics.com
The thing I love about ASA is that you get the best of both worlds: projections using sophisticated machine learning models as well as apps that DFS players can use in their own models. The bottom line is that DFS is a data rich game and you simply need a site that can offer you advanced tools to inform your roster decisions. Isn't the ultimate goal to make money in DFS so why not use a resource that can do that better than most sites?
I will still use my intuition at times when building my lineups and that is the beauty about DFS: it's part science and part art. For Week 2, I feel there are three players you must plug into your lineups based on recent injury news. Here they are in no particular order.
Jonathan Taylor
Corey Davis
Dalton Schultz
Most of us had expected an ugly RB by committee with the Colts which can be frustrating when you know the rookie RB is more talented than the incumbent starter. Now that Marlon Mack is done for the season, handing the keys to the kingdom for Taylor could not have arrived sooner. Taylor was a beast at Wisconsin and he is lucky to have a QB who knows the importance of having a reliable 3 down back (remember LaDanian Tomlinson?). You can say the same about his head coach (remember Thurman Thomas?). Taylor is not super cheap but still cheap on both both DraftKings (DK) and FanDuel (FD). He can easily be a top 5 RB on most weeks and you are getting him at an insane discount compared to the other big names. Enjoy using Taylor now since his price ($5700 on DK and $5800 on FD) will skyrocket after this week.
Corey Davis of the Titans represents another good value. I am not as high on him as I am on Taylor but we need salary cap relief at the WR position and Davis is as good as it gets for Week. AJ Brown has already been ruled out and even though Davis has been kind of a bust for the Titans, he is still capable of having big games. Last week he caught 7 out of 8 targets for 101 yards. That is good for 20+ points on DK and now he will be the prime target for Tennessee. The Titans also have a soft matchup against Jacksonville. At a price of $4000 on DK and $4900 on FD, you are looking at 5x return. Typically a roster that produces an overall average of 4x will win you money in NFL DFS tournaments so grabbing Davis is a must.
We can find more salary relief at the tight end position. I have never been a big fan of overspending on my TEs since a 7 - 8K TE can doom your lineup if he barely cracks a double digit score. Some of my most successful NFL DFS lineups usually had a cheap TE who went off. Of course that can be hard to find but we have such an opportunity with the Dallas Cowboys. The ageless Jason Witten moved on to a different team instead of retiring for a 2nd time which cleared the path for Blake Jarwin to take the reins which had belonged to Witten for nearly 20 years. Like Mack, Jarwin is out for the season. There are two candidates to replace Jarwin; Schultz or Blake Bell. Bell is mainly used for blocking duties so Schultz steps in as the starter and should assume pass catching duties. Of course the Cowboys are a stacked offense but if you can get a tight end for under $4000 in DK and exactly $4000 on FD (the cheapest price FD offers for TEs), then you must do it. All we need is 4 - 5 catches for 50 - 60 yards to return 2x value which is OK as long as we get some star power in our lineups. A TD or two would be awesome!
Before we discuss our star players, one more place where we can find savings is at defense. Rarely do the winning lineups overspend at this position. On short slates, sometimes you have no choice but to grab the most expensive defense but in a big slate for Week 2, we will opt for the low-priced options. The one that stands out to me are the New York Jets. The San Francisco 49ers will travel cross country to play an early game. Research has shown that West Coast teams rarely perform well in such games given the dramatic time zone change. Plus the 49ers offense was lackluster last week going just 2 for 11 on 3rd down. They sorely miss WR Deebo Samuel so teams will most likely double team TE George Kittle and stack the box in most rushing situations. The 49ers were playing with house's money last year so now they have an X on their backs. The Jets defense is nothing to write home about but they did score 7 fantasy points on both DK and FD. The Jets are at the cheapest possible price on DK at $2000 and near the cheapest on FD at $3500. That is 3.5x and 2x return, respectively, if they win up achieving the same score tomorrow. With the top options at defense rarely cracking 10 fantasy points, you would be remiss to overpay for this position.
So now we have saved A LOT of money on 4 positions, it's time to grab the star players! Simply do the math and you have spent just $15,400 on DK with $34,600 left! The savings are even more dramatic on FD with only $18,200 used on salary with $41,800 to spare! You can tell I am very excited here. While I try to aim for a balanced lineup instead of the "stars and scrubs" approach, I don't feel our cheap players are scrubs. They simply have great opportunities this week which we should exploit. That means we will have some fun buying the best players for our remaining roster spots. With such flexibility, how do we spend that money? You can go for Lamar Jackson or Christian McCaffrey but they tend to have high ownership and last week they didn't quite hit 3x value. They are still crazy expensive so we will look elsewhere. Here are some options I am considering as I put together this puzzle.
QB: Aaron Rodgers, Dak Prescott, Matt Ryan, and Kyler Murray
RB: Ezekiel Elliott and Derrick Henry
WR: Davante Adams, DeAndre Hopkins, Julio Jones/Calvin Ridley
When paying up for the big names, you need to consider game environment. The Cowboys - Falcons game is expected to be a shootout. The Rodgers/Adams connection is arguably the best in football and Rodgers has scorched the Detroit Lions several times in his illustrious career. In fact, in 20 regular season games against Detroit, Rodgers has thrown for over 300 yards nine times and at least 3 TDs seven times. Murray and Hopkins can build a similar relationship in the desert and I would argue that the combination of those two has way more scoring potential than Rodgers and Adams. Washington is a very weak defense and don't be fooled by their performance last week. Check out the Defense vs Position data from ASA below. Arizona is the home team and Murray will light them up. Don't be surprised if Murray and Hopkins finish the game with the top two DFS scores for the main slate. That is the afternoon hammer you would like to have when taking down a GPP tournament.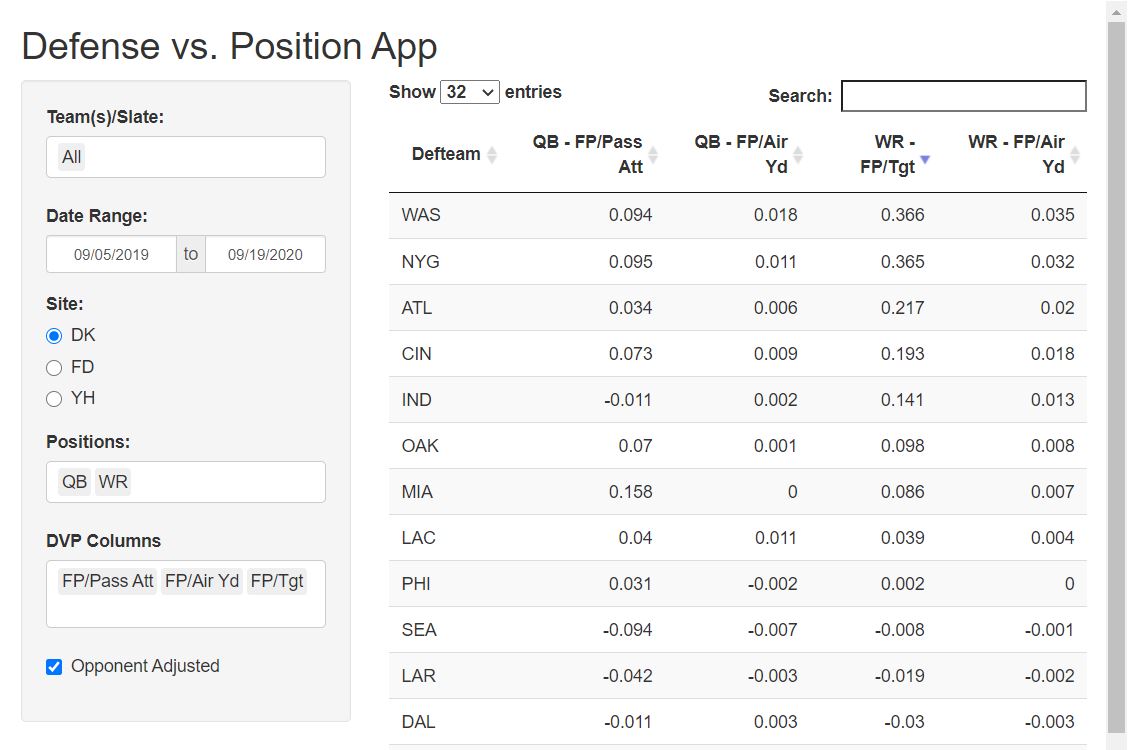 As for the only game that has an implied point total of more than 50 points, we should carefully consider the expensive players on both Dallas and Atlanta. You should not grab all of them since they may not correlate well. The Correlation app on ASA serves a great purpose here (see the two images below).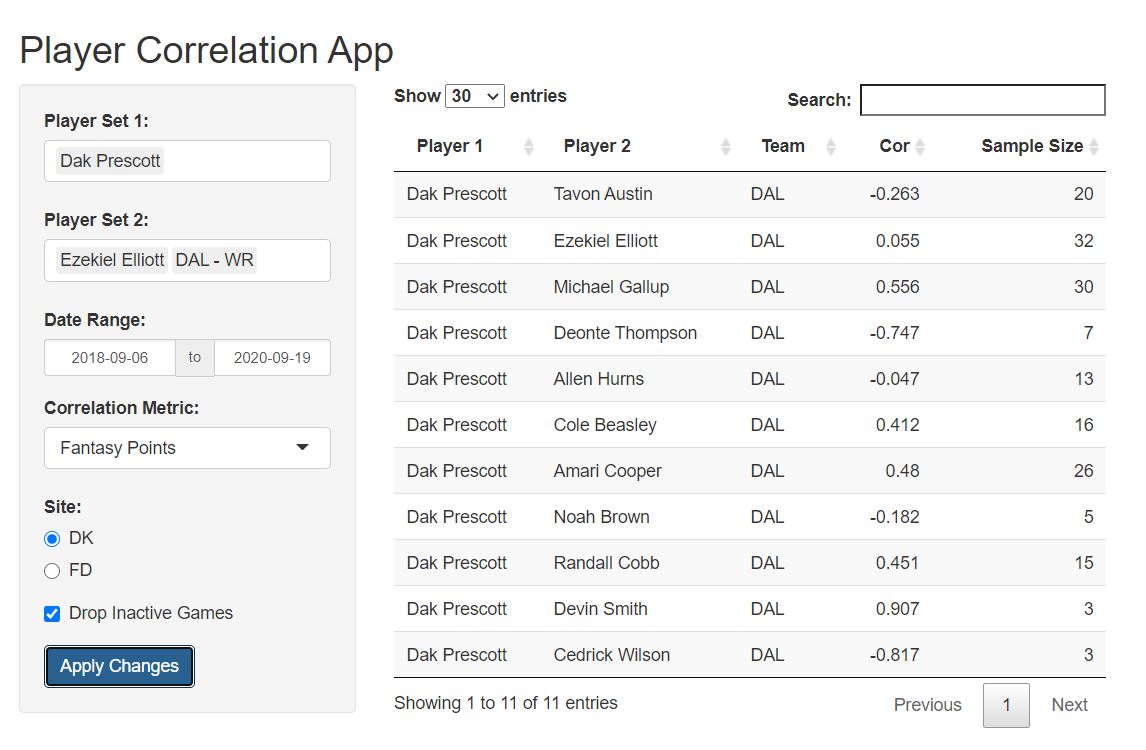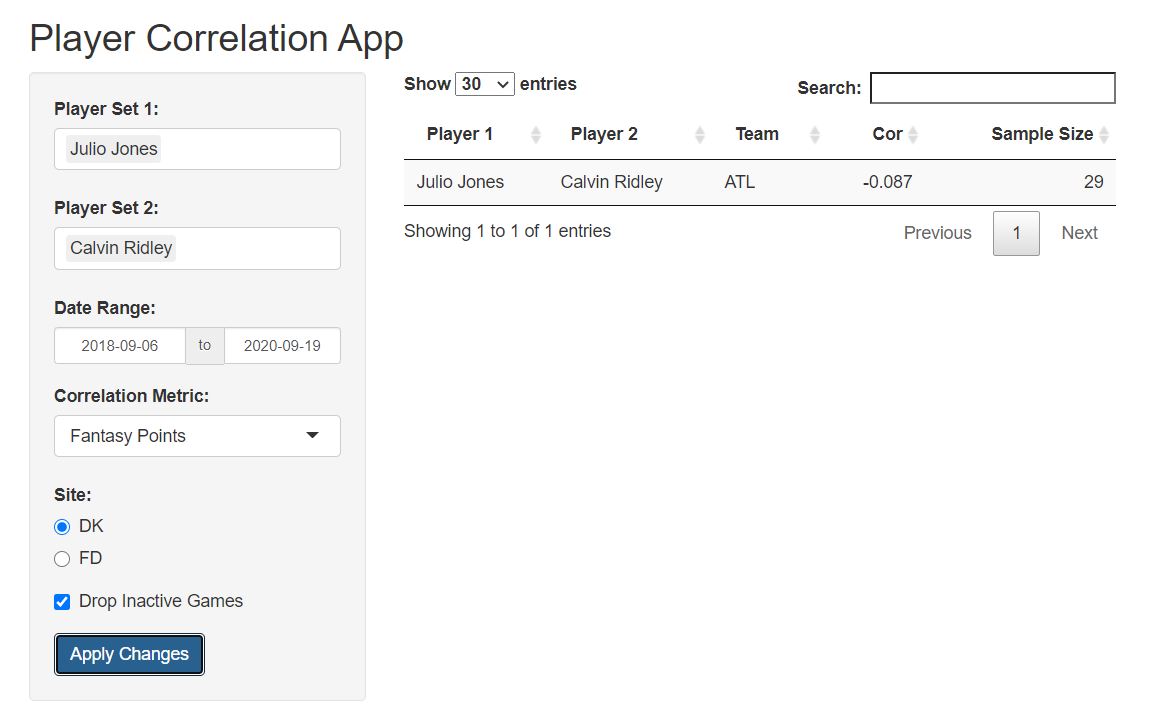 No way will I roster both Dak and Zeke but I won't use both Jones and Ridley in the same lineup given the weak correlations. I am loving Zeke in this game given the soft matchup and Henry is another RB with a similar weak opponent against the run game. Both get an insane amount of touches and will be their teams' first scoring option. This is where tapping into Rushing Market Share (MS) or Snap % will help. Zeke and Henry are near or at the top with both of those metrics and ASA has that data! See below!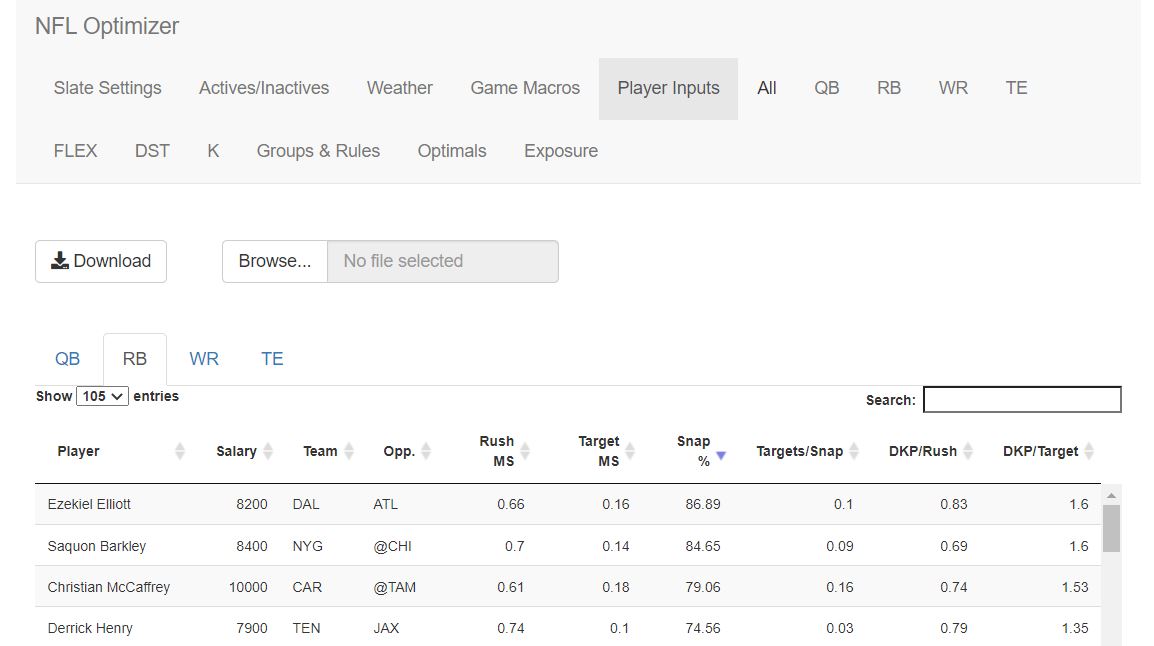 Down below are a few sample lineups I made on both DK and FD.




Notice that I have experimented with other cheap options at WR and TE. Even though I love all of these lineups, I am super pumped up about the lineups on FD. I feel this can help us achieve DFS glory! Keep in min that sometimes you need to cast a wide net to win in DFS but for single entry tournaments, I am really liking the lineups with Davis and Schultz. Tomorrow should be fun with all of the star power we have used! Enjoy the games and good luck!