The day has finally arrived! The NFL is back! Wives and girlfriends are grinding their teeth that their significant others will be preoccupied for 1/2 of the weekend (unless they like football too). I will be curious to see how well the NFL players can stay COVID free since there won't be a bubble. Baseball clearly struggled at the start of the season and that was with short distance travel (unlike the NFL which will require some teams to travel on cross country flights). Plus baseball is naturally a socially distanced sport unlike the NFL that is full contact with players heavily breathing on each other at the line of scrimmage. The NBA and NHL have thrived with their bubble setup so I am not sure why the NFL has not taken note of what has and hasn't worked in the sports world during this pandemic.
For now let's just rejoice that we have one of our favorite sports return and hopefully the NFL won't experience the same disruption that all other sports had to endure this past spring and summer. With the return of football means the opportunity to play fantasy football which we all know is very multi-dimensional. You can play in a season long league with friends or do player props with your favorite sportsbook. You can also play daily fantasy sports which most of us tend to refer to as DFS. For those who know me well, DraftKings (DK) and FanDuel (FD) are my go-to DFS sites. FanDuel has been kind to me for both MLB and NBA while I have found more success at DraftKings for the NFL. Still, I play both sites and this article will discuss how to build a winning lineup for both DK and FD.
So where do we start? There are plenty of great resources on the world wide web when it comes to DFS, especially the NFL. Your traditional sites such as Pro Football Focus, Football Outsiders, NumberFire, Rotogrinders, Rotowire, Fantasy Pros, and so on are all great places to visit. Some of their information is free and if you wish to get access to more sophisticated tools, you could pay a monthly fee which won't break the bank. In fact, your competition is using those tools to get an edge so you would be remiss to not spend a bit of coin if you desire to hit the jackpot and bask in DFS glory.
For me personally, I prefer to build my own models and scrape data from various sites as inputs for my model. Even then, models are not perfect and it's best to validate your models with more data analysis. Also, obtaining data that is formatted well and rich is not easy to find. That is why I love Advanced Sports Analytics or ASA for short. The apps are unique and very helpful. You can also do a download of the raw data to input in your models. For example, you can start off with the projections app and check out the optimizer. Then you can move onto some of the other apps such as distribution charts for each player, correlations between team members, and defense vs position. The link is below and a subscription is reasonably priced.
www.advancedsportsanalytics.com
So how will I be using ASA's data analysis for my NFL DFS lineup construction? I suggest you watch my video first and then keep reading this article. A link to my YouTube video is shown below.
Last year, there were three players who dominated NFL DFS: Lamar Jackson, Christian McCaffrey, and Michael Thomas. No other players came close to them at their respective positions and we should expect the same this season, especially with Lamar Jackson entering Year 3 and hoping to land the same kind of lucrative deal that his counterpart in Kansas City inked after winning Super Bowl LIV. If you need me to mention the QB I am referring to, please close this page and don't attempt to play fantasy football this season. Seriously.
The problem is that it is awfully hard to roster all three of those players and still have enough salary leftover for decent players at the 6 remaining spots. However, each of your rosters should have at least one of those three players and I strongly suggest you play multiple rosters. Casting a wide net is how you take down a tournament or a guaranteed prize pool (GPP).
For Week 1, I will select Lamar Jackson as my stud player. Again, he is playing for a lucrative contract and has something to prove after last year's early playoff exit. Baltimore, after all, was considered the odds-on favorite to win it all. Jackson's matchup is a juicy (so is McCaffrey's and same can be said for Thomas). Still, I will roll with Jackson and pairing him with his tight end, Mark Andrews, could pay off nicely. Like Jackson, Andrews is entering his 3rd season and wants to get paid like George Kittle of San Francisco. According to the ASA site, Cleveland gave up the 2nd most fantasy points per target for the tight end position. Also, Jackson and Andrews correlate very well with each other: 0.579. Check out the images below.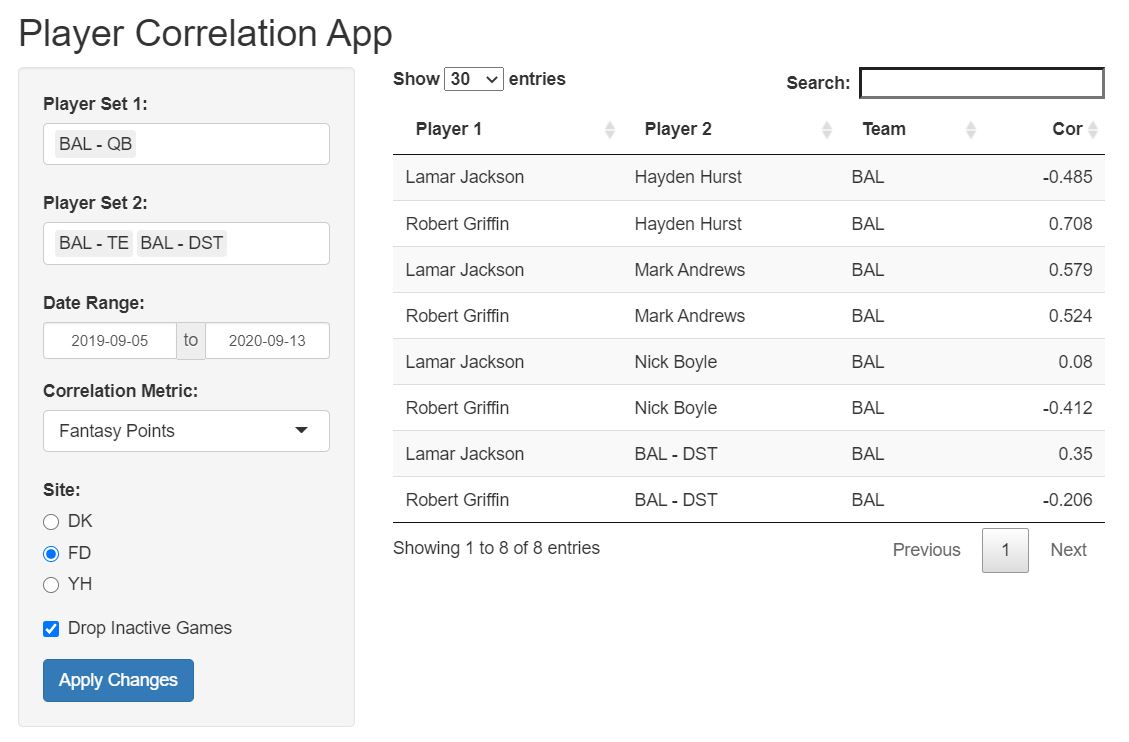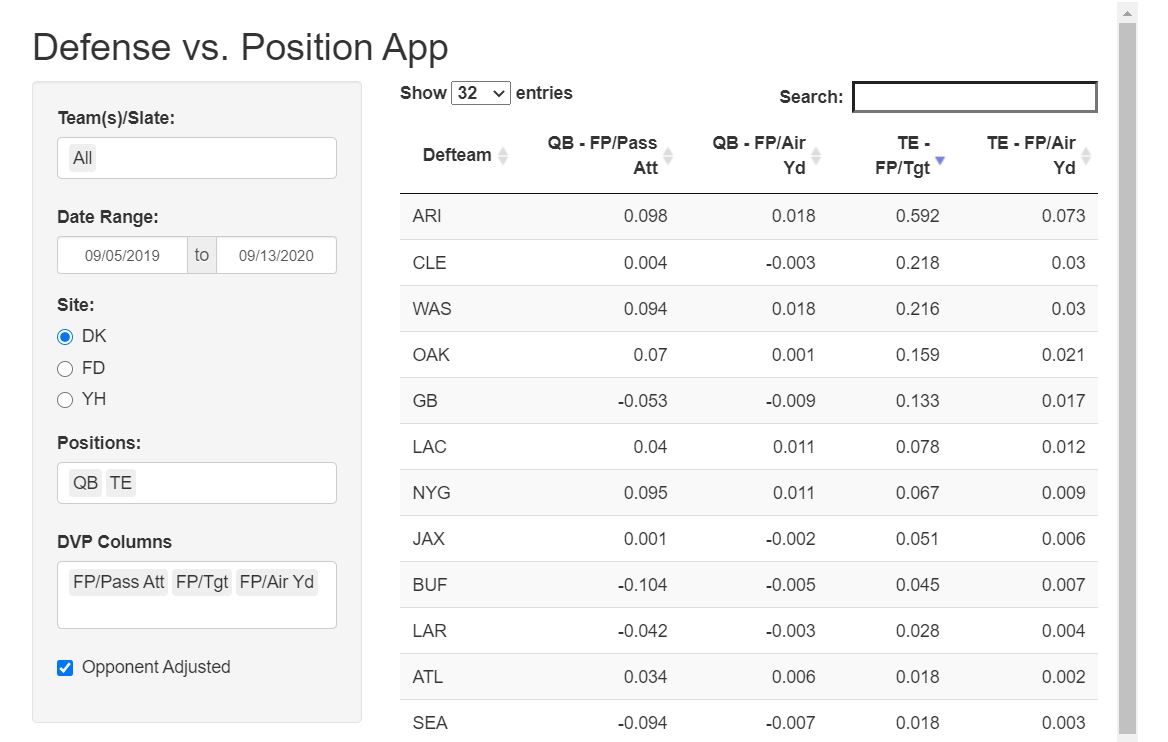 With Jackson and Andrews firmly in place, let's consider our WRs. For a large slate, I urge you to not overpay. There is plenty of value with the mid-priced options and you will want to leave enough money for some of the top RBs. Again, this is where the ASA site can help you. When you click on the projections, you can rank the WRs by advanced metrics such as ADOT (average depth of target), Air Yards, and Targets MS (market share). I prefer to focus on Targets MS and the three mid-priced WRs that jump off the page are Marvin Jones, Adam Thielen, and Terry McLaurin. See the image below (FYI, the top two are hidden who happen to be Davante Adams and Chris Godwin). Jones Targets MS is lower than Thielen's and McLaurin's but should see an increase in targets with Kenny Golladay having a doubtful tag. No Stefon Diggs in Minnesota so Thielen should shine and McLaurin enters Year 2 with his college QB so there should be more growth there.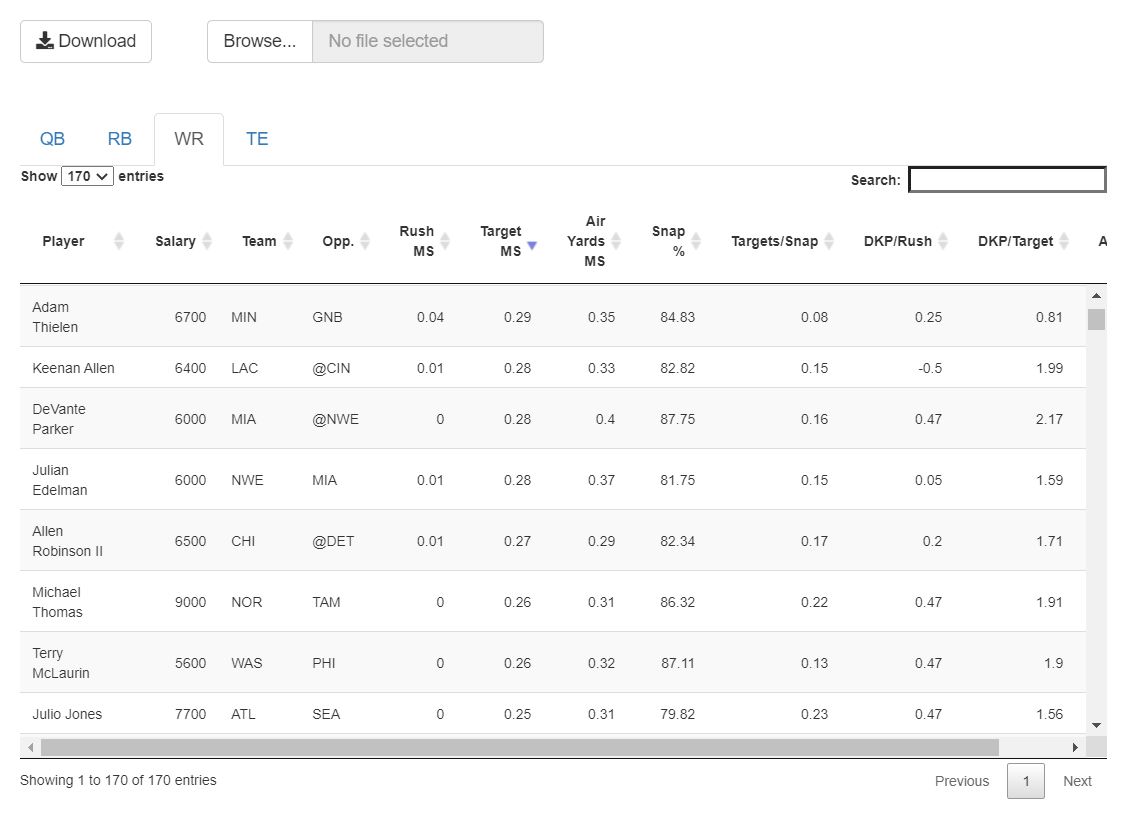 For RB, it all depends on what site you are playing. Josh Jacobs on DK is a steal but is overpriced on FD. Austin Ekeler is appropriately priced on both sites and should see 20+ touches with Melvin Gordon gone. Of course Boston Scott of the Eagles is going to be a chalky play but how do you not eat that chalk. You need the savings and he should provide at least 4X value with 5X or even 6X not out of the question. Several teams are using a committee approach which can be very frustrating for fantasy football so finding that one back who can command 20+ touches is not easy. Kenyan Drake could be that guy. He has prototypical RB size, awesome pedigree coming from Alabama which is an NFL RB factory, gets involved in the passing game as a receiver, and plays on the same team with a top 5 WR and a rising star at QB. Yes, Arizona is playing San Francisco who boasts a championship quality defensive front seven but the 49ers have given up solid production to dynamic RBs. Aaron Jones of Green Bay still up very impressive numbers in the NFC Conference Championship even though the game was a blowout.
Picking a defense/special teams is kind of a crapshoot, especially this early in the season with no in-season data at our disposal. I like the Chargers since they face a rookie QB in his first ever NFL game without any preseason games to work out the kinks. Plus the Chargers are healthy with Joey Bosa and Melvin Ingram. The Bills or Ravens are also two good options. In fact, Jackson correlates well with the Ravens defense. That kind of makes sense given that teams will be playing from behind when Jackson has his way with the opposition. That means they will be over pursuing on drives late in the game resulting in key mistakes such as sacks and turnovers.
A sample FD lineup is show below as well as four DK lineups.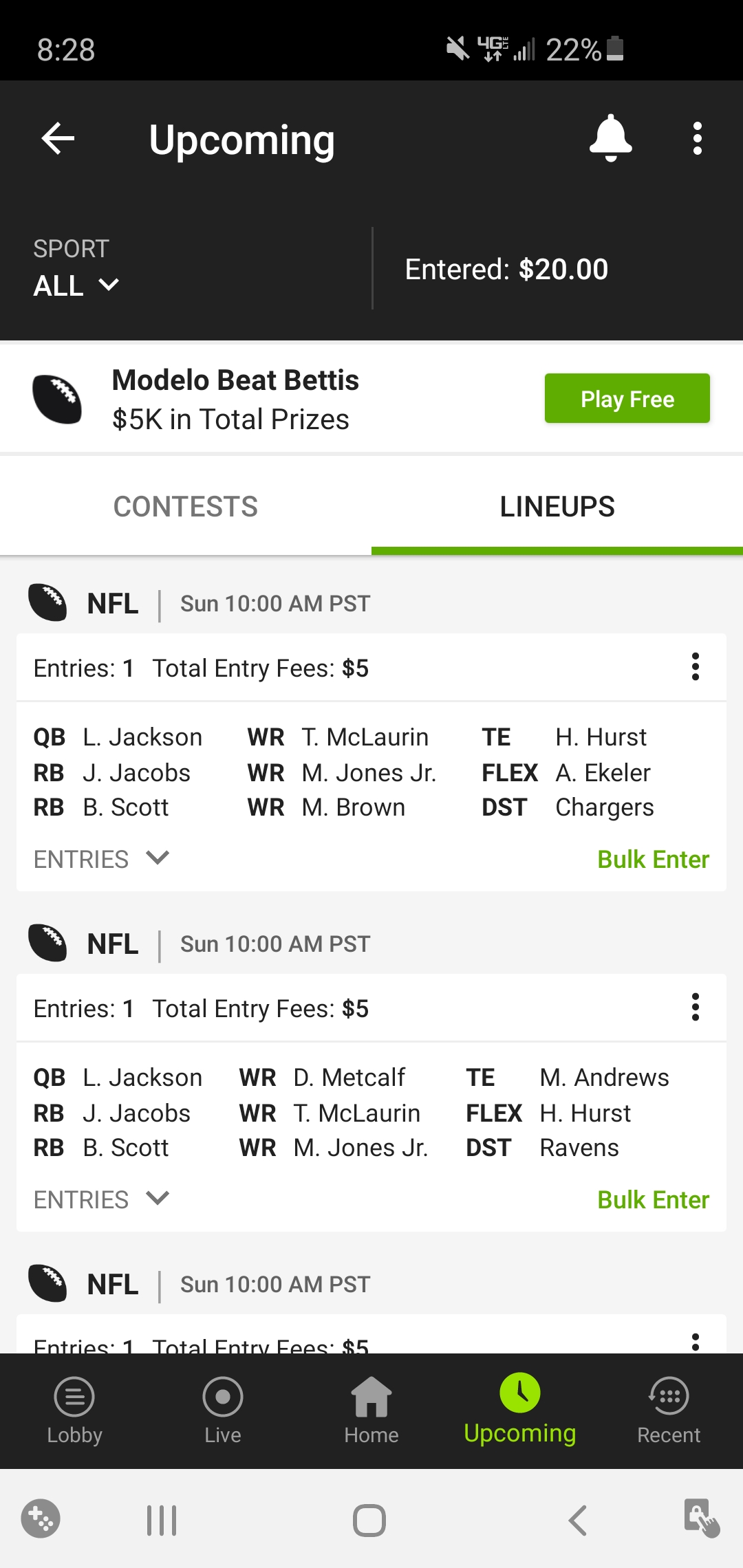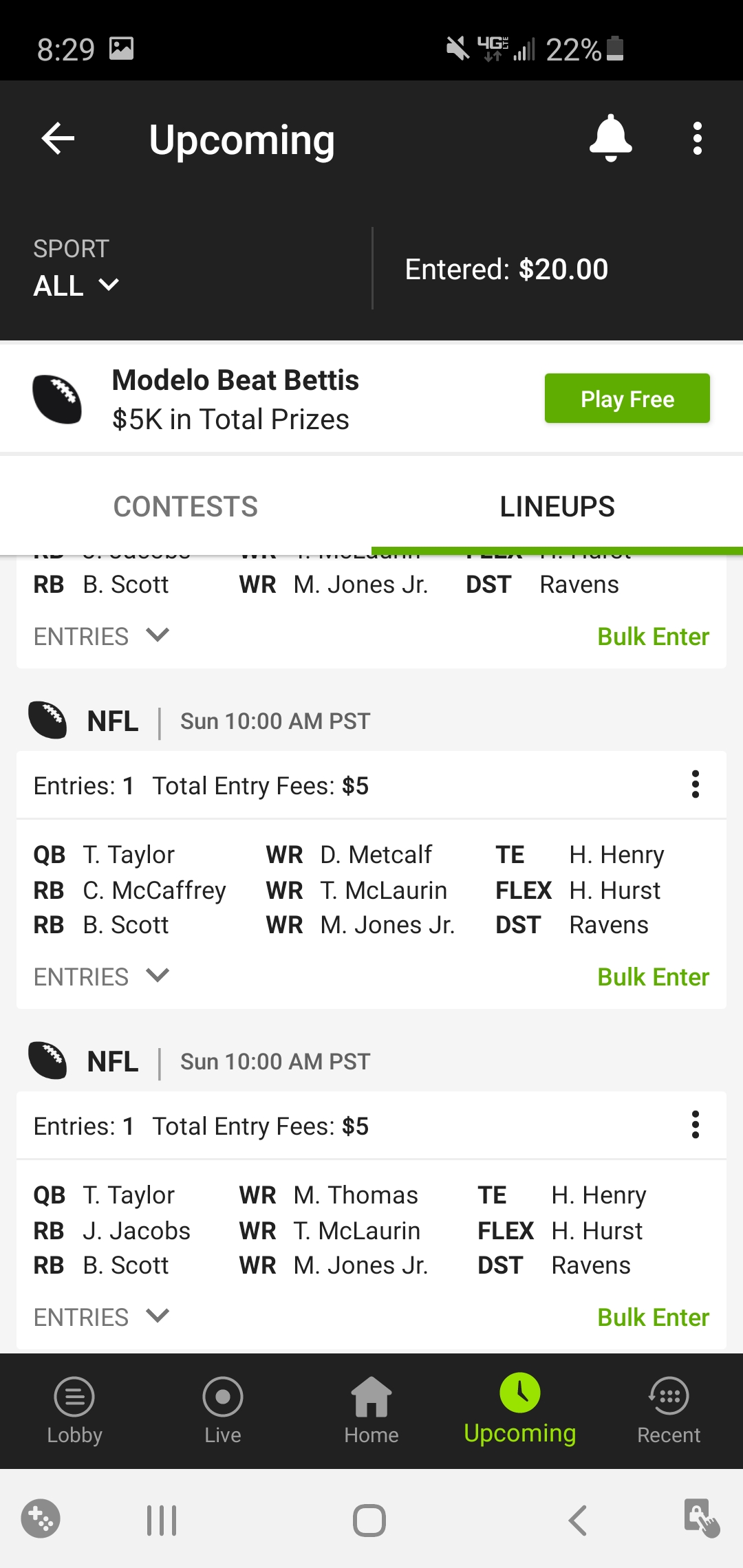 Should anything change from now until kickoff, I will send out Twitter updates but expect my lineups, for the most part, to look like the images above. Good luck to you and enjoy the opening of the NFL season!