NBA DFS Lineup (9/05/2020)
Last night was a good one. We came close to our prediction of 190 - 200 points for our Miami - Milwaukee stack and AD and our mini Houston stack came through to get us over 300 FD points and over the cash line. See the image below.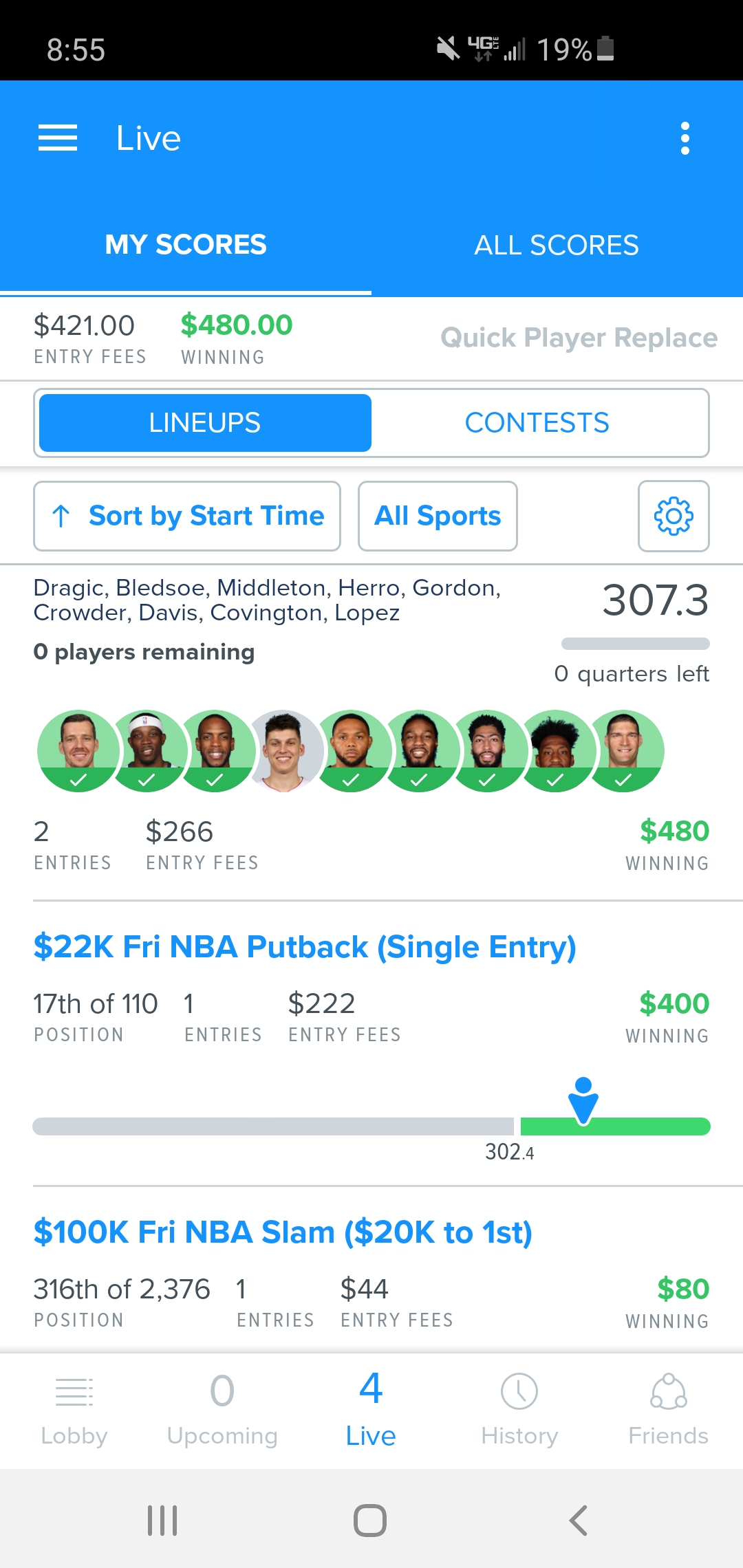 We didn't get the tournament takedown we had hoped but profit is profit. If we had swapped out Eric Bledsoe for Rajon Rondo and replaced AD (who was great for us though) with Bam Adebayo (hit value this time) then we could have upgraded from Eric Gordon to Giannis. That would have earned us 1st place. Sometimes it's fun to speculate those "what-if" scenarios but can be painful if you actually had considered such a lineup before the lock deadline.
I will avoid running the model today since sometime the eye test and using logic to build your lineup can be the recipe for success. What that means is that we will want to get the best player from LA but this time from the other LA team. That means Kawhi is a must and I don't care how high his ownership will be. He is not going to score less than 50 DK or FD points. Even if the game is a blowout, it will be because of Kawhi.
Someone has to score for Denver so we will focus on the starters. I will avoid Jamal Murray and Nikola Jokic just how I avoid Westbrook and Harden from Houston last night. The Clippers D, like the Lakers D, is that good even though the Lakers lost last night. Actually one could argue that the Clippers D is better. That leaves us with Gary Harris, Jerami Grant, and Paul Millsap. Harris has low usage and his minutes could be limited. Grant and Millsap are cheap and could each earn a double-double. Plus the Clippers are kind of weak at defending the PF position (it's the backcourt defense where they thrive). For some savings, we will pair Kawhi with Marcus Morris Sr. who has been a pleasant surprise this postseason and represents nice value.
This is leading us to a Boston - Toronto stack. Look no further than the Raptors backcourt which did well in Game 3 and is the heart and soul of this team. If you didn't have Kyle Lowry two days ago on your DFS squad, you most likely threw money in the garbage like yours trult. I won't make that mistake again. You will want to paid Lowry with Fred VanVleet who is very consistent, especially in the postseason. Since we are not going with Jokic and need some salary savings, we will somewhat punt the center position with Marc Gasol. Depth is quite weak at that position. Maybe the Clippers centers will pop off and if we can squeeze in Harrell or Zubac, we will. However, we will settle on Gasol and hope his score is not that far off from the centers priced above him.
I wish we could use both Kemba Walker and Jaylen Brown but we will have to choose. In this case, we will go with Kemba given that we are fading Murray and there is a steep drop off after Kemba. You could roll the dice with some of the Clippers guards but if the game gets out of hand, then you might be drawing dead, especially with Kemba has another good game. That leaves us with Marcus Smart who has been OK during his last few games. Every once in a while he blows up. However, even if he doesn't, I will gladly take the 25 - 30 FD points he provides.
We are banking on roughly 90 - 100 FD points from our Toronto stack. Then about 70 - 80 FD points from our mini Boston stack. Kawhi and Morris should get us 80 - 90 FD points and hopefully about 50 - 60 points from our mini Denver stack. Add it all up and should crack 300 points again and hopefully get close to 330. Here are sample lineups for both DK and FD.


I am feeling good again about our lineups tonight. Let's keep adding to our bankroll during this holiday weekend!