COVID, COVID, COVID. That is what has been on my mind the past few days. Yours truly was tested for COVID last Tuesday and while the results were negative, I felt like a tidal wave hit me on Friday. 100.5 fever, chills, body aches everywhere, sore throat, runny nose, and nasal congestion. All at once! I am feeling better now but given that my immediate family and I were exposed to someone who had tested positive for COVID, I am skeptical about the negative test. Be safe and stay home until the COVID counts go down in your community.
Why do I share this personal story? Because no one is immune from this nasty virus which has brought virtually every industry down to its knees, including the NFL which acts as if it's an invincible force impervious to any setback. I am glad I didn't publish my article early on Saturday since news just broke about the San Francisco 49ers not being able to play in Santa Clara County (where Levi's Stadium is located) for the next three weeks (all contact sports have been banned in that county) as well as the Denver Broncos not having any QBs available for their game tomorrow. Furthermore, several starters tested positive for COVID today and there are now 18 Ravens players on the COVID list. I will say that I am perplexed that the NFL claims to care about player safety yet the NFL drags its feet when it comes to postponements/cancellations of games. Don't mind my cynicism when I say that the NFL is purely motivated by TV ad revenue money. The other major sports leagues made modifications to their schedule and took a huge hit in revenue but focused on player safety by limiting travel or playing in a bubble. The NFL did neither and is currently at risk of being shut down for a while. They don't seem invincible now, do they?
Let's just assume the games happen tomorrow. After all, what else I am going to do while self-quarantining at home with my wife and two children? LOL! I will break down my DFS picks by position.
QB
My model output is shown below and it's no surprise that Patrick Mahomes is the top choice.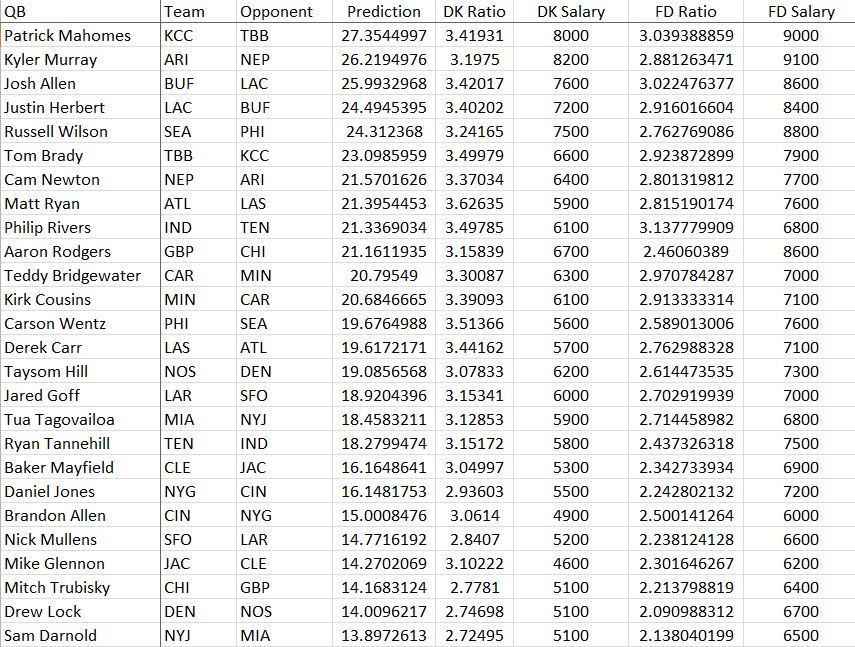 My model for QBs has been very reliable the last 3 weeks so that is reason alone to roll with Mahomes tomorrow. Nonetheless, there are three more reasons why I like Mahomes.
The obvious is that he is the best QB in the universe. The man is matchup proof so I don't care if the Bucs have a high rated defense based on Football Outsiders DVOA metrics (2nd for pass defense and 1st for rush defense). In fact, the Bucs defense was burned by both Drew Brees and Jared Goff this month. Just imagine what Mahomes can do.

The game is in the afternoon and often times DFS players will overlook the later games. Plus the DFS community is hyping up other QBs such as Derek Carr, Matt Ryan, Josh Allen, and Justin Herbert. I still find it confusing that Mahomes goes under owned when half of his games this season has been at 4x or higher for his DK points/DK salary ratio (per $1000 of DK salary).

This reason will be the final stake in the ground as to why you play Mahomes tomorrow. In the 5 games this season Mahomes has surpassed 4x value for DK points/DK salary ratio, Mahomes had at least 40 passing attempts. If you visit TeamRankings.com, you can access a plethora of valuable data such as total plays for each offense and defense as well as percentage of totals plays that are passes. If you average the total plays the Chiefs offense has had this year with the total plays for the Bucs defense and then multiply that average by the average of the percentages of total plays that are passes for the Chiefs offense and Bucs defense, Mahomes is expected to have 40 pass attempts tomorrow. The calculation is shown below.
(65.3+64.6)/2 * (0.6049+0.6457)/2 = 40.29
Typically QBs attempt 35 passes per game. Those extra 5 passes means that Mahomes will complete 3 - 4 of them for an extra 40 - 50 yards and perhaps an extra TD. Those additional 5 - 6 points can propel you from a decent pay day to one of the top 3 - 4 prizes.
RB
I will continue the Stars & Scrubs approach. Our top choice at RB is Dalvin Cook. Typically there are three Vikings who can put slate-breaking numbers (30+ DK points and/or 4x value) each week and Cook is one of them. The other, Adam Thielen, is out due to making the COVID list so Cook only has Justin Jefferson to compete with for a big fantasy day. Maybe they both pop off but it's safe to assume that at least one of them will score 30+ points, especially facing a weak Carolina defense and no Thielen. Big time player have torn apart the Panthers this season. The evidence below does not lie.
Week 1: Josh Jacobs 25 carries for 93 yards and 3 rushing TDs (plus 4 receptions for 46 yards).
Week 2: Leonard Fournette 12 carries for 103 yards and 2 rushing TDs (plus 4 receptions for 13 yards). Mike Evans 7 receptions for 104 yards and 1 receiving TD.
Week 3: Austin Ekeler 12 carries for 59 yards and 1 rushing TD while hauling in 11 receptions for 84 yards. That is PPR gold but Keenan Allen was a PPR machine with 13 receptions for 132 yards and receiving 1 TD good for 33.2 DK points (he did lose 1 fumble).
Week 5: Todd Gurley 14 carries for 121 yards and 1 rushing TD (plus 4 receptions for 29 yards). Calvin Ridley 8 receptions for 136 yards.
Week 7: Alvin Kamara 14 carries for 83 yards and 8 receptions for 65 yards.
Week 8: Julio Jones 7 receptions for 137 yards.
Week 9: Double trouble with Tyreek Hill and Travis Kelce. Hill 9 receptions for 113 yards and 2 receiving TDs. Kelce 10 receptions for 159 yards.
Week 10: Ronald Jones II 23 carries for 192 yards and 1 rushing TD.
Except for Arizona (Week 4), Chicago (Week 6), and Detroit (Week 11), every other team who has played Carolina this season has seen its star player(s) bust out for a big day. Arizona was an anomaly but Chicago has a terrible offense (ranked 29th in DVOA by Football Outsiders) and Detroit just fired its head coach. KC has the top offense in the NFL while the Saints, Raiders, and Bucs are all top 10. Guess who is else has a top 10 offense? That's right, the Vikings! Cook is pricey but Jefferson is more in the middle. I say we get them both!
We will need to save some money and thankfully COVID-19 presents us with some outstanding value. Jonathan Taylor of the Colts is out so fire up Nyhiem Hines. The data visuals below, courtesy of Advanced Sports Analytics (ASA), show that in the weeks when Taylor is not getting as much playing time, Hines sees a significant increase in his involvement with the Colts offense. In fact, Hines cracked 20 DK points during Weeks 1, 8, and 10. At a price of $4600 on DK and facing a week Titans defense (which Hines did well against 2 weeks ago), we will be getting 5x value. Sign me up!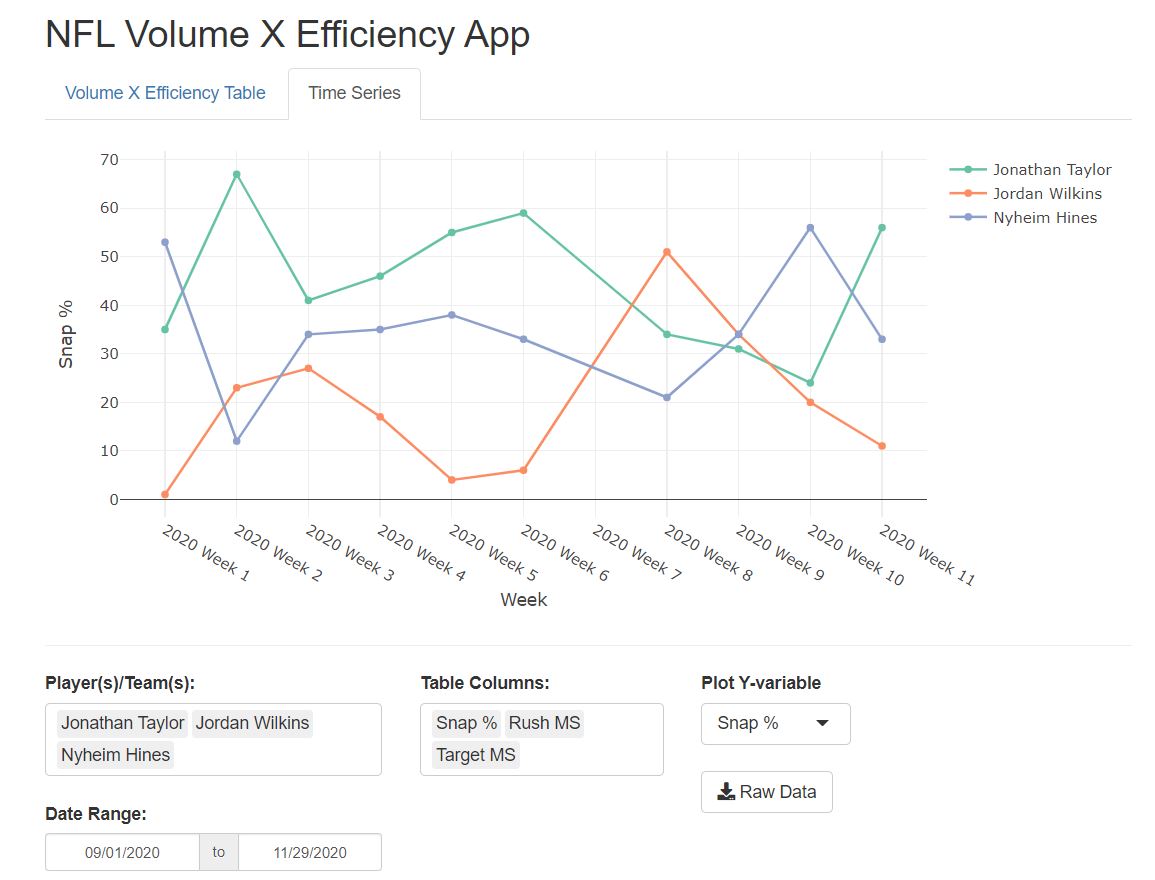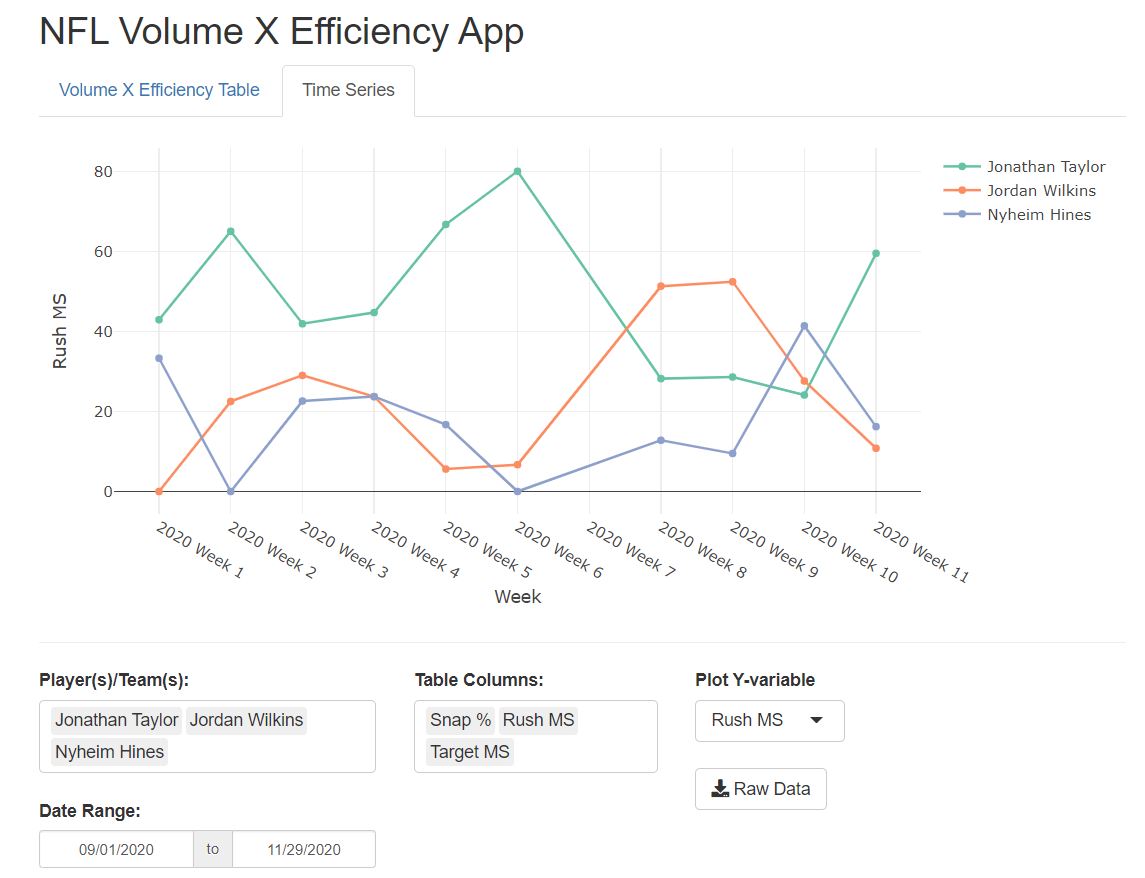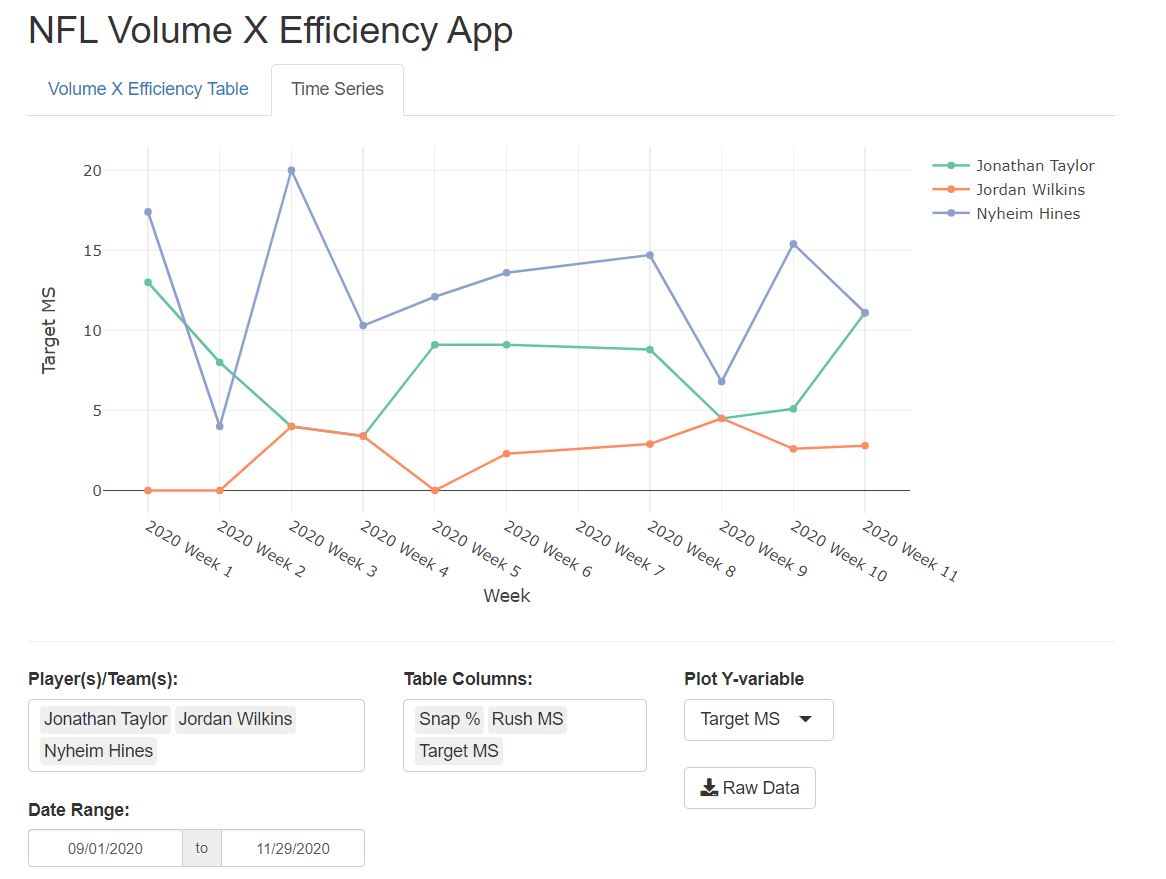 Another good value is James White. Rex Burkhead is out due to a season ending knee injury. Even though Sony Michel is back, he is not a pass catcher out of the backfield. Damien Harris is pretty much cut from the same cloth as Michel and with a very thin WR/TE core for the Patriots, White is your man. Here is some evidence that shows White's dominance in 2018 when Burkhead missed Weeks 4 - 12.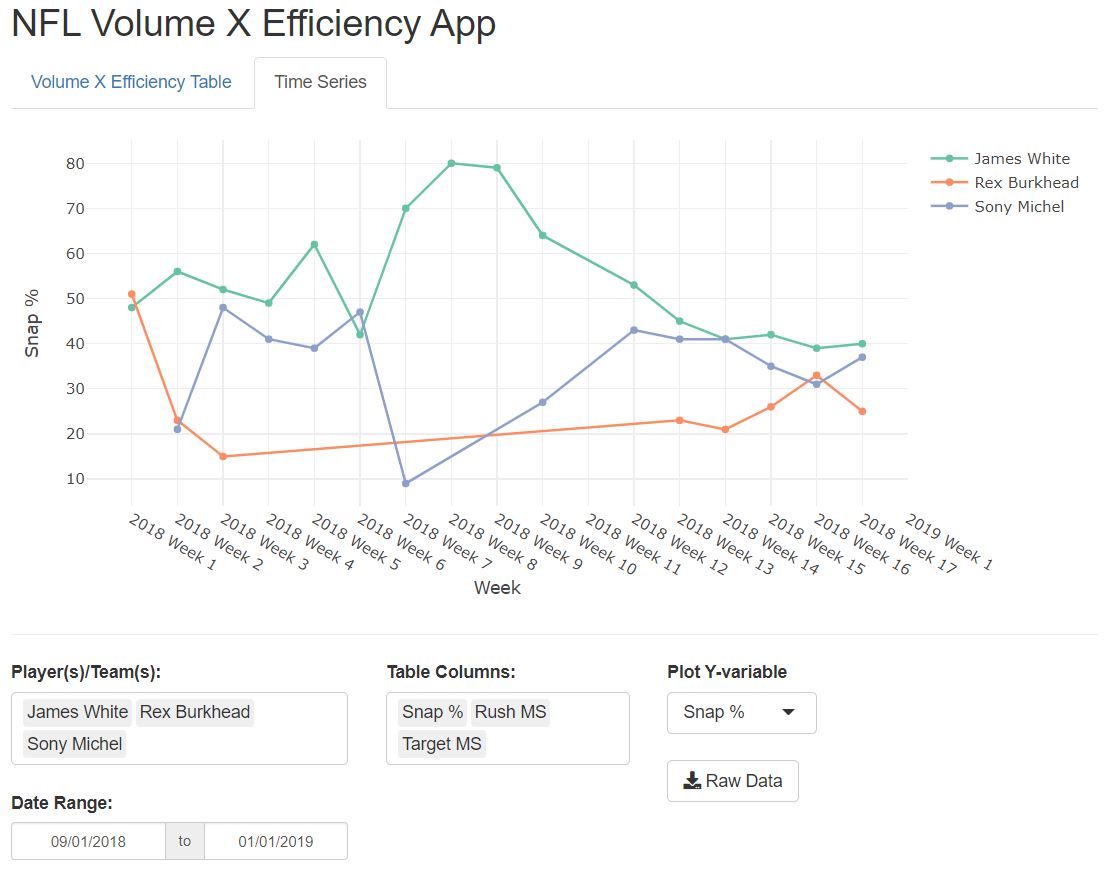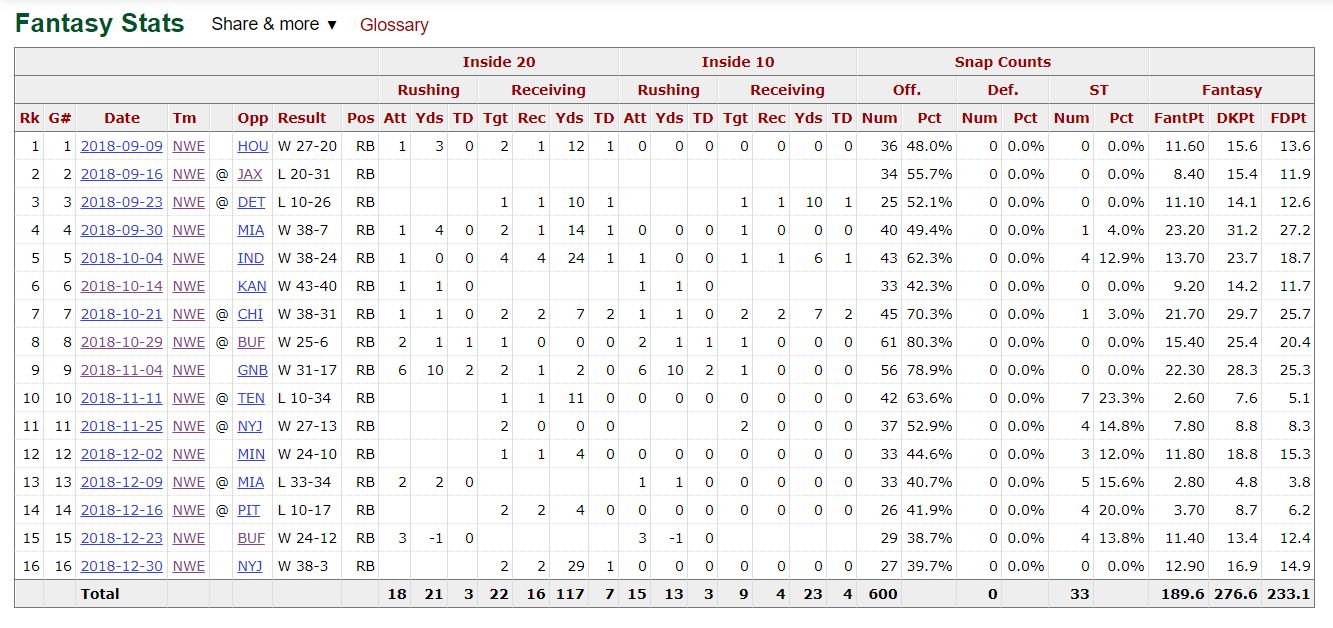 There were 5 games when White surpassed 20 DK points. He is priced close to Hines on DK ($4500) so again we are getting 5x value. White is one of Belichick's most trusted weapons and the Cardinals defense has struggled the last 4 weeks giving up an average of 31.5 points per game. White does not have any TDs yet this season so he is due for some positive regression.
WR
We are already sold on Jefferson. As for our other WRs, we should probably pair someone with Mahomes. I feel that Hill and Kelce are overvalued, especially with Sammy Watkins back. During Weeks 1 - 4, Hill and Kelce never cracked 20 FD points. Watkins hasn't played a full game since Week 4 so logic would dictate that Watkins will eat into Hill's and Kelce's shares of targets and air yards. The data from the ASA site (see link below) tells us that we should expect a drop off in production for Hill while Kelce's opportunities remains constant.
www.advancedsportsanalytics.com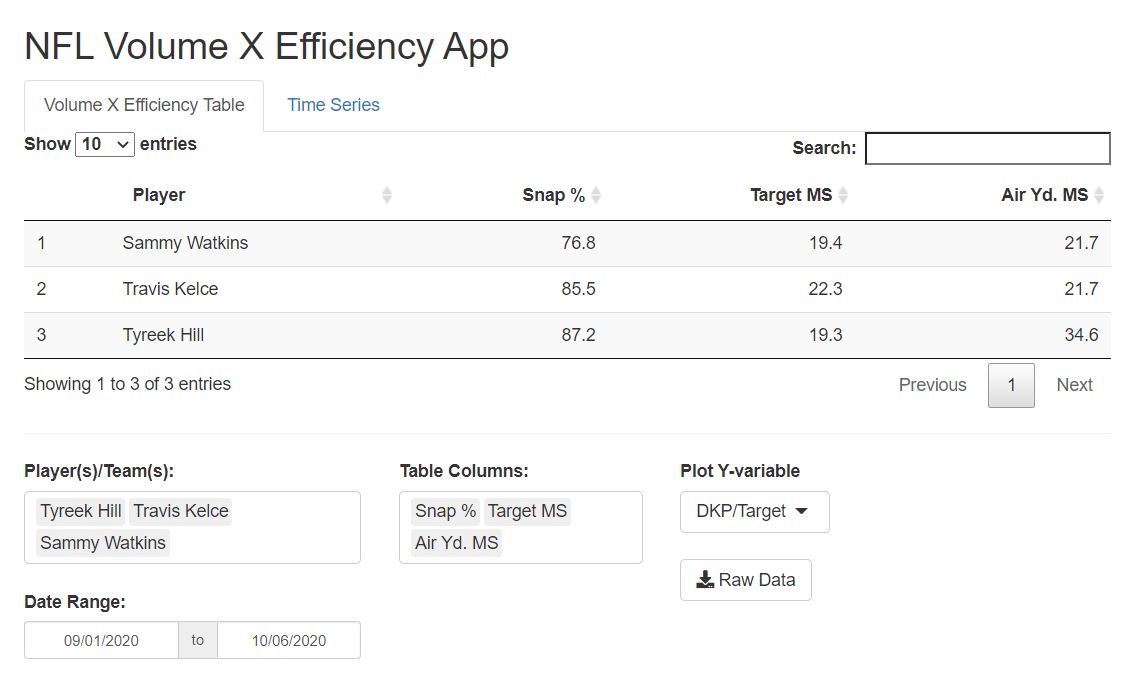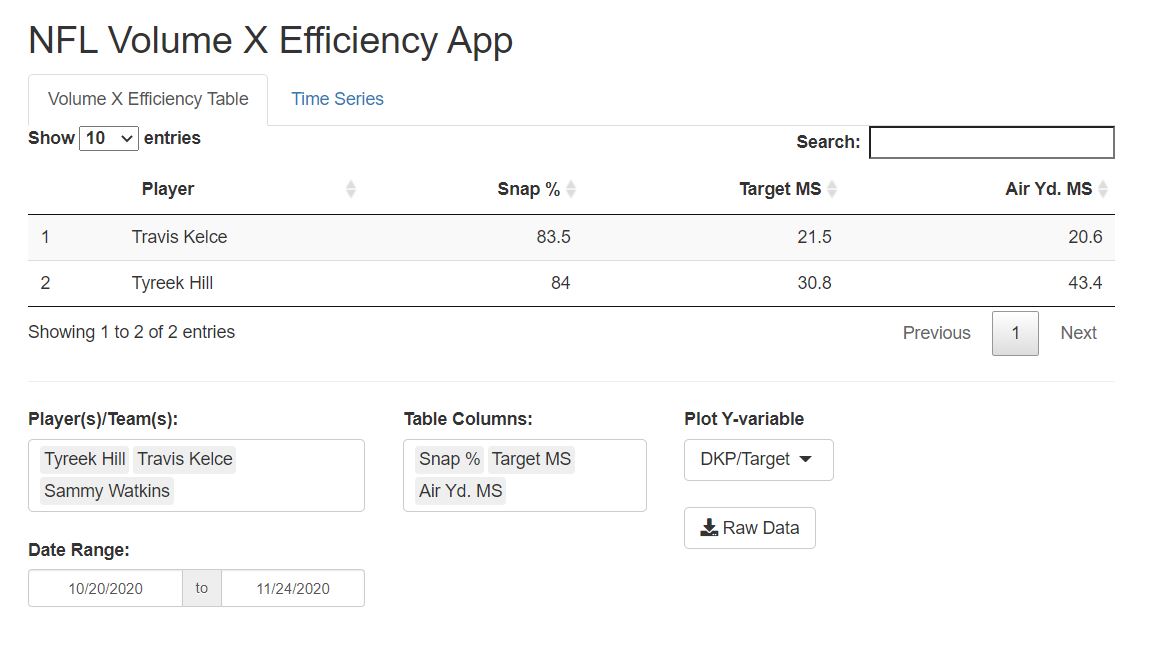 Furthermore, Mahomes and Watkins correlate quite well with each other. Well, actually Mahomes correlates well with all of his pass catchers but the main focus on the table below should be the last column. Mahomes and Watkins one time combined for 80.12 points. This is the kind of pairing you need to take down a GPP. Yes, the likelihood of a similar combined score is highly unlikely but if Watkins does well, so does Mahomes. Sometimes you need to take these chances and who else to take such a chance than with the defending Super Bowl Champions who happen to be 9-1 and have the top rated offense.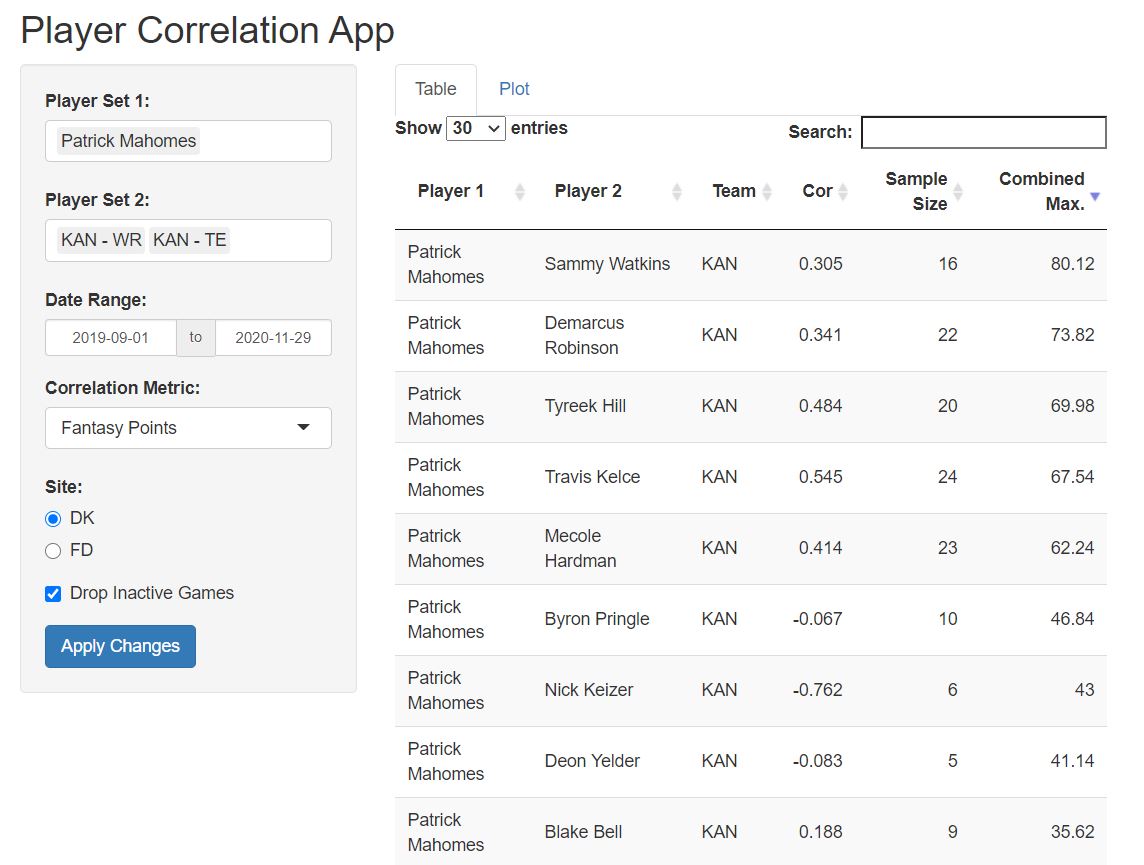 While we could see the Chiefs completely demolish the Bucs in much the same manner when the Saints played in Tampa during Week 9, something tells me that this game could be a shootout. The Bucs are loaded with talent so it's hard to pinpoint the right player. In this case, go for the savings by taking Antonio Brown. He is developing nice chemistry with Tom Brady and he can return to PPR gold status very soon. When Brown was in his prime, no one in the NFL at that time ran routes better than him and I would argue that Brown's route running skills were comparable to Jerry Rice's. Perhaps tomorrow we see Brown elevate himself to the GOAT level that Rice had been at for most of his career. After all, Brown has another GOAT behind center (no disrespect to Joe Montana or Steve Young).
If you are not completely sold on Brown, you could go with Godwin who has a strong correlation with Brady (0.77) but that means we can't roster Jefferson. Have no fear since the ultimate wild card at QB is starting tomorrow for the Dolphins. Yes, Fitzmagic is back! He has a very strong correlation with Devante Parker (0.632) and I can see Parker largely under owned but producing great numbers against the worst team in the league: J-E-T-S! The scatterplots below provide further proof.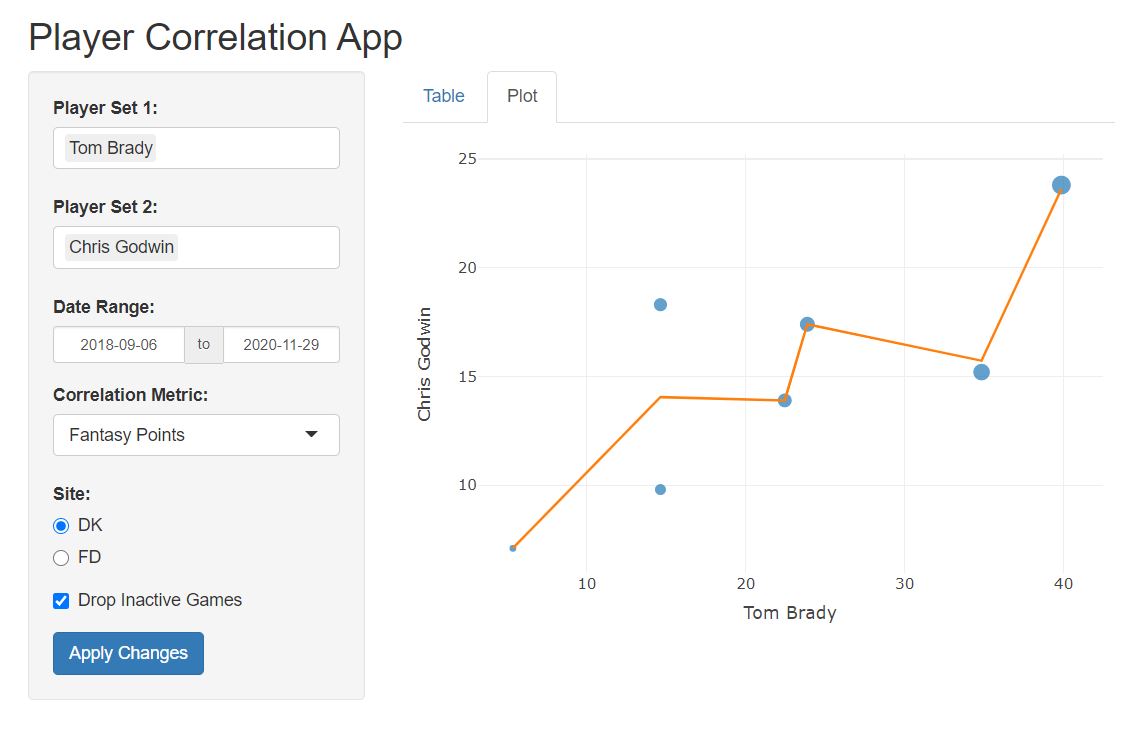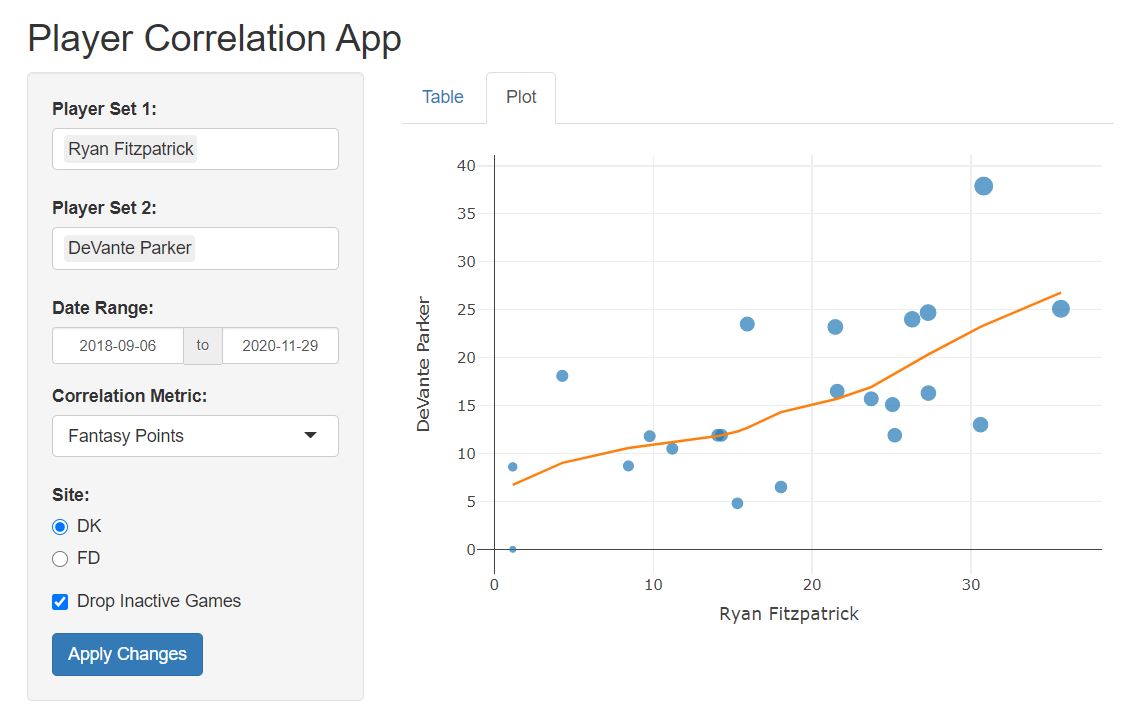 DJ Moore is another WR I like and should be the one putting up big numbers for the Panthers as they try to keep pace with the Vikings. Moore is one of the leaders in air yards and ASA does a nice job of letting you sort players by Air Yards market share. Moore is projected to finish 2nd in air yards while Jefferson is 1st.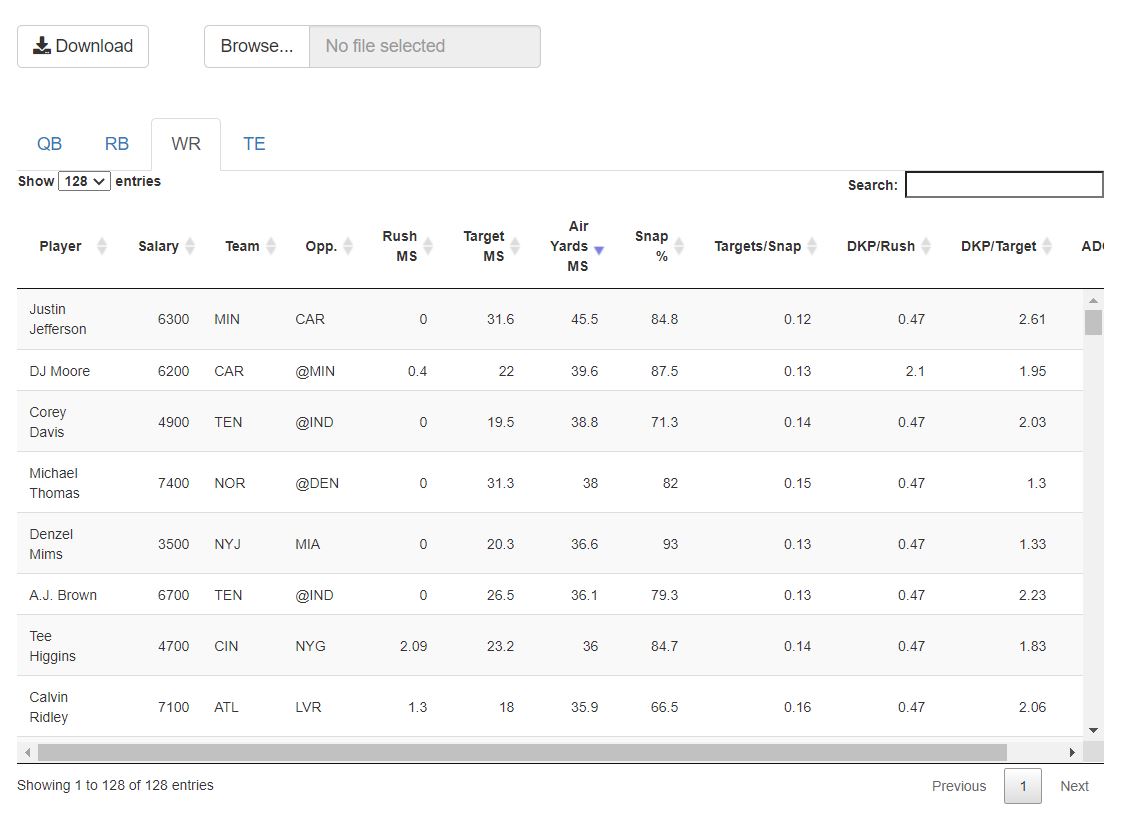 TE
I love Kelce but I just feel he is way too overpriced right now. Maybe he has some mediocre weeks in early December which will bring his price down enough for the prime weeks of the NFL fantasy season (Weeks 15 - 16). However, we can't afford him if we are to roster Mahomes and Cook and have some decent WRs. I also love Darren Waller and I expect the Raiders - Falcons game to be a shootout. Still, we need some savings here. This is where we dig deep into the bottom of the barrel. What do we find? Kyle Rudolph, that is who! No Thielen and no Irv Smith. Plus Rudolph correlates well with Jefferson.
DST
My model loves the Saints (see output below) and it's not close. They are also very good value and I am glad we don't have to over analyze this decision with the Steelers game being moved again to Tuesday (who knows if that game will even be played). Saints have the 3rd best defense according to DVOA ratings from Football Outsiders and the Broncos offense is dead last with the same metric. The icing on the cake is that the Broncos cannot play any of their QBs tomorrow (COVID again!). Ownership will be high on the Saints DST but this is chalk you have to eat.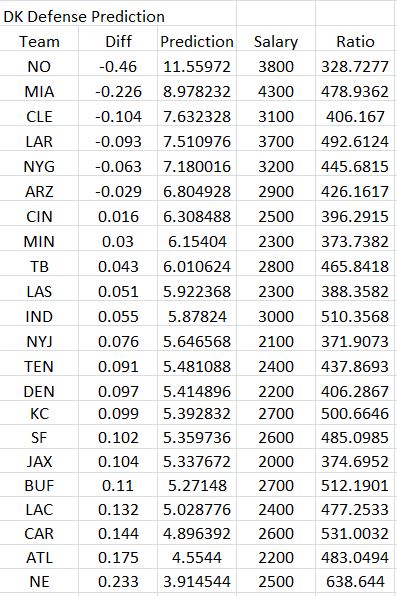 My sample lineups for DK and FD are displayed below. Let's just hope COVID stops disrupting the games this week but really it comes down to human behavior. Wear a mask, stay 6 feet apart, and avoid large gatherings. Simple rules to live by for healthy living in a pandemic. Be well and good luck!