Before we get into the main slate tomorrow, some important things to consider.
Watch the weather. We are now in December and even though weather should be fine for tomorrow, the games later this month could be heavily impacted by precipitation/wind.
Watch the spread of COVID. Not just for yourself and loved ones but how it will affect the schedule and who plays or not. On a personal note, I tested negative for a 2nd time for COVID and I am nearly back to 100% health after dealing with a nasty cold during Thanksgiving week. Just limit your exposure to others and keep a small bubble for the holidays. Christmas happens every year so play it safe this season.
Consider leverage when playing DFS. The big names will rise to the top in ownership but if you want to win big this month, you will need to grab players who have the potential to blow up but are being overshadowed by others on their team or their weekly opponent. Good example would be Marquise Brown on Wednesday Afternoon Football. Fortunately I had Brown at 30.09% on DraftKings (DK) and just 10.2% ownership on FanDuel (FD). There was a lot of focus on RGIII, Edwards, and the cheaper WRs so sometimes the more expensive plays will get you the leverage you need for a big pay day. Evidence of that big pay day is shown below.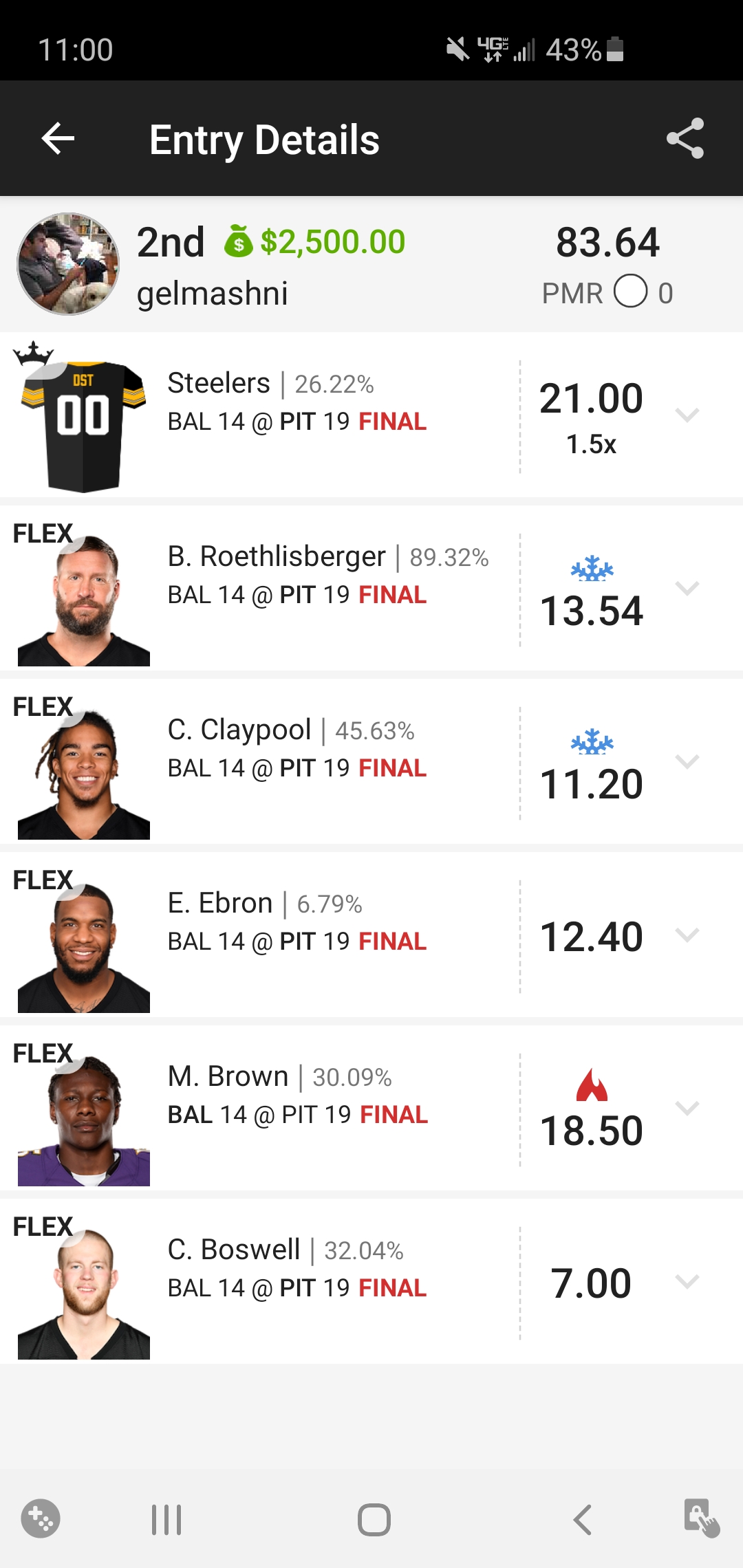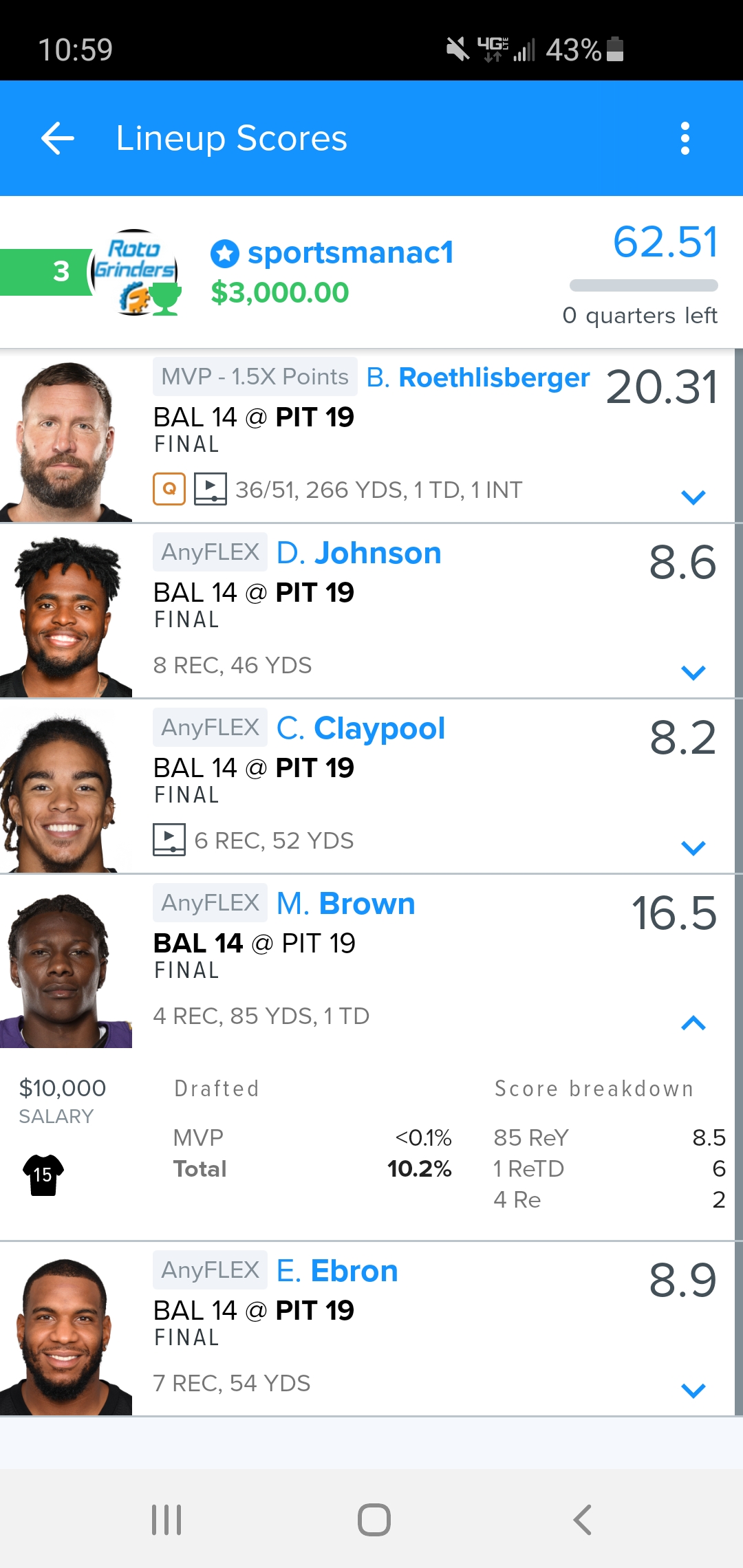 OK, let's figure out how we replicate that success. Here are the lineups I have in mind for both DK and FD with the focus on Minnesota and Tennessee.
DraftKings Lineup #1
QB: Kirk Cousins
RB: James Robinson
RB: Jonathan Taylor
WR: Adam Thielen
WR: Adam Humphries
WR: Allen Robinson II
TE: Kyle Rudolph
FLEX: Nick Chubb
DST: Cincinnati
DraftKings Lineup #2
QB: Ryan Tannehill
RB: Jonathan Taylor
RB: David Montgomery
WR: A.J. Brown
WR: Justin Jefferson
WR: Jarvis Landry
TE: Anthony Firkser
FLEX: Austin Ekeler
DST: Cincinnati
FanDuel Lineup #1
QB: Kirk Cousins
RB: James Robinson
RB: Jonathan Taylor
WR: Justin Jefferson
WR: Corey Davis
WR: Allen Robinson II
TE: Kyle Rudolph
FLEX: Nick Chubb
DST: Green Bay
FanDuel Lineup #2
QB: Ryan Tannehill
RB: Jonathan Taylor
RB: Myles Gaskin
WR: Davante Adams
WR: Adam Thielen
WR: Adam Humphries
TE: Anthony Firkser
FLEX: Nick Chubb
DST: New Orleans
Here are the outputs from my QB, RB, and DST models.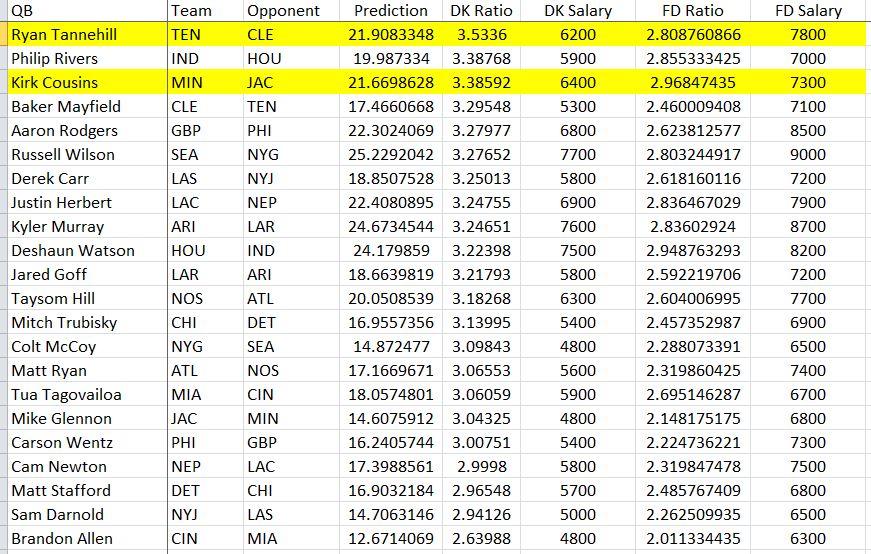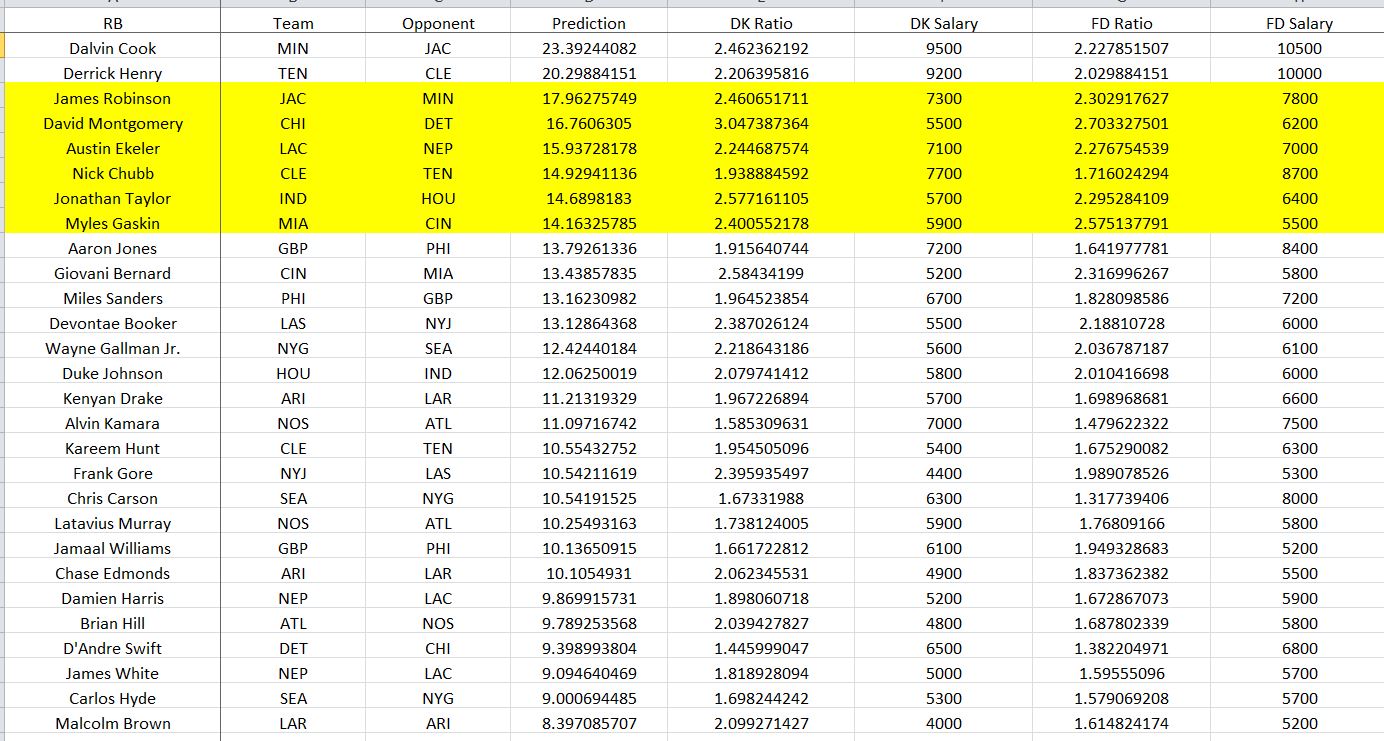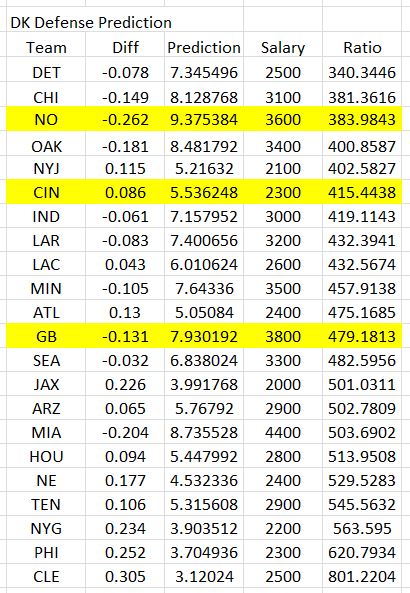 Now, let's provide narratives for these lineups.
Kirk Cousins Lineup (DK #1 and FD #1)
Cousins ranks as the best value in FD and 3rd best in DK based on my QB model. Also, Cousins has a very favorable split between man and zone coverages. I haven't discussed the analysis found on Sports Info Solutions (SIS) in any of my DFS articles this season but I should. They provide some very unique and interesting NFL stats. Check out the images below.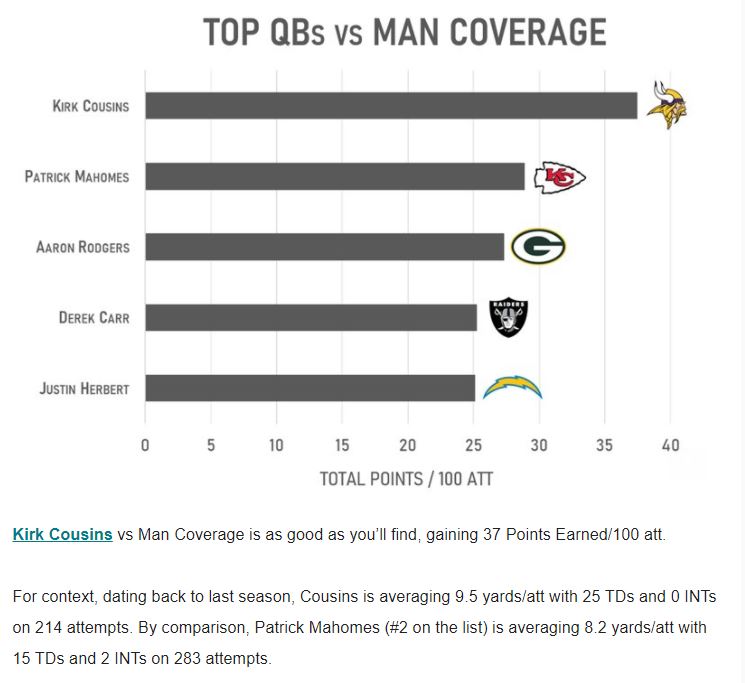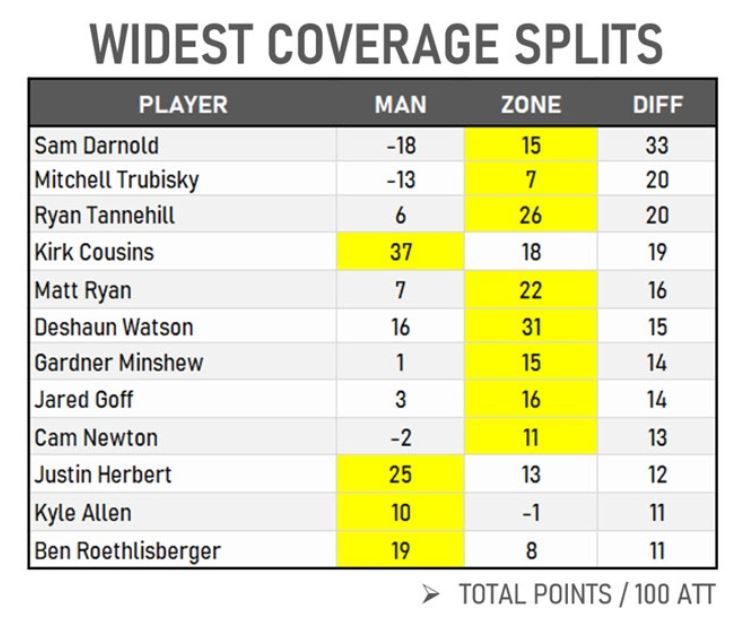 No question Cousins kills it against man coverage. What type of coverage do the Jaguars play and how are they with man coverage? See below.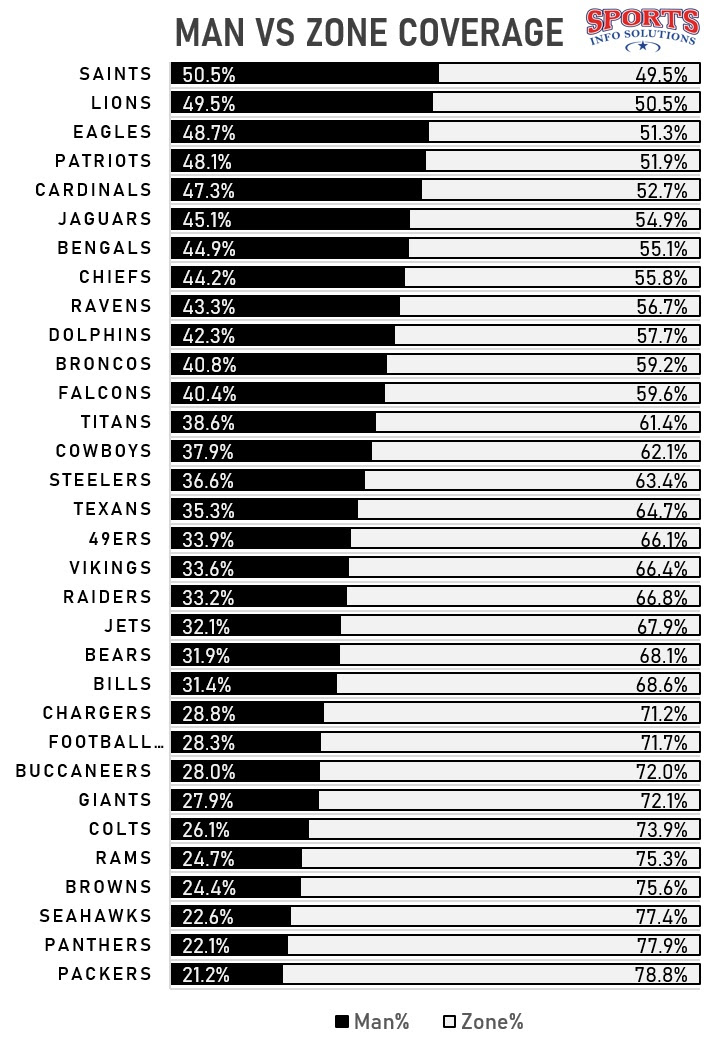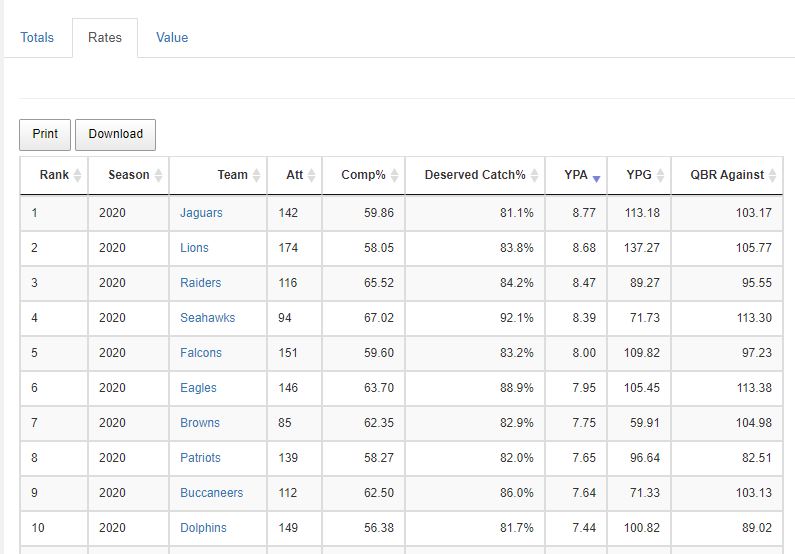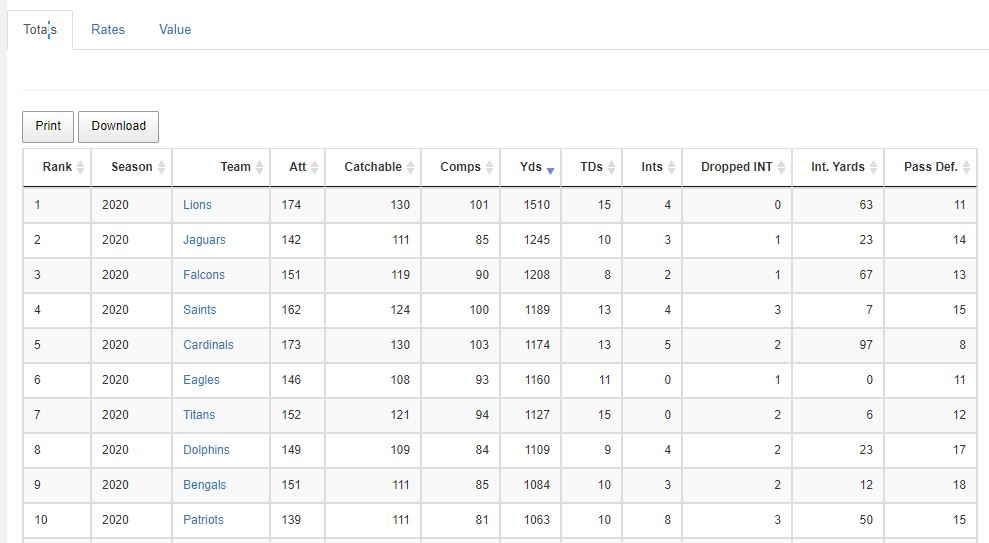 Jacksonville plays man coverage more than most teams in the NFL and are quite terrible at it. In fact, when it comes to man coverage they allow the 2nd most passing yards and the most yards per pass attempt among all NFL teams. So who do we pair with Cousins? Thielen is very viable and is one of the league leaders in air yards. However, the guy in the cover photo of this article is going to break the slate tomorrow. The evidence below is all you need.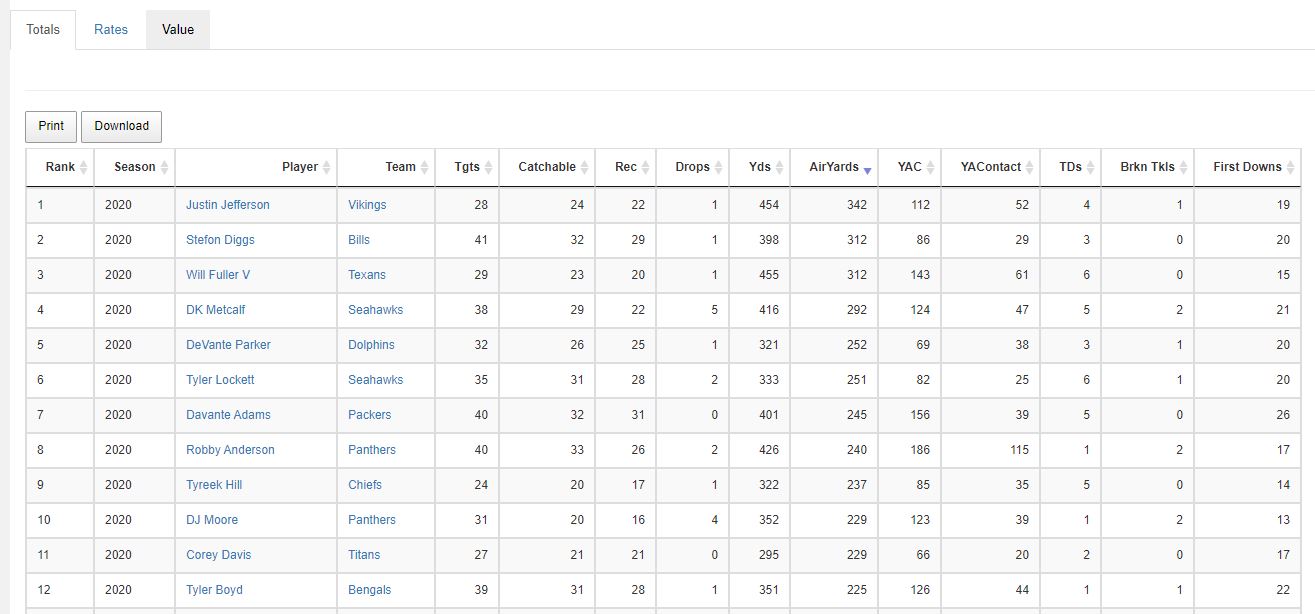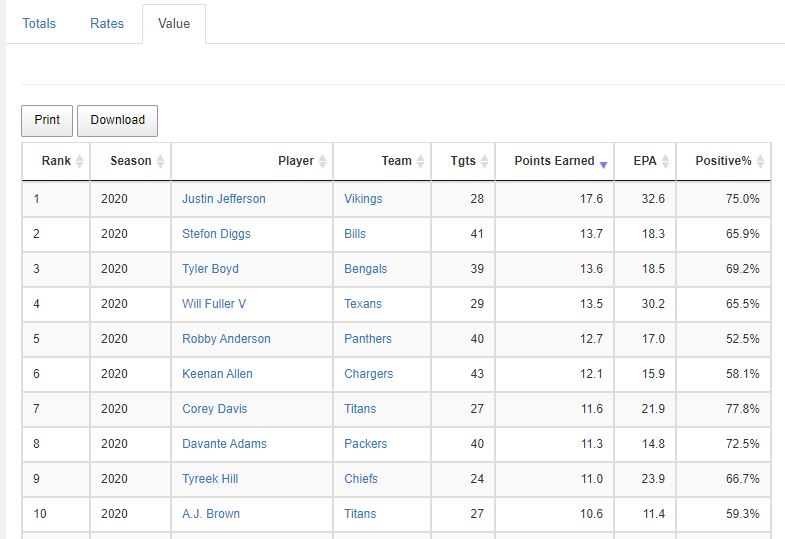 Jefferson rates as the best WR against man coverage this season and that should be no surprise. He is a mathcup nightmare for most cornerbacks given his unique blend of size and speed. He ranks first in air yards for man coverage and expected points gained. This where using advanced analysis gives us an edge. Much like in baseball when I used barrel rate to win big in October, this kind of unique and proprietary data should help us win big on Sunday.
Furthermore, Advanced Sports Analytics (a site we have featured in all of my NFL DFS articles this season) tells us that Cousins correlates the best with Jefferson and Rudolph (see link and image below). If we are expecting a big game from Cousins given his impressive resume against man coverage and that the Jaguars are hurting big time at the cornerback position, then we should expect big things from Jefferson. I will still have some shares of Thielen but one would be crazy to fade Jefferson. You can thank me later.
www.advancedsportsanalytics.com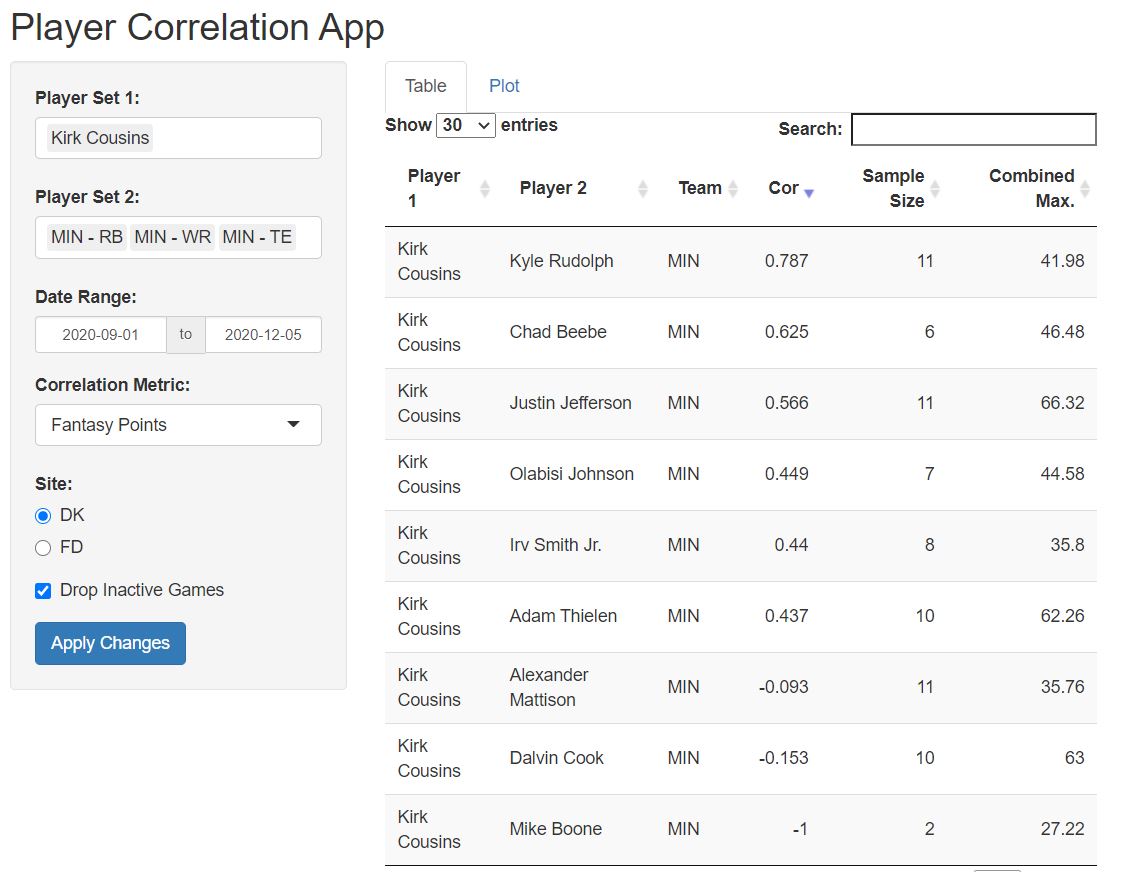 The Minnesota defense is nothing special so we will run it back with James Robinson. He gets a high percentage of snaps for the Jaguars and typically does well in shootouts. Another game with a high total is the Browns - Titans. That game can be tricky to find the right players for DFS given so many great options such as Derrick Henry and AJ Brown. Our best bet is to find leverage by grabbing a WR who is not terribly well known but can perform well for Tennessee: Adam Humphries. You can also do Corey Davis who rates just as high as Brown in target and air yard shares. For Cleveland, it's clear that Chubb is the Browns most talented football player. Just plug him in and he will take you to the promised land.
Allen Robinson is another player I like. Like Jacksonville, Detroit is also terrible at man coverage and they play man coverage more often than any other NFL team except the Saints (who actually plan man coverage well). Robinson is one of the best air yards WRs in the league and I feel this is a good strategy for DFS success. After all, that is why I rostered Marquise Brown 3 days ago.
Jonathan Taylor returns for the Colts and should help Indianapolis get back to its winning ways against an awful Houston run defense. According to Football Outsiders, Houston allows the most rushing yards to running backs and ranks dead last in open field yards (see image below). The Colts have one of the best offensive lines in the NFL and I am expecting Taylor to have a 65 - 70 snap percentage.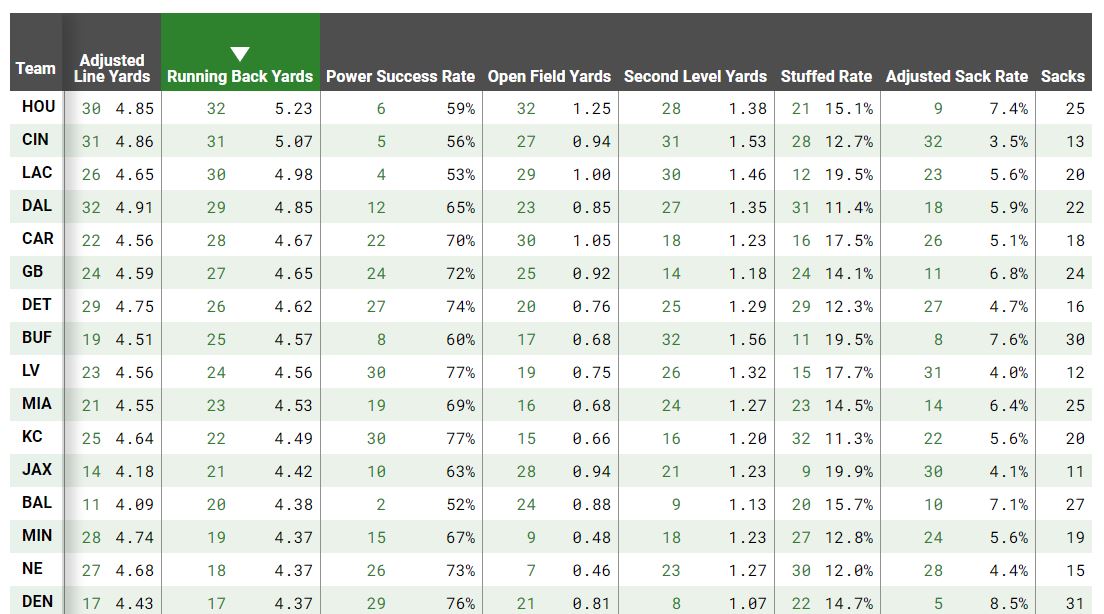 Finally, we won't over think defense. Green Bay faces an Eagles team that is very turnover prone and simply cannot protect their QB.

As for Cincinnati, we are taking a chance there. The game has the lowest point total so perhaps the savings we get with the Bengals won't be too much of a liability. The Dolphins offense seems a bit limited with Tua Tagovailoa at QB. The Saints rate as our best defense but they are in our Ryan Tannehill FD lineup. Speaking of that lineup ...
Ryan Tannehill Lineup (DK #2 and FD #2)
Our other favorite roster construction features the Titans and Browns. After all, they have the highest point total and my NFL points model agrees. Furthermore, there is a good deal of overlap between our Tannehill and Cousins lineups. I like Jefferson so much that I will use him as a one-off with Tannehill as my QB. Gaskin, Montgomery, and Ekeler are other one-offs. All three should have a high percentage of snaps and will have a decent volume of touches against weak defenses. As for correlation with Tannehill, Brown and Firkser is where you should go (see correlation analysis below). Still, Davis and Humphries are good options too. We shall see if fading Henry pays off given his high price and heavy popularity in the month of December.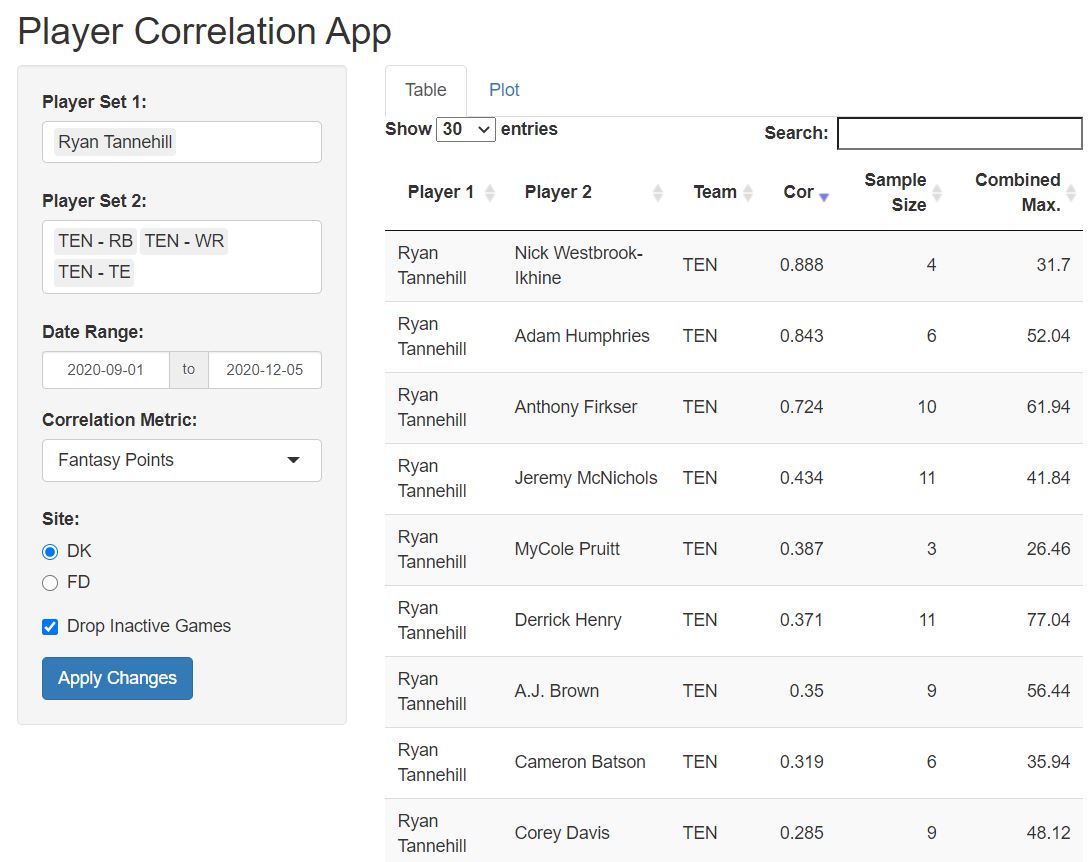 Going back to Brown, you will like the fact that Cleveland plays a lot of zone coverage and that Brown and Tannehill thrive against zone coverage. We can run it back with Jarvis Landry if we expect a high scoring affair in Music City. Finally, we have a lot of money left over in FanDuel with this lineup so why not roster Davante Adams. Don't forget about him. He should dominate the Eagles in man coverage.
OK, I think I have overplayed my analysis of coverage this time around. Time to decorate the tree and start enjoying the holiday season in our tiny bubble. Be safe about your health and be smart about DFS. Good luck!