NFL Thanksgiving DFS - 2020 Week 12
Before I delve into the now reduced slate for the turkey games this week, I want to pay my respects to Diego Maradona, easily one of the best soccer players of our time. Personally I don't follow soccer as closely as I do American football, basketball, or baseball but Maradona is a name any sports fan should instantly recognize. During the summer between the 3rd and 4th grades, my mother's cousin from Jordan came to visit our home in Fremont, California and was adamant about recording the soccer matches which were only aired on the Spanish channel. This was the 1986 World Cup but at that time I was not cognizant of the world of sports. My younger brother and I were enamored with Saturday morning cartoons and fun 80's movies such as The Goonies, Weird Science, and The Karate Kid so clearly we were very annoyed when our relative had set the timer on our VHS to record the World Cup matches, especially the games that involved the Argentinian National Team who would eventually win the World Cup thanks to the "Hand of God" by Maradona. I think I might have "accidentally" deleted that match since I recall my 2nd cousin (or first cousin one generation removed but I can never figure that shit out!) being very upset that I messed with the VCR. Too bad we didn't have our current TV technology back then!
A couple of years later I became a sports nut and I remember Maradona leading Argentina back to the World Cup in 1990 but this time losing in the Finals to West Germany (prior to the end of the Cold War). Since then I would find myself casually following soccer but becoming obsessed with the sport when it was World Cup time. I am fully aware of Maradona's health issues mainly tied to his longstanding bouts with substance abuse. It is always a sad moment to lose a legendary sports icon and I am sure I will be watching some of his highlights during the Thanksgiving break.
But for tomorrow, it is all about the football I know, the American kind! I am glad I actually hesitated to write my article since it allowed me to share my experiences watching Maradona, even if it was unknowingly in 1986, and also to rebuild my lineups with the announcement that the Baltimore - Pittsburgh game has been moved to Sunday due to a recent COVID-19 outbreak with the Steelers. I am still perplexed that the NFL did not move the Packers - 49ers game on Thursday Night Football during Week 9 but moved the Ravens - Steelers game. I am guessing the NFL probably didn't want to be dormant on the night the 49ers were playing since it would stand to lose a decent sum of TV ad revenue money. As for the sponsors for tomorrow night's game, which of course has been rescheduled, perhaps the NFL found a way to offer those sponsors commercial slots for the two earlier games. The older I get, the more cynical I become and I don't believe the NFL is truly acting in the best interest of player health and safety. It's all about the mighty green dollar for Roger Goodell and the uber wealthy owners he serves.
Speaking of money, at least I am grateful for the opportunities the NFL provides for its fans to make money off the games and it's not just predicting the outcomes of the games themselves. As we all know, fantasy sports, especially DAILY fantasy sports, is a burgeoning industry and some can even make a living playing a game once thought of as a time-sucking diversion. It still sucks time and it still is a diversion but it can also pay for big ticket items in your home. With Black Friday quickly around the corner, we can all use a little extra moolah! So what does my crystal ball tell me about the games tomorrow? I ran my QB, RB, and DST models and the outputs are displayed below.



Given that we have just two games, I will be treating this slate like the Conference Championships. Don't get too caught up in ownership numbers. Deshaun Watson will be heavily owned and rightfully so. The Lions defense is abysmal and Watson has been spectacular for most games this season even though his team's record seems to indicate otherwise. The game will be indoors which plays to the strengths of the Texans offense (speed, speed, speed). You can get cute by starting Andy Dalton or Alex Smith (I am guessing each will probably have ownership no higher than 10%) but you will definitely feel like a "jive turkey" should Watson pass for 300+ yards and score 3 - 4 TDs (he is just as dangerous as a runner as he is a passer). However, it doesn't hurt to try to be different if the your models suggest you should. I am not a big fan of Matt Stafford but he has a history of showing up on Thanksgiving Day and the Houston defense is perhaps worse than Detroit's. If we get a shootout in the Motor City, why not take the cheaper and lesser owned QB if he will wind up with a similar score as Watson. While I expect Watson to score more fantasy points, Stafford represents awesome value and might exceed whatever value Watson gets. I feel that the wise move here is to submit two rosters: one with Watson as QB and the other using Stafford.
Then we need to correlate our QBs with the best pass catchers on their teams. This is when I will give a shout out to Advanced Sports Analytics (ASA) for their amazing tools (see link below).
www.advancedsportsanalytics.com
The Player Correlation app has been hugely helpful for me this season and recently I find myself using the Volume X app. From the outputs below, you will find that Brandin Cooks and Will Fuller are the way to go for Houston. Make sure you consider the Combined Maximum Score. That is where your stacks will stand out. Also, the market share of targets and air yards as well as the high snap count serve as validation that Cooks and Fuller will move the chains for the Texans.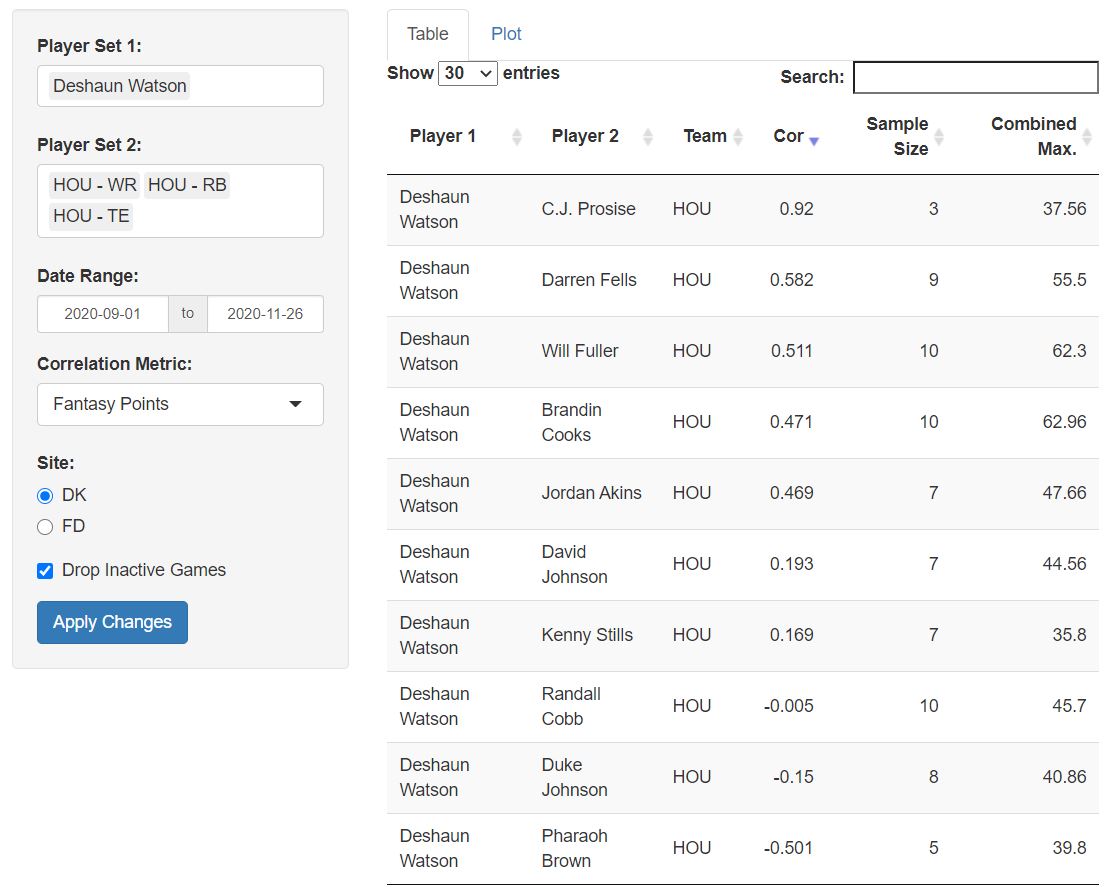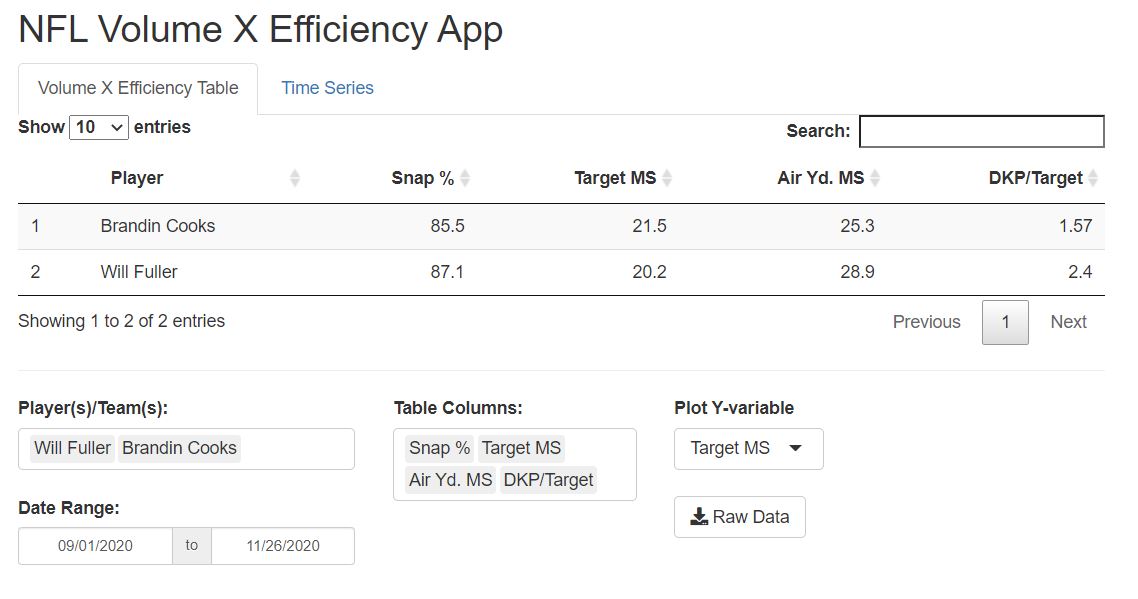 You can try using both Cooks and Fuller in your lineup or maybe stack one of them with Watson while you use the other receiver as a leverage play when rostering Stafford. For the Lions, they are quite thin on offensive weapons. Kenny Golladay and Danny Amendola will both miss another game. The Lions don't run the ball well (they haven't since Barry Sanders retired more than 20 years ago) and in fact prefer to throw it. I love TeamRankings.com since they provide stats that other sites don't and they do so for free. For example, just check out the link for NFL Team Passing Play Percentage rankings shown below.
www.teamrankings.com/nfl/stat/passing-play-pct
Since 2003, the Lions have ranked in the top half of the league in passing play percentage. In fact, there were several years they were in the top 5 and I believe they ranked 1st in that category 5 - 6 times. The Lions live and die by the passing game so you can get cute by rostering Adrian Peterson or Kerryon Johnson but I say don't. I do like DeAndre Swift, however, since he has produced nicely this season but I don't like him for his running ability. It's for his contributions in the passing game! Stafford correlates well with Marvin Jones and TJ Hockenson (see outputs below) and both are affordable on DraftKings (DK) and FanDuel (FD) so feel free to use all three in your Lions stack. In fact, the combined maximum scores with Stafford/Jones and Stafford/Hockenson are impressive. The volume outputs are a bit deceiving since some of those games had Golloday and Amendola but with both of them out, expect those volume metrics to rise.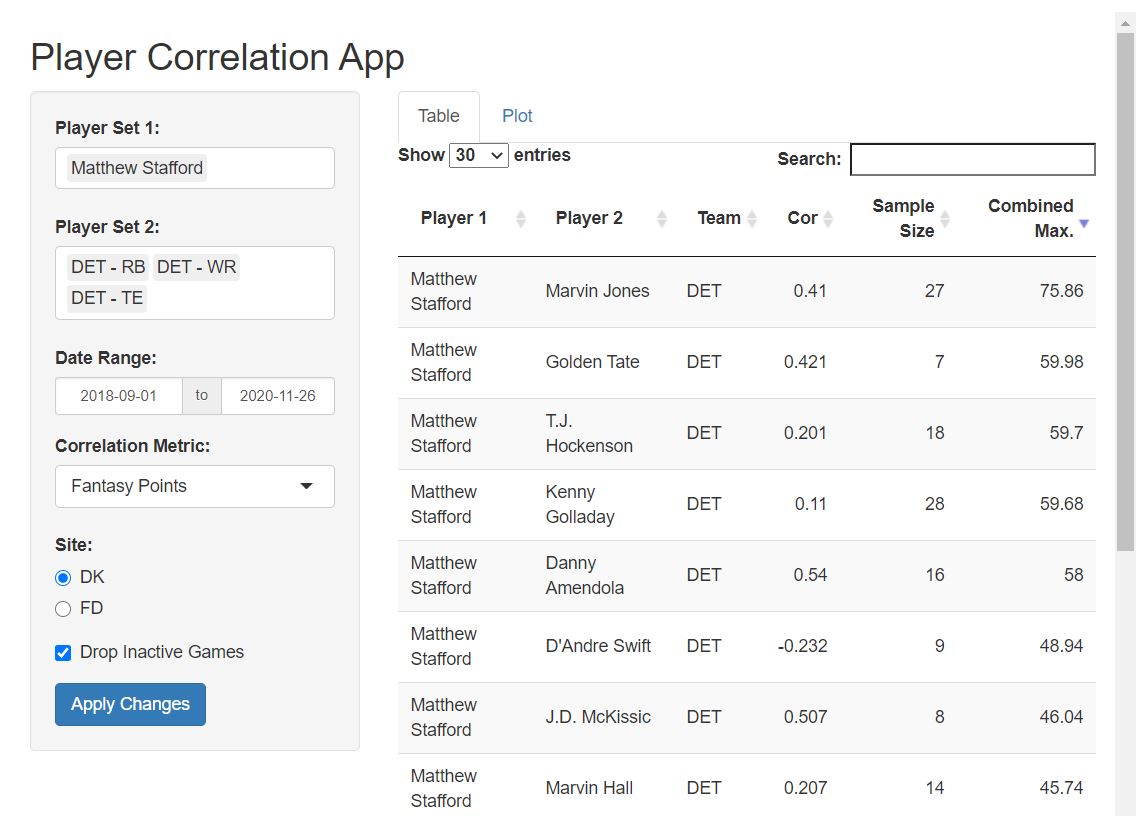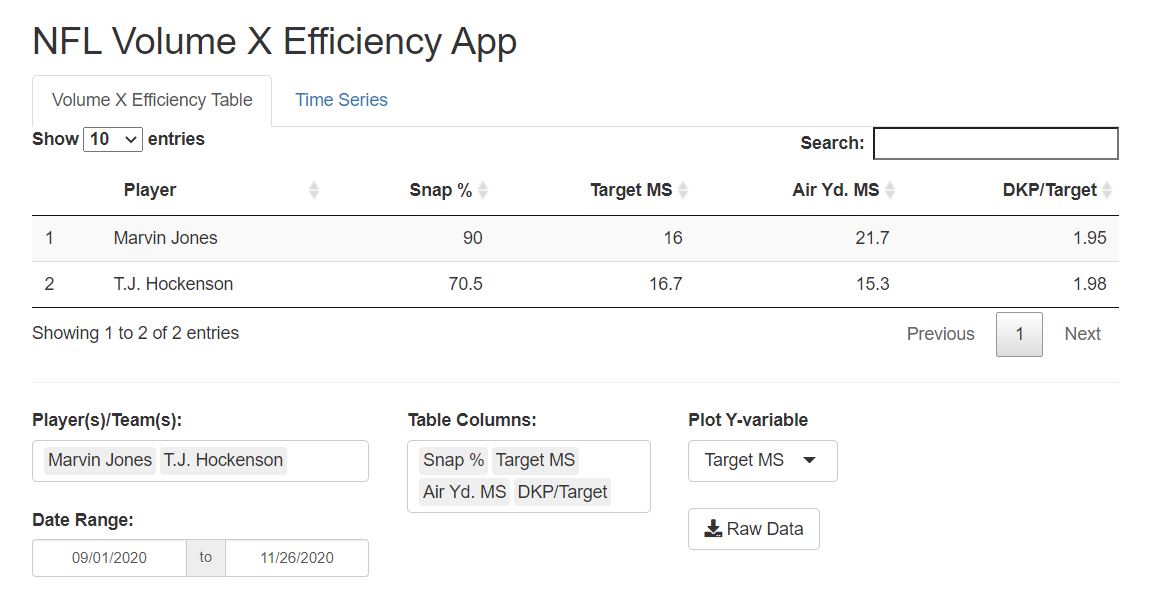 Then run it back with Cooks or Fuller. I am also not against using Duke Johnson. He has let us down the last two weeks but the weather conditions were brutal in Cleveland during Week 10 and the Patriots are actually decent at defending the run (it's the passing game where they burned). Detroit cannot stop the run game and Johnson will also get you points as a receiver. He will most likely play in 85 - 90% of the Texans snaps so the opportunity to have a big game is there.
Now we are set with our stacks, let's build the rest of the lineup. Before the Ravens-Steelers postponement, I had considered using the Steelers defense. After all, why else are they 10-0?! I firmly believe that Pittsburgh is a well rounded team and much credit should be given to the offense but it is the defense that has made the Steelers an unstoppable force this season. I can't think of another team that pressures the QB better than them and if there is a team who can dethrone the Chiefs it's the Steelers. I can go on and on about my love for the Steelers defense but we have to choose among the Texans, Lions, Washington Football Team (I almost mentioned their previous racist nickname!), and Cowboys. I can see Washington being the popular play but why no go contrarian and save some money? My model has the Cowboys as the best value (see my analysis above) and they are at home. I expect the Washington offense to put up some points and overall play well but they rarely score in the 30s and a couple of turnovers and sacks could help. In fact, what if Dallas achieves the same fantasy score as the Washington defense? The Cowboys nearly pulled off the upset over Pittsburgh three weeks ago and defied the odds by beating Minnesota on the road last week. The salary savings can go a long way. The Dallas defense it is on Thanksgiving Day.
I also plan on using Zeke in all of my lineups. I know he has disappointed this year but I suspect his ownership won't be crazy high and he finally broke 100 rushing yards last week. Strangely the Cowboys control their own destiny for the NFC East title so don't give up on them yet. He has performed well in every Thanksgiving contest during his career and the fast pace of the game suits his abilities very nicely. I will defer to TeamRankings.com again when investigating the pace of play for each NFL team (see image below).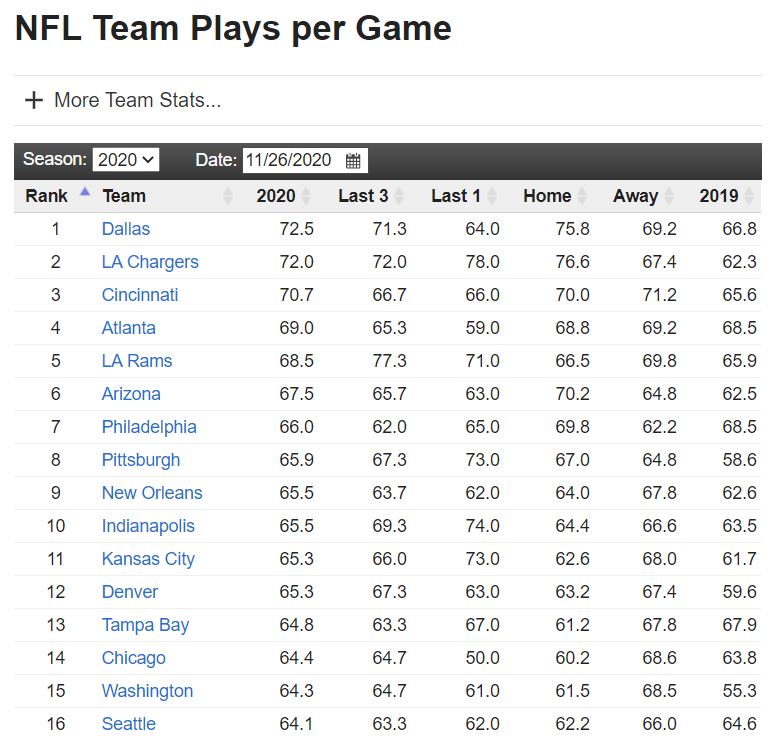 Both the Cowboys and Redskins don't let much time run off the clock and given Zeke's high snap count, I really like his chances for a big day on national TV. Lastly, he correlates well with his defense. The scatterplot below from the ASA site shows that since the start of the 2018 season typically the Dallas defense has a decent output when Zeke pops off. Bottomline: the Dallas defense won't be a liability and as long as Zeke runs the ball well, the Dallas defense will be well rested.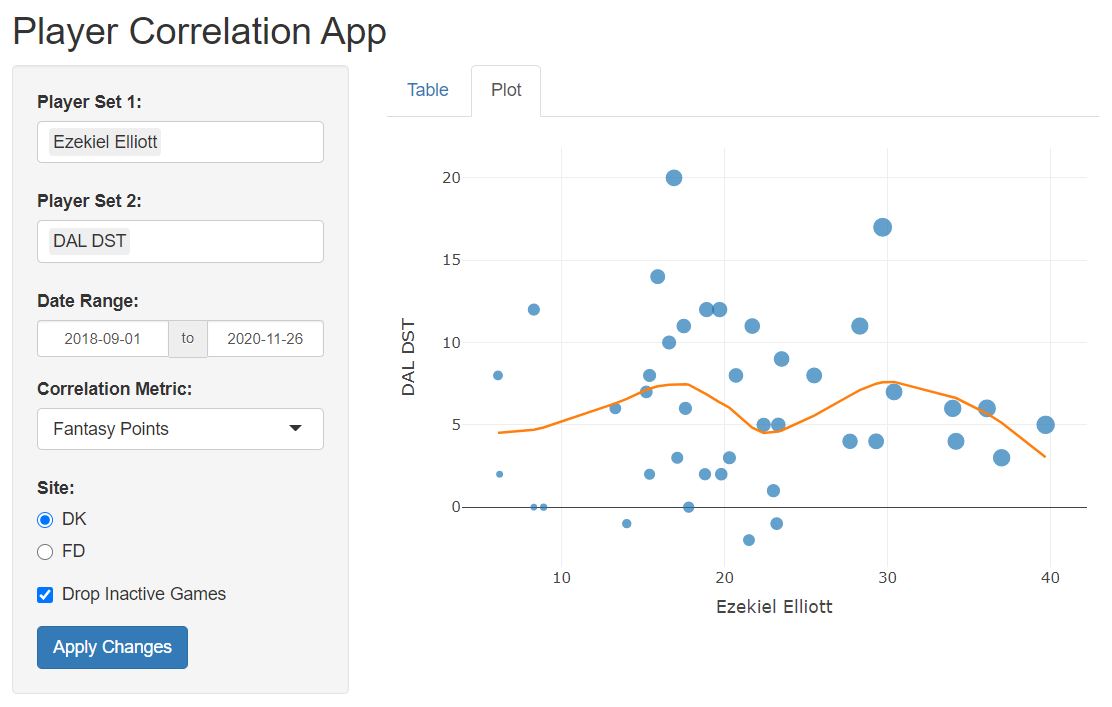 Oddly, I will still roster some players from Washington. It is a small slate after all! Terry McLaurin and Antonio Gibson both correlate well with each other and are responsible for most of the offensive output for the Redskins. In fact, they have combined for 40 or more DK points FIVE times this season. Their combined salaries on DK is $13,000 so if they combine for 40 or more DK points for a SIXTH time this season, you are looking at 3x value which is what you need to hit the cash line (see scatterplot below). I also like J.D. McKissic but more so on DK than FD due his pass catching ability.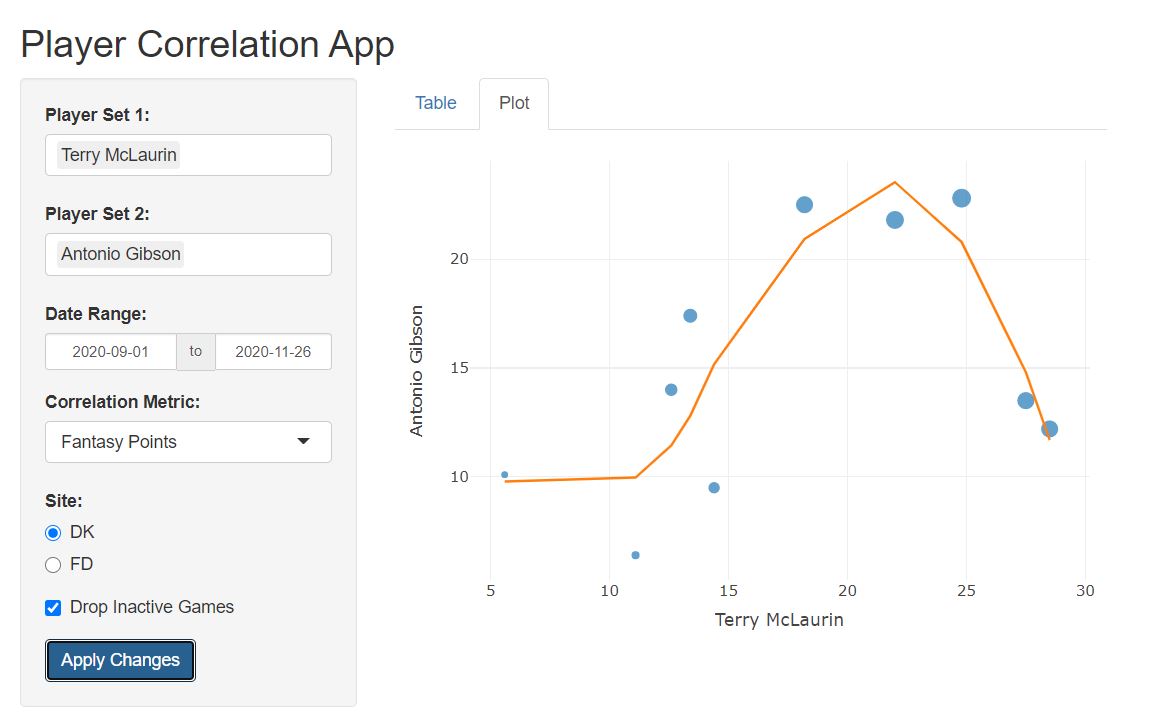 Here are the two lineups I will be submitting for DK and FD. Enjoy Thanksgiving even though you may not be with family. Health and safety first and there will be plenty of opportunities to be with your loved ones once this pandemic is gone. Be well and let's make some money!