NBA DFS Lineup (7/30/2020)
Welcome back to the NBA! This month is starting to feel like a typical April or October when there are plenty of sports to watch. Usually late July and all of August are slow months, even in years when there is a World Cup or the Summer Olympics considering that those events tend to wrap up in mid-July.
For the first day back for the NBA, we have just two games but that doesn't mean we don't have opportunities to make some money in DFS. Some of you might be new to my NBA DFS analysis. If so, I am happy to share the model I built for NBA DFS in February 2019. The model yielded several big GPP wins in March 2019 and usually the 2nd half of the NBA season represents an optimal window for wagering on NBA games as well as winning DFS tournaments. You simply have so much in-season data at your disposal that a robust model will have significant predictive power. The model I built is a multiple linear regression model that takes into consideration the following inputs: DraftKings salary, usage rate, projected minutes played, implied point totals, offensive and defensive efficiency, and team's and opponent's pace. When I ran the model last night, here is what it spit out for today's games (for FanDuel but can also be applied to DraftKings).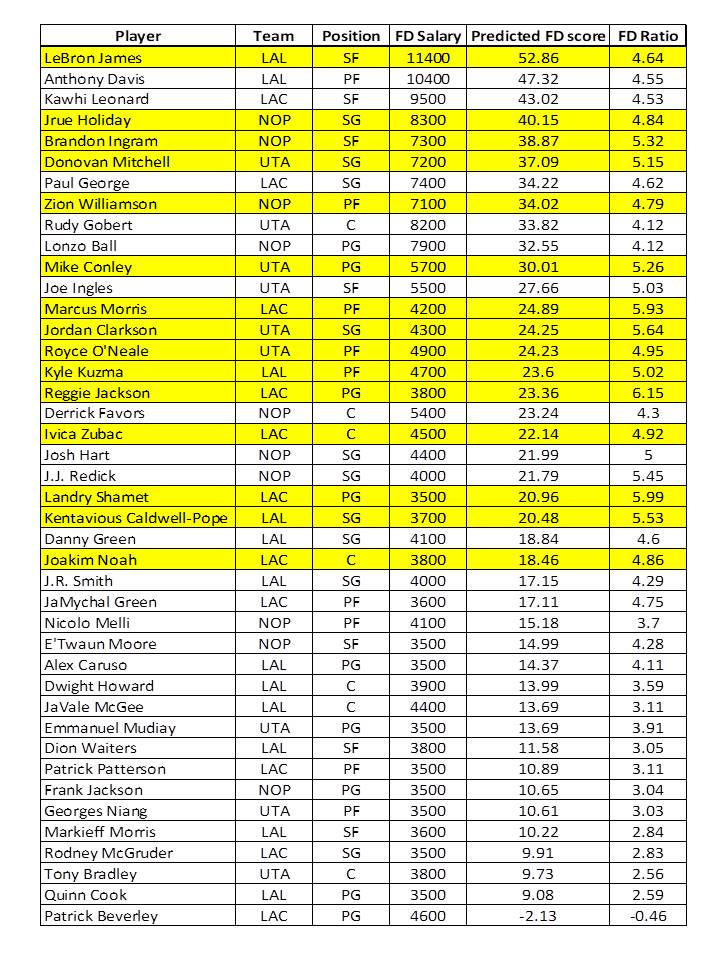 The highlighted players are the ones I will be rolling with today. Focus on the FD ratio which is the predicted FD score divided by the FD salary (in thousands). The thing I love most about this model is that it can help you decide which stud to roll with on any given slate and it has been very reliable. It can also help you find some diamonds in the rough. Let's discuss those players right now.
LeBron James. With the return of the NBA comes the return of the King. If Anthony Davis is out, even better! The Lakers may not rush Davis back, especially since there is no such thing as home court advantage this season. However, LeBron can still put up great numbers while Davis is on the court. Likewise with Davis putting up big numbers with LeBron on the floor at the same time but, again, Davis may not play tonight or could be limited. Kawhi Leonard is another stud to consider. He had some great games against the Lakers earlier this season. However, I am going to trust the model here with LeBron having a higher FD ratio. You can certainly build a lineup with both LeBron and Kawhi but it will leave you with slim pickings at other positions. On a short slate, there are not too many low-priced, high-value options. Plus Kawhi has a tendency to sit out or play limited minutes in meaningless games. Finally, perhaps LeBron will be plenty motivated to win more titles after ESPN aired The Last Dance this past spring.

Jazz backcourt. Bojan Bogdanovic is out which means more scoring opportunities for Mike Conley and Donovan Mitchell. Joe Ingles is another good option but his ownership will be high. The Pelicans don't play much defense and play at a high pace which bodes well for the Jazz guards. Get the best Jazz players you can find.

Pelicans stack. As I already mentioned, the Pelicans focus mainly on offense. Zion Williamson may not play which means you need to consider Jrue Holiday and Brandon Ingram. Lonzo Ball is another good option who can put up huge numbers but sometimes his shooting could be way off. A Holiday/Ingram duo can pay very well tonight.

Clippers bench. With Lou Williams and Montrezl Harrell out and potentially Patrick Beverly out, there will be plenty of cheap options from the Clippers secondary players. Landry Shamet, Reggie Jackson, Ivica Zubac, and newly acquired Joakim Noah should all get plenty of minutes with decent usage. You need save money somewhere and this where you do it.
There you have it! LeBron is your stud tonight, get the best scorers for the Jazz-Pelicans game, and sprinkle in some cheap players from the Clippers. Sample DK and FD lineups are shown below. Good luck and welcome back basketball!