NBA DFS Lineup (7/31/2020)
Yesterday's NBA slate went pretty well for us. Even though we didn't get the big takedown we always hope for, we were still profitable with the FanDuel lineup. Draftkings had started off well but faded quickly during the 2nd game. As for the games themselves, they were definitely entertaining. Both close games and it seems that the long layoff didn't impact the quality of play. These games will have the feel of an NCAA tournament with one game following another throughout the whole day. Much credit goes to the NBA for figuring this out. Let's just hope the number of COVID-19 cases stay low in the bubble.
Onto a new day! So who so we like? Check out the tables below.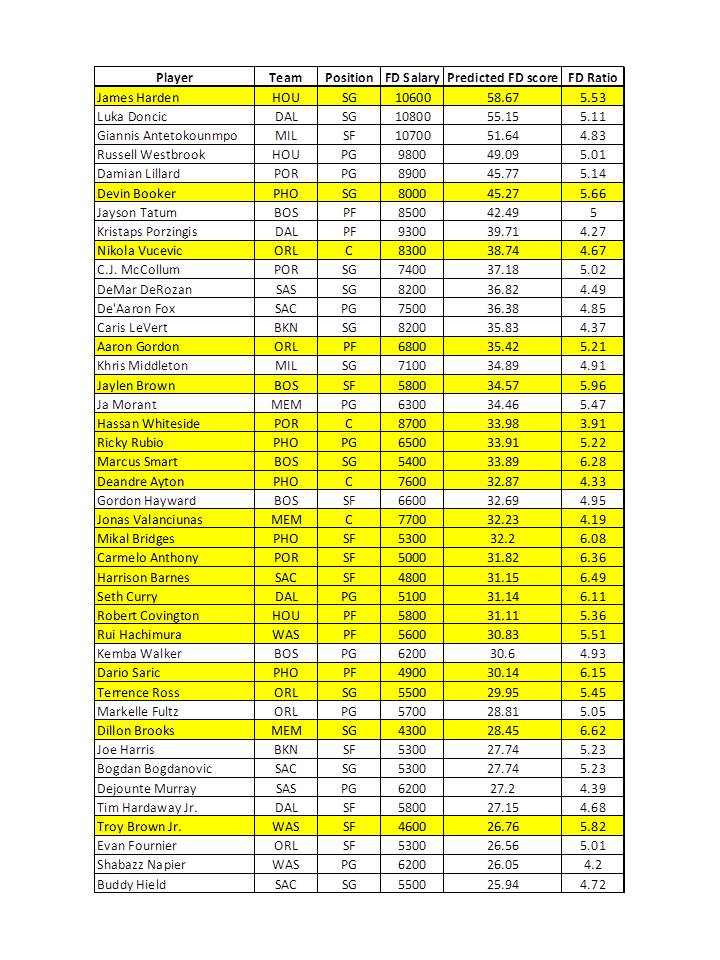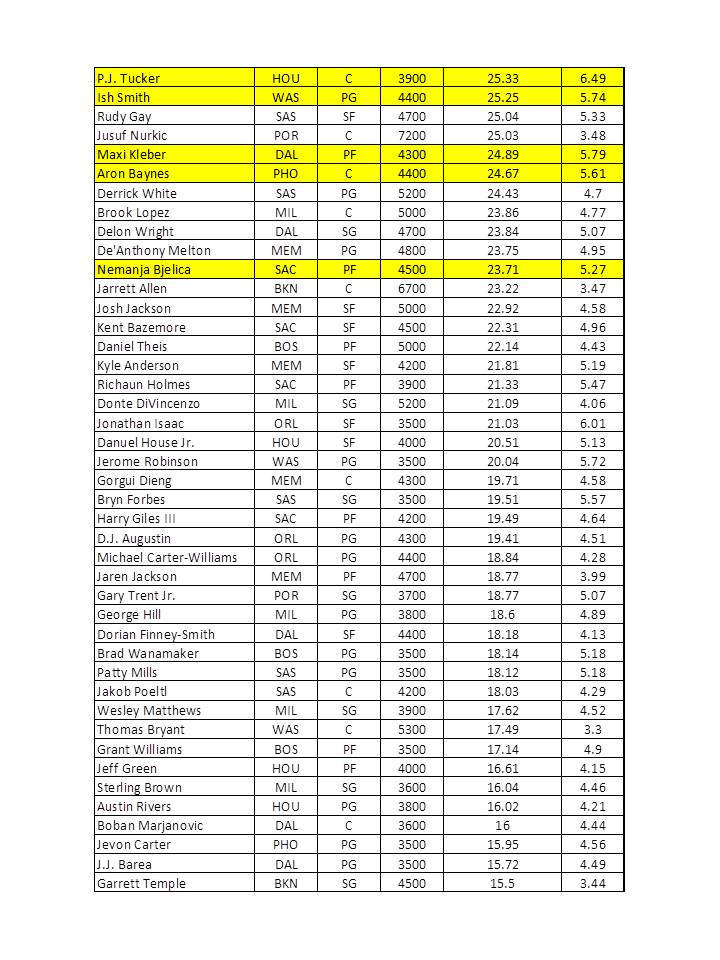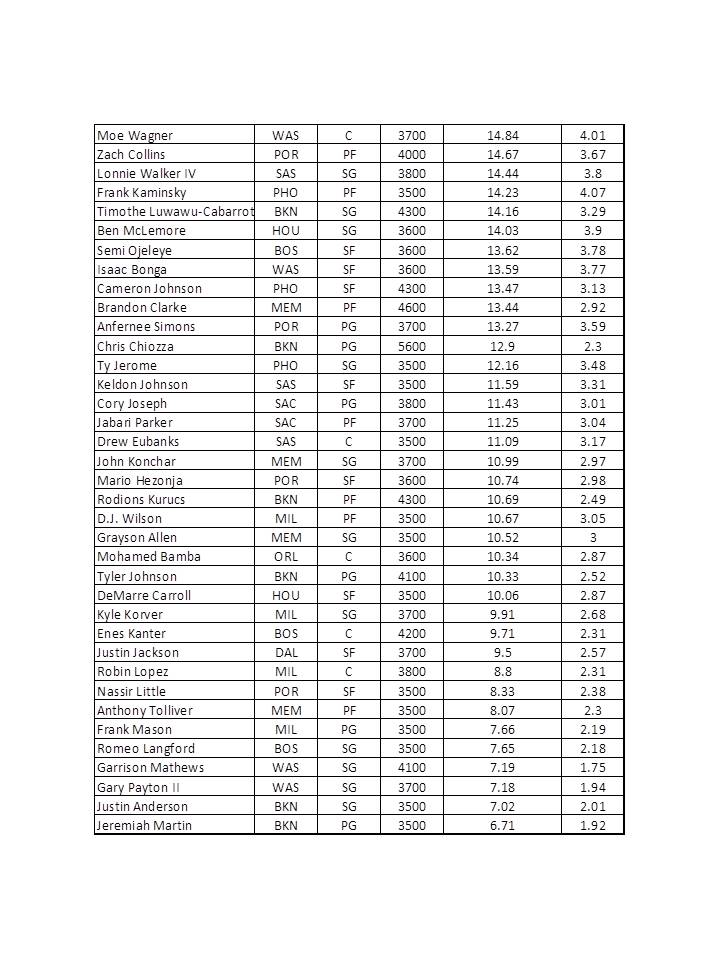 As I mentioned yesterday, the model works very well when determining which stud to roll with. Our FD lineup did have two studs but Kawhi was under 10K. To get two players over 10K is really tough so we will have to choose one. That player will be James Harden. He is arguably the best scorer in the league and does so much else. He is plenty motivated to finally win a title, especially now that the Golden State Warriors won't be standing in his way. I can see some intense games between the Rockets and Lakers if they happen to see each other in the postseason.
We also need to target the best game environment. There is no question that game should be Phoenix-Washington. That game also offers tremendous value with the Wizards lineup with no Bradley Beal, John Wall, and Davis Bertans. If you have been playing NBA DFS for a while, it's no secret that the Wizards are awful at defending guards. The Suns starting backcourt should do very well today. Don't hesitate to run with a Rubio/Booker stack and follow that up with Ish Smith, Troy Brown, and Rui Hachimura.
Then we just find the best pieces to fit in with our remaining salary. In FD, I feel you can't go wrong with any of the top centers. Whiteside or Vucevic could both put strong numbers at the Center position. In DK, it might be hard to get either one if you roster Harden so consider Jusuf Nurkic who is finally back after a long layoff due to injury. I am really like Jaylen Brown and Robert Covington. They will each get 30+ minutes and at least 20% usage. Bjelica and Tucker are also nice pieces to add who are each cheap and should see plenty of time on the floor but probably at low usage.
Here are sample lineups for both DK and FD for today.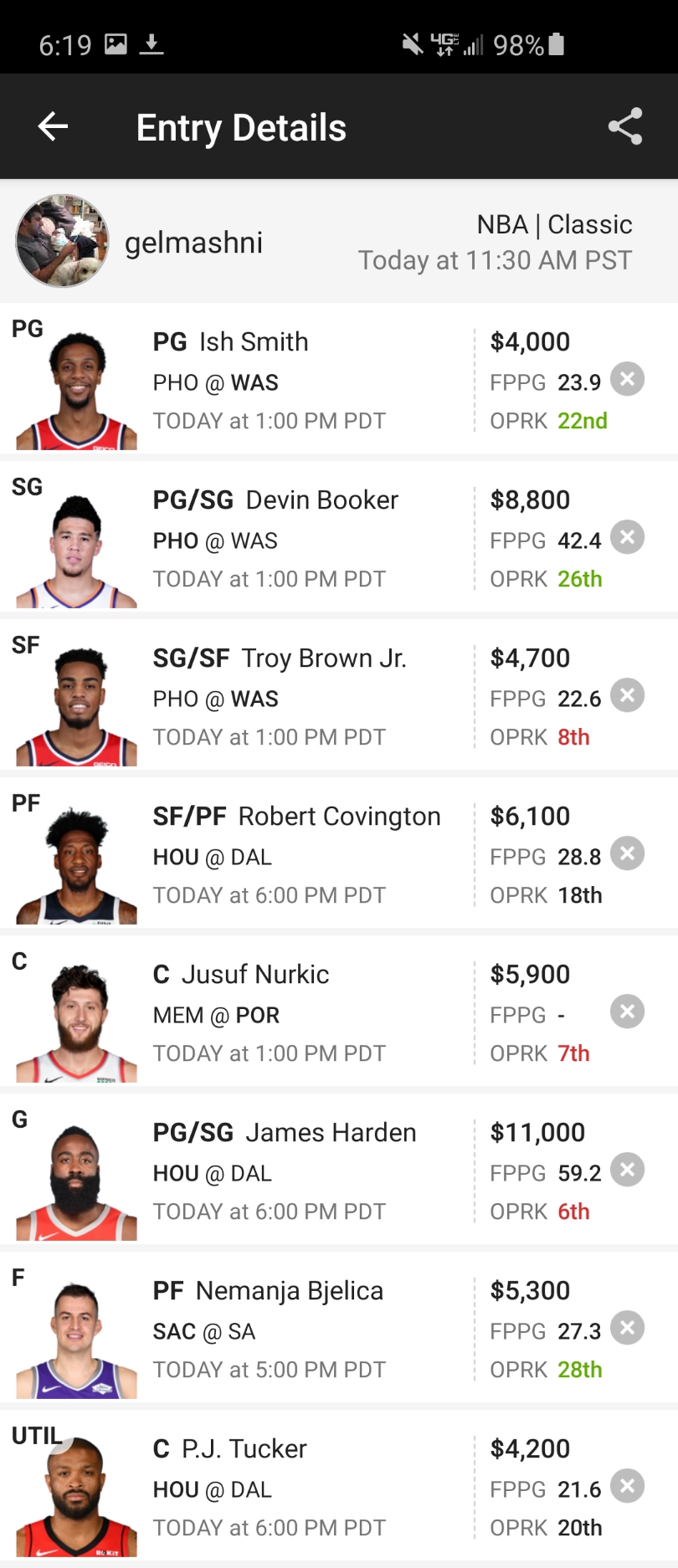 Remember, focus on minutes, usage, and game environment (high offense and pace) when selecting your players. I prefer taking a data-informed approach which is why I built my NBA model and use fantasy lineup building tools which you can find at the link below.
www.advancedsportsanalytics.com
Advanced Sports Analytics (ASA) has awesome distribution charts and projection models to help valiadate the players who had a hunch will do well and to find diamonds on the rough. Once we get deeper into the NBA restart season (I suppose that is what I am calling it), the tools on the ASA site will carry even more value and give you an edge. I will start featuring some of their data in my future lineup builds.
Have a great start to your weekend and hopefully we can pad our accounts at the same time! Good luck!