NBA DFS Lineup (12/22/2020)
Here we are! The return of the NBA! With such a shitty NFL game last night (and super random outcome) as well as no football until Friday at the earliest, I need some fix and the start of NBA regular season is here to the rescue!
We have just 2 games tonight but both have A LOT of star power. The first game will be in Brooklyn and we finally get to see Kevin Durant play against his old team. I wish Draymond Green and Klay Thompson were healthy for this affair but Stephen Curry and the rest of the Warriors squad will do for now. The second game will be a battle in LA. I had hoped the Clippers would advance to the Western Conference Finals and give the Lakers a run for their money. I am still perplexed as to how a strong playoff performer like Kawhi Leonard allowed his team to blow a 3-1 series lead to Denver. The Clippers will now get the chance to redeem themselves by squaring off against the defending NBA Champions.
For those who are not familiar with my NBA DFS methodlogy, here is a quick rundown.
Determine the projected minutes played and usage for each player. I typically will use an aggregate from various reputable sites such as NumberFire, Rotogriders, Fantasy Labs, and Advanced Sports Analytics (ASA). In fact, I will be helping with the NBA apps updates for ASA this season.
Feed the projected minutes and usage into my NBA DFS model. I built this model 2 seasons ago (using R) and it was very profitable near the end of the 2018 - 2019 season. I didn't quite get a chance to make muchmoney last season thanks to the disruption from COVID. It was hard to predict DFS outcomes for the NBA restart given the long layoff but I am confident we will do better this season.
Feed in more data into the model. The other inputs for my model include implied point totals from Vegas sportsbooks, Pace, Offensive Efficiency, Defensive Efficiency, and DraftKings salary. I actually do a logarithmic transformation of DraftKings salary since that satisfies the assumptions required for my model which happens to be a multiple linear regression equation.
I then use an optimizer I found on Github. It's written in Python and is very fast and stable.
And that is all folks! This process doesn't take me terribly long. Data cleaning is probably the most time consuming part but I typically can produce my optimal lineups from start to finish in about 30 minutes. Of course I will make updates when injury news comes out. Right now we already know that Draymond Green and Marcus Morris won't play. Since the season is just starting, I imagine we won't get any last minute updates but you never know. Please check out my Twitter handle right before the main slate begins. It's @sportsmanac.
Down below are images of my model inputs (for top 30 players) and the top 4 lineups the model produced. Note: these outputs are for FanDuel. You could build similar lineups on DraftKings but historically I have had WAY more success on FanDuel using this approach.
Model Inputs for Top 30 Players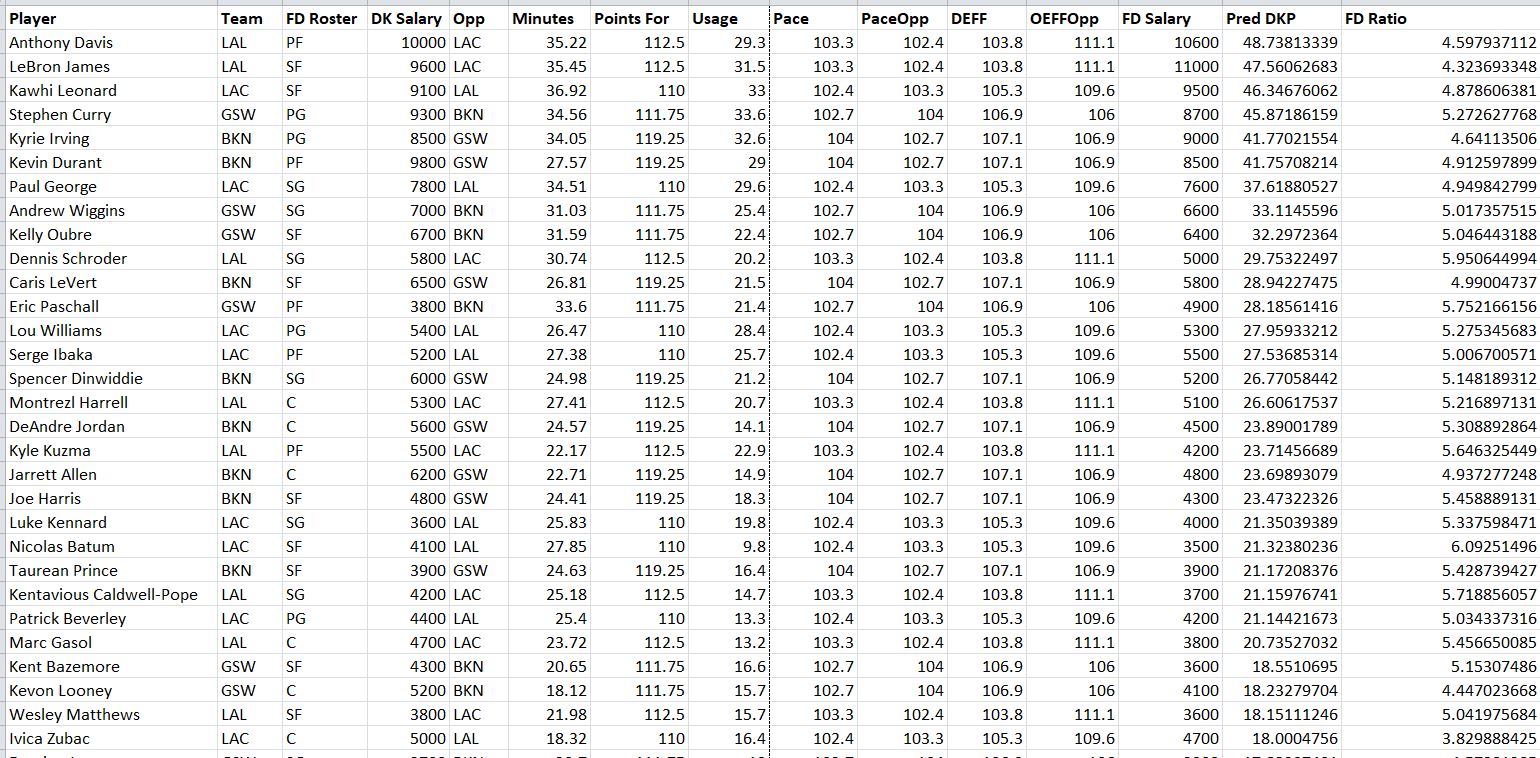 Lineups 1 and 2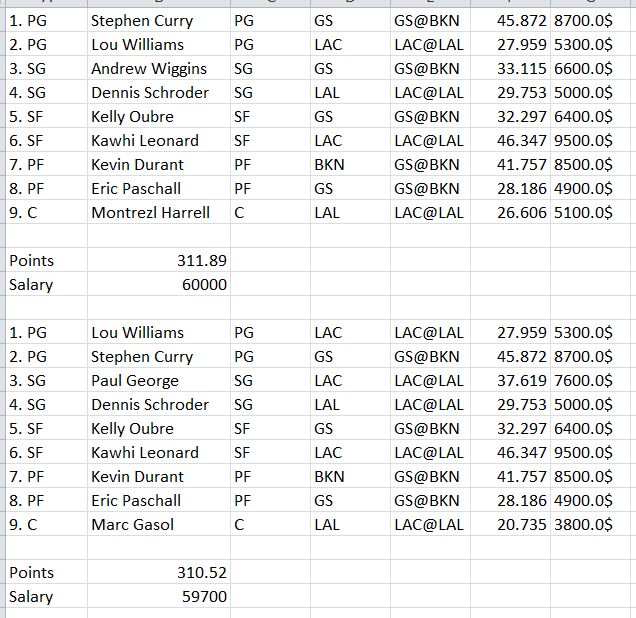 Lineups 3 and 4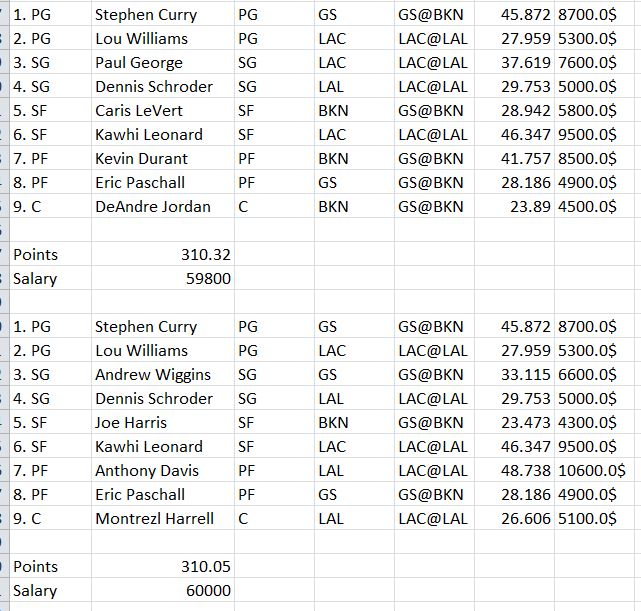 Personally I love Lineups 1 and 4. I expect the Warriors starters to have a strong offensive showing with plenty of minutes played. Andrew Wiggins and Kelly Oubre should complement Curry well and Eric Paschall will fill the defensive stats void left by Green. Plus Brooklyn is not known for its defense.
I plan on paying up for Kawhi Leonard and Anthony Davis. LeBron James is a fade for me tonight. He somewhat struggled against the Clippers last season and I really like what I saw from Davis in his last preseason game. If there is a Laker I will break the bank for, it's Davis.
Dennis Schroder and Maurice Harrell will be in both of the lineups I run tonight. Even though Marc Gasol will most likely be the starting center for LA, he rarely plays more than 20 minutes and Harrell will play a huge role in the Lakers' title defense this season. I also like Lou Williams for the Clippers. He is arguably the best bench scorer in the NBA and there is no reason why that will change anytime soon.
One of my lineups willhave Durant. Kind of risky and I will be curious to see his ownership % tonight. The Warriors are quite thin upfront and I am sure Durant is licking his chops for tonight's battle against the team he led to 2 NBA titles and almost a 3rd. The player who I feel will benefit the most with a healthy Kyrie Irving and Durant is Joe Harris. He should still get his minutes and with so much focus on Irving and Durant, Harris should have several open looks at the basket.
I am hesitant to play Irving tonight. Like Durant, he has missed a lot of playing time and I just think we are getting much better value with Curry (who will need to shoulder the scoring burden for the Warriors) and Williams. In case you are curious, here is how often each player appeared in the top 20 lineups I ran using my model and optimizer.

There you have it. Fade the former Cavs (Irving and James) and play the following studs: Curry, Leonard, and Davis/Durant. All of the other pieces in our lineups should complement our star players. See the sample lineups below. Good luck and let's kick off the NBA season with a bang!