We are nearing the end of the regular season and what an interesting season it has been. I will applaud the NFL for its creativity by scheduling games on Tuesdays and Wednesdays and rearranging the schedule in September when COVID was rearing its ugly head in NFL locker rooms. Still, I am perplexed by the NFL did not opt for a bubble. You could easily have asked each division to play its games at one site for 6 weeks and then shift to another bubble for intraconference and interconference matchups between particular divisions. It's not as if the NFL did not have enough time to figure out the logistics and with COVID counts on the rise, it is foolish and irresponsible for any fans to attend games. Watch them from home and be safe. Plus the beer and food is cheaper and you can have those items delivered to your house!
OK, where do I stand on the games tomorrow? I ran my model for both QBs and defenses and here are the outputs.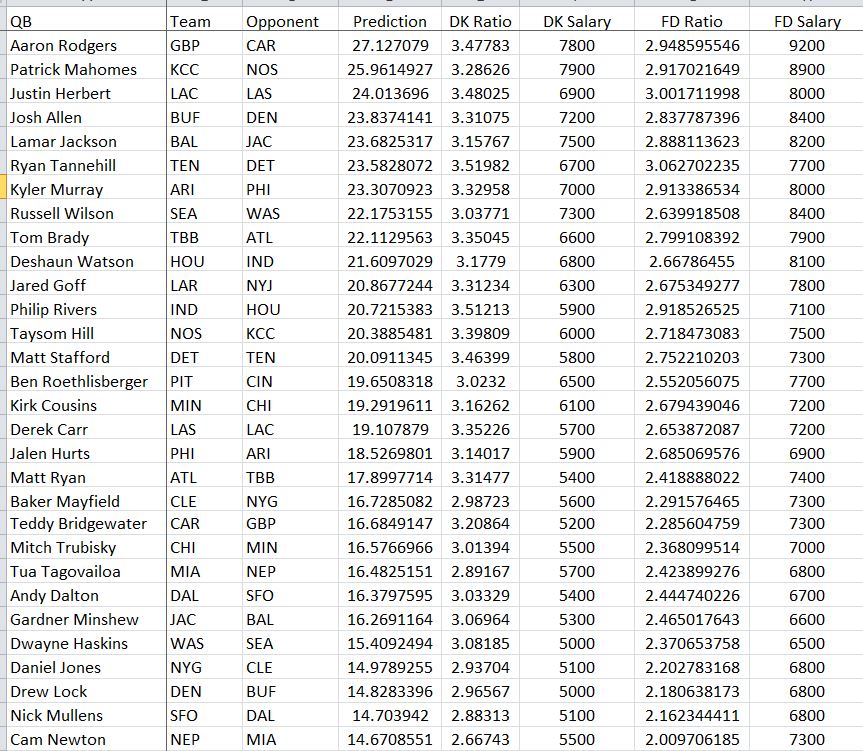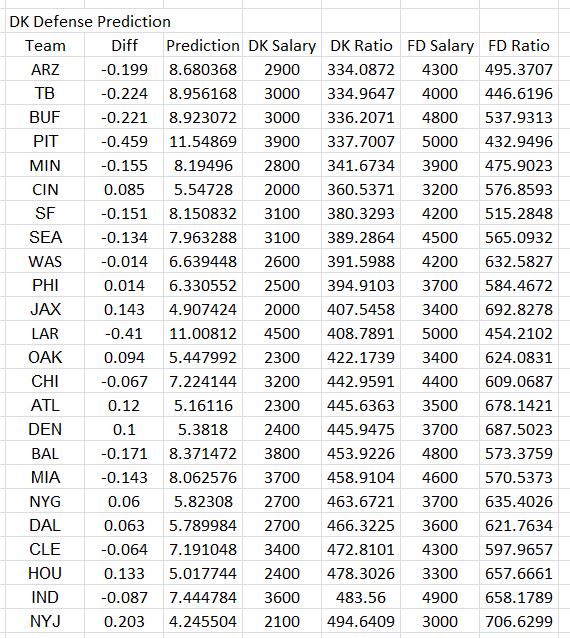 You will see that Ryan Tannehill is the best value for the main slate. If the game is close, I love stacking Tannehill with AJ Brown or Corey Davis. However, this all hinges on whether Matt Stafford plays. If I were the Lions, I would throw in the towel now, finish the season 4-12, and then trade up for the first pick to get Trevor Lawrence out of Clemson. Just blow the whole thing up and start over! Still, it seems that Stafford might play. If he does, then we should be fine with a Tennessee stack. If not, then "DeHember" continues! While Derrick Henry is very expensive on both DraftKings (DK) and FanDuel (FD), he can easily pop off for 35 - 40 fantasy points if the game gets out of hand (which it can if Stafford sits).
Patrick Mahomes is always a great choice but my concern is that New Orleans will hog the clock. The best defense against a great offense like the Chiefs is to keep their signal caller on the sidelines. Sean Payton is a very smart coach and will be leaning on the rushing attack often so that Drew Brees is protected. The Saints also play man coverage more frequently than most teams and play man coverage really well. The Chiefs receivers thrive in zone coverage so they won't be getting as many scoring opportunites as they have accustomed to the last few seasons. Remember Hill's incredible 1st quarter against the Bucs during Week 12? The Bucs ran a lot of zone coverage and were clearly burned by Hill. No doubt Tyreek Hill and Travis Kelce are also great against man coverage and will see some zone from the Saints. The problem is that the Saints are even better with zone coverage. Since Week 8, the Saints have allowed QB rating of just 49.40 in zone coverage. See the data below.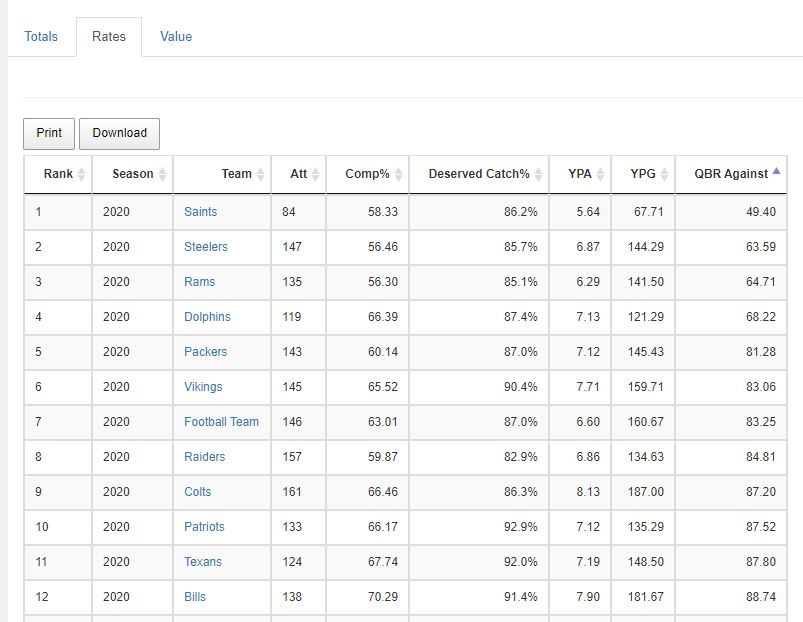 As you can tell, I am not feeling great about Mahomes this week. I personally feel that the Saints are the perfect team to limit the Chiefs high octane offense. Think Super Bowl LIV when Kansas City played San Francisco. The 49ers had the Chiefs down for the count but then 49ers head coach Kyle Shanahan let the foot off the pedal (sounds awfully familiar to the Patriots - Falcons Super Bowl three years prior!). Payton is ruthless son-of-a-bitch. He is going to run the ball like crazy and has the personnel to do so with Alvin Kamara, Latavius Murray, and Taysom Hill (who will now be more free to help with the running game). One of my previous articles mentioned to play Mahomes when he has 40 or pass attempts. That won't be the case tomorrow given that the Saints will be slowing the pace down.
There is Lamar Jackson who came alive on Monday Night Football in arguably the most entertaining NFL game this season. Usually when he has a soft matchup, he thrives and so does his tight end Mark Andrews. The ownership might be low but the salaries for both of them are high. I am having a difficult time finding enough value plays to roster both Jackson and Andrews and still pay up for RB (more on that very soon).
This leads me to another young signal caller who is just as mobile as Jackson. Look no further than the matchup in the desert. While I like Kyler Murray, I am more enamored with new Eagles QB Jalen Hurts. Wentz is pretty much done in Philly and if the Eagles can sneak into the posteason, Wentz will be shopping for a new team in the offseason. Murray is definitely a fine option but has struggled lately. That is usually the case for mobile QBs once there is enough NFL game film on them. Not the case with Hurts though. He was awesome at Oklahoma last year and should continue to put up impressive passing and rushing stats. At a salary of just $5900 on DK and $6900 on FD, Hurts gives us the freedom to squeeze in higher priced pieces into our lineups. His game is also in the afternoon and typically afternoon games get overlooked in the main slate, especially with 8 of the 11 games on the main slate having a 10 AM PT kickoff time.
If we go with Hurts, I want to pair him with Dallas Goedert. He is cheap on both DK and FD and no other tight end on the main slate, except for Kelce and Andrews, see the same snap percentage, target shares, and air yards shares as Goedert. Now that we have saved some money on a Philly stack, let's move onto the more expensive players.
While we could go after Derrick Henry, I would rather go with Alvin Kamara. He has proved this season that he can handle a full workload when Michael Thomas sits. During Weeks 2 and 3, Kamara destroyed both the Raiders and Packers. Both teams rank in the bottom 10 in yards per carry allowed and rush defense DVOA. The Chiefs allow the 3rd most yards per carry and have the 3rd worst rush defense DVOA. You also save a lot of money with Kamara. Yes, Kamara will garner high ownership but this chalk you need to eat if he gets us 5x or 6x value.
I also like Jonathan Taylor of the Colts. He has clearly cemented himself as the top rushing option for Indianapolis and Houston is really, really bad at stopping the run game. Check out the stats below.
Week 1: Clyde Edwards-Helaire 25 carries, 138 rushing yards, and 1 rushing TD.
Week 2: Ravens combine for 37 carries, 230 rushing yards, and 1 rushing TD.
Week 3: James Conner 18 carries, 109 rushing yards, 1 rushing TD, and 4 receptions for 40 yards.
Week 4: Dalvin Cook 27 carries, 130 rushing yards, and 2 rushing TDs.
Week 6: Derrick Henry 22 carries, 212 rushing yards, 2 rushing TDs, and 2 receptions for 52 yards.
Week 10: Nick Chubb 19 carries, 126 rushing yards, and 1 rushing TD. Don't forget about Kareem Hunt! He also had 19 carries for 104 rushing yards and 2 receptions for 28 yards.
Week 13: Jonathan Taylor 13 carries, 91 rushing yards, and 3 receptions for 44 yards and a receiving TD.
Week 14: David Montgomery 11 carries, 113 rushing yards, 1 rushing TD, and 3 receptions for 42 yards. First offensive play for the Bears was an 80 yard rushing TD.
Expect Taylor to have a great encore performance tomorrow. Enough said.
Another rookie RB I want to roll with tomorrow is Cam Akers of the LA Rams. The Jets defense tends to get burned in the passing game so I expect Rams WRs Cooper Kupp and Robert Woods to draw high ownership. That makes Akers even more appealing. The Rams are very well rested having destroyed the Patriots on Thursday Night Football earlier this month and the Jets have been on a west road trip for most of this month. The Rams have demonstrated a firm commitment to the run game with 44.53% of their total offensive plays being rushing attempts. That ranks 9th overall and their last game they ran the ball 58.06% of the time. That is up from 38.01% last year. Like Taylor, Akers thrived during his last year in college and typically rookie RBs excel at this point in the NFL season. Why spend close to $10K on both DK and FD for a RB when you can get the same production for 2/3 - 3/4 of the price.
Here is our roster is looking right now.
QB: Hurts
RB: Kamara
RB: Taylor
TE: Goedert
FLEX: Akers
For defense, I will roll with Tampa Bay. I know they have struggled lately but they looked better last week and the Falcons are simply not the same offense without Julio Jones. After all, Matt Ryan threw 3 INTs to the Chargers last week and the Chargers defense is nothing special. In fact, during the 4 games Jones has missed this season, Ryan's QB rating is 66.38. With Jones active this season, Ryan's rating jumps to 98.76. Of course one of those 4 games was against the Chargers and two of the other games were against weak defenses: Carolina and Las Vegas. I have made my case here. Fire up Tampa.
For the rest of the lineup (WRs), I like Brandon Aiyuk, TY Hilton, and Emmanuel Sanders. I know I already have the top RBs for both the Colts and Saints but I don't mind doing these mini stacks. Hilton is finally clicking with Philip Rivers and Sanders will get a lot of targets with Thomas out. Plus these mini stacks will make our lineup very unique. As for Aiyuk, he is one of the league leaders in air yard shares and is on pace to break the 49ers rookie receiveing yard record which is currently held by the GOAT Jerry Rice (no surprise there). Whenever you have an opportunity to break one of Rice's records, you go for it. Not bad for someone who missed 3 games this season and playing on a team decimated by injuries.
There you have it! I know I spent more time discussing my QB and RB choices but I feel my WR choices will payoff. This balanced approach should help us make a lot of money tomorrow. Here are my sample lineups. You will notice that I was able to roster DeAndre Hopkins on FD which complements our Philly stack very well. Good luck and Happy Holidays!