I know, I know, I know. Games start in about an hour so this is a late article. However, it was Christmas and family always comes first (though football is a very close second!). Time for some quick hits with data visuals.
Check out my QB model output below.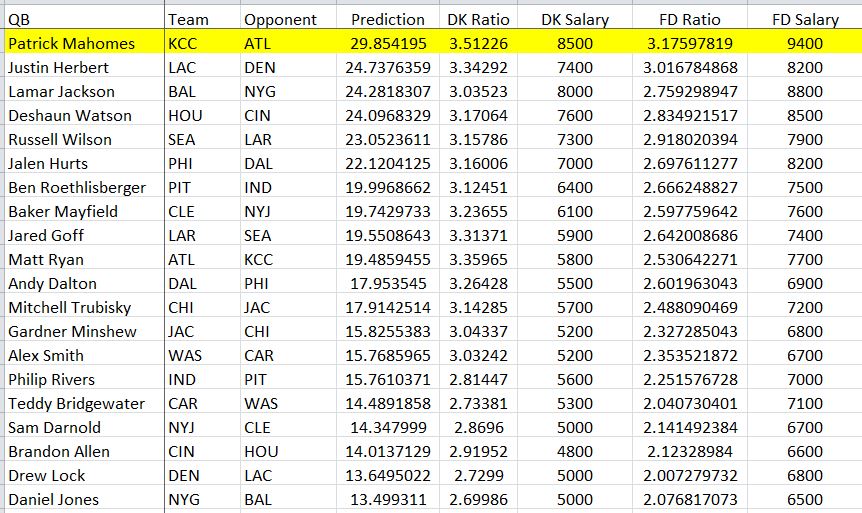 No surprise that Patrick Mahomes is the top rated QB based on predicted DraftKings (DK) score. What does stand out, however, is that he is the best value which is crazy to think given his insanely high salary. There is good reason for that ... Atlanta's pass defense stinks. Mahomes is expected to attempt at least 40 passes. When he does, good things happen. By good things, I mean at least 4x value on DK and 3x value on FanDuel (FD). The game could be a blowout but that is OK. Blowouts by KC means that Mahomes has 300+ yards and 4+ passing TDs. The main beneficiary today should be Travis Kelce. While Tyreek Hill has had some monster games this season, his recent hamstring injury worries. Also, Atlanta struggles with zone coverage while Kelce is extremely good against zone. In fact the Falcons allow the highest QB rating while playing zone and Kelce ranks #1 in points earned versus zone coverage. See the data below.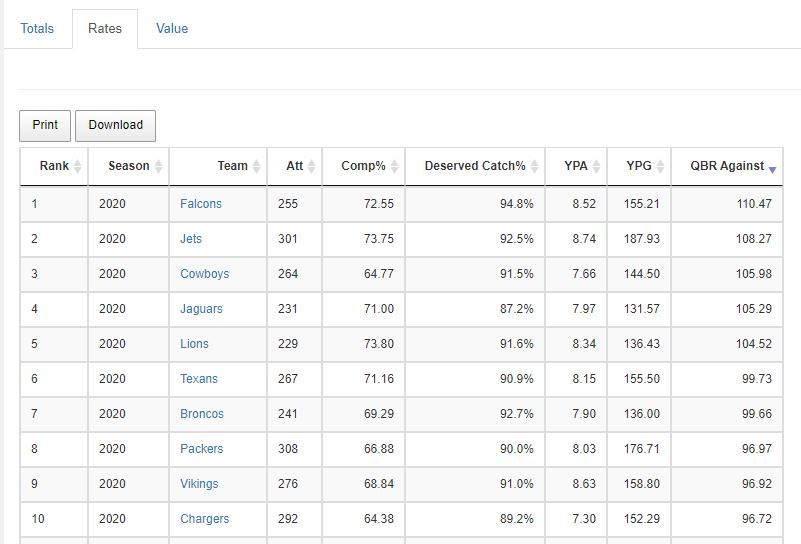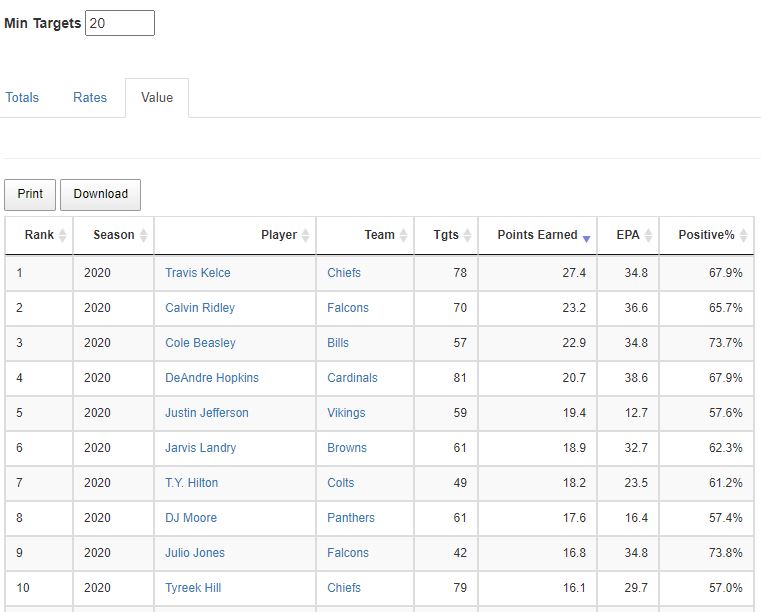 Need some evidence to back up this hypothesis? Look at Green Bay's game against Atlanta earlier this season. Robert Tonyan went off for 6 receptions, 98 yards, and 3 TDs. Tonyan happens to have the top receiver rating against zone. The tables below are all the proof you need.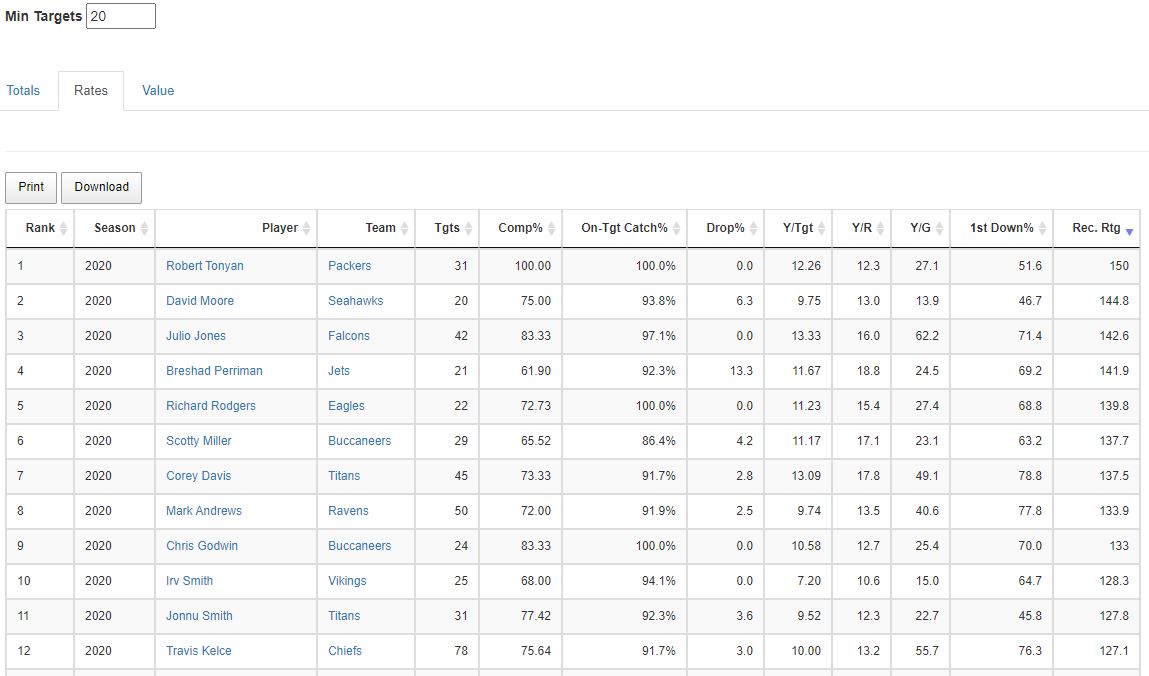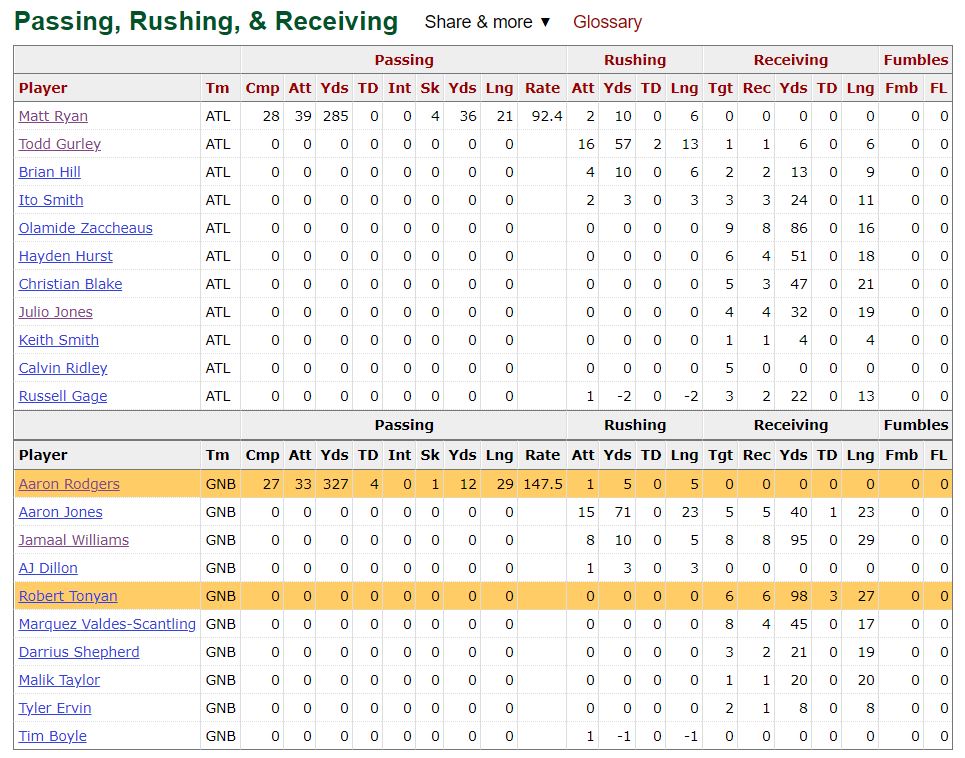 Good QBs know how to identify mismatches against zone defenses. Aaron Rodgers did that to Atlanta during their Week 4 match when he connected with Tonyan for 3 TDs. Expect Mahomes to do the same with Kelce today which will give the Chiefs home field advantage and a first round bye as they get ready for their Super Bowl title defense next month.
Now that we have our stack in place, what about RBs? Check out my RB model output below.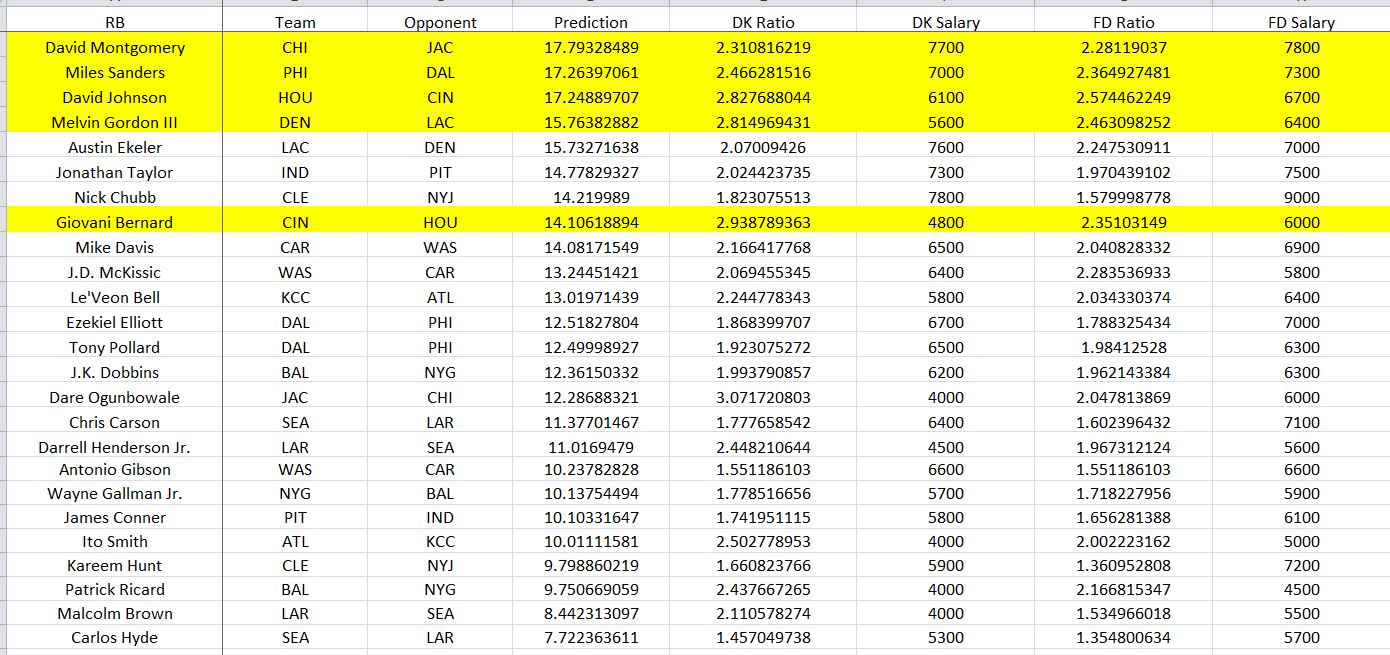 The games yesterday were very revealing. Stick with RBs who will have a high percentage of snaps (at least 80%) and carries (at least 70%). Case in point would be Jeff Wilson and Myles Gaskin. If you didn't have either of those RBs yesterday, you lost money. For today, David Johnson, David Montgomery, Melvin Gordon, and Miles Sanders should be hogging the ball often today. You could probably say the game for Gio Bernard but the QB situation has me worried. Kareem Hunt is another intriguing option now that Cleveland won't have any of theit top 4 WRs thanks to COVID contact tracing. If you go with Gordon and/or Sanders, make sure to put them in the FLEX spot. If all goes well with our KC stack, leave them alone. If not, then you might want to consider a high risk/high reward option. Just make to check my Twitter feed around 12:30 PM PT today.
For WR, I will continue to learn my lesson from yesterday. Go with WRs who have a high percentage of their team's air yards. Very true with Nelson Agholor. It is a risky strategy but will pay off when they get a big play. Think of these like HRs in baseball. We want to get as many HR hitters as we can if we are to take down a GPP today. Here is some helpful data from Advanced Sports Analytics.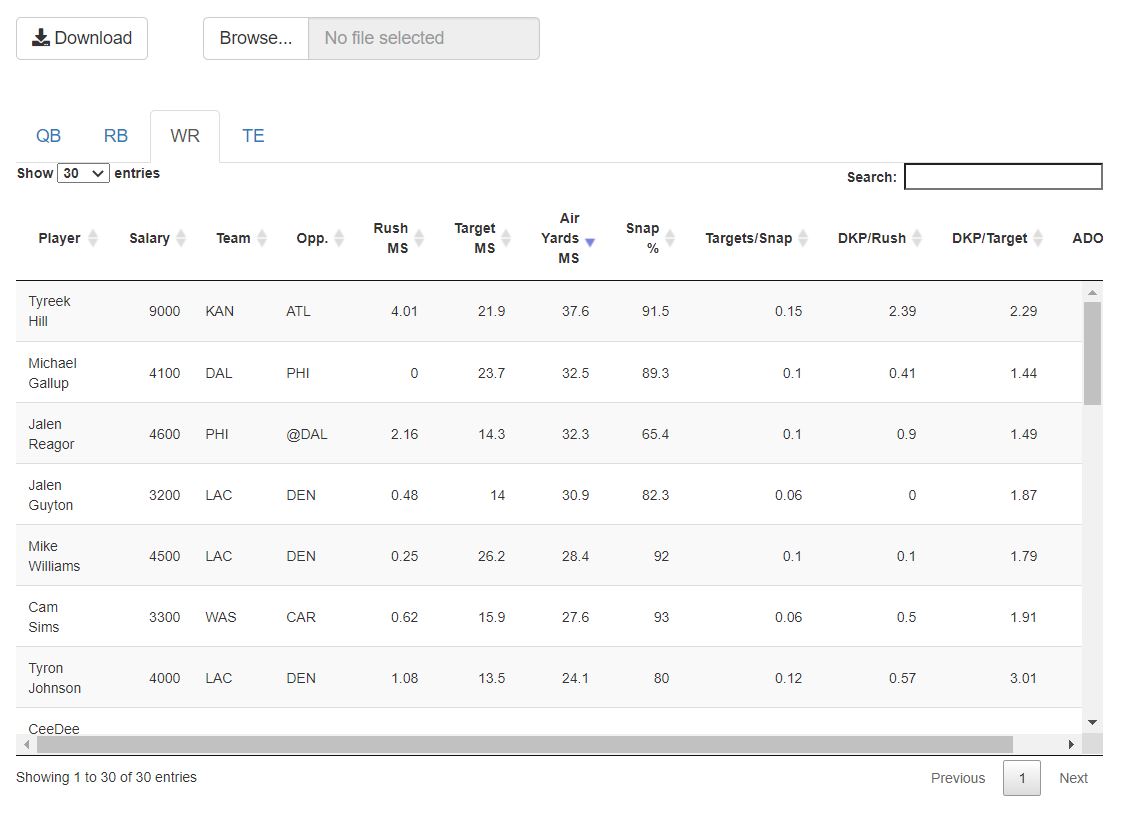 I like the cheap options here. Mike Williams should do well with Keenan Allen sitting. Michael Gallup should draw an easy matchup with Darius Slay on Amari Cooper. Cam Sims is another nice sleeper with Terry McLaurin doubtful to play today. He is a big target with a great pedigree from Alabama. I also like Jalen Reagor. There is a good chance he falls flat today but he will be low owned and he is immensely talented. Both he, Sanders, and Jalen Hurts represent the future of the Eagles offense and they will be doing all they can to win the NFC East title.
Lastly, we will go cheap on defense. The Seahawks defense has been flying under the radar lately but all they have done is average 10 fantasy points per game for the last 4 weeks on both DK and FD. One interesting analysis I just did was look at how the offense and defense DVOA numbers have changes for each team since Week 10. I then compared each team's differential of offenive DVOA to their opponent's differential of defensive DVOA. Negative means you want to play that defense. Rams and Seahawks are right near the top but Seattle is cheaper. Plus Rams defense has been very inconsistent. Sign me up for the more consistent defense.
My sample lineups for both DK and FD are shown below.


There you have it! One more week after this one and then we have the NFL postseason. Good luck and Happy New Year!