Big Five Picks for NFL Week 4 (2021)
Week 3 was not our best week. 2-3 with the Big Five Picks and 7-9 overall. Not a train wreck but we never want to lose money. Week 2 was great so we will be more judicious with our selections for Week 4 in order to get back to those glory days.
Here is what the model likes for Week 4.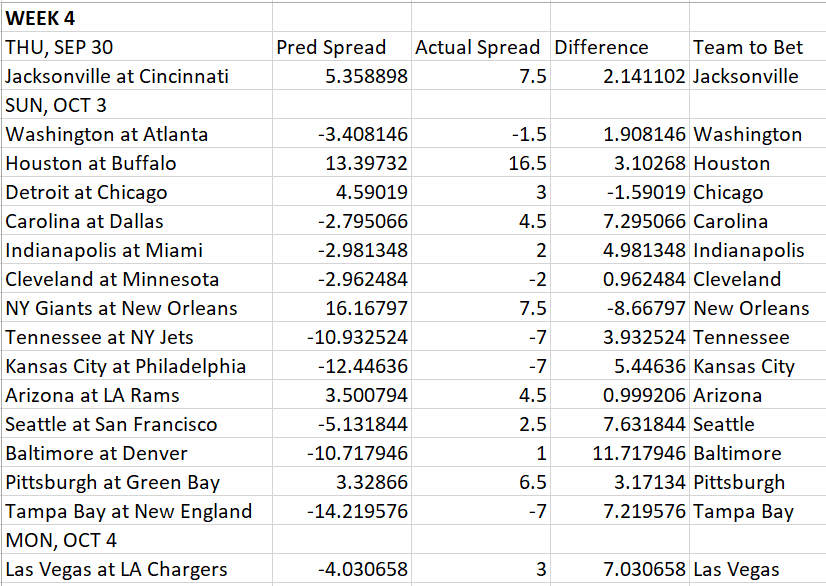 The model worked great for Thursday Night Football by predicting that the Bengals would win but not cover. Jacksonville kept the game close making the model look good. With recent weight adjustments to 2020 DVOA and 2021 DVOA (metric I use from Football Outsiders as the input for my model) I am confident the model will yield big profits this Sunday and our focus should be on the games with the biggest delta between the published point spread and the predicted one. Without further ado, here are the Big Five Picks for Week 4.
Carolina +4.5
This is a classic example of how the public will overreact to the injury of a star player. Yes, losing Christian McCaffrey for several weeks is a tough pill to swallow for a team that is finally off to a great start but is Carolina's current success largely attributed to McCaffrey? In 2019, McCaffrey had one of the best seasons of all time for a RB by becoming only the 3rd player to crack 1,000 yards for both rushing and receiving. He also had over 100 receptions and scored nearly 20 TDs. Do you know the Panthers' record that year? 5-11. The following season, McCaffrey missed 13 games. How did the Panthers do in 2020? 5-11.
The bottom line is that a RB does not make or break team unlike a QB. While McCaffrey has played well during the first two weeks of the new season, Carolina's success is much more than McCaffrey. QB Sam Darnold has found new life with Carolina and the Panthers made a firm commitment to improving the defense through the draft since head coach Matt Rhule took over. In fact, the Panthers spent their first three picks in 2020 on defense. Rhule is a defensive coach by training and right now the Panthers allow the fewest rushing yards per carry in the NFL.
As for replacing McCaffrey, this is where I will lean on Rhule's experience once again. He was the coach for Baylor while rookie RB Chuba Hubbard was at Oklahoma State. In 2019, Hubbard rushed for over 2,000 yards and 20 TDs. He had a very successful game against Baylor that season and Rhule did not forget that game when he drafted Hubbard a few months ago. The point is that while replacing McCaffrey is hard, Hubbard is plenty serviceable and the defense will do its job. Dallas had looked good but not good enough to be a 4.5 favorite to an undefeated team. The line is off and don't be surprised if the Panthers win this game outright. Consider the money line and definitely take the points. Lose by a field goal and you still cover.
New Orleans -7.5
How is that the Saints are still not getting enough respect even though they beat the living crap out of Green Bay in Week 1 (Green Bay has proved to be the same great offense the last two weeks) and controlled the tempo last week on the road against New England? Maybe it's because there is no Drew Brees? Maybe it's because the Saints struggled against Carolina during Week 2? Seriously, I am perplexed that the Saints are not at least a 10 point favorite at home against a mediocre Giants squad. The Giants are 0-3 and traveling to the Super Dome, arguably one of the toughest stadiums for road teams. They lost last week to Atlanta, perhaps the worst team in the NFL right now, and could do nothing against Denver during Week 1 which is probably a good comparison to the game against New Orleans. The Broncos won by 14 at home and the model expects the Saints to do about the same.
The stats tell us is that New Orleans still has an amazing defense (ranked #3 based on DVOA from Football Outsiders) and a talented offense. Alvin Kamara is no slouch and will arguably be the best player on the field when the Saints and Giants battle in the Big Easy. Fine, the Saints don't have any star power at WR/TE and Winston will probably never reach the heights that Brees reached during his career. However, Winston put up solid numbers when he played with Tampa Bay and experienced great success in college (Heisman, national title, and 1st overall pick in NFL draft). Winston finally has a good coach and it's amazing what an improvement in mentorship can do to a talented QB. The proof is in the pudding when you compare Week 2 with Weeks 1 and 3. Half of the Saints coaching staff missed the Week 2 affair against Carolina thanks to COVID and Winston was completely out of sorts. His entire coaching staff was present for Week 3 and Winston was back to playing better football.
Again the betting public is off. The Giants won't keep this one close so giving up 7.5 should be no problem.
Seattle +2.5
Betting on a game between two heated rivals who both play in a hotly contested division is a risky proposition. Look at what happened between the Chargers and Chiefs last week. I was completely surprised to see the Chiefs lose at home to a team I feel is kind of mediocre, especially when the metrics heavily favored the Chiefs to win by at least a TD. However, teams that see each other twice a year know each other well and as long as there is decent talent on both teams, expect the game to be close.
The 49ers finally figured out the Seahawks in 2019 when they went into Seattle to win the last game of the regular season which earned the 49ers home field advantage and ultimately a trip to the Super Bowl. However, Wilson owns the 49ers with a 14-4 record. Wilson's first game ever against the 49ers kind of doesn't count since Wilson was just a rookie and the 49ers nearly won the Super Bowl that year. For the other three games Wilson has lost to the 49ers, they have been very close but when Seattle beats the 49ers, it's usually a double digit victory. The game will be on the road for Wilson but it doesn't matter. Seattle usually performs well where ever they play. They are 1-2 due to a suspect defense which can be a problem but the 49ers have looked awful at the end of games due to poor time management and lacking a killer instinct. Like Aaron Rodgers last week, Wilson is not the kind of QB you want to play backyard football against. If the game becomes a fast paced one in the final few minutes, the 49ers don't have the corners to contain both Ty Lockett and DK Metcalf.
I am a 49ers fan so it pains me to pick against my favorite team, especially against a team I cannot stand. However, I am a bigger fan of money and the smart money says to take a division rival who has beaten you more times than not and with a QB who knows how to win tight games. Seattle money line is probably not a bad play either.
Baltimore +1
There has been movement to this line since it first came out earlier this week. It's now a pick 'em but I would say that Baltimore should be favored by 2 or 3 points. Of course Denver is playing well at 3-0 but who have they played? Giants, Jaguars, and Jets. All shit teams. Meanwhile Baltimore is 2-1 and have been tested early with tight games against the Raiders (another 3-0 team), the Chiefs (two-time defending AFC Champions), and Lions. Beating the Chiefs on Sunday Night Football was impressive and the Ravens have done this after losing so many RBs to season ending injuries. While I didn't expect Baltimore's game in Detroit to be as close as it was, Baltimore was covering early. A big take away from that game is that the Ravens showed a lot of grit in the final minute. They easily could have been dejected by blowing an early 13-0 lead but they rallied by driving down the field quickly and then place kicker Justin Tucker hitting a booming field goal breaking the NFL record of 65 yards. If there were anyone who could nail a 66 yard field goal, it was Tucker and congratulations to him who could go down as one of the greatest kickers of all time.
In a game featuring two teams with talented defenses and a run-first mentality, you will want a good kicker and if Tucker can nail a 60+ yard field goal in a dome, imagine what he can do in the thin air of Colorado. I like what Denver has done to turn their ship around but Lamar Jackson is a battle tested QB who can win anywhere and against anyone. The Ravens probably played down to the competition in Detroit but they will be fired up after last week's dramatic victory and the opportunity to hand an undefeated AFC team and potential playoff opponent its first loss of the season. Plus earning a tiebreaker with a head-to-head victory should provide plenty of motivation for the Ravens. The model has Baltimore winning by at least 10 points. I think that is high but winning by a FG is a reasonable expectation, especially with a kicker who has ice water in his veins.
Tampa Bay -7
I am not a big fan of narratives but narratives seem to suit Tom Brady well. Every time he has been to the Super Bowl, there is a great narrative for Brady. It's crazy to think that he has been there 10 times during the last 20 seasons! Last year, it was playing at his home stadium (first time ever that had happened in Super Bowl history) against the future of the NFL in Patrick Mahomes and Kansas City. Brady responded by winning his 7th Super Bowl further cementing his GOAT status. Now he returns to New England where Bill Belichick and he built arguably one of the greatest NFL dynasties. Don't you think he will want to show up his mentor in Foxboro? Hell yes!
Outside of narratives, New England has nothing. They have a rookie QB who will never a hold a candle to Brady and a bunch of has-beens at RB/WR/TE. Defensively the Patriots are nowhere close to the dominant unit they were during the Brady years in Boston. Tampa Bay, however, must be itching to get back to its winning ways after a tough loss in Los Angeles last week to another Super Bowl contender. Playing a struggling Patriots team and the opportunity to prove to the New England fan base that Belichick was wrong in letting Brady go serves as a "get right" game for Brady and his Bucs teammates. The Bucs are clearly the more talented team and if the Saints can go into Foxboro to win by at least 2 TDs, so can Tampa Bay. I know the odds makers will rarely give a road team a double digit spread, especially after a loss but the line is off. Brady shines in night games and he will lead Tampa Bay to a dominant victory against his former team. I would not be shocked if the Bucs build an early 21-0 lead and never look back.
There you have it! Not too much chalk and we are being wise with how we eat the chalk. I am feeling good about going 5-0 this week! Consider parlaying the first two games, then parlaying the next set of two games, and finally pressing your winnings on Brady. Seems like a sound financial plan to me!