In this article, I will approach the main slate a bit differently than I have in the past 3 weeks. I will provide more structure by going through each position and discussing which players I think are worthwhile for your lineups. Of course I will still display sample lineups but I figure that with just 3 hours left until kickoff, it would be best to make this article an easy read.
So, here is the position breakdown!
QB
Keep in mind that there is a lot of variance when playing NFL DFS. I mean A LOT. Last week I had planted my flag with the NY Giants - Atlanta game given that both defenses were awful but had plenty of offensive talent. The score was 7-6 at halftime. For today, I have already entered 6 lineups, 4 in DraftKings (DK) and 2 in FanDuel (FD), and I plan on entering 2 more lineups on FD with all 8 lineups having a different QB. Here are the QBs I like: Mahomes, Allen, Rodgers, Cousins, Mayfield, Hurts, Stafford, and Murray. Note that 6 of those QBs are playing against each other.
When building an NFL DFS roster, you want to focus on games that have a high point total and tight spread. After all, we want to select players who are expected to compete in a high scoring environment. Right now, the highest point totals belong to the KC-PHI, CLE-MIN, and ARZ-LAR games. I highly doubt any of those games will be blowouts so we will plant our flag there. My DFS models is leaning towards CLE-MIN. We have good value there and ownership may not be as high as the other games with a point total of 50+. Plus the spread is tighter there and both teams have mediocre defensive units.
I will go with the home QB in that game. You like that! Sorry, I couldn't resist. If you are a football junkie like I am, you will remember that quote from Cousins after a comeback victory while he was with the Washington Football Team (WFT) but were formerly the Redskins when Cousins played for them. Cousins plays very well at home and is blessed to have two stud WRs. The surface at US Bank Stadium plays fast given that it's artificial turf which bodes well for speed burners like Nick Chubb and Justin Jefferson.
I also like Cousins given that he is the 2nd the cheapest option of the 8 QBs I listed yet he regularly puts up 300 passing yards and 3 TDs. In fact, since 2018, when Cousins became the starting QB for Minnesota, Cousins has started 50 games for the Vikings with 15 of those games surpassing 3 passing TDs and 18 of of them eclipsing 300 passing yards. Do the math and you are looking at 27+ fantasy points when you factor in the 300 yard passing bonus. At a price of $6400 on DK, that is 4x value. The Cleveland defense is nothing to write home about. Last season, the Browns were involved in 8 regular season games that had at least 52 total points with 4 of those games going over 70 total points. In the AFC Wild Card, the Browns and Steelers combined for 85 points! You like that! LOL!
RB
If I am going to zero in on the CLE-MIN game, I might as well get the best and youngest athletes from both teams when it comes to RB and WR. For RB, look no further than Nick Chubb. He is lightning fast and very hard to bring down when he makes contact. He has one of the best offensive lines in the NFL and was a track star in high school. It shows with the incredible yards per carry average he has had during his 3 year NFL career: 5.2 yards per carry. That is crazy good and the Browns were smart to bring in Kareem Hunt so that Chubb stays fresh. The showed their commitment to him by giving him a contract extension this past summer. You can pay up for Derrick Henry or Alvin Kamara who both have soft matchups and are the centerpieces of their teams' offenses and maybe you can include one of them with Chubb if you go down the bargain bin with the other positions. Still, Chubb comes at a significant discount (about 15 - 20%) but can easily outscore both Henry and Kamara by at least 10 fantasy points. Chubb is a must start RB.
There are several lower priced options who will be seeing the ball often. Clyde Edwards-Helaire finally had a good game last week and is fast like Chubb (also, a high school track star). Jonathan Taylor is due to break out after playing 3 very good teams so far this season. Now he gets the struggling Dolphins. I am also eyeing Chuba Hubbard who will be given the keys for the RB position in Carolina for quite some time. He was a stud in 2019 for Oklahoma State and Panthers head coach Matt Rhule coached against him while with Baylor. Miles Sanders and Darrell Henderson are also in play given that I like the KC-PHI and ARZ-LAR games.
Just do what you can to make the pieces fit with Chubb.
WR
I am not a big fan of Odell Beckham Jr but you kind of need to roster him if you haev a lineup with Mayfield. He seems like a "has been" now but there is no Jarvis Landry and maybe OBJ will be inspired when he sees a younger version of himself on the other side of the field with Justin Jefferson. After all, both were superstars at LSU and played well in their rookie years. Speaking of Jefferson, he has a very strong correlation with Cousins so he is my guy for today. Adam Thielen could still some of Jefferson's thunder so consider multiple lineups with Cousins/Jefferson and Cousins/Thielen.
If you take Josh Allen, I would go with Stefon Diggs. Of course Allen has several options but Diggs is clearly the most talented pass catcher on the Bills. Run it back with Brandin Cooks since the "bring back" stack with the Bills is a viable option given the game log history of last season, especially when the Bills win by at least a TD. They are nearly 18 point favorites so let's hope that Allen and Diggs connect on 2 two early TDs while Houston plays catch up by throwing to Cooks often.
Down below are some correlation tables and scatter plots for Cousins and Allen.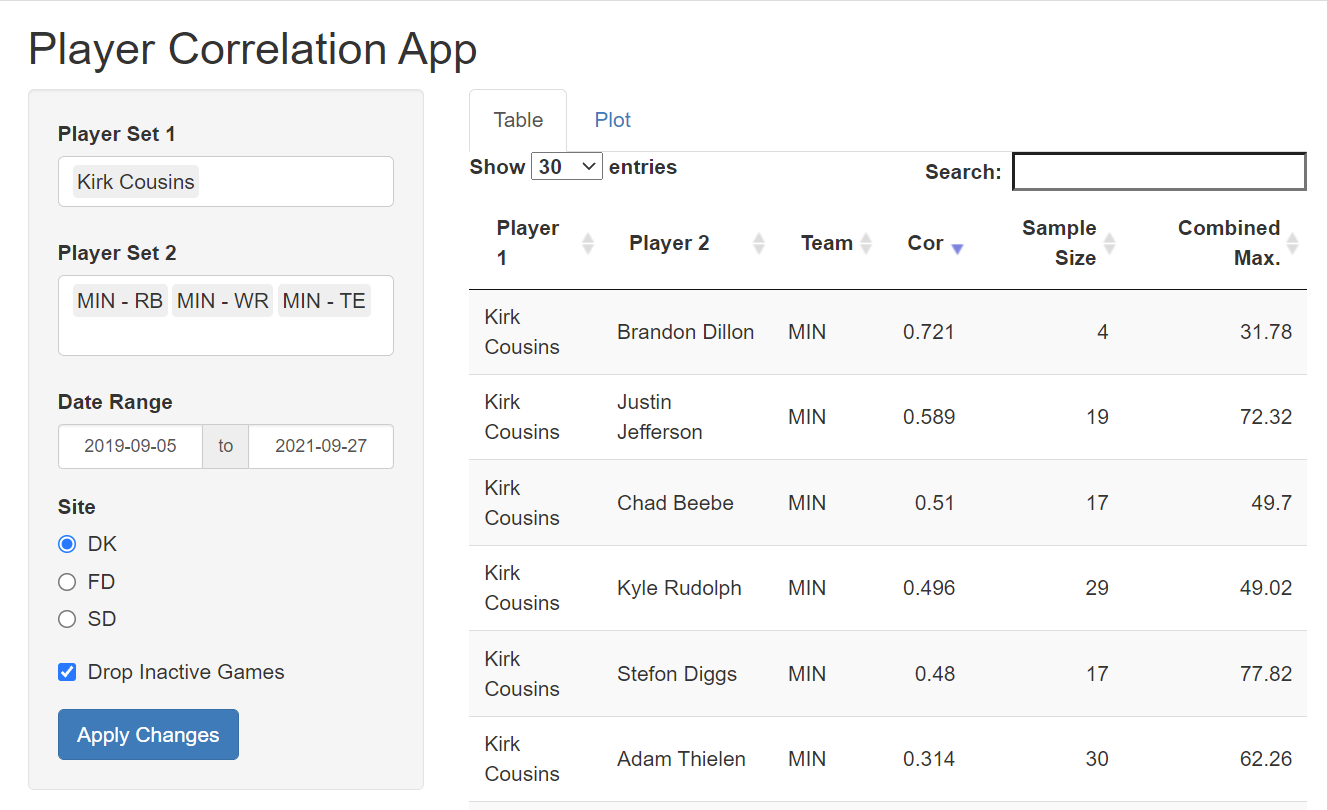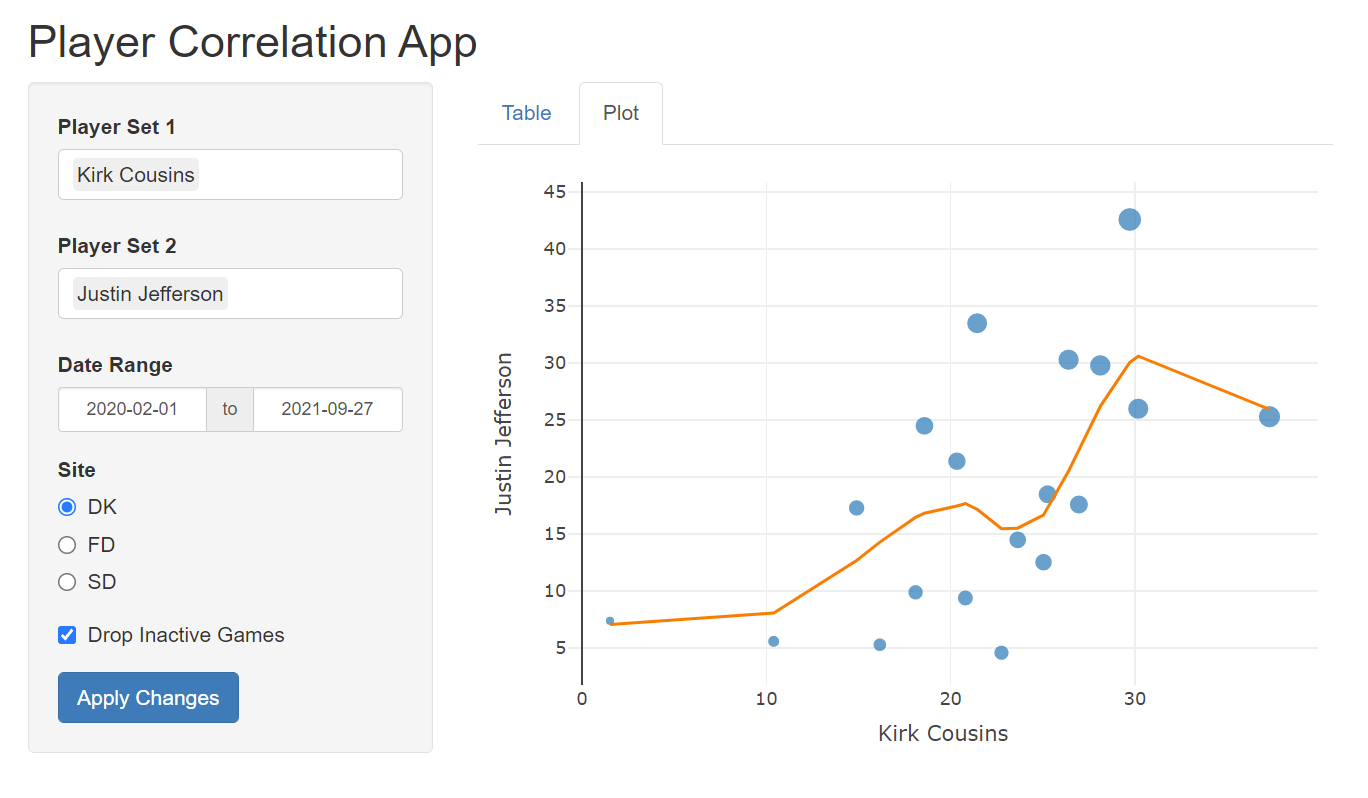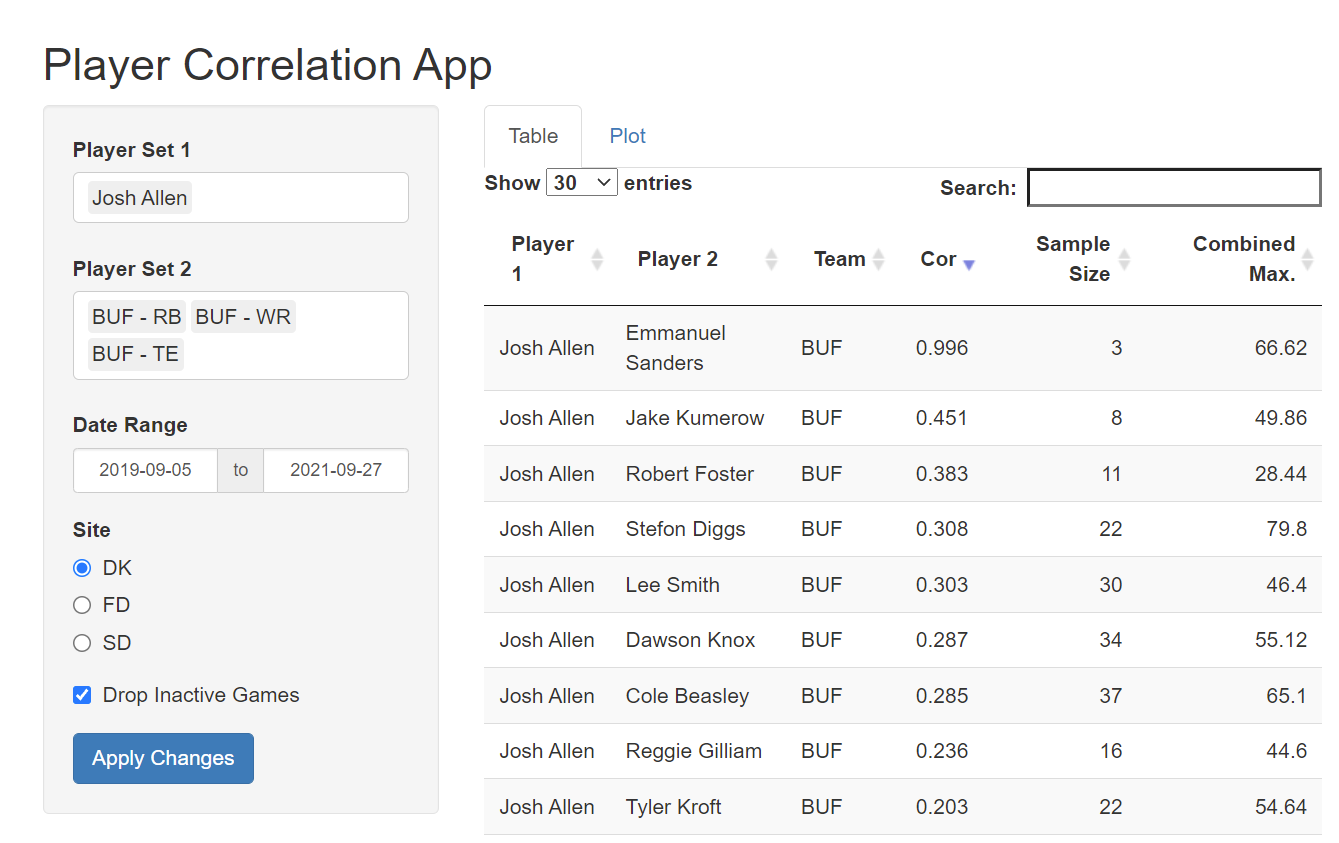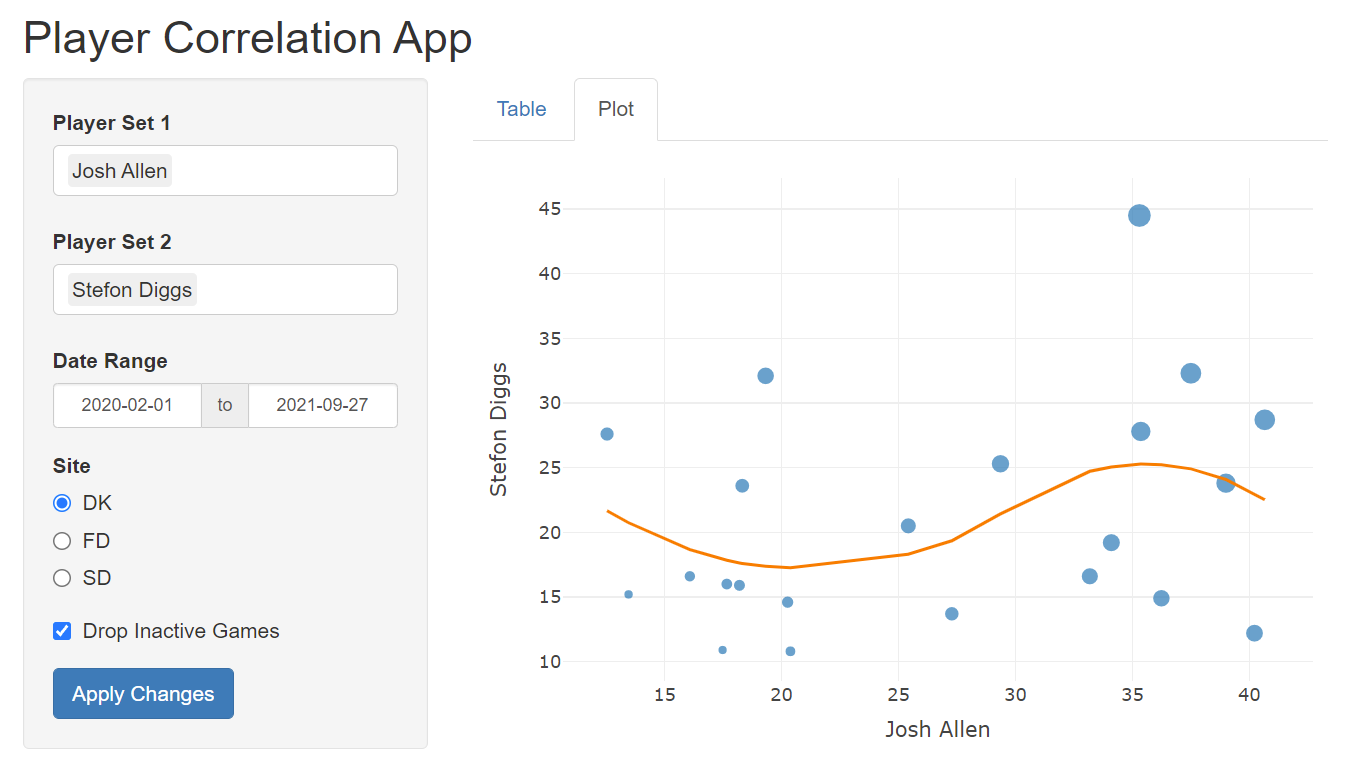 Don't be cute with Mahomes. Pair him with Hill or Kelce. Likewise with Rodgers. Adams is his guy. Stafford and Kupp have been lighting it up the past 2 games and Hopkins could put up a strong game but I can see CB Jalen Ramsey on him all day. Jalen Hurts and Devonta Smith are a cheap pairing and great way to complement any Chiefs players you select today.
As for bargain plays, consider any of the Tennessee Titans starters. While I don't expect any of those no-name WRs to pop off, they will be seeing a lot of targets with AJ Brown and Julio Jones out. Tennessee will give the rock often to Henry and the Jets run defense is awful but there will still be opportunities for the Titans WRs and all of them are near the minimum price for WRs on DK and FD.
TE
I will be looking to save money at this position. Sure, Kelce is pricey meaning that we will need to save money everywhere else. He is a great stack option with Hurts/Smith. Other that that, I will take my chances with Conklin if I am starting Cousins and Hooper if I am starting Mayfield. Dalton Schultz had a great game last week and is still cheap. Dak Prescott trusts him and the Cowboys are missing Michael Gallup. Tonyan and Higbee are also interesting options in case you start Rodgers or Stafford. Again, save money here.
DST
I only like two defenses today: Colts on DK and WFT on FD. I ran my defensive scoring model for this week (a model that has been very strong the last few seasons) and the Colts are one of the best values on DK ($2700) and face a team that was shut out at home during Week 2. WFT gets one of the worst teams in the league and WFT head coach Ron Rivera would love to stomp on a team that was a close rival of his when he was coaching the Panthers a few years ago. WFT is cheap on FD at $4000.
Here are some sample lineups. It's a lot to play so if you have to choose, go with Cousins. I promise YOU WILL LIKE THAT! LOL!