It's almost midnight here on the West Coast and it has been a busy day with the kids so this article is coming out late. But better late than never!
Let's keep this short and sweet. I will lay out the thought process of building an NFL DFS lineup using some of the data that any of us can access easily. For example, considering projected ownership and fantasy points allowed could be a great place to start and you don't need a subscription to a fancy fantasy sports site to find such data. Just do a little bit of Google research and you can find the data you need. For example, Rotowire publishes projected ownership for all players. NFL.com provides fantasy points against for all postions since 2010. Typically we should start our builds by figuring out who our QB will be and then pair him with a teammate who has a high correlation with him. For correlation data, I like to use Advanced Sports Analytics (ASA) which is a subscription site and well worth the nominal investment. Here are the links I will be referencing in this article.
www.rotowire.com/daily/nfl/proj-roster-percent.php?projections=RotoWire
fantasy.nfl.com/research/pointsagainst
www.advancedsportsanalytics.com
For a large 13 game slate, there are truly 26 options for QB. Honestly, you are not going to play a backup unless you are anticipating an injury to a starter. If you can predict such an event with a high degree of accuracy, then please let me know where you found your crystal ball. Otherwise, I am calling BS! So, back to reality! Of those 26 options, we can probably eliminate half a dozen or so QBs who play for putrid offenses or just happen to be in a low scoring environment. Those situations we can prognosticate with confidence. For example, I have no interest in Jacoby Brissett, Trevor Lawrence, Mac Jones, or Taylor Heinicke. Likewise with Zach Wilson or Carson Wentz. I could list a few more QBs but you get the idea.
Still, we could have 16 - 20 QBs to choose from and this can feel overwhelming. This is where you take a deep breath and trust the data. If we start with projected ownership on Rotowire (see table below), we see that Patrick Mahomes is expected to have the highest ownership and that is understandable. He is the best QB in the universe and has been since 2018. While I believe he will have a great game, his price point on both DraftKings (DK) and FanDuel (FD) will make it hard for me to roster any other big names, especially if I want to pair Mahomes with Tyreek Hill or Travis Kelce who are also highly priced. When Mahomes does well, one of those two pass catchers will also excel and sometimes both. Unless we have a super short slate, you simply cannot go this direction and expect to find value for the other positions unless you get lucky with some obscure players who just happen to have a career day.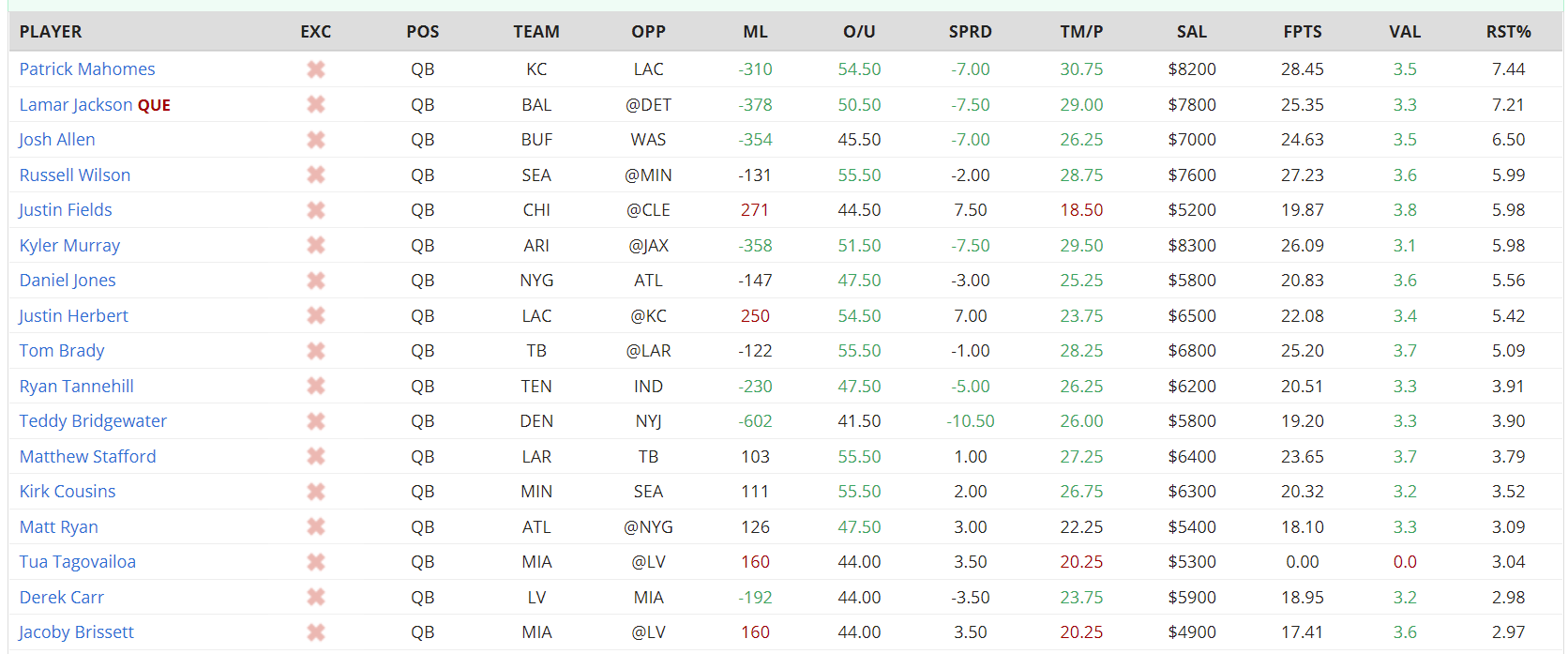 When you go down the list of QBs, Daniel Jones catches my eye. He is cheap on both DK and FD, plays in a game with a fairly high predicted point total and tight spread, and could have suppressed ownership. If we dig a bit deeper, he is playing against a defense that has allowed a lot of points to the QB postion. In fact, the Atlanta Falcons rank 1st in fantasy points allowed to QBs so far this season. Last year, they ranked 2nd and the year before they were 5th. No wonder former Falcons head coach Dan Quinn faded so quickly after taking the Falcons to the Super Bowl in just his 2nd year with that team. Jones is also a very mobile QB who can earn points on the ground. The two tables below are all the proof we need that selecting QBs facing Atlanta is the way to go.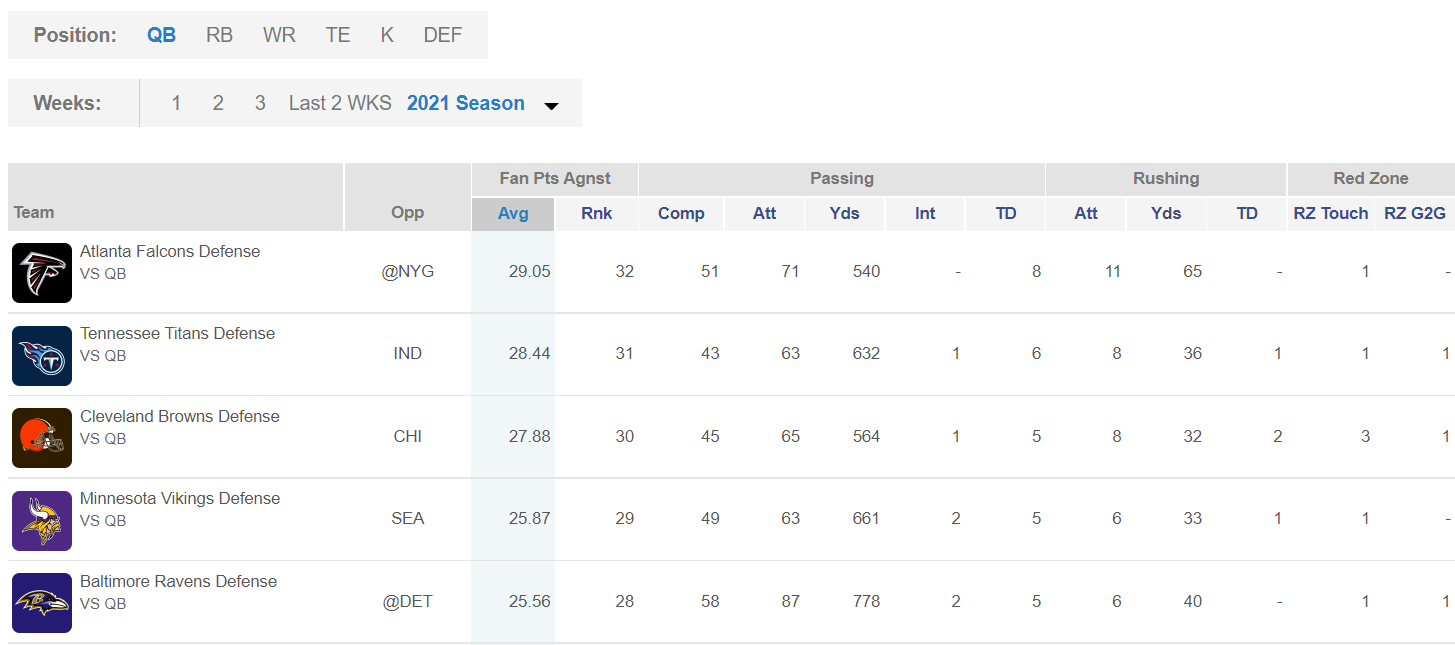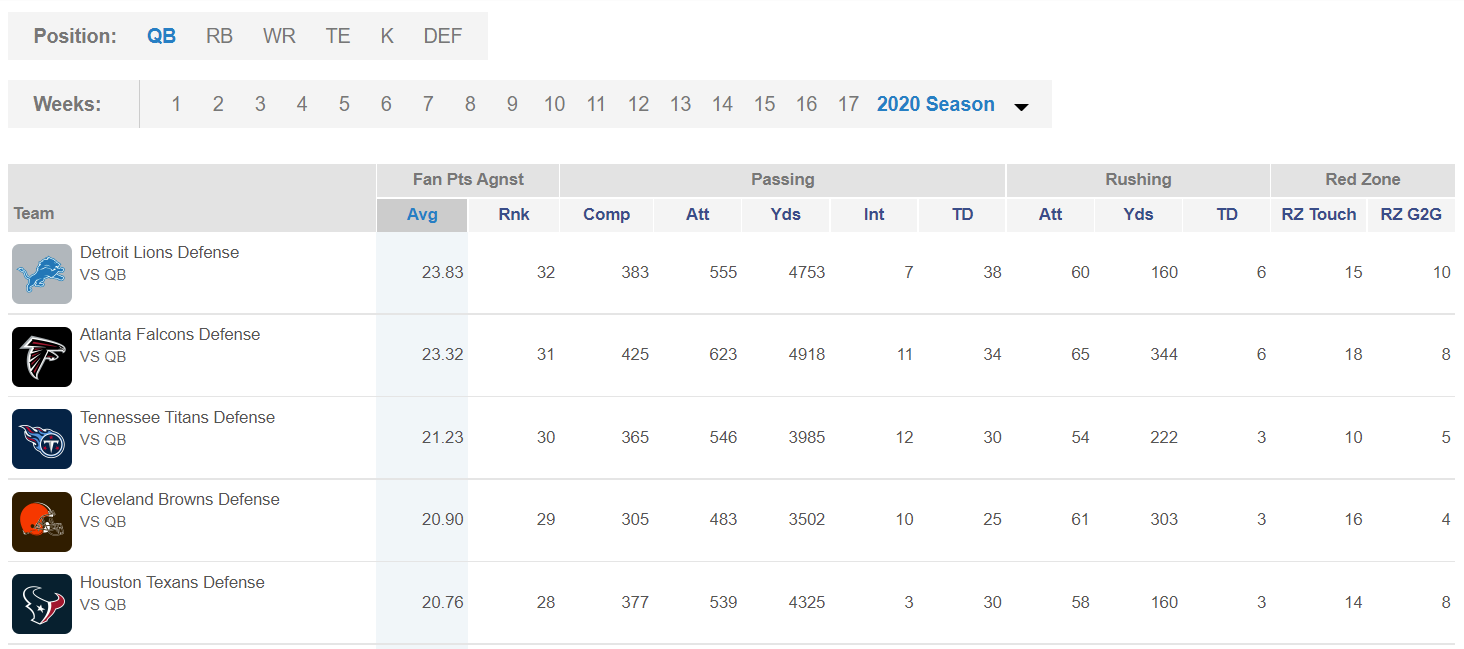 This is when I will now lean on a subscription site for a higher level of sophisticated data. Who do we pair with Jones? There are some viable options such as Saquon Barkley and Evan Engram. After all, those two were the Giants best offensive weapons when Jones took over as the starting QB for the NY Giants in 2019. However, I am going to pair Jones with Sterling Shepard. Jones' correlation coefficient with Shepard for Jones' entire NFL career is 0.517. They also have had several great games together. The table and plot below from the ASA site show that both Jones and Shepard can blow up when the game environment is right.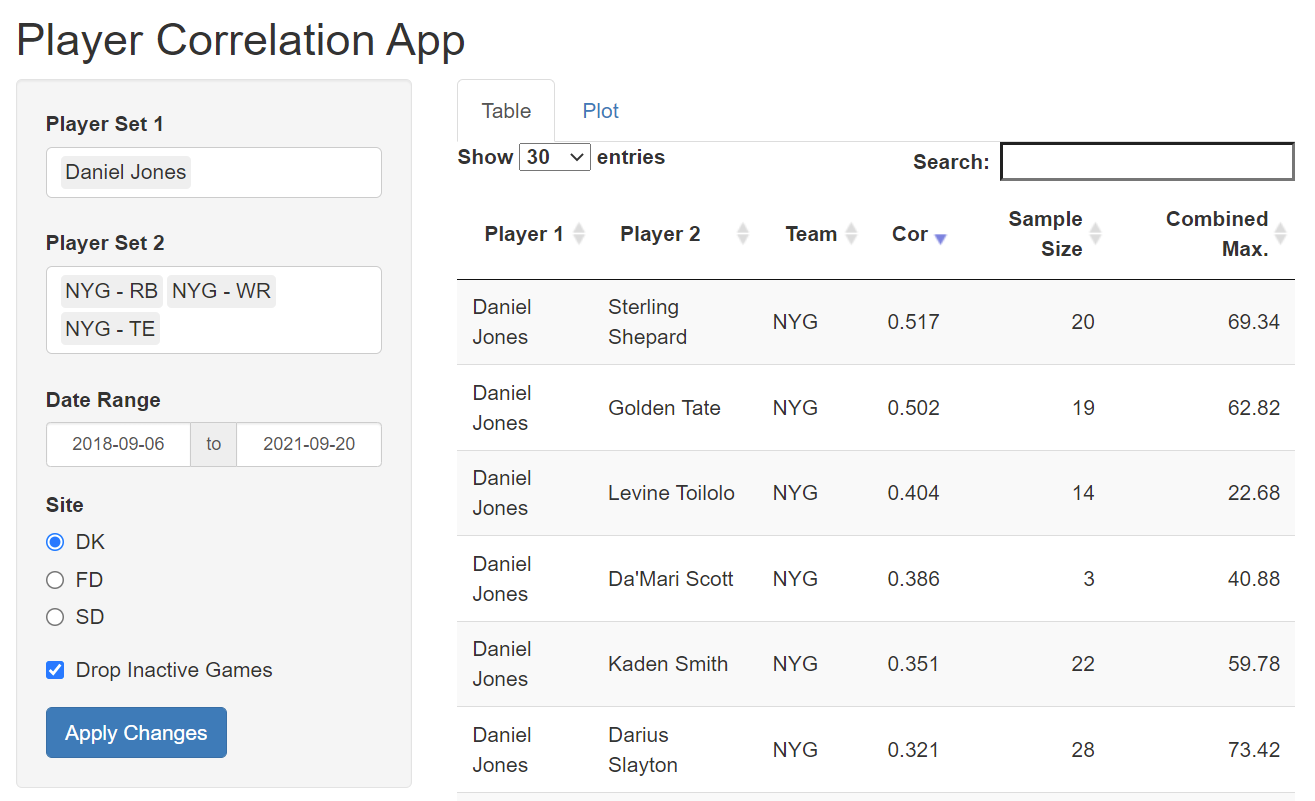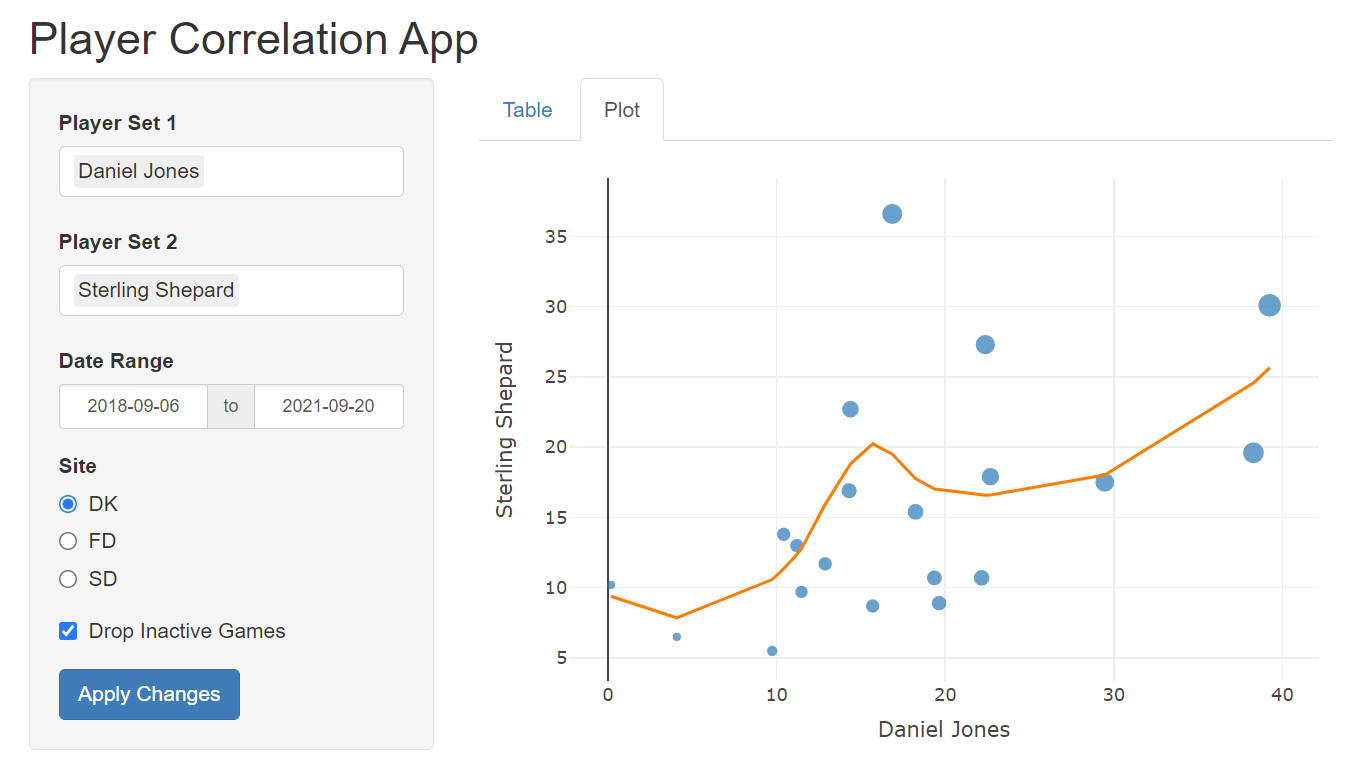 Of course we are hoping for a shootout so it would be wise to grab a player on Atlanta. Calvin Ridley seems like the logical choice but he has struggled so far this season and it could be due to the fact that Julio Jones is no longer in Atlanta. Often times Jones would draw significant attention from opposing defenses leaving Ridley in favorable matchups. Right now the Falcons don't have such a threat so Ridley is facing more double and triple coverage. That is where I feel the Falcons will finally find a way to get rookie tight end Kyle Pitts more involved. I am also eyeing Coradelle Patterson who is like a swiss army knife. He is one of the most versatile players in the league and I love what he can do for us on DK's scoring platform. Both are super affordable on both DK and FD. And don't sleep on Mike Davis. He has a high snap count and will garner close to 20 touches. Like Pitts and Patterson he is very affordable and gets involved in both the rushing and passing game.
Now that we have saved some money, let's pay up for RB. This can be a very profitable strategy since usually the highest priced RBs typically have the best fantasy outputs. That position tends to have the lowest variance. Look no other than King Henry of Tennessee. Usually he goes by the nickname DeHember given his penchant for putting up insane numbers during the last 3 - 4 weeks of the regular season. Well DeHember cometh early in 2021 after Henry rumbled for 182 rushing yards and 3 TDs last week in Puget Sound. The Colts run defense is mediocre at best and Tennessee has a golden opportunity to take full control of the AFC South given that the Colts are struggling offensively and that the Houston Texans and Jacksonville Jaguars are arguably two of the worst teams in the NFL. Tennessee is also at home so this is a definitely a statement game for the Titans. Henry is very capable of stringing together consecutive games of 150+ yards and multiple TDs and has a strong history against the Colts (see table below).

Another RB I like is Austin Ekeler. Like Henry, he is heavily used in his offense. Unlike Henry, Ekeler has never reached 20 carries in an NFL game (Henry has done that 22 times and he has been in the NFL just a year longer than Ekeler). However, Ekeler is a primary weapon in the Chargers passing attack and it's not unusual for Ekeler to be targetted 8 - 10 times per game. Just look up Ekeler's game log history and you will see that Ekeler typically has 20 - 25 touches per game which is on par with the elite RBs. Furthermore, the Chiefs have struggled against RBs since 2018, especially RBs in the passing game (see the tables below).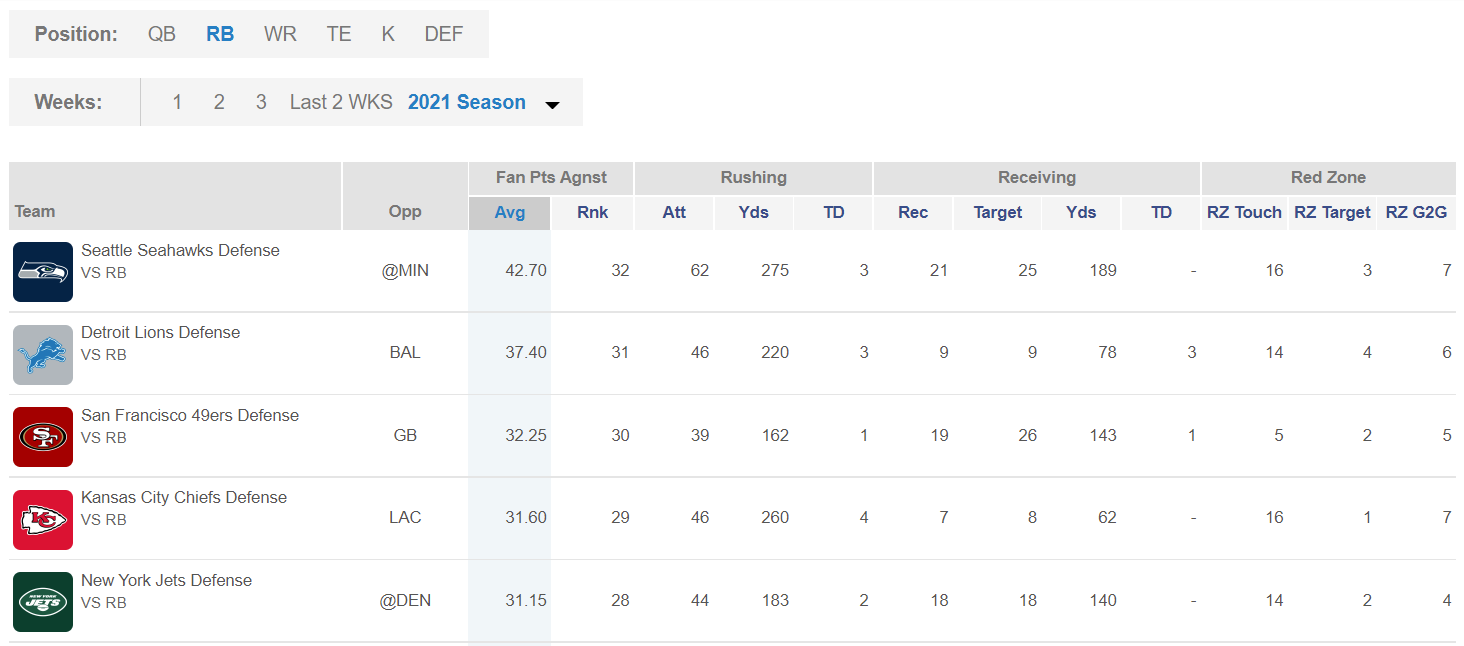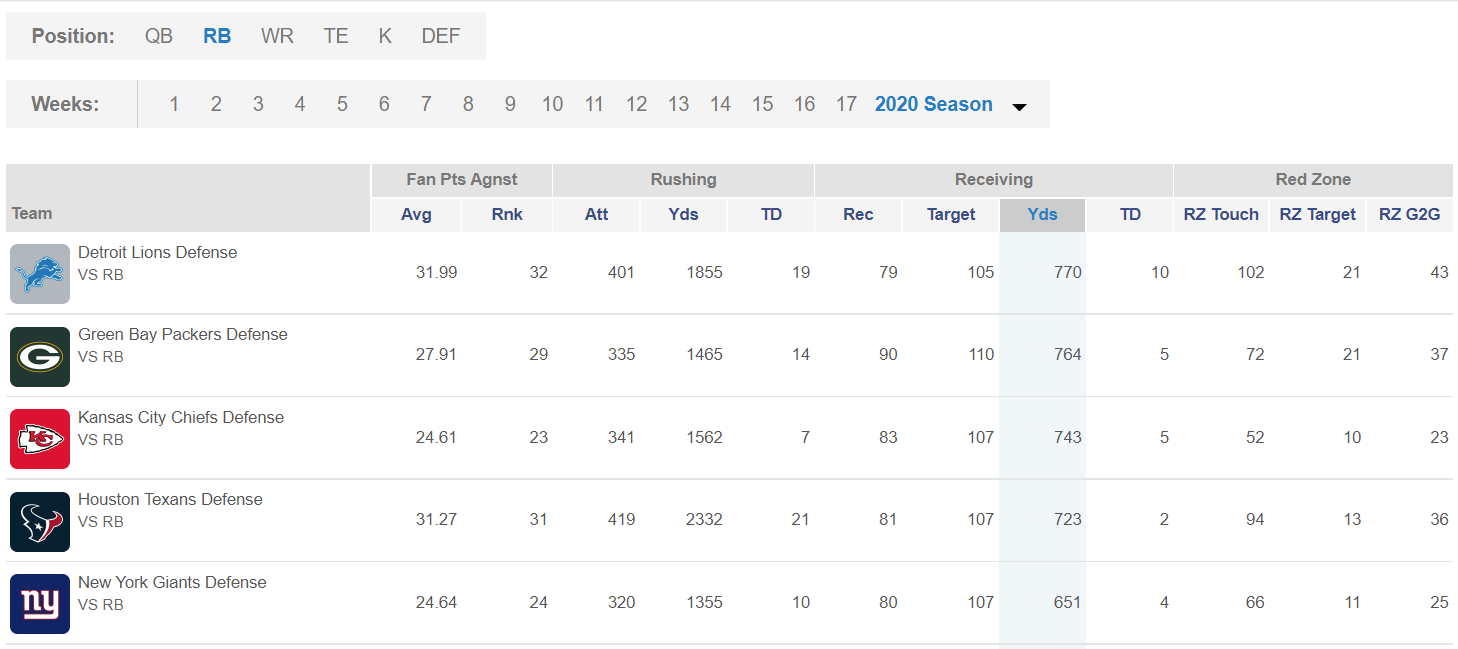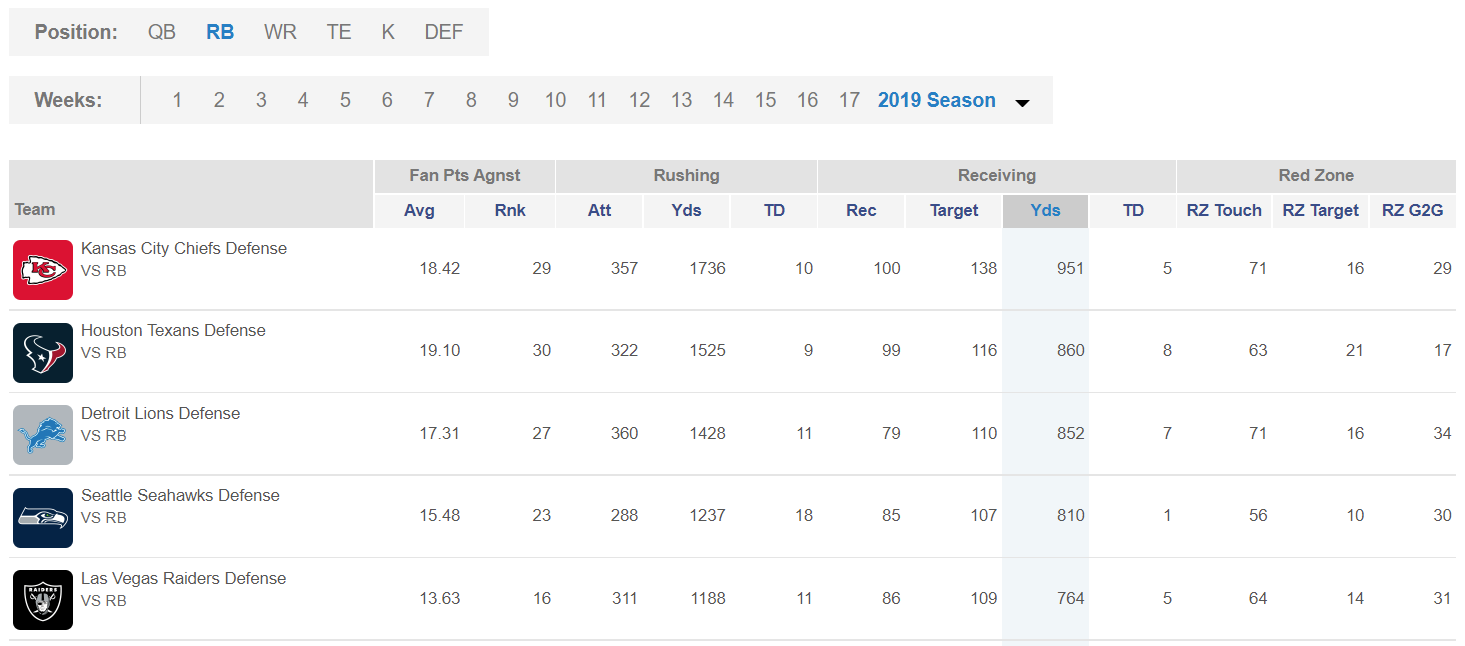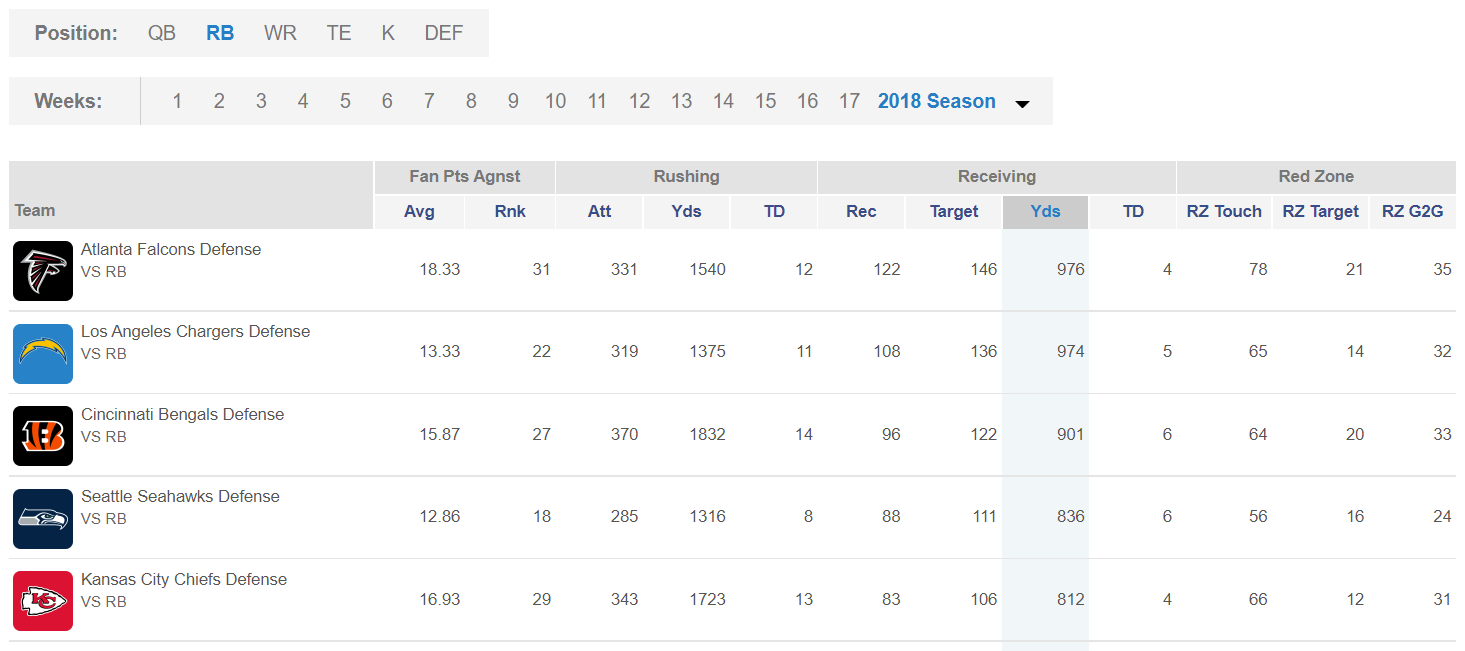 In our FLEX spot, we can use Cordarrelle Patterson or Mike Davis but I also like Ty'Son Williams. The Ravens love to run the football and there is no team worst against the run than Detroit. They have consistently ranked as one of the worst run defenses and besides for Lamar Jackson, the Ravens don't have much else for RB given the plethora of injuries they had to endure at that position right before the regular season started.
Now that we have more than half of our roster set, it's time to select a couple more WRs and figure out our DST. Don't overpay for DST this week. Tennessee is a viable option. They pair well with Henry if we expect a route against an anemic offense like the Colts. The Raiders are another great choice. Miami is going with a backup QB and the game is in Vegas which can prove to be one of the best home field advantages now that Sin City is open for business after 18 months of COVID lockdown. I simply don't trust visiting NFL players to completely stay away from all of the temptations that the Vegas strip has to offer.
Robert Woods and Tyler Boyd are two WRs you can squeeze into a DK lineup. Both will be plenty involved with their team's game script and play with other strong WRs which can help draw single coverage for them. AJ Brown can pair well with Henry since both have a decent correlation. You could even find a way to squeeze in DK Metcalf in FD given the more generous salary structure. Down below are two sample lineups for both DK and FD. Good luck today!