Big Five Picks for NFL Week 10 (2021)
We are now midway through the NFL with 9 weeks down and 9 weeks to go. Prior to this season, it was hard to tell when the midpoint of the season occurred when it was a 17-week season but much easier now with an even number of weeks! What have we learned so far? For starters, the model works. When using DVOA as the input for the linear regression model I built (using 2017 - 2019 data) and selecting the 5 games with the biggest delta between the published point spread and the predicted differential, we are 28-16-1. That is 62.2% accuracy and if you were to invest $100 on each of those 45 games, you would be up $945.45 for a return on investment (ROI) of 21%. Much better than the stock market!
Here is where things get interesting. Recently it came to my attention of a trend that can't be ignored. When a team doesn't cover the spread in its previous game and plays a team that did, the team that didn't cover winds up covering that week 69.4% of the time. You read that right. 69.4%! For example, during Week 8 Indianapolis lost at home to Tennessee 34-31 and the Colts were a +1.5 underdog. The NY Jets upset the Cincinnati Bengals 34-31 (total coincidence that the score was the same as the Colts-Titans) when they were a 9.5 point underdog. On Thursday Night Football for Week 9, the Colts beat the Jets 45-30 and covered the -10.5 spread.
There have been 62 games so far that have satisfied the conditions for this trend which means 43 times the team that didn't cover in the previous week eventually covered the following week. If you were to bet $100 on each of those 62 events, you would be up $2,009.09 for a 32.4% ROI.
Now if you really like to gamble, what if you did money line bets on the teams that were underdogs the week after not covering and facing a team that had recently covered? A great example would be the Jaguars upsetting the Bills last week as a 14.5 underdog and a money line bet of +800. The Jaguars were dominated in Seattle the week before while the Bills took care of business against Miami with a 26-11 victory. I know it's risky to make such bets but hear me out. Of the 62 events that have satisfied this cover/no cover trend, 36 of those teams were underdogs. The underdogs outright won the game 15 times. Not a great percentage of 41.7%. However, money line bets don't have any juice to the sportsbook and you get a payout significantly higher than even money. If you do a bit of research (like yours truly) and bet $100 on each of those games, you would be up $1435 for a ROI of 39.9%.
Finally, this latest data trend will blow your mind! What if we combine my linear regression model with this cover/no cover trend? There have been 36 games where my model confirmed the team that should cover after a week of not covering (of course when facing a team that covered the previous week). Of those 36 teams, 28 of them covered. 77.8% accuracy. Profit of $1745.45. ROI of 48.5%!
Like any wise financial advisor, you follow the trends and use good modeling skills to confirm those trends. Also, it's best to be judicious with your wagers. The sportsbooks do well because there are so many bettors who like to throw money to the wind just to get action on the game. The four major North American sports leagues know this which explains why they have forged partnerships with companies such as DraftKings and FanDuel. With the legalization of sports gambling in more than half of all US States, fan engagement is very high when you can bet on any game you want using your mobile device. However, don't fall for this trap. Let's be shrewd and when all the stars line up, then place your bets.
So how do the stars line up for Week 10. Check out the table below which shows my model's output and how the teams fared the previous week against the spread.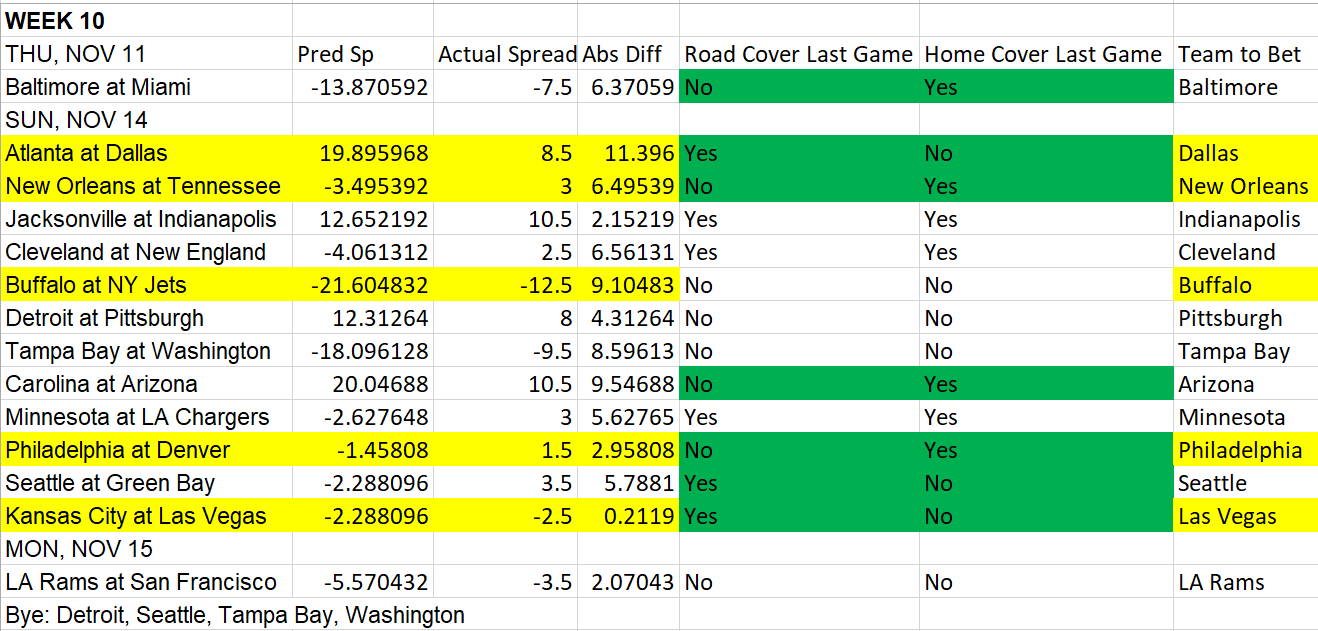 You will see that there are 5 games that check off all the boxes: model loves them and they follow the cover/no cover trend. Unfortunately Baltimore lost on the road to Miami. The model had Baltimore winning by nearly 2 TDs and they did not cover in Week 9 while Miami did. Keep in mind that no betting technique is perfect but don't let that deter you. Without further ado, here are the Big Five Bets for Week 10.
Dallas -8.5
This one is a no brainer. Dallas is much better than Atlanta. The Falcons are riding high after a road win in the Big Easy. The Cowboys need a "get right" game after losing by 14 points to Denver at home. The model loves the Cowboys to win by nearly 20 points. Perhaps Dak Prescott was feeling a bit gun shy after coming back from injury but he should be fine with a clean bill of health for Week 10 (his RBs and WRs are also fully healthy). The next fact should also make you feel better about betting on Dallas and eating some chalk: Dallas ranks 4th in Pass Offense DVOA while Atlanta's Pass Defense DVOA is 5th worst. I expect the Cowboys' aerial attack to slice and dice the Falcons' secondary all day. Prediction: Dallas 35 - Atlanta 14.
New Orleans +3
Betting against Tennessee this year has been tricky. Sometimes they falter against a team like the Jets and then they go into Los Angeles without Derrick Henry and not just win but dominate a Super Bowl contender on national TV. Don't you love the fickle nature of the NFL! Well, let that fickleness continue in Music City! The Saints are the epitome of parity in the NFL. One week they kick ass and the next week you are left scratching your head. Maybe this cover/no cover trend holds water because teams who cover the previous week (probably a big win) are flying high and may overlook their next opponent while the team that didn't cover (probably a shocking loss) are motivated to quickly rectify flaws in their game. I can go into deep analysis with this matchup but let's not over think it. Just follow the model and trend. Saints win on the road 23-20.
Buffalo -13
With this game, I am just sticking with the model. Buffalo is a young team so there will be hiccups along the way. Keep in mind that this team had two impressive shutouts this season and pretty much laid the smack down against the Chiefs at Arrowhead Stadium on Sunday Night Football earlier this season. The Jets have had two nice wins this season against playoff quality competition and a couple of close ones but they also have lost 4 games this year by at least 2 TDs. The Bills have the personnel to expose the Jets' weaknesses which pretty much is everywhere. The Jets have QB issues and defensively they can't stop anyone. Even in the games the Jets won, the defense still played poorly. It was really the opposing defense not giving any respect to the Jets's offense. The Bills' defense is outstanding with the best Defensive DVOA in the NFL while the Jets' Offensive DVOA is 6th worst. I fully expect the Bills' offense to let out a lot of frustration after scoring just 6 points last week. They won't show any mercy in the Big Apple. Bills crush the Jets 31-10.
Philadelphia +1.5
This is a tricky one so I am simply following my model and the cover/no cover trend. The Eagles' offense has been strong scoring at least 21 points in every game this year except during Week 2 against the 49ers. Also, the Eagles have been decent defensively allowing just 6 points each to Atlanta and Detroit (both on the road). The Broncos are no slouches with a 5-4 record and a couple of nice wins: 26-0 shutout against the NY Jets and last week's impressive 30-16 road victory in Dallas. However, the Broncos offense can stall at times. There have been 4 instances when they have not scored 20 points and they have only reached 30 points just once. On paper, the Eagles have the talent to win on the road and that is what we will predict. Eagles win a nail biter at Mile High: 26-25.
Las Vegas +2.5
Tight divisional matchups are never easy to predict, especially when it involves the Raiders. They are the epitome of a true wild card. Some days they look impressive and other days you wonder if they could lose to the top college football team. There are a couple of things working for us besides the model not liking KC all that much and the cover/no cover trend. The Chiefs are not the same team as the last 3 years. They are not covering and just look out of sorts. Mahomes is running for his life and the defense is awful. The other thing that helps us with our Raiders pick is that the Raiders are at home and they are getting points. Take a step back and consider the following: the model likes Las Vegas, the trend likes Las Vegas, the Chiefs can't cover, the Raiders are at home, and the Raiders are getting points. Las Vegas it is BABY! We will go with a Chiefs' 27-25 win in Sin City but we will gladly take the cover.
If you are looking for betting strategy, avoid the parlays. Just do big single game bets on Dallas, New Orleans, and Buffalo but consider a money line play for New Orleans. Then press your winnings on Philadelphia (might as well take the points) and let it all ride in Las Vegas! What better way to end a big gambling day than betting on the team from Vegas!