Happy daylights savings everyone! I must say that it will be nice to finally see some sunlight around 6 AM instead of 7 AM. It's also nice that I can share some of my DFS thoughts with enough time to mull our decisions before kickoff (unless you use a day like this to keep staying in bed!).
I won't beat around the bush too much here since we have a full family day in our household with my son's birthday. Here is the NFL DFS QB analysis I ran last night.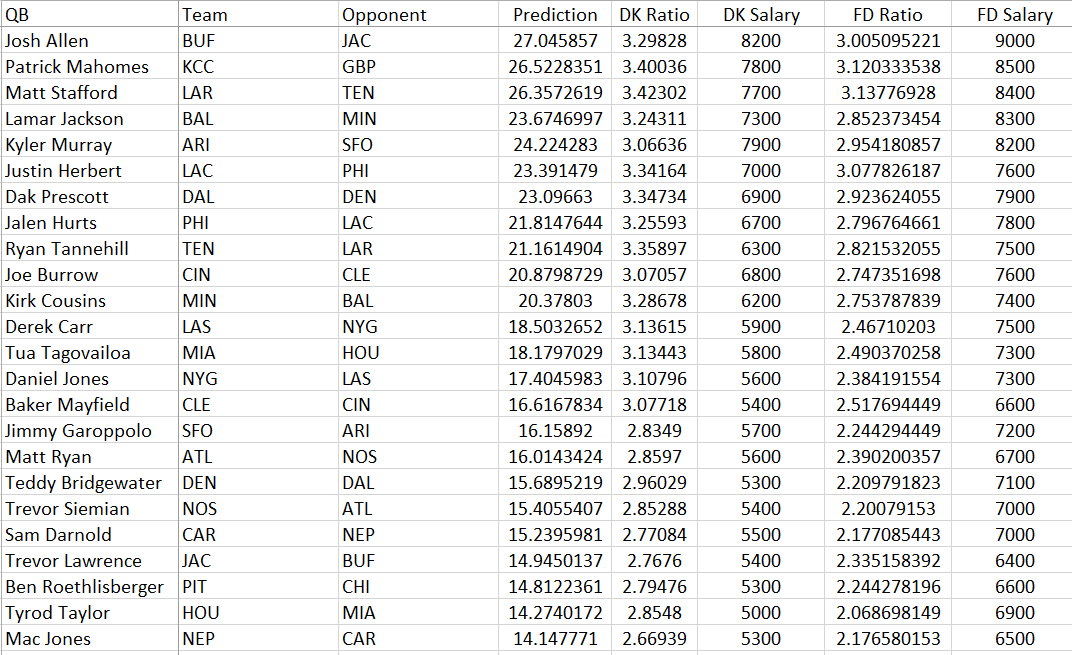 As expected, Josh Allen is at the top of the list. He gets a cupcake matchup against Jacksonville and my point spread model has the Bills winning by 25 points. Allen should feast on arguably the worst defense in the NFL. My concern is that the Bills beat Miami 35-0 during Week 2 and Houston 40-0 during Week 4 but Allen's numbers were subpar in both of those games. That is because the defense did the heavy lifting and the blowout meant that Allen didn't have to do too much in the 2nd half to preserve the lead. Same thing can happen today so buyer beware.
A better route to success if playing any of the Bills players is to roster Stefon Diggs. He is due for some positive regression and the Jaguars can't cover anyone. Just look at what Tyler Lockett and DK Metcalf did to Jacksonville last week. The 3 point bonus on DraftKings (DK) for 100+ yards receiving should be nice. I can see Diggs popping off for 10+ receptions, 140+ yards, and at least 1 TD. Do the math and you are looking at around 33 DK points and 25 FanDuel (FD) points. Given Diggs' favorable pricing on both DK and FD, that is over 4x value on DK and over 3x value on FD. That is a nice anchor to have for your DFS lineups today.
I am also liking Marquise Brown. He is super cheap on DK and has been dominant with air yards yet again. The Vikings are a mediocre defense and can easily be beat on the outside. Like Diggs, the DK scoring will do Brown a huge favor should Brown exceed 100 yards. Maybe no TDs for Brown but let's say he gets a huge 60 yard reception with 4 - 5 other receptions for another 80 - 90 yards. We are now looking at 6 receptions and 150 yards. That adds up to 24 DK points or 4x value. On FD, I would stay away from Brown. Without any TDs, you get 18 points and at a price tag of $7700 on FD ($100 more than Diggs but he is $1600 cheaper than Diggs on DK) the value is not great.
Another WR I am eyeing is Brandin Cooks. He is another air yard monster and now he gets Tyrod Taylor back. The Dolphins secondary is very beatable and Taylor has a chance to showcase his skills should the Texans opt to keep him past this season or for another team to sign him for next year. Taylor is a huge upgrade compared to Davis Mills and should be able to hit Cooks for a few significant gains. Cooks pricing is favorable on both DK and FD.
Speaking of favorable pricing, let's go back to QB. You can tell by now that my DFS build is heavily focused on WR since I think we can find some bargains at RB. If you are feeling me on both Brown and Cooks, I suggest you pair them with either Lamar Jackson or Taylor. Both have strong running ability and should put up strong numbers today. Ownership could be high on Jackson but I am sure it will be suppressed for Taylor since Houston is not on many DFS players' radar. The pricing on Taylor is very nice on DK (just $5000) which enables you to pay up for WR and other positions.
Two other QBs that look intriguing are Justin Herbert and Patrick Mahomes. Like Diggs, they are due for positive regression and both get solid matchups in games that each could become shootouts. As you know by now, I love the afternoon hammer as those stacks can propel you to the top of the standings thanks to lower ownership and high production. If you go with Herbert, pair him with Keenan Allen since Darius Slay might cover Mike Williams. As for Mahomes, I would prefer Travis Kelce over Tyreek Hill since the Packers are more beatable in zone coverage which is where Kelce excels. Plus, it helps to be somewhat contrarian.
Tight end is tricky at times since Kelce is pricey and so is Mark Andrews who correlates well with Lamar Jackson. However, there are two bargain plays at that position: Tommy Sweeney of the Bills and Albert Okwuegbunam of the Broncos. Both should have a high percentage of snap counts given that the typical starting tight ends for both of those teams will be out due to injury/COVID. The pricing is so low for both players that as long as you get 2 receptions for 40 yards and 1 TD, you are already at 4x value on DK and nearly 3x value on FD.
If you wish to find some middle ground at tight end, I would suggest Mike Gesicki of Miami who can be a nice complement to your Taylor/Cooks stack. Gesicki has been a reliable pass catcher for Miami regardless of the QB and his pricing is very reasonable on both DK and FD. Plus the Houston defense is awful!
Now, how about RB! There are plenty of options that are reasonably priced. I am liking these four RBs: Devontae Booker, Darrel Wiliams, Elijah Mitchell, and Myles Gaskin. All of them are under 6K on DK and under 7K on FD (with exception to Mitchell who is at $7100). All of them also should have at least 20 touches (both carries and receptions) and all of them are at home in games that they can easily win. Game script is huge when considering your RBs. You could pay up for Alvin Kamara or Christian McCaffrey (who is finally back!) but what if New Orleans blows out Kamara and the Saints decide to take it easy on Kamara. Of what if Carolina gets caught up in a slugfest with New England, a team that is playing solid defense. I also bet that McCaffrey will be on a limited snap count just so he doesn't aggravate his hamstring injury. McCaffrey's pricing on DK is alluring since he is rarely as low as $8000 but like Allen of the Bills, buyer beware.
For defense, don't mess around. The Saints is the play and pricing is right on both DK and FD. Three times this year the Saints have exceeded 15 DK points which is already at 4x value given the Saints current DK pricing of $3700. Keep in mind that the Saints defense scored 15 DK points against Green Bay, New England, and Tampa Bay, all three very good teams. Sometimes I feel the Saints will play down to the competition but given that the Saints run defense is very good and that the Falcons cannot run the ball at all, the Saints should be able to dial up some blitzes on Matt Ryan who will be without Calvin Ridley. Saints defensive coordinator Dennis Allen is great at what he does and is a big reason why the Saints defense has been ranked in the top 5 in most metrics for the past few years.
There you have it! You have quite a bit to chew on. Some of the sample lineups below should help. I am not stuck on just 1 QB today so you have some options. Good luck!