NFL Thursday Night DFS - Week 11
After snapping my cold spell this past Monday Night, I am feeling galvanized to start a winning streak and that of course starts this Thursday with a potential high scoring affair between two of the best offenses in football: Arizona and Seattle. In my most previous article, I discussed Seattle's historic run with the points scored/allowed record. The possibility of Seattle breaking that record took a nosedive last Sunday when the Rams dictated the tempo with a 23-16 victory creating a 3 way tie for first place. Still, Seattle and Arizona are poised to put up a barnburner type of game to kick off Week 11 and Seattle is back home where they are 4-0. Typically teams who play on Thursdays will simplify the playbook given the quick turnaround from the previous Sunday. I like to label such games as "backyard football" and I cannot think of two better teams for such a contest.
On Monday Night Football, I discussed my rationale for playing three lineups with Dalvin Cook, Adam Thielen, and Justin Jefferson as Captains on DraftKings (DK). All three had multiple dominant games for the Vikings this season and fortunately two of my lineups reached the cash line. I will take a similar approach for Thursday Night Football and of course use the player correlation app on the Advanced Sports Analytics (ASA) site. The link is below.
www.advancedsportsanalytics.com
Before I share the correlation analysis, let's take a look at the past DK results for the key players on Seattle and Arizona. I organized those performances in the table below. The highlighted cells represent the strongest performances for each team in a given week.

You will see that placing either QB in the Captain slot is the way to go. After all, Russell Wilson and Kyler Murray are both very dynamic QBs who can put up video game like numbers. You could make a case for the top pass catchers for either QB as Captain on DK. Lockett and Metcalf both have had monster games this season and Hopkins is very capable of a slate breaking performance. Of course we will need to monitor Lockett's injury status. It seems that the swelling in his knee hs not subsided. In one way, I hope he doesn't play since it means I don't need to run as many lineups but in another way I want him to play since he is cheaper than Metcalf and Hopkins.
Let's now break down the correlations for both Seattle and Arizona (only for the 2020 season).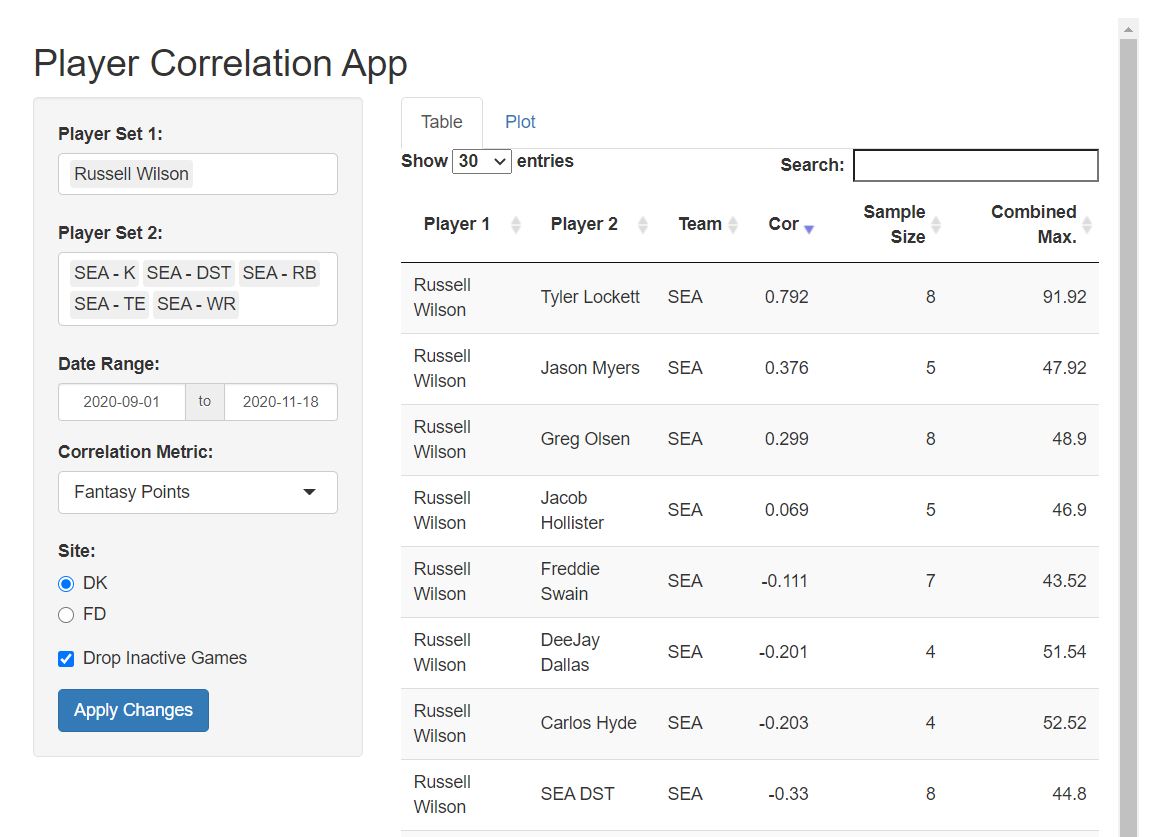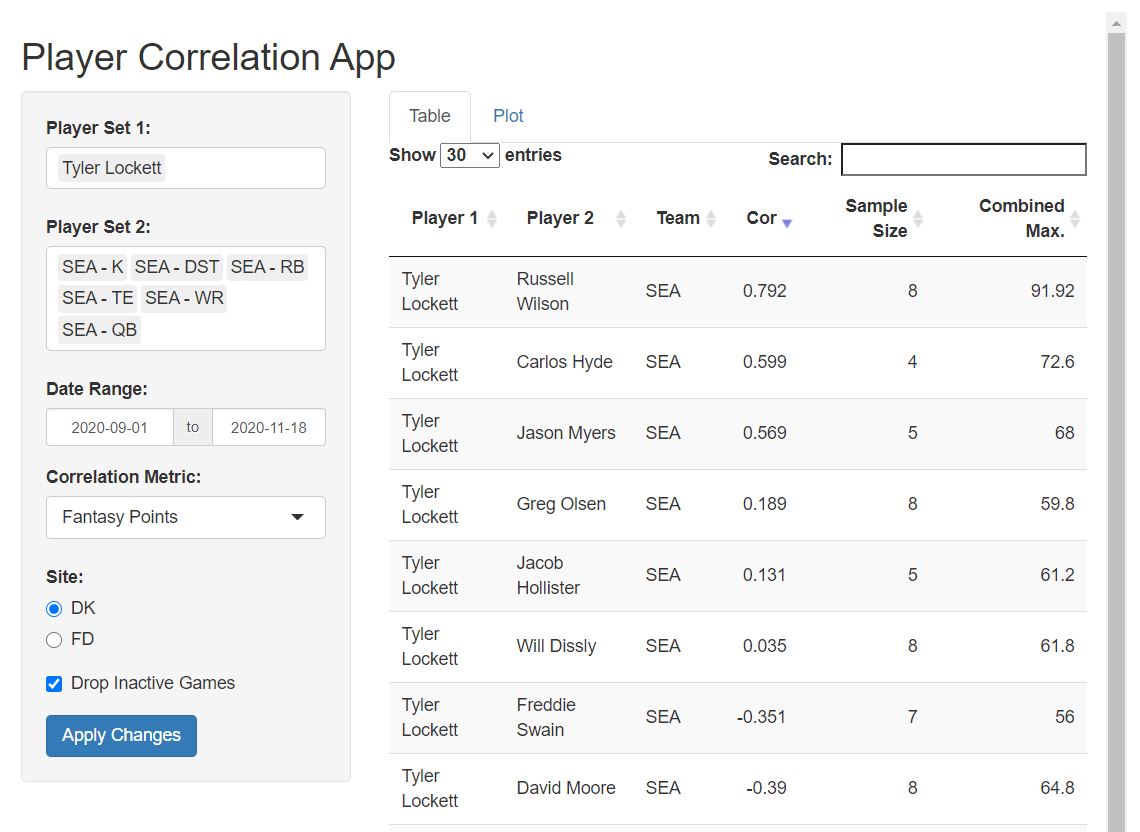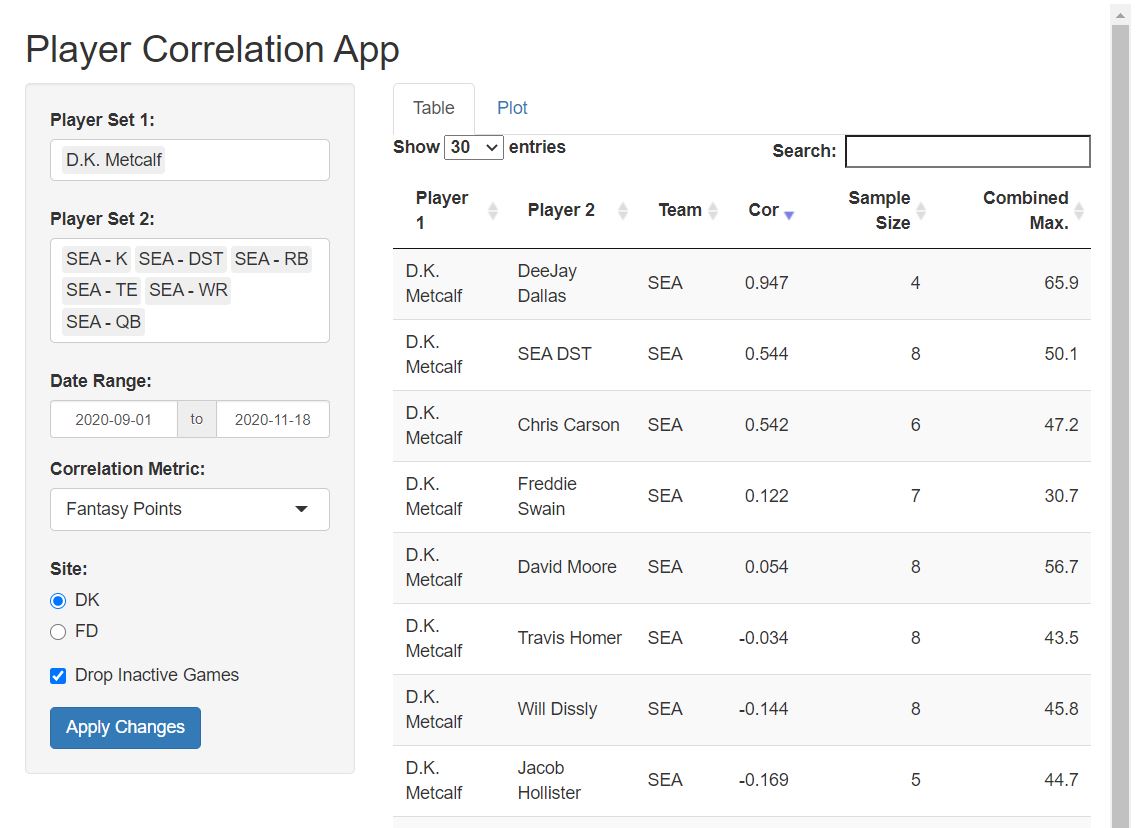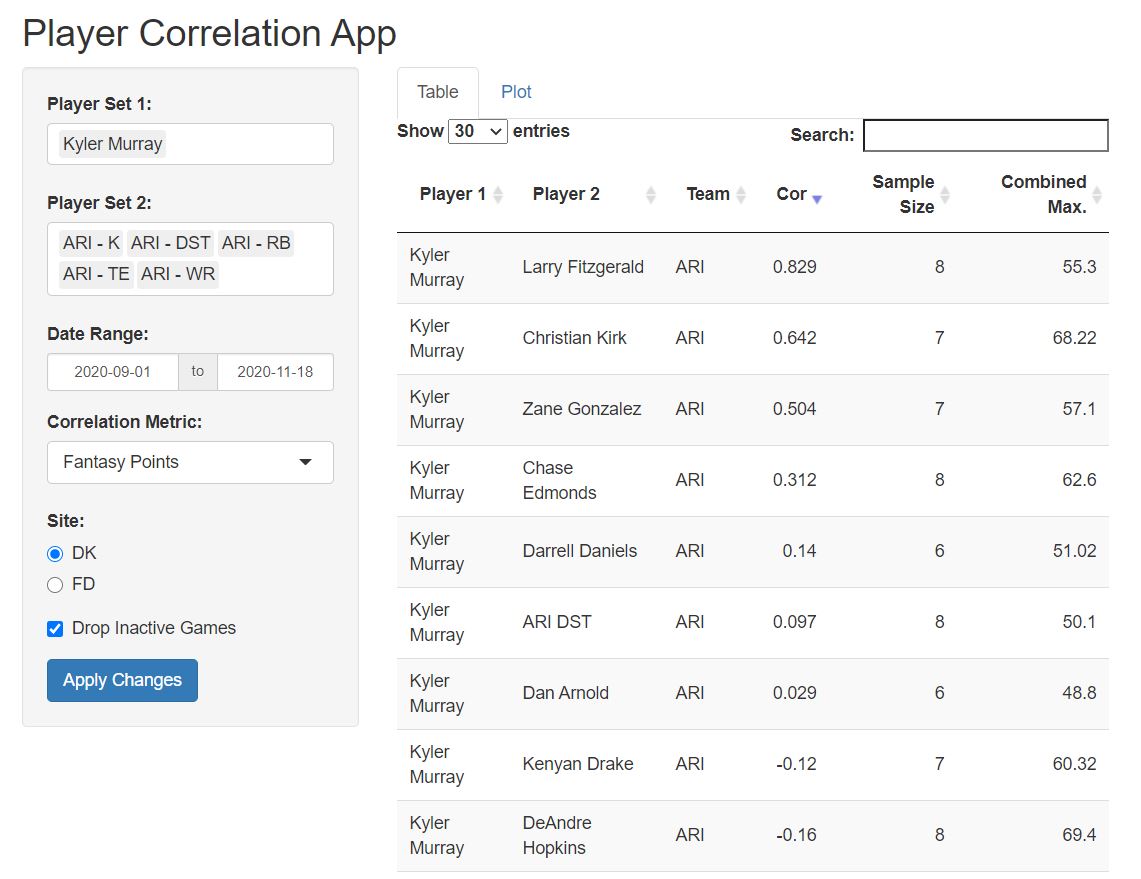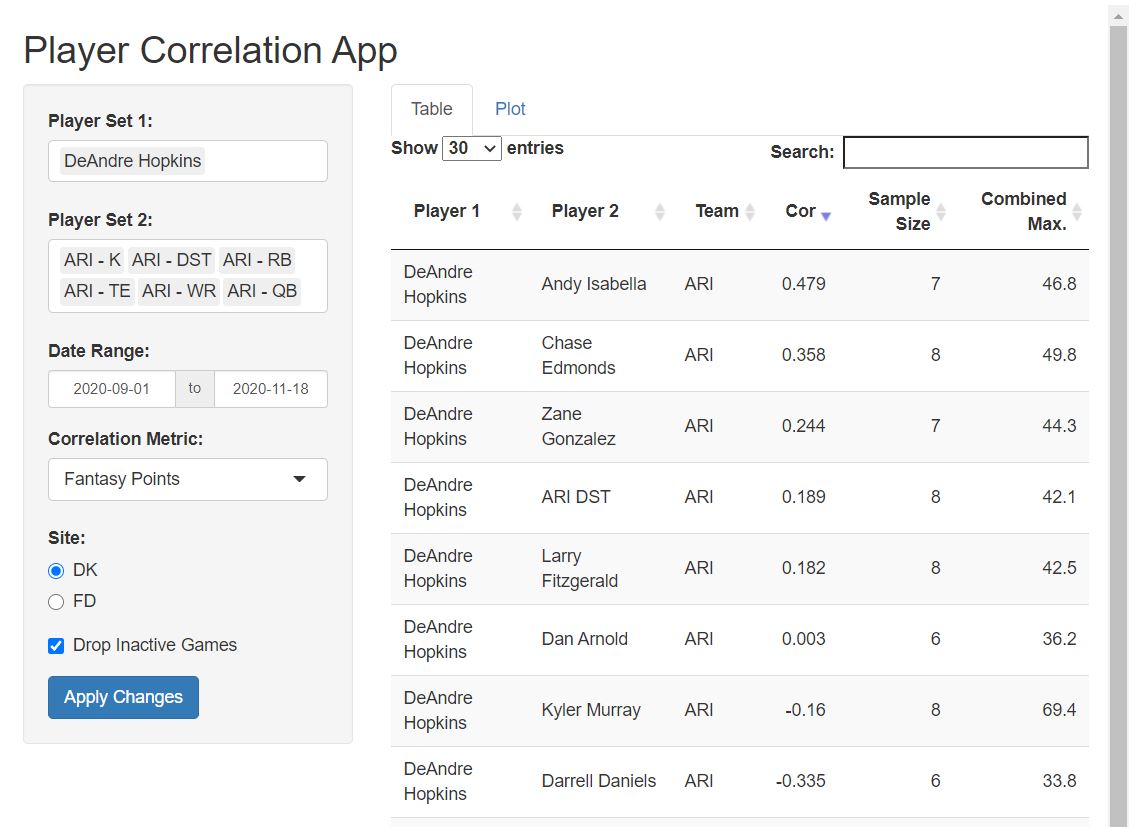 You will find that Wilson and Lockett correlate very nicely. Oddly Metcalf is kind of a lone solider. When he does well, no one else in Seattle has a strong game. Still, if I am putting Metcalf in the Captain spot, I want Wilson in my lineup. Murray does not correlate well with Hopkins which makes sense. Murray likes to run the ball and can be a TD vulture in goal line situation. However, if Hopkins is my Captain, I will try to squeeze in Murray. The kickers for both teams look like excellent choices. Each of them are cheap and capable of a 2.5x or 3x night. If each team puts up 30+ points like the last time they played, you can bet that there will be 4 TDs and 2 FGs for each kicker. That would equate to at least 10 DK points. Remember, the best kickers play for the best offenses. Don't overthink it.
For example, one potential lineup could involve Murray as Captain and three players with the strongest postive correlation: Larry Fitzgerald, Christian Kirk, and Zane Gonzalez. We would then need some Seattle players but who? Check out the correlation with the opposition for Wilson, Lockett, Metcalf, Murray, and Hopkins.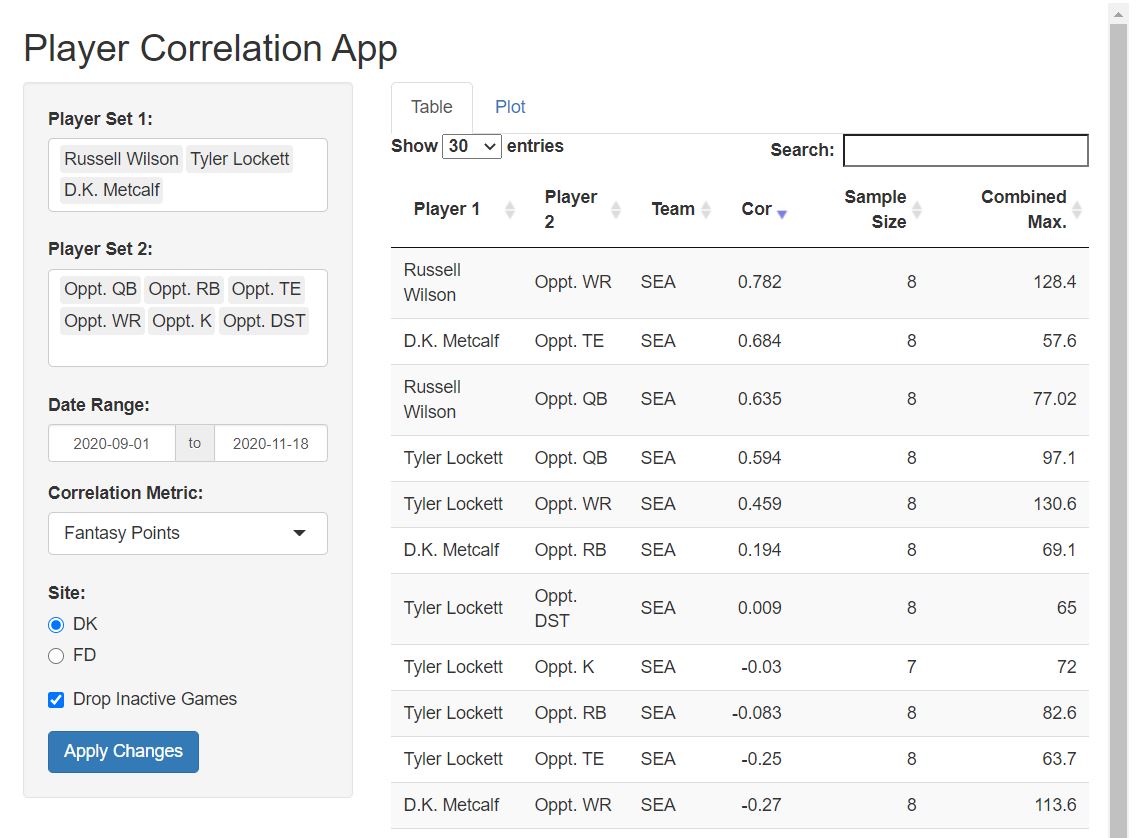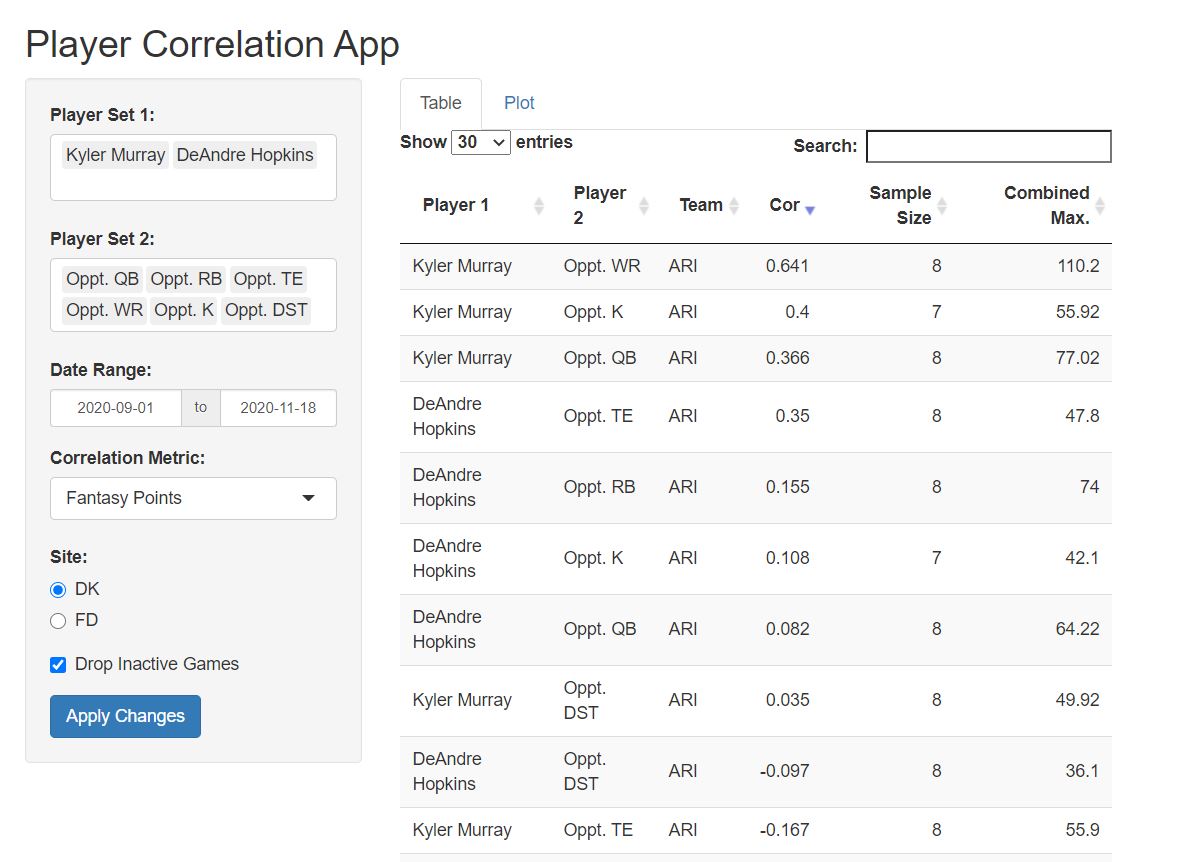 This is why I love NFL DFS! You try to find the right puzzle pieces to build the best lineup possible. Again, if I go with Murray as Captain and roster Fitzgerald, Kirk and Gonzalez, I could use the reaming $14,500 salary on the top Seattle WR and the Seattle kicker. I can easily fit in Metcalf and Jason Myers and of course Murray has a strong positive correlation with the opposition's WR and kicker.
What about Wilson as Captain? It seems that Lockett won't play but let's assume he does. You can do Wilson with Lockett, Myers, and Olsen (the top 3 Seattle players who correlate well with Wilson). Like Murray, Wilson has a high correlation with the opposition's WR so Hopkins is a natural choice. You can then do Gonzalez. There is a decent correlation there.
Then we have our lineups with WRs in the Captain spot. That is where the fun begins. Of course we will pair the WR with his QB but do we try to get the opposition's QB? That seems to be true for Lockett but not Metcalf and Hopkins. The opposition's WR would seem to make more sense but why not the oppostion's RB? That would be contrarian and we should not forget about them. Plus they are cheaper options. I would still use both kickers in each of my lineups since you are getting a guaranteed 20+ points with a combined salary of $8200.
Here are some sample lineups for DK and, again, we will assume that Lockett plays. If Seattle announces today or tomorrow that he is out, I will definitely update my Twitter feed with new lineups. I will most likely lean towards Chris Carson since he is due to come back and was putting up good numbers prior to his injury.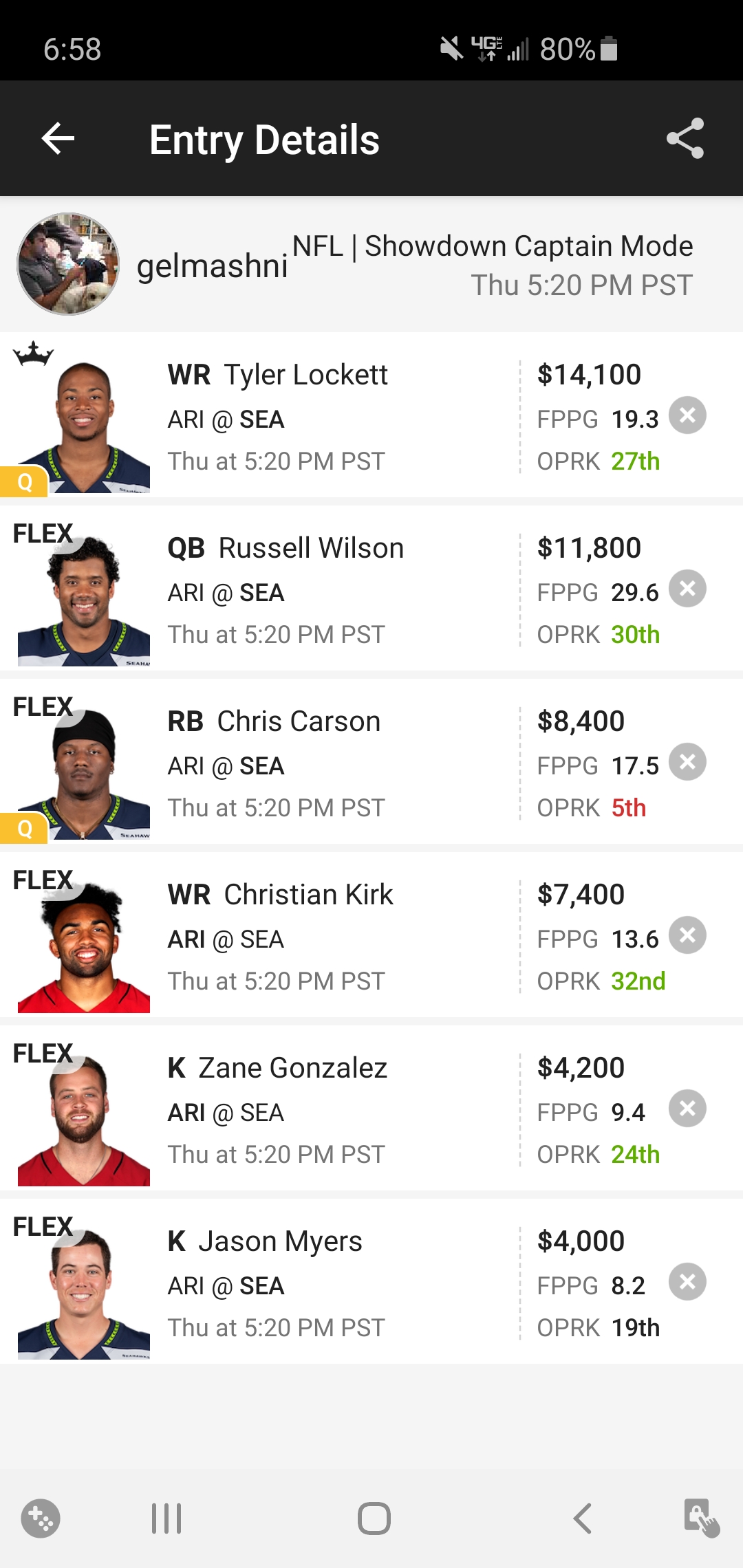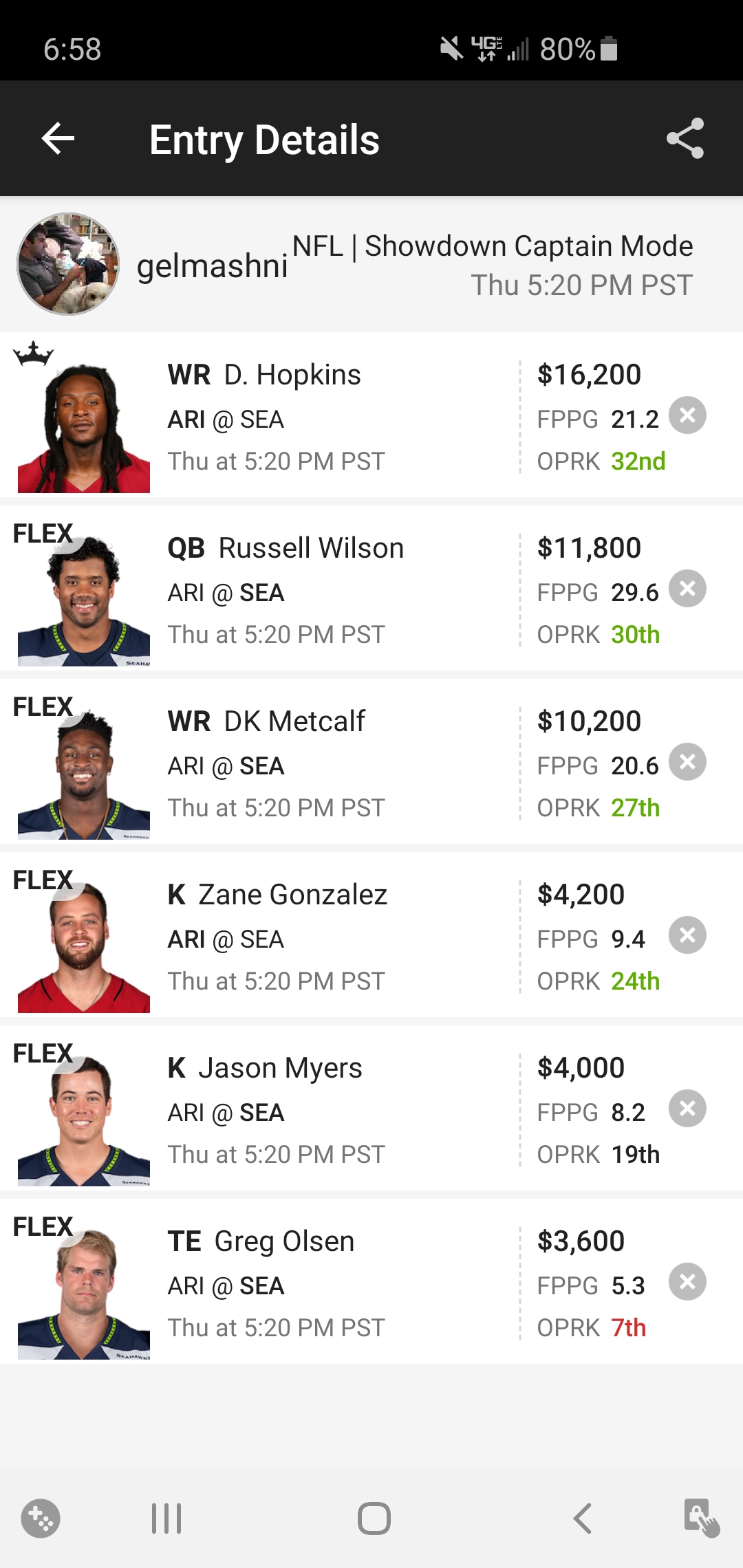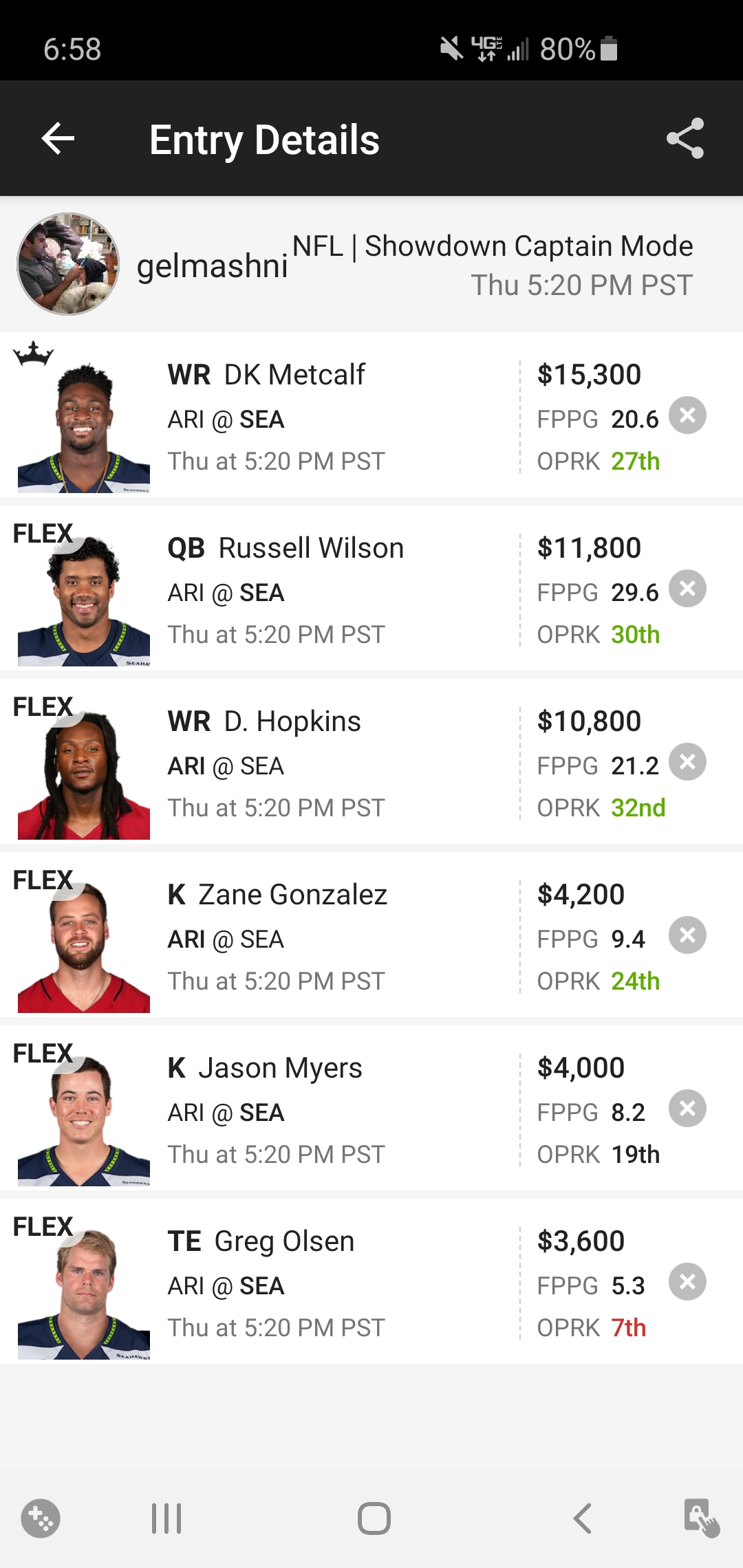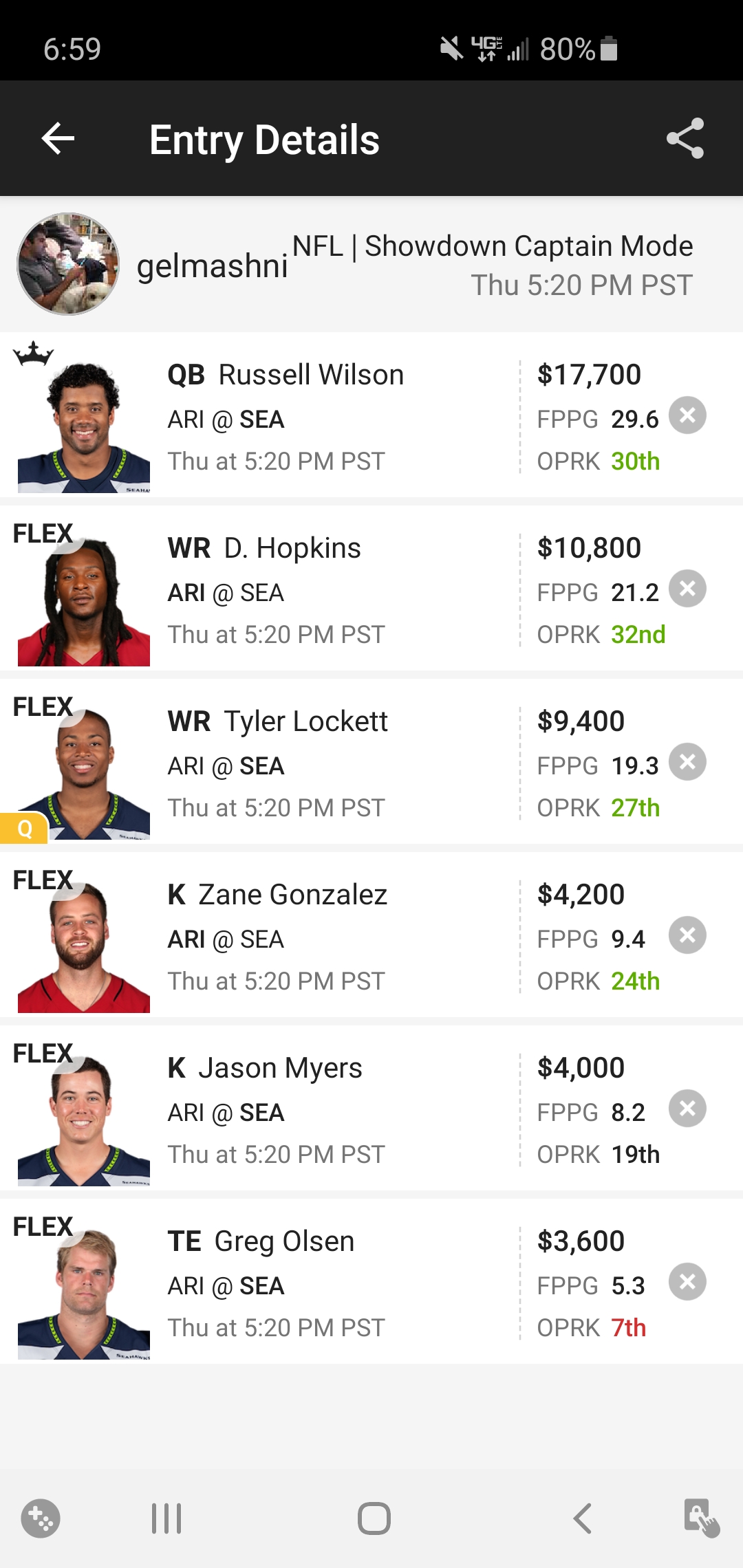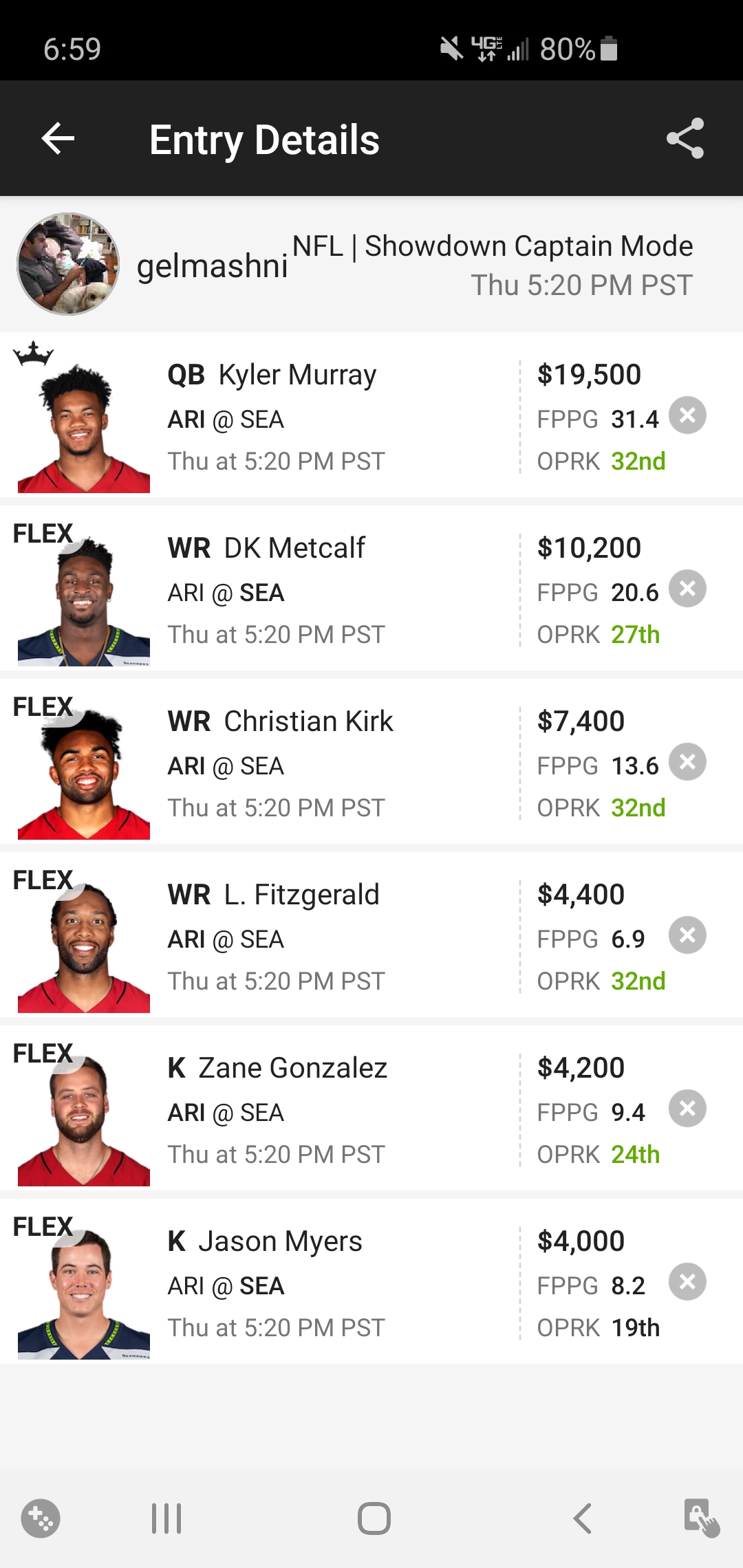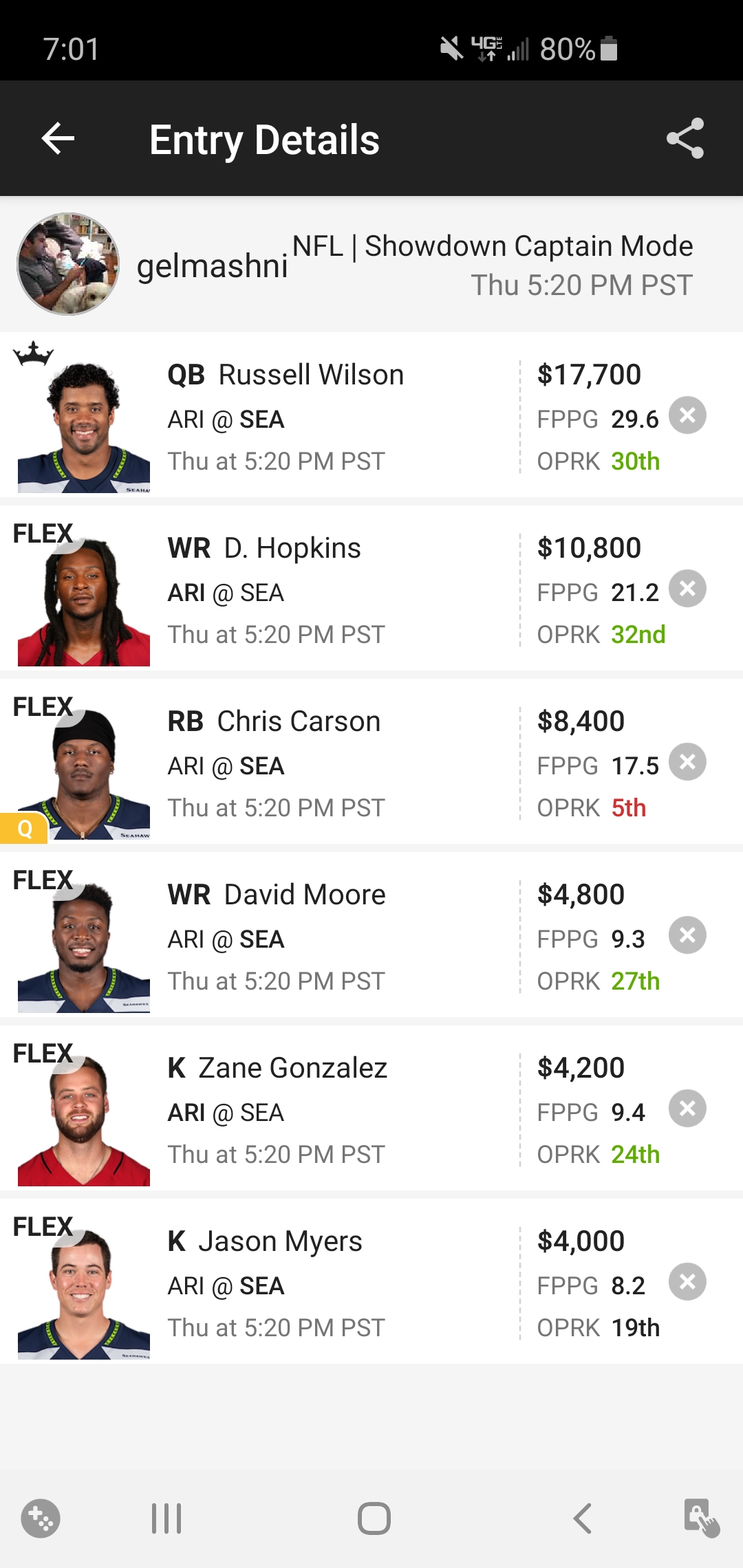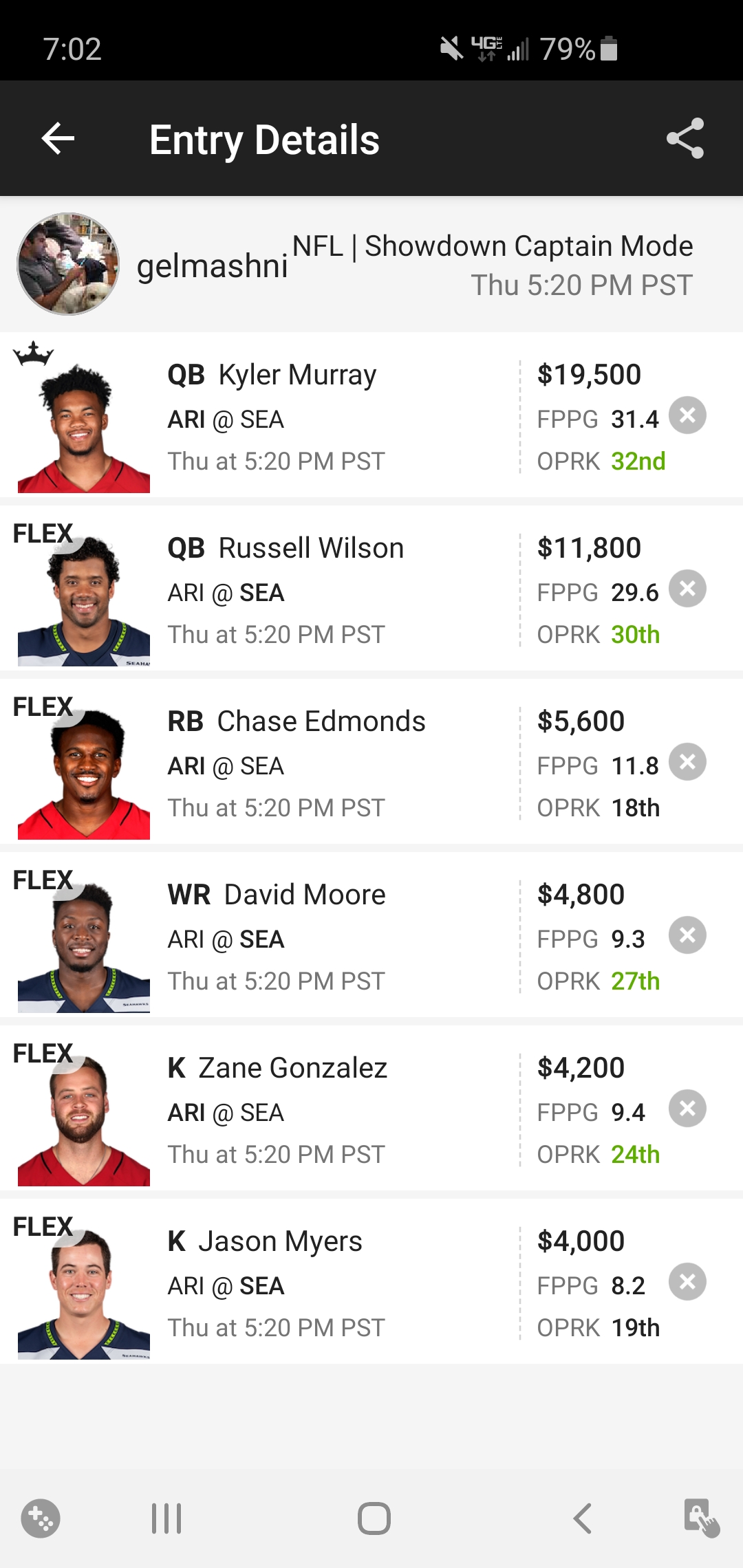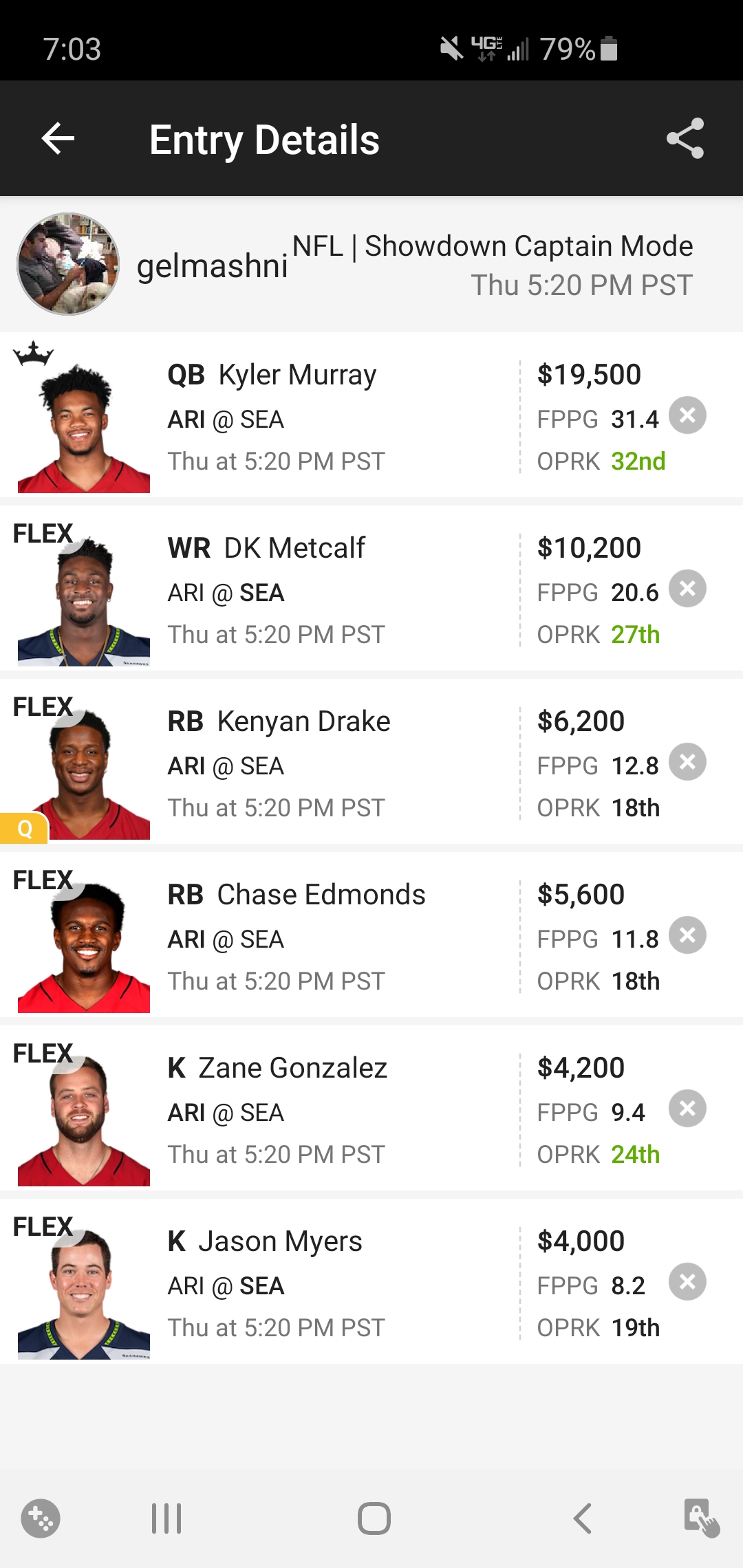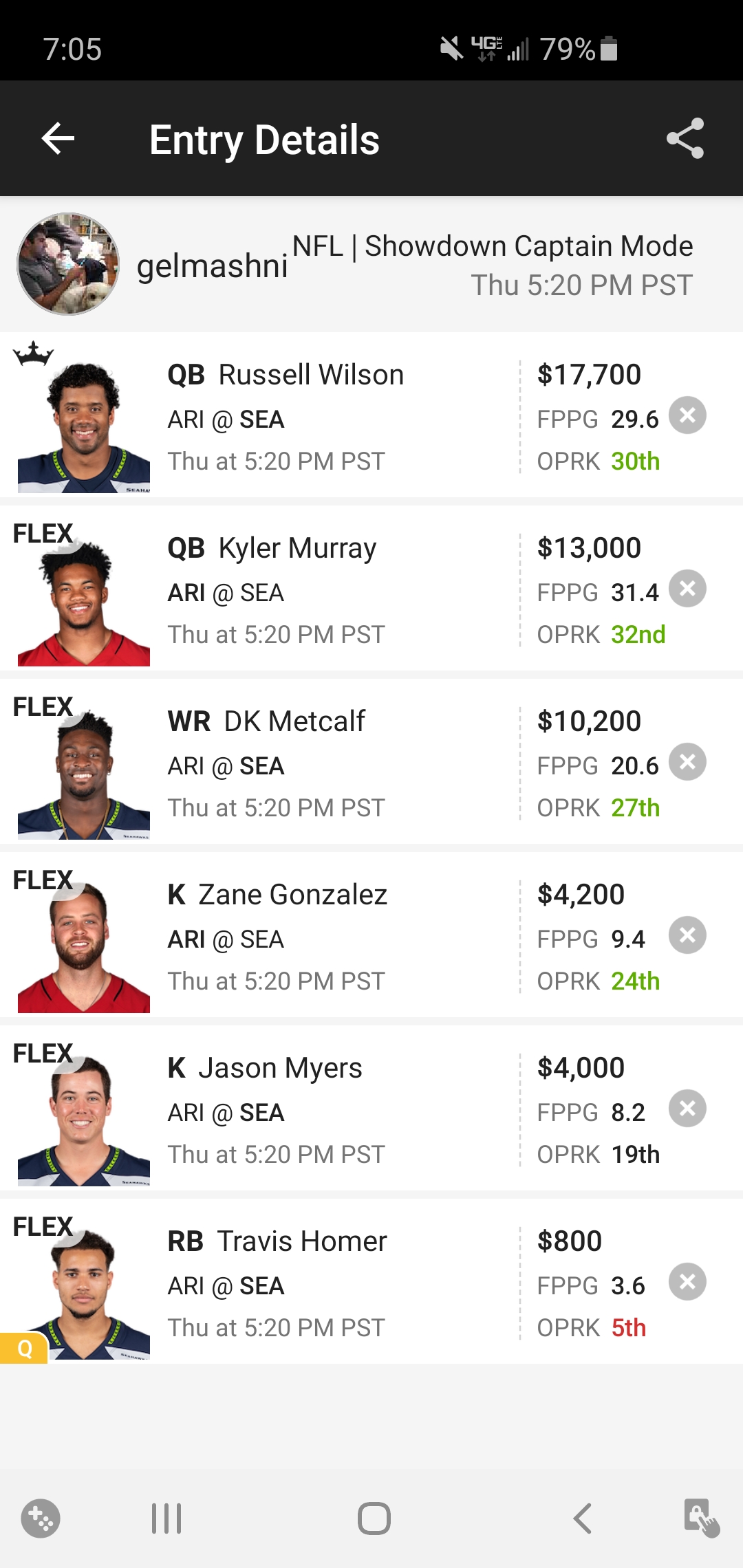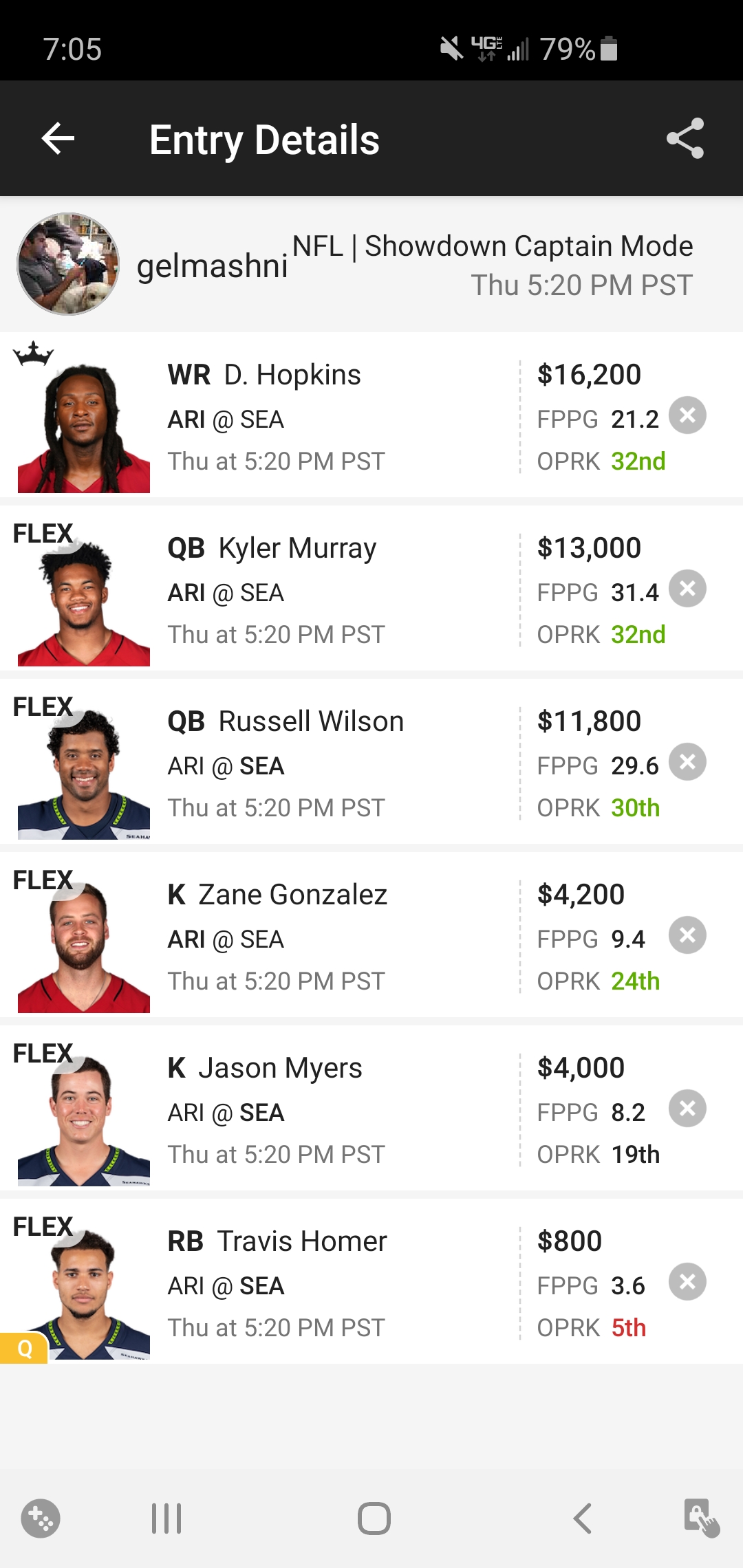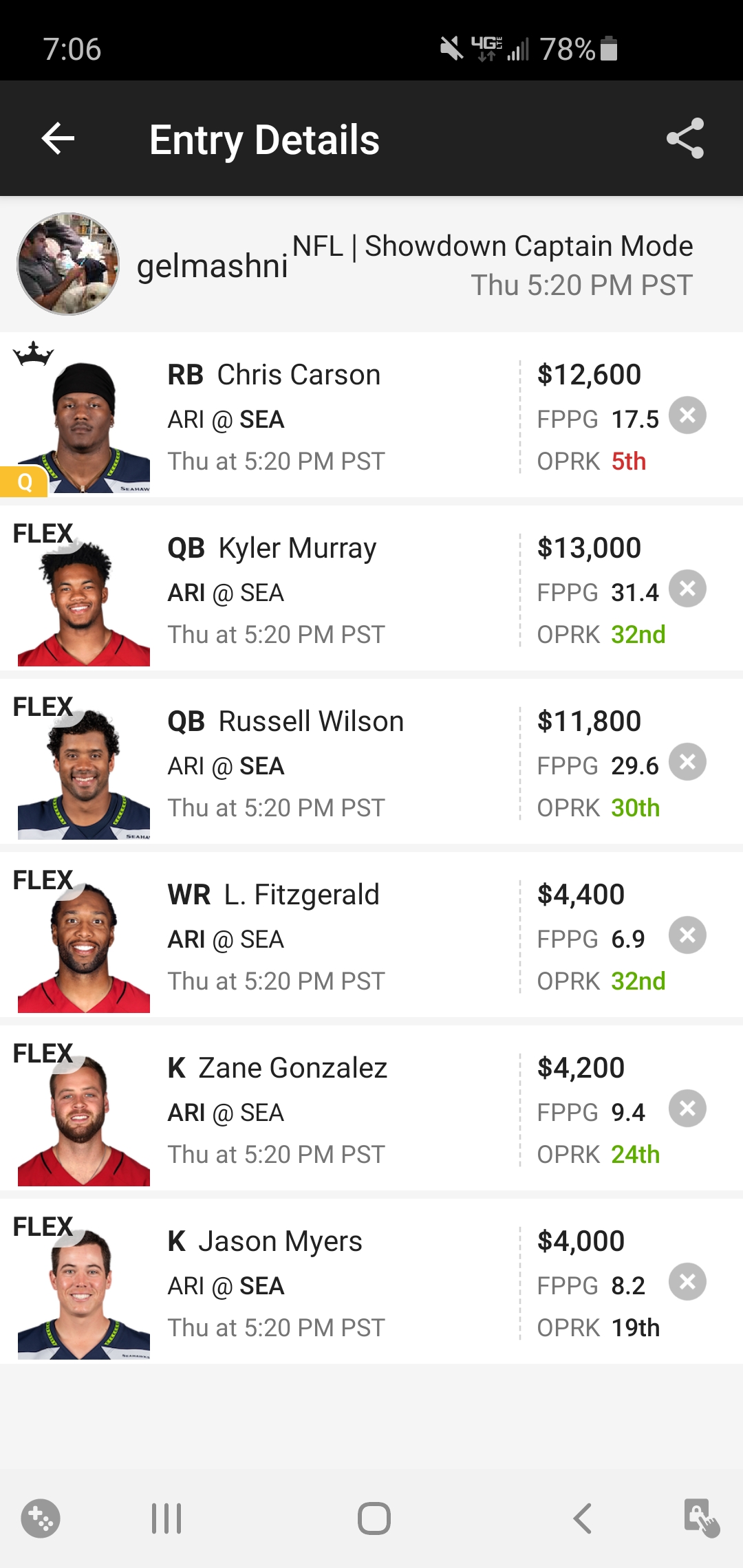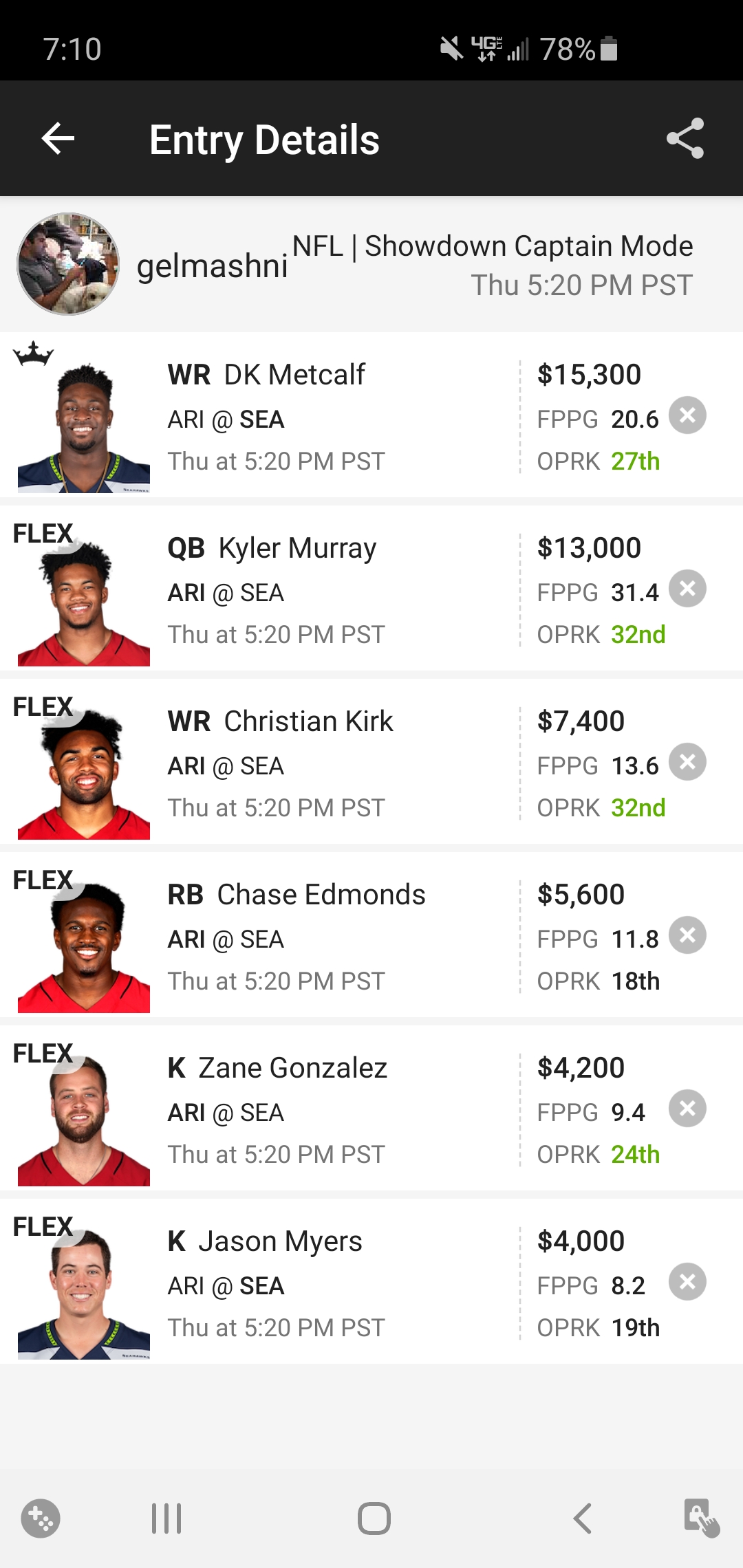 I also prepared some lineups for FanDuel but my main focus for Thursday Night Football will be DK. Good luck and I will be in touch through Twitter tomorrow.