Sorry for the late post here. I strive to get my articles out early Saturday morning, especially for my East Coast readers. We had more birthday celebrations in our household, this time for yours truly yesterday! 43! I am definitely feeling my age with the kids still waking us up in the middle of the night!
Now, back to football ... what direction will we take? We have been kind of cold with DFS recently after an insanely profitable October so we need to get back to our winning ways. The way to profitability with NFL DFS is to simply roster players in any game that involves the Seattle Seahawks. Consider the data below. Each of Seattle's opponents are shown with the opposing QB DraftKings score and ranking (in parentheses) as well as the top WR DraftKings score and ranking (also in parentheses). I also placed the DK points/salary ratio with an 'x' at the end. For those new to NFL DFS, any ratio that is 4x or higher is very, very good.
Week 1: Matt Ryan 27.9 (4th, 4x) and Calvin Ridley 36.9 (2nd, 6x)
Week 2: Cam Newton 38.58 (2nd, 6x) and Julian Edelman 28.9 (3rd, 4.5x)
Week 3: Dak Prescott 33.48 (4th, 4x) and Cedrick Wilson 30.7 (5th, 10x)
Week 4: Ryan Fitzpatrick 26.3 (5th, 5x) and Devante Parker 24 (11th, 4x)
Week 5: Kirk Cousins 16.16 (17th, 2.5x) and Adam Thielen 29.3 (5th, 4x)
Week 6: Bye
Week 7: Kyler Murray 41.1 (2nd, 6x) and DeAndre Hopkins 28.3 (6th, 3.5x)
Week 8: Nick Mullens 17.52 (17th, 4x) and Brandon Aiyuk 23.1 (8th, 4x)
Week 9: Josh Allen 39 (39, 5x) and Stefon Diggs 23.8 (14th, 3x)
Note: Christian Kirk was at 5x value in Week 7 and John Brown was at 4x value in Week 9. Both correlate well with their QBs and interestingly both see each other in Week 10 in the desert.
Here is another thing to consider, the NFL record for combined points scored/allowed in an NFL season belongs to the 2000 St. Louis Rams (interestingly I love the Rams this week). That is when Hall of Famers Kurt Warner, Marshall Faulk, and Isaac Bruce were all putting up insane offensive numbers. It definitely didn't hurt to have another Hall of Famer in Orlando Pace at left tackle giving Warner enough time to throw the ball and create gaping holes for Faulk to rack up rushing yards. The Rams also had 7 time Pro Bowler Torry Holt as the other WR. The problem with that Rams team is that their defense was non-existent. Pretty much every team who played the Rams that season were caught up in a shootout. During that season, each Rams game had an average point total of 63.2 points per game.
The 2013 Denver Broncos have the 2nd most combined points scored/allowed in an NFL season. That figure is 62.8 points per game but the point differential is larger for Denver. Still, teams who played the Broncos during Peyton Manning's record breaking year were also caught up in shootouts with them. DFS did not exist in 2000 and it was just gaining traction in 2013. Here we are in 2020 with DFS as a multi-billion dollar industry. Seattle's current average for combined points scored/allowed is 64.6 points per game yet no one is really noticing. Let that sink in for a bit. Such a high scoring environment for a team comes around once a decade. Some people seem to place heavy emphasis on ownership numbers so they will shy away from playing games involving Seattle. I say the hell with that perspective! Play the best players in the best scoring environment and right now any game involving the Seahawks is the path to NFL DFS success. This is after all a record breaking season for Seattle and I want to take advantage of it. By the way, the 2000 Rams were first in points scored and dead last in points allowed. The 2020 Seahawks are also first in points scored and 3rd to last in points allowed.
You could play Russell Wilson and pair him with either Tyler Lockett or DK Metcalf. That won't be cheap but it can lead to some very high fantasy scores. Instead, I suggest you play Seattle's opposing QB with the WR or TE who correlates the best with that QB and also has the highest target share. For Week 10, that would be Jared Goff and Cooper Kupp. Check out the player correlation analysis from the Advanced Sports Analysis (ASA) site (see link below). The data runs from September 2018 until now.
www.advancedsportsanalytics.com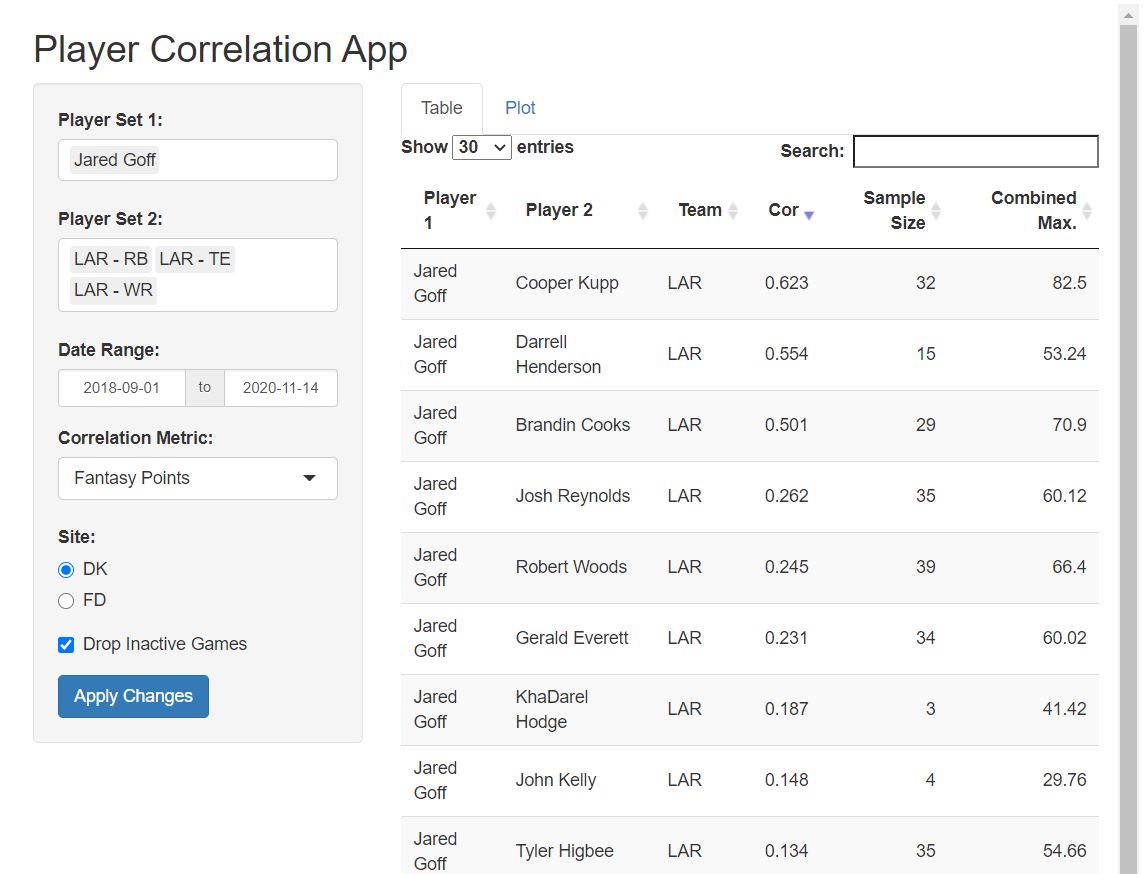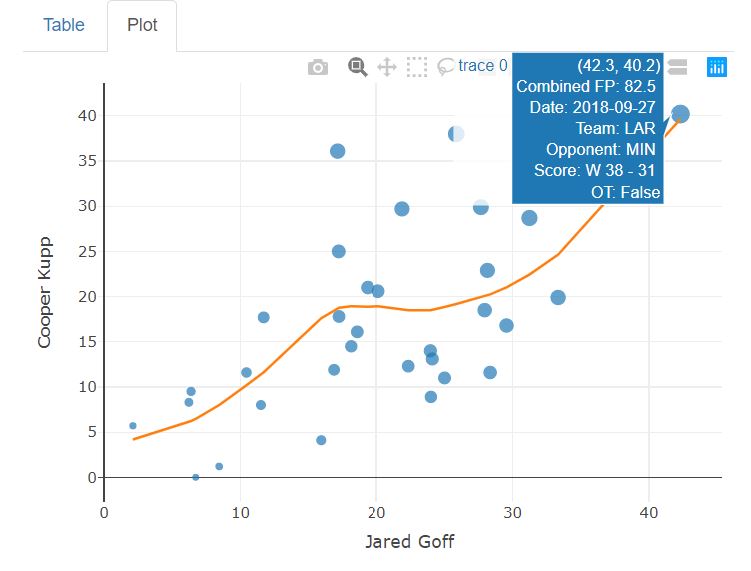 Recently ASA added a column called Combined Max. This tells us the combined DK or FD score for both players. Goff and Kupp once combined for 82.5 DK points in a game on September 27, 2018 against the Vikings (see image above). Getting a score like that from just two players is slate breaking and will most likely enable you to take down a GPP. FYI, most of the combined DK scores for Seattle's opposing QBs and WRs happened to be the Combined Max for that QB/WR pair this season. In fact that has happened every week for Seattle's opponents except for Week 5 but Minnesota's RB core had the lion's share of DK points (no surprise given Dalvin Cook's recent amazing two week run). Another thing to think about is that the correlation between Seattle's opposing QB and WR has been strong. That is why I love Goff and Kupp. Those two have been in sync for the last four seasons with the same coaching staff. I don't care if that pair has high ownership. I refuse to fade it and you should refuse to do so as well. Seattle's defense won't be getting any better and it will be tired after a long trip to Buffalo from Seattle last week and then back to the West Coast this week with yet another road game (this time in Los Angeles).
OK, I have made my case for Goff and Kupp. If you are not convinced, I don't know what else to tell you. Play your ownership strategy and lose money this week while I will be withdrawing a handsome sum of money from my PayPal account come Monday morning. As for who to roster from Seattle, flip a coin between Lockett and Metcalf. The latter has been putting up more consistent numbers and leads in target and air yards shares. However, Lockett has had two monster games this season and seems due for another one very soon.
Now that we have 1/3 of our roster set, who else should we select? I love the Saints defense this week. They shocked us last Sunday Night in Tampa Bay by shutting down a strong Bucs offense. Now they get an injury depleted 49ers offense and the game will be in the Big Easy. COVD-19 or no COVID-19, those young players on the 49ers who have never been to New Orleans will be tempted by Bourbon Street, even if there are lockdowns on bars and gentlemen clubs. The Saints are a double digit favorite and in the driver's seat for the NFC South title.
I also like Evan Engram and T.J. Hockenson at the tight end position. Both of them are facing the two worst defenses against tight ends. They are fairly affordable and you should be able to get at least 4x value given that each of them play nearly 80% of their team's snaps and have about 20% market share of their team's targets and air yards.
What about RBs?! That is of course one of the most crucial positions in fantasy football. The issue is that most of the top RBs are not available on the main slate with Dalvin Cook playing on Monday Night Football and Christian McCaffrey out again with a new injury. Speaking of McCaffrey being out, DraftKings kind of dropped the ball by pricing Mike Davis ridiculously low. Of course no one knew that McCaffrey would sustain another injury to a different body part so we must eat the chalk with Davis at $4,000 on DK. He is bound to get most of the carries and should be on the field for 80-90 % of the Panthers' offensive snaps. Duke Johnson is another great value at $5,000 on on DK with David Johnson out. The Browns defense is nothing special and Duke Johnson has even more value on DK as a pass catcher. Think James White in the Super Bowl against the Falcons a few years back. Duke Johnson could break the slate with a 6x performance.
With all of our salary savings, I will roster Aaron Jones in the FLEX spot. He is due for a breakout game after having such a game in Week 2. He is fresh with plenty of time off and being used sparingly on Thursday Night Football during Week 9. You can also go with Davante Adams in the FLEX spot. After all, the Jaguars have the worst passing defense in the NFL according to Football Outsiders and the Packers have a top 3 passing offense. Adams is playing like an MVP candidate right now with an average of 9 receptions per game and 112.5 receiving yards per game. He also has 8 TDs in 6 games played. Yes, he is crazy expensive but if you are getting 4x value for his price, you are in good shape. For those who like the ownership strategy, he probably wont' garner high ownership given his high salary so this should make everyone happy!
We still need one more WR. I have one lineup with Josh Reynolds. If he does well, so does Jared Goff. He has the same years of experience with Goff and the Rams as does Kupp. Another option is Jerry Jeudy. He has the pedigree having played college football at Alabama and Rolling Tide head coach Nick Saban simply produces outstanding NFL talent. He finally had his breakout game in Atlanta last week and should repeat that performance in Sin City tomorrow. The Raiders pass defense is just as bad as the Falcons according to Football Outsiders. Jeudy is at mid-range salary so a 5x or 6x day is not out of the question if he has a 30+ DK afternoon (8 receptions, 120 yards, and a TD would get us there). I also like Jarvis Landry, especially on DK with the 1 point per reception scoring. With Odell Beckham Jr. out of the picture and no Nick Chubb, Landry becomes the key offensive weapon for Baker Mayfield. He hasn't been quite the PPR machine with Cleveland as he was with Miami but with more experience with Mayfield and no other star offensive player, now is the time for Landry to return to his fantasy stardom.
Here are some sample lineups but before I do that, my QB model analysis is shown below.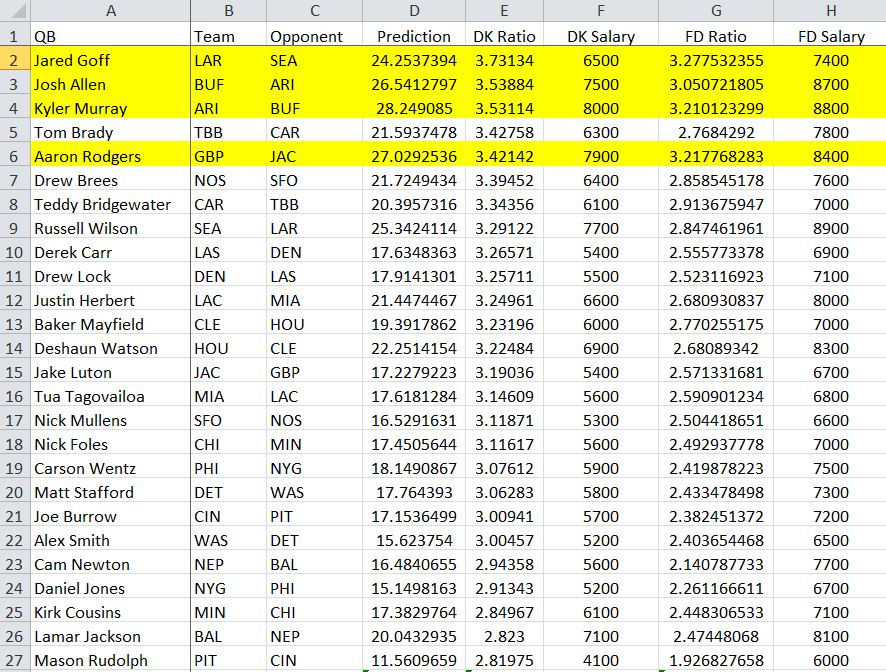 This only serves to confirm that we are correct by going with Goff. Last week the model loved Josh Allen and Patrick Mahomes and both went off. Aaron Rodgers and Kyler Murry are great choices as well as Russell Wilson but let's go with the salary savings that Goff offers. Good luck and let's surpass the cash line tomorrow!