NFL DFS - 2020 Divisional Round
Before I delve into this action packed NFL Playoff weekend, I want to say thank you to all of my readers who have been nothing but kind with their appreciation for the analysis I discuss in my articles since I started Sportsmanac.com over 4 years ago. Sports analysis is easily a hobby I enjoy and have enjoyed since I was 10 years old. Back in 1990, I recall taking the TV guide in our family room and circling the NFL games being played that week and trying my best to prognosticate the outcomes. A few years later in my Geometry class I would update the NFL standings on the last page of my math binder (much to chagrin of my Geometry teacher). Ironically I would become a high school math teacher and I am sure my students have found surreptitious ways with their cell phones to check fantasy football stats during class (and probably now at home while we are still in remote learning mode). Little do they know (or maybe they know very well) that their math teacher is a fantasy sports junkie! Of course it didn't hurt that the local teams were playing at a championship level when I first fully immersed myself in the world of sports. One of my first memories of the NFL is watching Joe Montana march the 49ers 92 yards en route to a game winning TD pass to John Taylor in Super Bowl XXIII. Another first memory was watching both the Oakland A's and San Francisco Giants win their league championship series later that year. I feel blessed to have chosen sports analysis as a hobby which has evolved as our technology has progressed dramatically during most of my lifetime. I am even more blessed to have loyal readers look forward to my articles and at the same time for all of us to make a little bit of extra cash with the outputs from my models. With that, thank you, thank you, thank you.
OK, I will stop getting gushy and let's get analytical! I have been somewhat dormant with my articles but for good reason. The holiday season has been full with quality time with family as it should be but also work has been nuts as it should be when a new semester starts. Thank goodness for the 3 day weekend since all of us could use an extra day to catch our breath. So what am I thinking for the four awesome games on the NFL divisional slate? I have decided to break down this article into two parts: (1) discussing the top QBs and RBs from my models and (2) using some intuition for finishing off our roster construction. Building lineups in DFS is truly a blend of art and science. I know several NFL DFS players who simply build lineups based on favorite players and how the roster looks on the surface. I know some who use a purely analytical approach with no regard to the potential game script. For example, many of us were burned last Sunday night when Pittsburgh was forced to play from behind after turning the ball over 4 times early in the game. Of course I don't believe many people had expected such a game script but the pure analytics had many of us focusing on the earlier games that day, especially the Baltimore - Tennessee game which had the highest projected point total based on the Vegas lines but ultimately was one of the lowest scoring games during Wild Card weekend.
Without further ado, here are the outputs from my QB and RB models which, for the most part, were spot on with identifying the best QB and RB plays last weekend.


The top predicted QB for the first day of Wild Card weekend was Josh Allen and he came through for us with another brilliant performance. The top two RBs for the first day were Jonathan Taylor and Cam Akers and if you didn't have either one, most likely you didn't hit the cash line last Saturday. We also identified JD McKissic as a better value play than Chris Carson which he ultimately was. On Day 2 last weekend, our model preferred Alvin Kamara and James Conner, both of whom had strong fantasy days, but it was the Cleveland running backs who ruled the day when the Steelers spotted the Browns several short fields early in the game. I believe the Browns started most of their drives in the red zone during the first half. Again, anomalies happen in football so let's hope things are bit more normal this weekend.
Anyone who knows anything about football know that Patrick Mahomes is on his way to NFL greatness. Perhaps 10 - 15 years from now, we will be calling him the GOAT which right now belongs to Tom Brady (as a Joe Montana fan, it pains me to say that but I can't deny Brady's accomplishments and longevity). Mahomes no doubt will be a popular NFL DFS play but I am hoping his high salary on both DraftKings (DK) and FanDuel (FD) will temper some of the enthusiasm. My models have shown that whenever Mahomes surpasses 40 pass attempts, good things happen. By good things, I mean 4x value or greater on DK and 3x value or greater on FD. My QB model has Mahomes attempting 39.9 passes so we will round up to 40! With a price tag of $8000 on DK and $9200 salary on FD, we are looking at a fantasy score of at least 30 points. I believe Josh Allen can match that output but he is also facing a defense that has been playing very well lately and that just shut down Derrick Henry. The Chiefs are a well rested group and seem poised for yet another Super Bowl run. While the Browns are no doubt a talented football team, they are new to this environment and don't quite have the personnel to limit the Chiefs' high octane offense. Put it this way, if Mahomes was in the same situation as Big Ben last week, Mahomes most certainly would have pulled off the comeback. In fact Mahomes was in that situation against Houston last year when the Chiefs were down 24-0 early in the 2nd quarter. The Chiefs then scored 41 unanswered points with 28 of those points coming before halftime. The divisional round is when we see a separation from the contenders and pretenders. Yes, sometimes underdog teams break through and make it to the conference title game. Perhaps Baker Mayfield proves himself again but I fully expect the defending Super Bowl Champions to put on a clinic and that means I want to pay up for the best QB in the universe right now.
Before we decide who to pair with Mahomes, let's discuss the RB situation. If you are playing the Saturday-Sunday slate, grab these 3 RBs: Devin Singletary, Cam Akers, and Alvin Kamara. With Zack Moss being done for the postseason, Singletary easily will have the lion's share of snaps and carries for the Bills backfield. While I am not a big fan of Singletary, I am a big fan of money. If you want to make money in DFS, you need to have the high volume guys. Singletary will be chalk given his low salary and newfound opportunity for a plethora of touches but it's chalk we must eat since we need the salary savings. Another high volume guy is Akers. Since his outstanding game against the Patriots on Thursday Night Football in early December, the whole league has been put on notice that the Rams rushing attack is back. Not since Todd Gurley's dominance in 2017 have the Rams experienced such success with carrying the rock. Even with an ankle injury near the end of the NFL regular season, Akers put on an amazing performance against Seattle last weekend. I expect more of the same against the Packers who have a porous run defense. Plus Rams head coach Sean McVay loves to run the ball and will ask Jared Goff to be more of a game manager while he watches Akers and the Rams defense (more on them later) control the line of scrimmage at the frozen tundra at Lambeau Field.
Alvin Kamara is another popular choice. He is the most expensive RB on both DK and FD which might scare some people away. After all, Henry was the most expensive RB last week and if you played him, you lost money. However, I don't like the other options available to us and if you play Kamara, maybe you place him in the Flex spot. You can always swap him out for Michael Thomas or one of the Bucs WRs and then upgrade at another position (assuming you are playing at least two players in that game). Kamara reminded all of us on Christmas that he hasn't lost his touch. While I don't expect another 6 TD performance from him this postseason (or ever again), he is unquestionaly the Saints go-to player in the red zone. The Bucs defense might rate high based on metrics but much of that is due to having a soft schedule early in the season. If an inexperienced QB such as Taylor Heinicke can put up 300 passing yards against the Bucs last Saturday, just imagine what an experienced QB like Drew Brees can do with a more talented RB and WR and a much better offensive line. When Brees plays well, so does Kamara.
Now we move on to our WRs, TEs, and defense. This is where I will lean on another source for some help. As many of my readers know, I work for Advanced Sports Analytics (ASA) and I have song their praises often on my Twitter feed and my articles. The apps there are amazing and will give you an edge in your DK and FD tournaments and cash games. Personally, I love the Player Correlation App and the projections for targets and air yards shares. Check out the ASA link below and some of the outputs from the ASA apps.
www.advancedsportsanalytics.com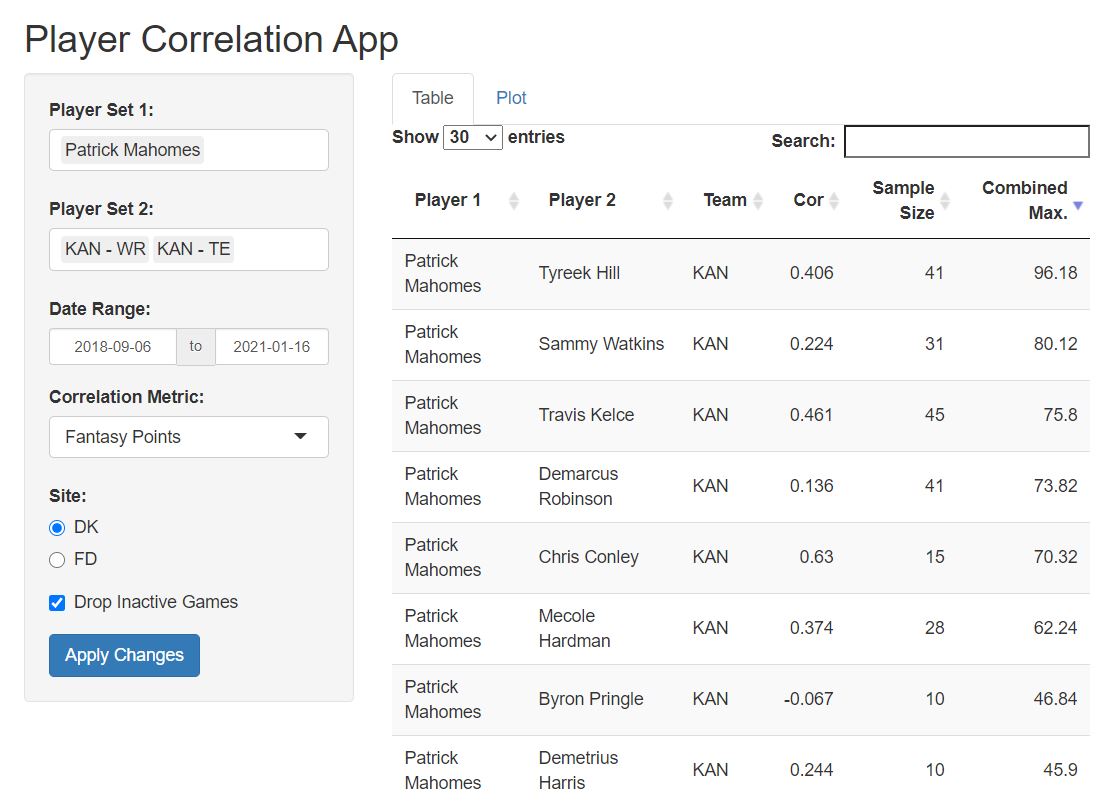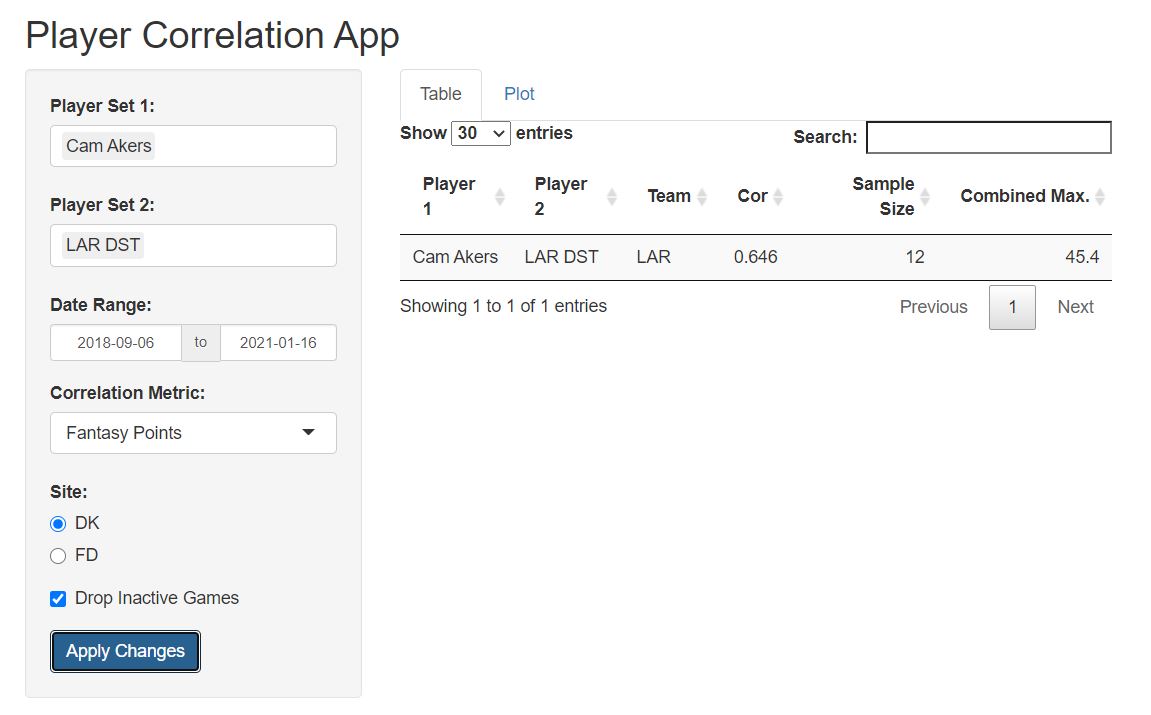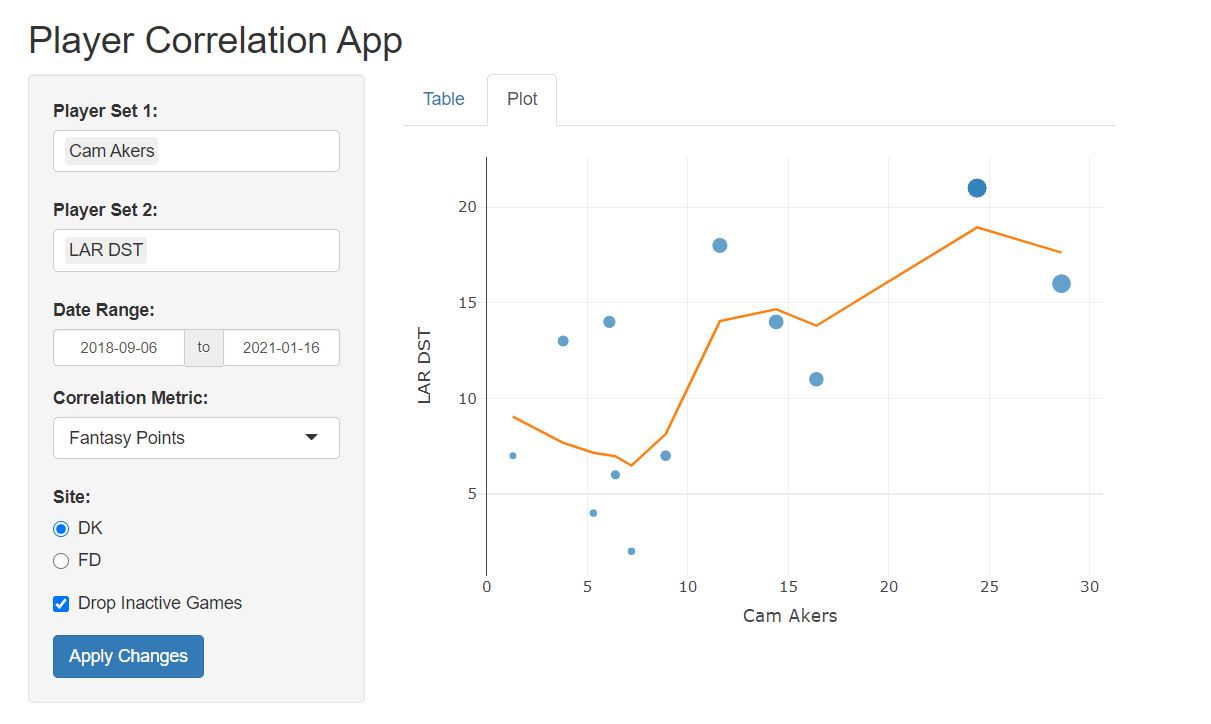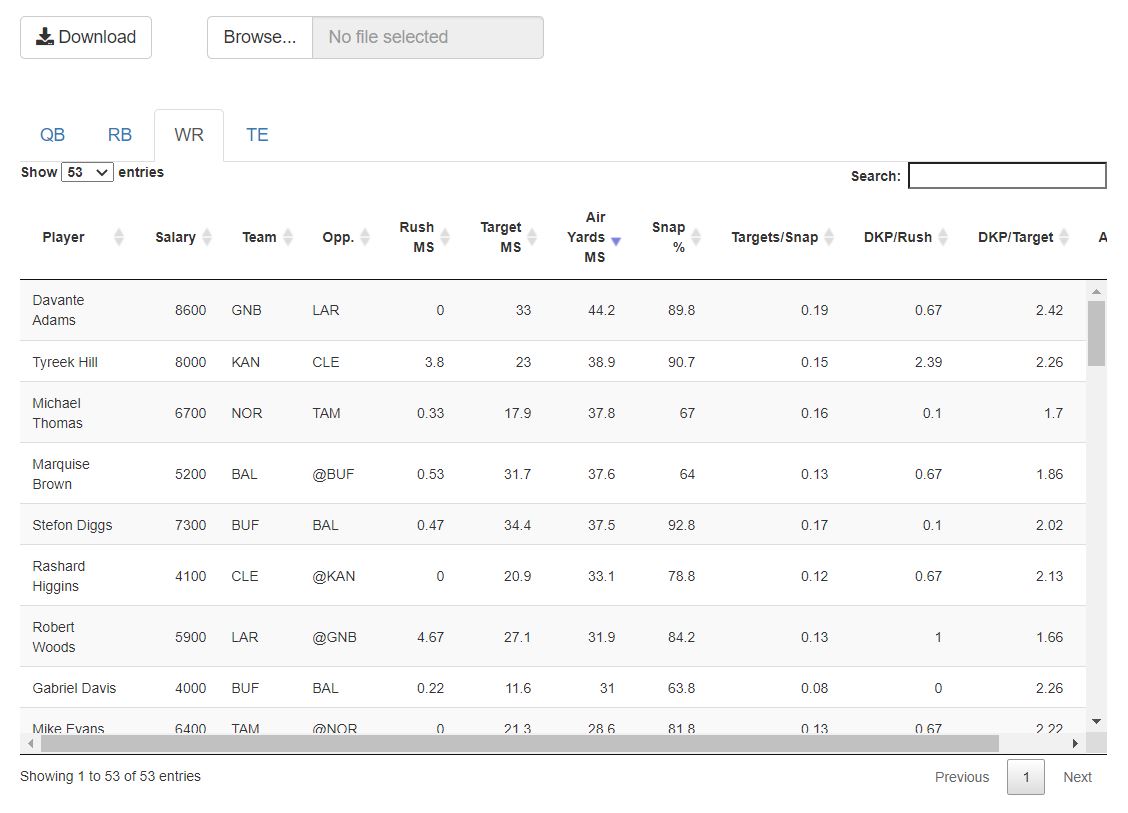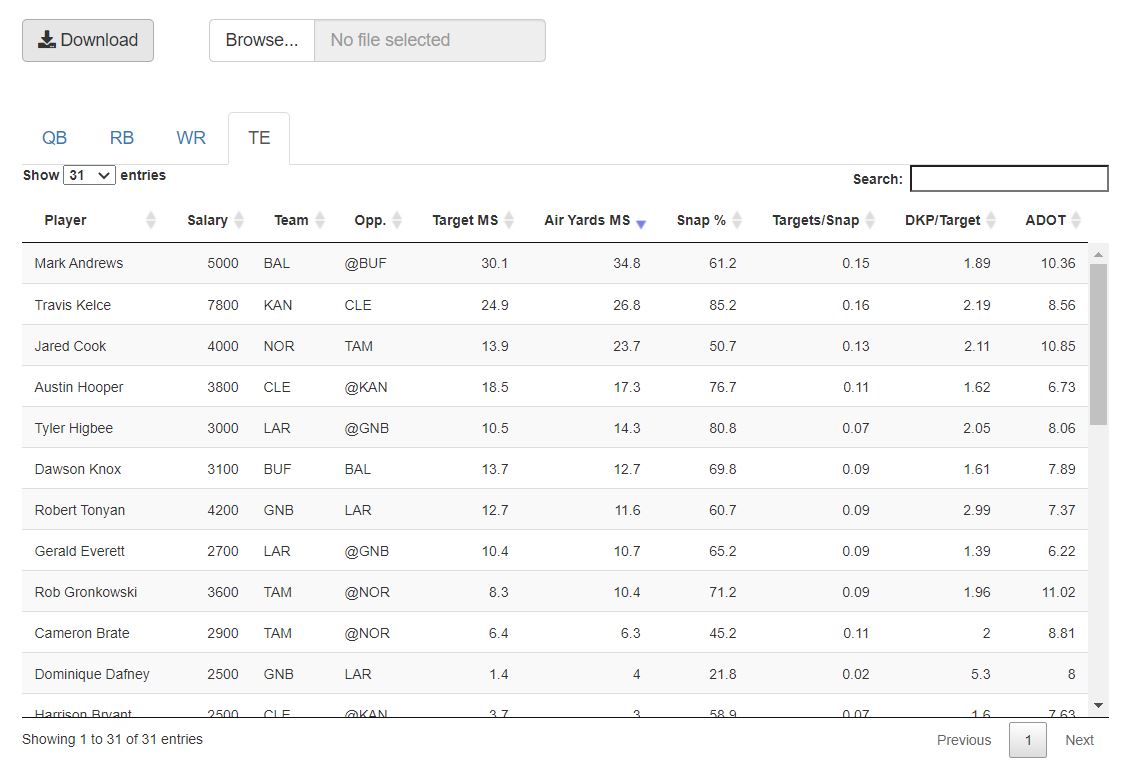 The first table in the group of images directly above is player correlation with Mahomes since 2018. When a QB has a long relationship with his pass catchers, we get larger sample sizes and more reliable data. The strongest correlations with Mahomes belong to Tyreek Hill and Travis Kelce and that should not be a surprise. However, I like Hill more for two reasons. First, the ceiling for Hill is greater than it is for Kelce. Hill is more likely to have a slate-breaking performance than Kelce given the fact that the maximum combined score for Mahomes and Hill is at least 20 points more than the combo of Mahomes and Kelce. Second, Hill is an air yards monster. Consider the last two images above. While Kelce does garner a decent share of air yards with 26.8%, Hill's share is nearly 50% greater. Another advanced metric is aDOT or average depth of target. Kelce's is 8.56 while Hill's is 13.11 (sorry that the aDOT column is hidden for WRs in table above). We want those "HR hitter" type of players at WR and Hill is arguably one of the best big play WRs in NFL history. After all, he has world class speed and a QB with laser cannon for an arm. Like Mahomes, Hill is not cheap but you pay up for quality.
Another decent correlation play with Mahomes is Demarcus Robinson. With Sammy Watkins out of the picture, we should fully expect Robinson to see a huge increase in snap % and targets. While it would be nice to have both Hill and Kelce, we can't afford such a stack. The Chiefs have shown that they are a pass heavy team so I will gladly take the guy who is 3rd in the pecking order in the Chiefs passing game. One could make a case for Mecole Hardman who also has blazing speed but the Chiefs will need some size at WR to supplant the loss of Watkins. Here is yet another output from a great app on the ASA site. It is the Volume Efficiency app which shows how the snap%, target shares, and air yards were split from Weeks 6 - 11 for the Chiefs WRs while Watkins was out. You can see that Robinson definitely was more involved than Hardman so we should expect the same this weekend. Plus Robinson is playing for a new contract so he could give us a breakout performance this postseason.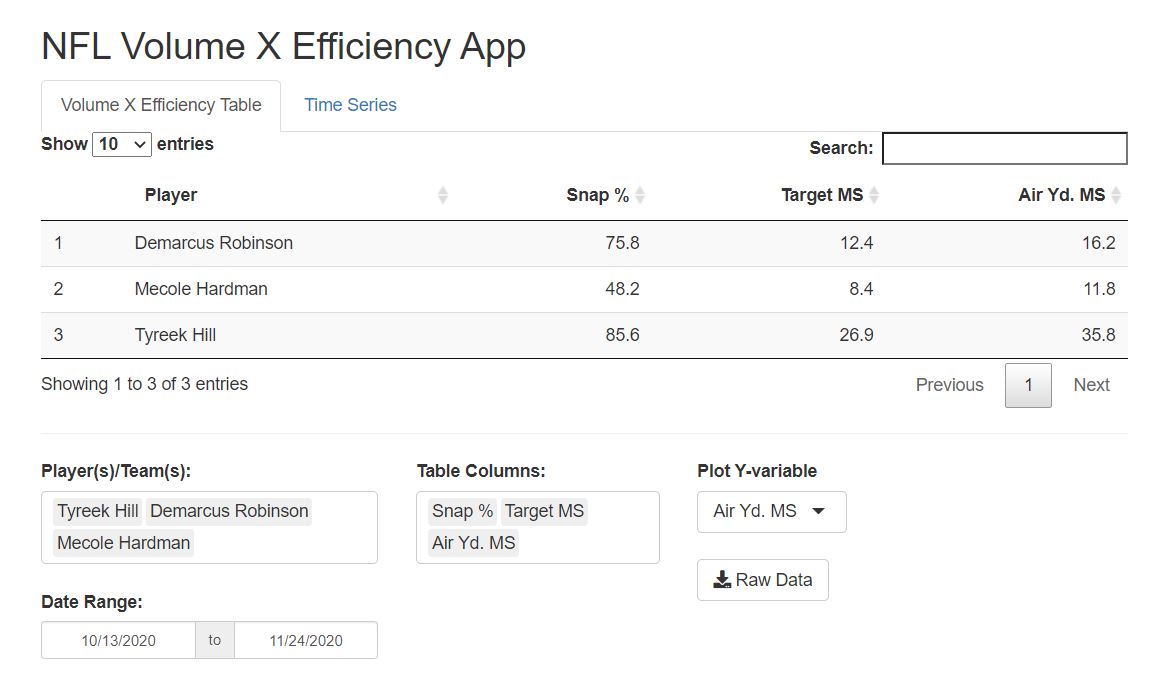 I also like Stefon Diggs, Marquise Brown, and Mark Andrews. The Bills - Ravens games could be a high scoring affair and all three of those players could put up big numbers. The evidence does not lie when you consider snap%, targets, and air yards. The tables above are your evidence. You could also take a chance with cheap plays such as Rashard Higgins or Gabriel Davis since they have the air yards. However, the Browns will tend to consider Nick Chubb, Kareem Hunt, Jarvis Landry, and Austin Hooper before Higgins. The Bills have Diggs, Singletary, Cole Beasley, John Brown, and Dawson Knox. There are simply not enough footballs for us to consider the 5th or 6th best option on the Browns and Bills. Again, think volume here, especially for a small slate.
Most likely I will go with Austin Hooper at tight end. He is super cheap and has done nothing but produce double digit scores on both DK and FD for the last 4 weeks. I like Mark Andrews, however, for the Saturday slate and it's not too prohibitive to pay up for him. Robert Tonyan is another good option but is facing a tough defense which leads me to the final piece of our roster construction.
Take the Rams defense and you will thank me later. The analytics say to take the Bucs and that the Rams are poor value given that the Packers have a strong offense. I say pitooey to that (sorry, I have two toddlers at home!). Consider the following: left tackle David Bakhtiari is out for the postseason and he protects Aaron Rodgers' blind side. Aaron Donald is easily the best pass rusher in the league. Remember what happened to the Packers in the NFC title game last year? They faced a ferocious pass rush from the 49ers and they lost the battle in the trenches miserably. Jalen Ramsey is another defensive stalwart. Who else is he going to cover? With Davante Adams struggling to get free for any big plays and Rodgers seeing his pocket collapse quickly, it's going to be a long day for the Packers.
I also like the Rams defense give their strong correlation to Akers. Again, consider the NFC title game last year when Raheem Mostert ran all over the Packers. Check out the table and graph above from the ASA site which show the correlation between Akers and the Rams defense. A correlation of 0.646 is ridiculous. True, we have a small sample size but it make sense that Akers success is closely tied to the success of the Rams defense just how the success of Mostert and the 49ers defense were closely linked together last season. McVay knows that if he wants to get back to the Super Bowl, it will have to via smash mouth football. While the Packers are missing the anchor to their offensive line, the Rams happen to have their top blocker healthy. Andrew Whitworth is just as talented as Bakhtiari. In fact, both of them rank as the top two offensive tackles based on Pro Football Focus grades. The Packers are terrible at stopping the run game so with Akers running wild and hogging the clock, I don't expect the Packers offense to get into any kind of rhythm, especially with Donald disrupting things at the line of scrimmage.
There you have it! Mahomes paired with Hill and Robinson. Akers paired with Rams defense. Get the most expensive RB with Kamara and the best value RB with Singletary. Grab those air yards with Hollywood Brown and consistency with Hooper. That is how you build a winning lineup (see sample lineups below). Good luck and make some big money!