NBA DFS Play-In Tournament (April 12, 2022)
Welcome back readers! It has been a while! Yours truly has been busy with life (aka work and family) but also the NBA was just weird from the middle of March until the end of the regular season last Sunday. There were so many last minute roster changes, mainly due to load management, that it didn't make any sense to run the projections when you had to blow it all up about 30 minutes before tip off of the first games.
Fortunately, the playoffs have arrived where we should see more stability. Hopefully you remember how well the first couple of weeks of last year's NBA playoffs treated us. Check out the images of the big wins from the play-in tournament and Round 1 of the 2020-2021 NBA Playoffs.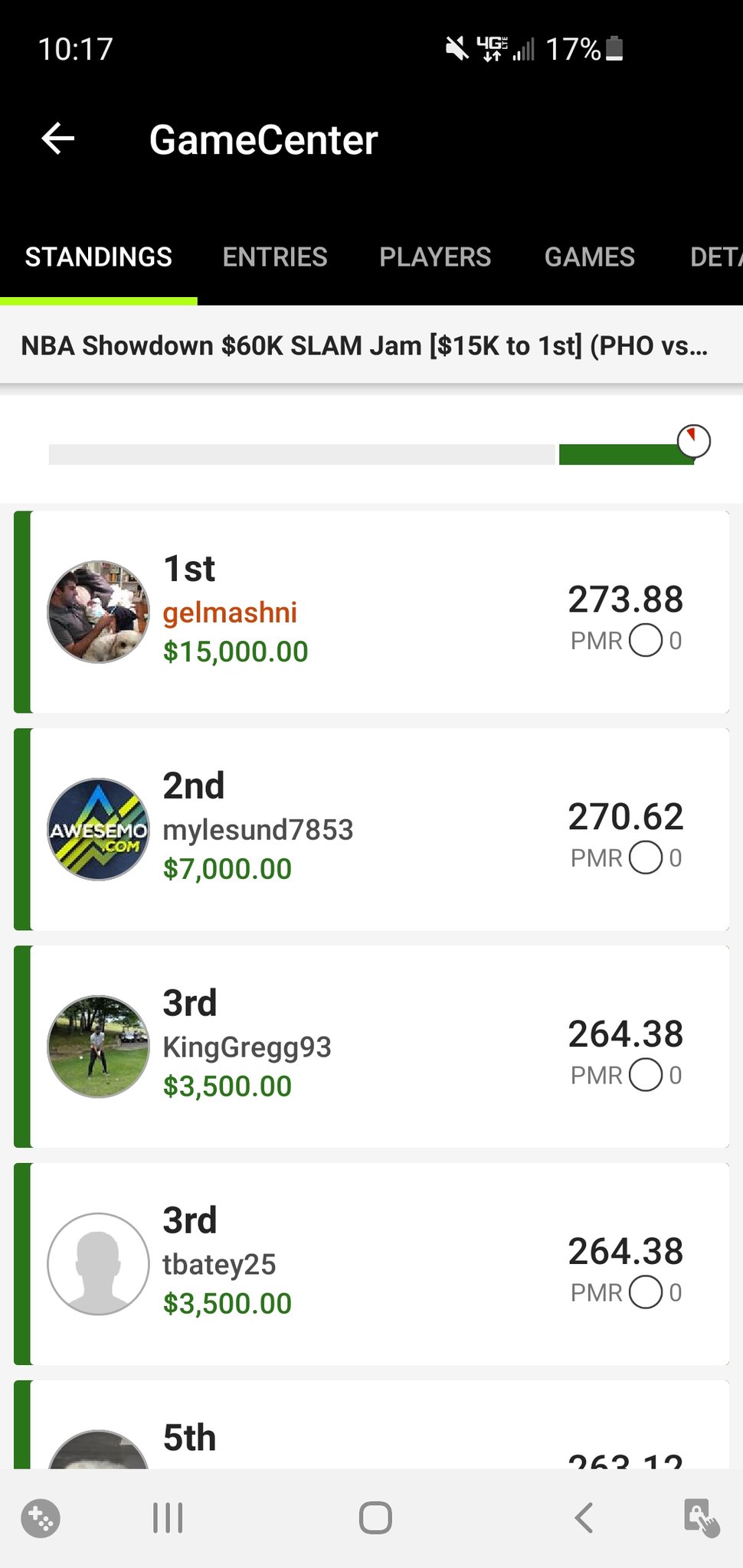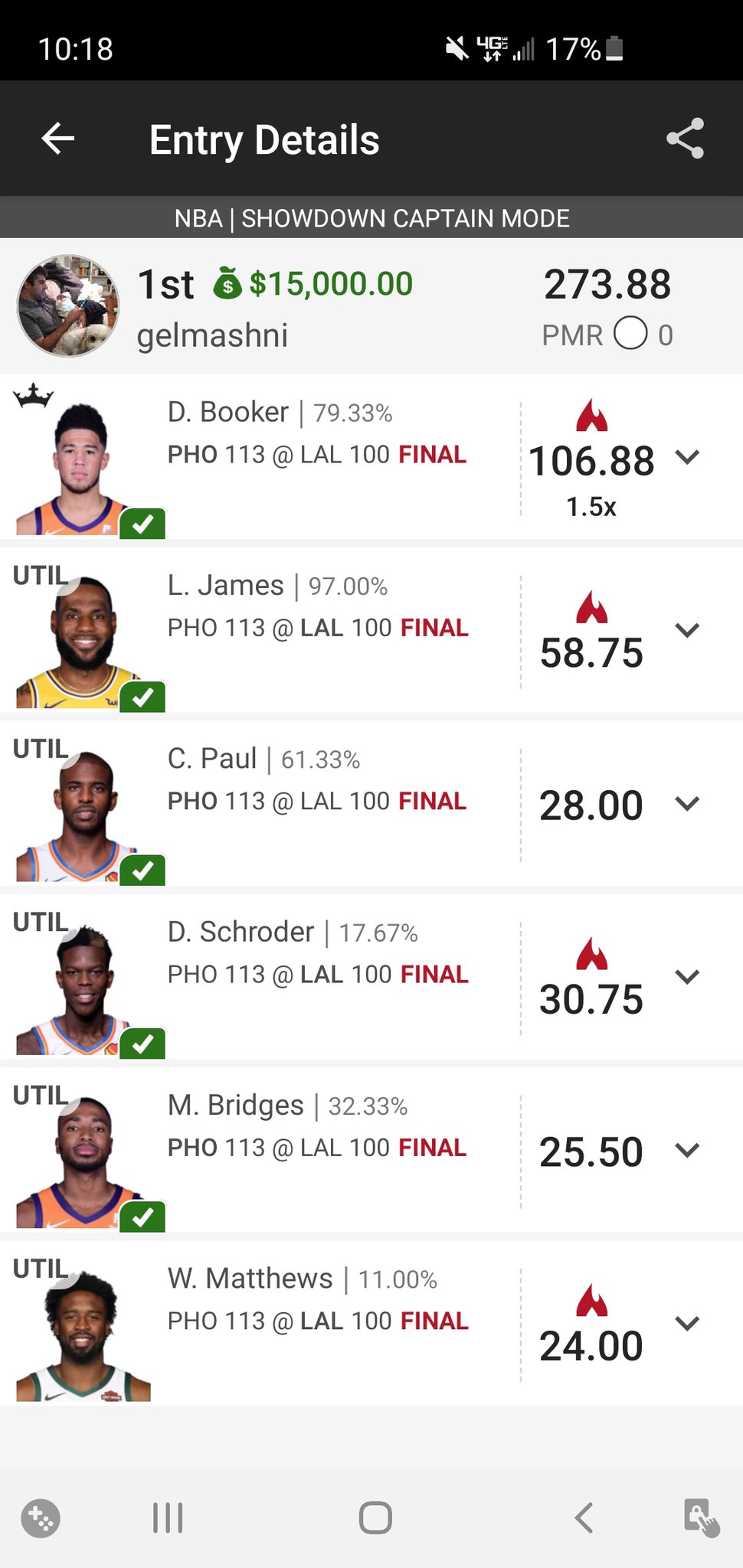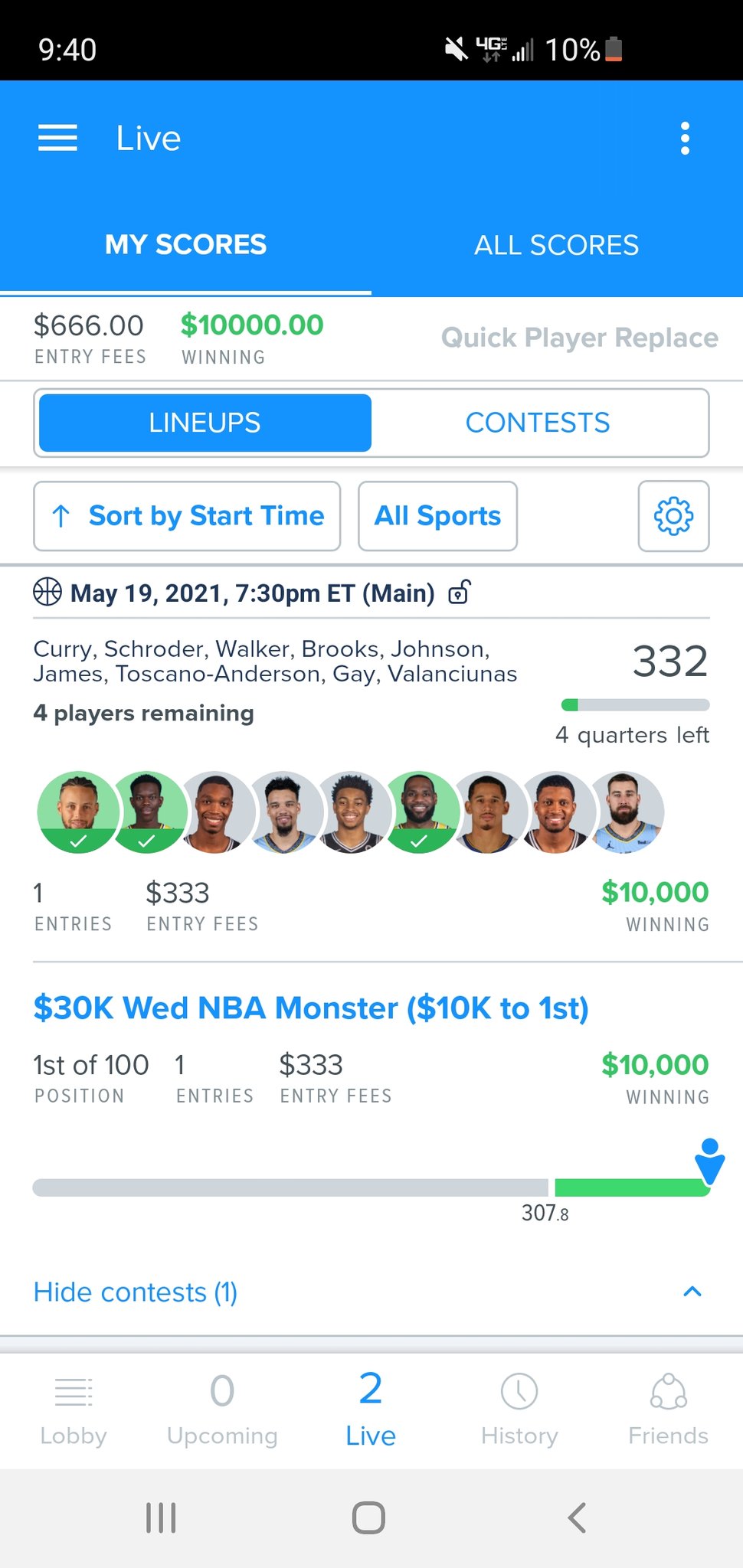 Can history repeat itself? Why not! We have plenty of in-season data and the model continues to perform well as long as the game script doesn't go off the rails. Speaking of game script, Vegas is our best friend here since we anticipate a big win for the Nets tonight and a close game between the Clippers and Timberwolves. The model assumes such outcomes so the players' projections should follow suit. So who does the model like? Check out the link below for a table displaying my model's projections. You will also find the top 10 optimal lineup for both DraftKings and FanDuel which you can easily insert into a CSV file on those sites. Just click on the sheets labeled DraftKings and FanDuel.
Now, let's breakdown the slate by position.
PG: Reggie Jackson and Goran Dragic
Batman needs Robin and Robin is the role Jackson plays for the Clippers with the return of PG13. In fact, Basketball Reference mentions Batman as one of George's nicknames. I never knew! All you have to do is consider the way Jackson and George interacted with each other for the first few weeks of the NBA regular season. From the middle of October until the first week of December (right when George suffered a major injury that kept him out for more than 3 months), the Clippers offense pretty much ran through both George and Jackson with the former having a 33.9% usage rate and the latter at 25.6%. I expect more of the same tonight. Plus Jackson is dirt cheap on FanDuel at $5700. He will be highly owned but it's chalk we have to eat.
As for Dragic, it is risky but we will need to save somewhere if we want to jam in the stars for tonight. The thinking is that Brooklyn will start off the game well meaning that the players on the floor for the 1st quarter not named Irving or Durant won't experience too much production. The 2nd unit for Brooklyn is thin and Dragic has plenty of playoff experience. At a price of just $4200 on DraftKings and $4000 on FanDuel, you could easily get 6x value as long as Dragic plays for 20+ minutes. He is a sneaky play since I can see others gravitating towards Seth Curry or Bruce Brown but if you are banking on big nights from Irving and Durant, there are simply not enough basketballs to go around when both of them are on the floor. That is why playing the top bench players for the Nets can be a sound strategy, especially if they win big tonight as Vegas is indicating.
SG: Paul George and Kyrie Irving
No surprise here. George will need to have a big game for the Clippers to move into the 7th seed and to get the honor of playing the red hot Memphis Grizzlies. George was incredible in the postseason last year, especially when Kawhi Leonard went down. Out of all of the players on the court tonight in Minnesota, no one is remotely close to George's playoff experience. Just go to Basketball Reference and you will see that George played in his first playoff game for the Pacers in 2011 and has started in 108 playoff games That is right: 108. Also, George is still a spring chicken at the age of 31. He was a triple double machine during the playoffs last year with EIGHT triple doubles. Fade George at your own risk.
Usually I don't like to play both Irving and Durant and I will be playing Durant but on a short slate, we will need the raw points and Irving is bound for a big night, especially with so much on the line tonight. I would hate to not have Irving on my roster only to watch him blow up for 60 points again. Even if he reaches half that total, I still want a piece of that action. This could be a night where 4x or 5x value is OK from the star players. The Nets pretty much live and die with Irving and Durant so don't choose between the two. Grab both of them!
SF: Caris LeVert and Nicolas Batum
Well someone has to score for Cleveland. Of course Garland is the main offensive threat for Cleveland but LeVert has playoff experience. This will be Garland's first true playoff experience and something tells me that Brooklyn will do all it can to place the clamps down on Garland. That means more scoring opportunities should open for LeVert. Plus, Garland cracked the 50 fantasy point barrier just once in the last 3 games so I would rather save $3500 by rostering LeVert who could outproduce Garland tonight. The minutes and FG attempts should be comparable.
Batum is a risky play but he is cheap so we are not asking for much. Keep in mind that Batum's playing time increased significantly during the postseason last year so I am guessing Clippers head coach Tyronn Lue will do the game for this postseason. Batum's upside on FanDuel is especially appealing due to his penchant for steals and blocked shots. There were 6 instances in the postseason last year when Batum had at least 3 combined steals and blocked shots. He was also good for about 10 points, 6-7 boards, and 2-3 assists with pretty much 0 turnovers. Do the math and you are looking at 30+ fantasy points which is incredible value with a FanDuel salary of $3900. His price is similar on DraftKings.
PF: Kevin Durant and Kevin Love
Durant is a no brainer tonight. He is arguably one of the best NBA playoff performers of all time having played in 151 playoff games and winning two NBA Fianls MVP awards. He has scored over 40 real life points in the postseason more than a dozen times and it's a rarity for him to score under 30 real life points. Much of that scoring success is due to his penchant for drawing fouls. It's not uncommon for Durant to get to the free throw line 15-16 times per game and nail most of those attempts. He will also get you the peripheral stats you need for a big night. I expect Durant to go nuclear this evening with a 70+ fantasy point performance. Much like George, fade Durant if you like to lose money.
On the flip side, Cleveland still needs scorers and it can just be from the backcourt players. Love has more playoff experience than anyone on the Cavaliers having won the an NBA championship with Cleveland in 2016 and taking Cleveland to five straight NBA Finals. Yes, Love's role has changed since then as he is now bench player but he is very good at that role. Just look at his game against Milwaukee two nights ago. He made the most of his time on the floor by scoring 32 points and pulling down 10 boards in just 14 minutes of playing time. He would up scoring 50 fantasy points which is more than 3.5 fantasy points per minute. That is insane! I don't expect a similar performance tonight but he should see the floor often in the 2nd half and be part of the closing lineup. Other DFS players may shy away from Love due to his recent subpar production but I think that is even more reason to flock to him. He should have a great game tonight even if the Cavaliers lose by double digits.
C: Nic Claxton
Like Dragic, we need to save money and get contrarian. There is Karl-Anthony Towns and Evan Mobley at the top but I don't like their matchups. Both Ivica Zubac and Andre Drummond are superb defenders. If Towns or Mobley score under 30 fantasy points, you can throw your lineup in the trash. If Claxton gets close to 30 fantasy points, you can kiss the sky since the sky is the limit if you get such production from a super cheap player at low ownership. Here is another reason why you should play Claxton: Love and Osman are horrible defenders. Once the 2nd unit sees the court near the end of the 1st quarter, you can expect either Love or Osman to guard Claxton. If you check out the Real +/- ratio on ESPN, both Love and Osman are the worst defenders for their position with each of them having a defensive +/- ratio close to -4. Claxton is very capable of a double-double off the bench and should receive about 23-24 minutes of playing time. After all, the Nets will want to keep Drummond fresh for Round 1 and beyond. Count your lucky stars if Claxton gets us at least 4 combined blocks & steals, something he has done a handful of times this season.
There you have it! Three star players and some complementary pieces. You will notice that I am completely fading Minnesota. They are newbies to the NBA postseason and they will run into a buzz saw against a very experienced Clippers squad. After all, the Clippers beat the Timberwolves three times in November which is when George was healthy. The margin of victory was nearly 20 points for LA. History might repeat itself for the Clippers and for our DFS success! Good luck and enjoy the start of the real NBA season!