MLB DFS Lineup (7/26/2020)
Wawaweewa! What an awesome MLB DFS day for us. Great success! High five! OK, enough wth Borat. Check out the images below.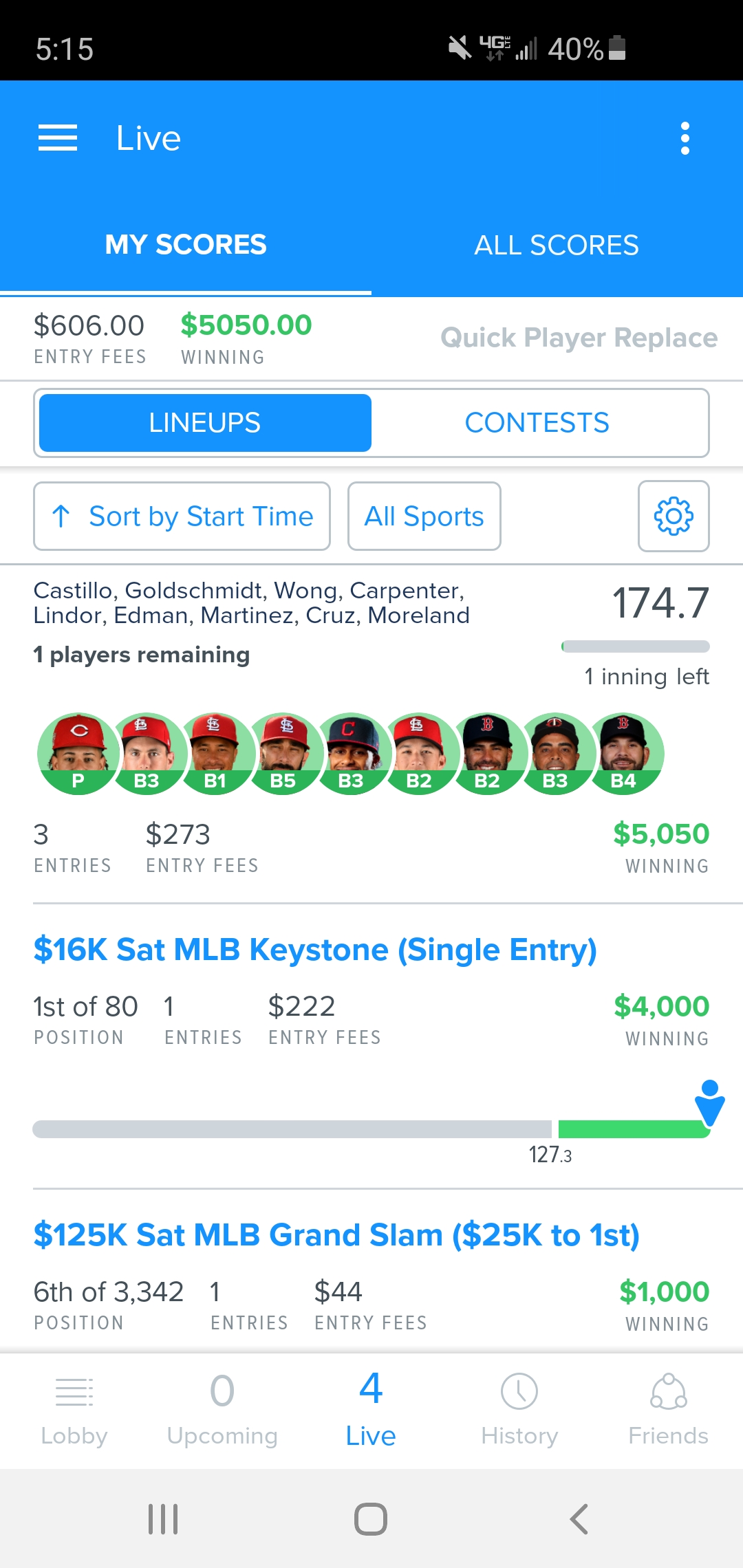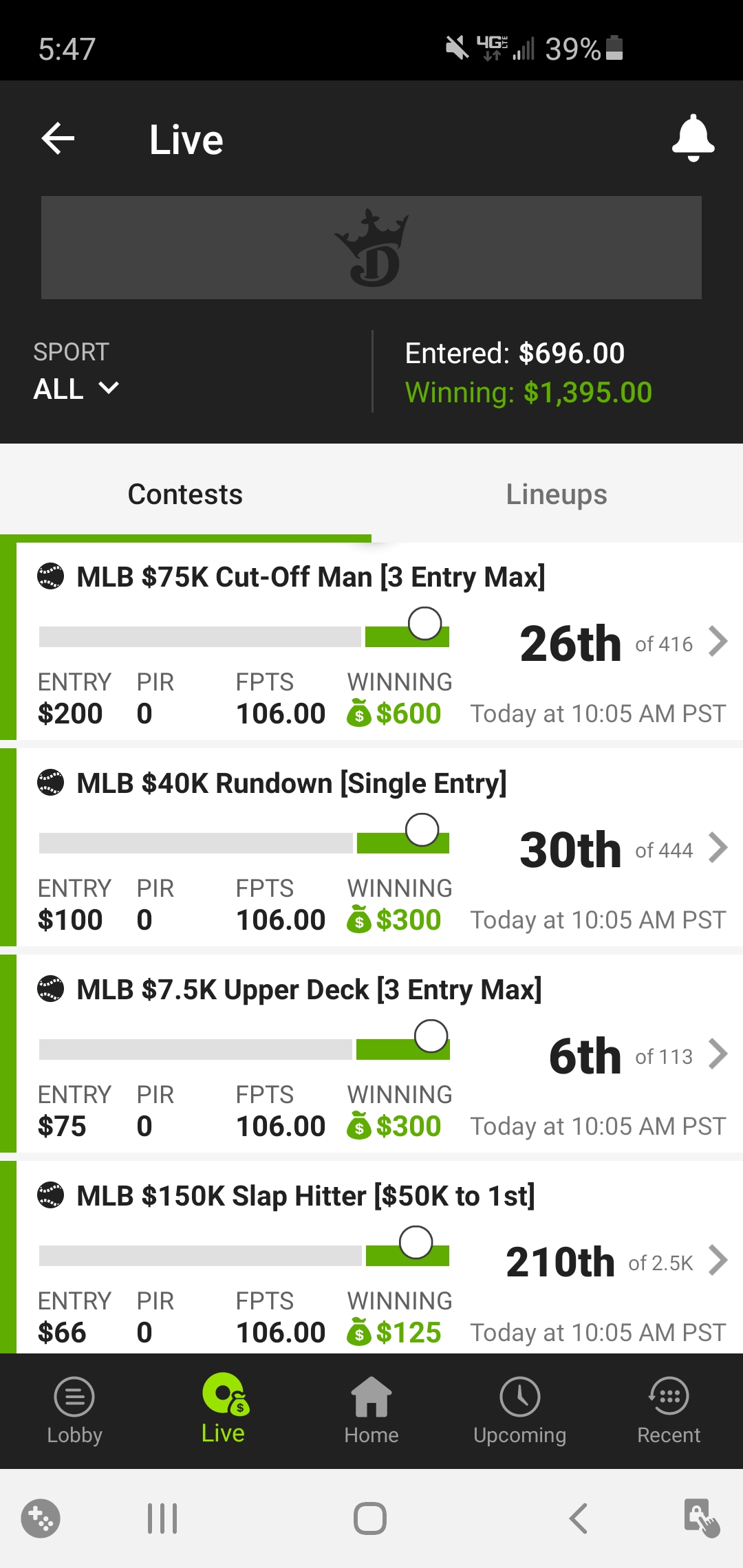 I hope you heeded our advice for the Saturday slates. If not, you can hop on the money train for tomorrow. This time around, we will place more emphasis on hitting and a bit less on pitching. Now we are dealing with the 3rd pitcher in the rotation and with a large slate, there is not a great need to pay up for the top pitchers. You will want the strong offenses or else you will be left in the dust.
We have been high on Boston this weekend and there is no reason to stray from them now. The Red Sox - Orioles game has the highest run line at 11 and with Boston a heavy favor at -220, the Red Sox will have the highest implied run total. On the mound for Baltimore is Wade LeBlanc, a lefty who has been a journeyman for most of his career and constantly bouncing in and out of the minors. JD Martinez has a good history against him (6 for 11 with 2 doubles, 2 HRs, and an eye popping 1.856 OPS) with a decent sample size and we have mentioned in previous articles how putrid the Orioles bullpen is. I expect the Orioles relievers to be bit taxed after having thrown several pitches in the last 2 days. Grab more right-handed hitters from Boston: Christian Vazquez, Kevin Pillar, Xander Bogaerts, and Michael Chavis. Anyone batting 1 - 6 for Boston will serve you well and here is another reason to stick with righties at Fenway: the wind will be blowing 11 mph towards left field with temperatures in the 90s. Need I say more!
One team we cannot ignore in this young season is Houston. Like the Red Sox, the Astros will also face a left-handed pitcher: Yusei Kikuchi. He has struggled at the MLB level after having a decent career in Japan. Perhaps he will turn a corner but not against a potent offense. The Astros have quietly scored 15 runs in the last 2 games. Seattle's bullpen is not nearly as bad as Baltimore's but it's not great and it has been overworked. Houston may feel like it has a chip on its shoulder after last year's cheating scandal. The Astros should consider themselves lucky that no fans are in attendance. I would target the following hitters: George Springer, Alex Bregman, Yuli Gurriel, and Carlos Correa. We all know that Springer and Bregman are arguably the two most feared hitters on the Astros. Both did well against Kikuchi last year. If we break things down further, Kikuchi heavily relies on his four-seam fastball and slider. Last year Springer had a 1.248 OPS against four-seam fastballs and a 1.054 OPS against sliders. Bregman was equally sucessful last year against four-seam fastballs: 1.104 OPS. He didn't fare as well as Springer when it came to sliders with a 0.871 OPS but he did have an ISO of 0.275. Kikuchi also throws a curve ball and changeup. Bregman murders those pitches with OPS values of 0.957 and 1.132, respectively.
Since we will be paying up for offense, we will need to save a little bit on pitching. Blake Snell is one of the highest priced pitchers on both DraftKings and FanDuel and while the Blue Jays are a free swinging bunch, Snell worries me. He was impressive in 2018 after winning the Cy Young award but regressed last year. Luis Castillo was a stud for us on Saturday and we made sure we prioritized him but I can't give Snell the same treatment. There is Trevor Bauer who was great with Cleveland but regressed big time after being traded to Cincinnati. I love the matchup against Detroit but cannot justify paying up for him when he pitches in a hitter's park and gave up 12 HRs in just 56.1 innings pitched. It's also supposed to be in the mid to high 90s in Cincinnati so best to stay away from Bauer. Other options include Zack Greinke and Patrick Corbin. Greinke is nowhere close to the pitcher he was with the Royals and Dodgers and the Astros have shown last year that they won't let him work late in games. He is just not worth the price. I like Corbin but he is a lefty going against a very powerful right-handed hitting team in the Yankees.
If we keep scrolling down the list of pitchers for tomorrow, Corey Kluber and Carlos Carrasco are intriguing options. Both are at home and face teams that strike out often. They might be a bit past their prime years given their ages but I feel their value (and maybe their ownership) is suppressed due to their injuries last year. Each pitcher can rack up strikeouts and that is worth gold in MLB DFS. For DraftKings, it will be hard to use both of them given that we will be focusing on Boston and Houston for offense. However, you can use one of them and pair with Vince Velasquez. The Phillies face the Marlins and Miami simply cannot hit. The roster for Miami seriously looks like a AA/AAA team so as long as we get 5 - 6 innings out of Velasquez and he doesn't give up more than 2 - 3 runs, we will be OK. For FanDuel, Kluber and Carrasco are about the same price. I really like Kluber given that the Rangers now play under a roof and the Rockies strike out a lot on the road. You cannot go wrong with either one.
Here are the sample lineups for the main slates for both DraftKings and FanDuel.
DraftKings
P: Carrasco
P: Velasquez
C: Vazquez
1B: Gurriel
2B: Chavez
3B: Bregman
SS: Bogaerts (you could also consider Francisco Lindor here but he is in a 1 for 9 slump right now against a team he usually dominates)
OF: Springer
OF: Martinez
OF: Pillar
FanDuel
P: Kluber
C/1B: Gurriel
2B: Chavis
3B: Bregman
SS: Correa
OF: Springer
OF: Martinez
OF: Pillar
UTIL: Vazquez
If I get up early enough to make a video presentation on these lineups, I will share the link on Twitter.
Finally, don't feel obligated but if you do well with MLB DFS today and wish to send a tip, you can use the information below. Perhaps you will win as big as I did on Saturday. It's a win-win for everybody if you do!
Tip Links:
Paypal: paypal.me/Elmashni
Venmo: Gus-Elmashni