Happy Hour NBA DFS (Mar. 11, 2022)
Great night last night! The Curry Brothers were featured and they showed up! If you didn't have either or both of them, you probably did not cash. I have to say that I am pleasantly surprised with how well the model performed yesterday. If you check out the table below, you will see that the residual (predicted minus actual) was quite low except for James Harden (who underperformed) and of course Seth Curry (who exceeded expectations).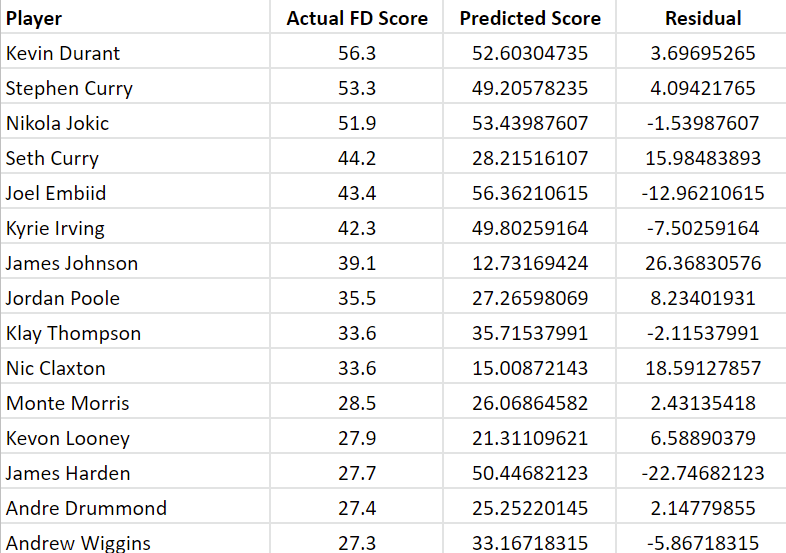 With tonight's slate nearly an hour away, I can't get too detailed with the narratives. Instead, check out the Google spreadsheet link and the images below which show my model's outputs as well as the top 5 optimal lineups for DK and FD.


Luka Doncic is a must start, especially against the worst defense in the NBA and a significant pace up spot. You might as well roster Davis Bertans who will probably be on the receiveing end of Doncic's passes. Remember that Brunson and Finney-Smith are both out so Bertans becomes the next best scoring option after Doncic and Dinwiddie.
Jonas Valanciunas and Devonte' Graham will be popular but you need to eat that chalk especially with huge usage boosts to Valanciunas and Grahamn thanks to the inactive status for CJ McCollum and Brandon Ingram and the super weak matchup against Charlotte. The model likes LeBron James but I am gun shy. He screwed us on Monday but I think he had some favorable matchups against Golden State and Houston. He could be a nice late night hammer but I think he gets close to 50 fantasy points instead of 70 tonight.
The Houston pieces look enticing again this evening with Tate and Wood already ruled out. Porter and Sengun shined so roll with them again and they serve as a great complement to our Dallas stack. Then play the matchups with Donovan Mitchell and Anthony Edwards. Both of those guys can score in bunches and they get some of the bottom feeders in terms of defensive efficiency and pace.
Lastly, I love Robert Williams. The Pistons are one of the worst shooting teams in the NBA which means plenty of boards for Williams.
Here are two sample lineups each for DK and FD. Good luck and enjoy the start to your weekend!
DK #1
PG: Doncic
SG: Reaves
SF: Edwards
PF: Bertans
C: Valanciunas
G: Graham
F: Martin
UTIL: Porter
DK #2
PG: Doncic
SG: Dinwiddie
SF: Herbert Jones
PF: Kleber
C: Valanciunas
G: Graham
F: Martin
UTIL: Sengun
FD Lineup #1
PG: Doncic, Porter
SG: Mitchell, Graham
SF: Edwards, Bertans
PF: Williams, Sengun
C: Valanciunas
FD Lineup #2
PG: Dinwiddie, Porter
SG: Doncic, Graham
SF: James, Martin
PF: Kleber, Sengun
C: Valanciunas