Happy Hour NBA DFS (Mar. 12, 2022)
Happy Saturday everyone! The one advantage with publishing this article later in the day is that we wind up getting more up-to-date news on the inactive status of key players. Just a couple of hours ago, the Spurs announced that they will be resting Murray, Johnson, and Poeltl. That instantly propels their replacements to "must start" status. Just take a look at the Spurs' boxscore on Feb. 26 when San Antonio rested the same players.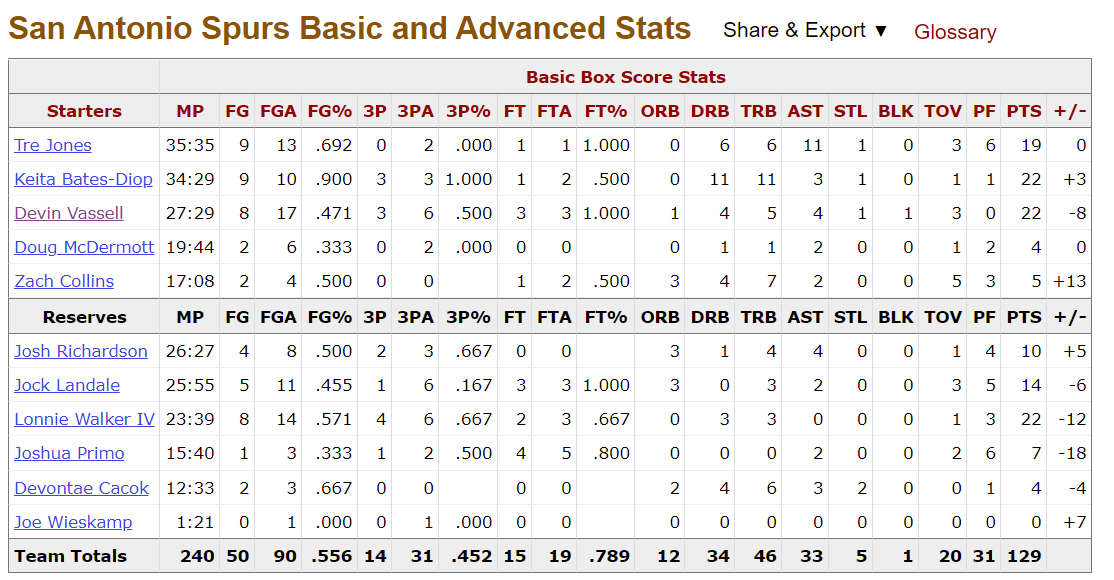 Clearly Jones, Vassell, and Bates-Diop were the ones who benefited the most so let's just assume that history repeats itself. That should be a fair assumption since all three of them are listed as probable starters for tonight. It also helps that the Spurs get a very soft opponent in Indiana. If those three were able to do well against the top team in the East, just imagine what they can do against the Pacers.
As usual, here is the table that shows my model's outputs as well as the top 5 optimal lineups for DK and FD. Click on the link below for the model's predictions and of course the images below show the best possible lineups using my model.


For tonight, our 3 studs will be Curry, Giannis, and Towns. However, Rudy Gobert looks awfully enticing against one of the weakest interior defenses in the NBA. Check out Gobert's record against Sacramento this season.

That is an average of 46.8 FD fantasy points per game or nearly 6x value! Anthony-Towns would need to crack 56.4 FD fantasy points tonight to realize 6x value and it's possible but he also plays on the road in Miami, a team with a fierce defense and plays at a slow pace. Plus it's a BTB for Towns but same is true with Gobert.
If you wind up choosing Gobert over Towns, you could then upgrade from Vassell to Poole. That may not be such a bad idea since Poole has been getting plenty of playing time in the 4th quarter. He is one of the Warriors' best finishers and he will be needed in what should be a very competitive game against Milwaukee.
I don't think I need to go into too many details about Curry and Giannis. Both have won the regular season MVP award twice and both are NBA Champions. There is a good chance that tonight's game between the Bucks and Warriors could be an NBA Finals preview. Expect Curry and Giannis to bring their A-game tonight.
Tyler Herro and Chris Duarte are two other players I like a lot due to opportunity. No Jimmy Butler tonight so Herro will most likely get more shot attempts and accumulate several other peripheral stats. Likewise with Brogdon's absence from Indiana tonight. Duarte gets a significant usage boost with Brogdon off the floor and his price of $4800 on FD is too good to pass up.
Finally, Rui Hachimura is my sleeper tonight. Three days ago I mentioned that the top frontcourt bench player facing Portland typically goes into beast mode and that guy is Hachimura tonight. I know that I whiffed on Whiteside last Wednesday but I was also a victim of my own correct prognostication since Utah pulverized Portland so early in the game that Utah emptied the entire bench. The game was never competitive. I think Portland should at least make the game against Washington somewhat interesting since Washington is on a BTB and flew in from LA last night. Hachimura has been very solid lately playing close to 25 minutes per game since the NBA All Star break and earning 25-30 FD fantasy points per game. He will probably come in at low ownership and if he gets us 7x or 8x value, we are going to cash big time tonight. His price is dirt cheap on DK at $3.2K so get Hachimura in there!
Here are sample lineups for both DK and FD.
DK
PG: Curry
SG: Poole
SF: Duarte
PF: Bates-Diop
C: Antetokounmpo
G: Herro
F: Hachimura
UTIL: Tre Jones
FD
PG: Curry, Tre Jones
SG: Herro, Poole/Vassell
SF: Bates-Diop, Duarte
PF: Antetokounmpo, Hachimura
C: Gobert/Towns
I really am torn between Gobert and Towns at Center on FD since both of them don't see much of a drop off when playing without any days of rest. However, Gobert has the better matchup and sometimes playing 3 starters on the same team makes me nervous (as I have shown with my Spurs stack with Towns at Center). Maybe flip a coin!
Good luck with your NBA DFS roster construction as you mull your decisions over a tall, ice cold beer or whatever libation you prefer. I can't think of a better way to spend your Happy Hour!