Big Five Picks for NFL Week 15 (2021)
Sorry for the late post. No good excuses for not publishing yesterday but finals week just wrapped up and Christmas festivities has kept yours truly busy! We won't sugar coat last week's abysmal performance with the Big Five Picks. For the record, I went 1-4 and the overall record is 41-28-1. Still a good record but that dropped us 100 spots from 32nd to 132nd in the Super Contest hosted by Westgate Casino in Las Vegas. Note: I am not in the Super Contest this year so my ranking is just hypothetical.
With just 4 weeks left to the regular season, it is imperative we make a strong charge to finish the season on a high note. Here is a table displaying my model's output.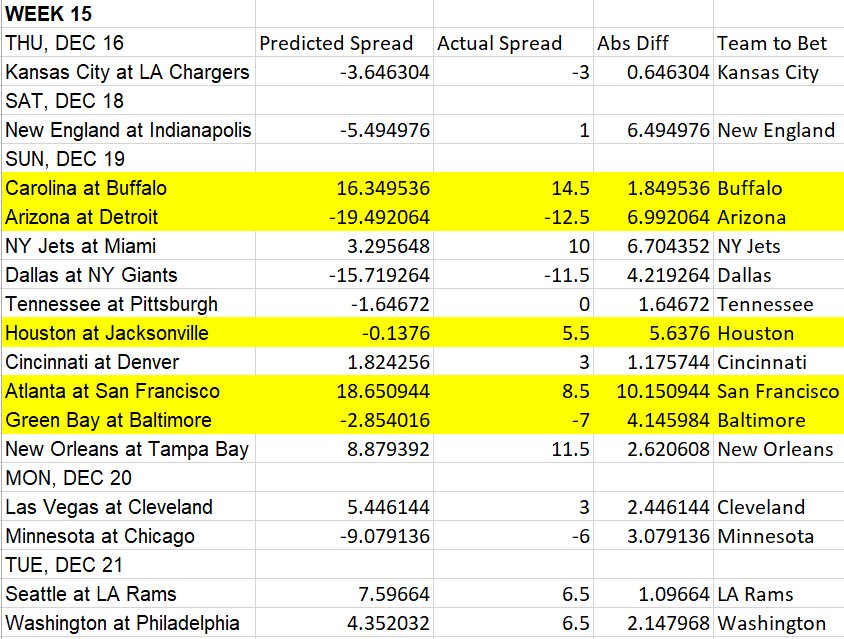 Notice that I left out the column regarding the cover/no cover trend which I have featured the last few weeks. Like all trends, this one has regressed towards the mean. It made sense for a while but there are teams that just can't cover due to injuries and now COVID protocols thanks to the Omicron variant. Also, there is a sense of apathy with some teams who have little to no chance of making the postseason while there are plenty of teams who are very motivated to keep playing in January.
Also, we have a wonky schedule with several games moving to tomorrow or Tuesday. Seems like a repeat of last year with so many players contracting COVID. Just when we thought we had a handle on this pandemic, COVID rears its ugly head again. Due to the unpredictability of the active status for the key players involved in the postponed games, we will avoid the teams playing on Monday and Tuesday. So who do we like for today? Without further ado, here are the Big Five Picks for Week 15.
Buffalo -14.5
I know, I know. The Bills have struggled lately losing 4 of their last 6 games. However, their last two games were heartbreaking losses to two teams who might see each other in the Super Bowl: New England and Tampa Bay. The Bills are still a young team figuring out how to win those intense games in the final minute. If we focus on the two wins the Bills have had the last 6 weeks, we have a 28 point victory over the Jets and a 25 point win against the Saints, both games taking place on the road. The Bills five other wins this season have been by 15 or more points. Clearly this is a team who will feast on an inferior opponent and that is what they have today when they host the Panthers. Since starting 3-0, Carolina has gone 2-8 which can be blamed due to an ineptitude at the QB position and Christian McCaffrey getting stricken with the injury bug again. Three of those losses were straight up ass kicking where the offense scored 10 or fewer points. The Bills defense ranks 1st in DVOA, a metric Football Outsiders uses for assessing NFL teams. Carolina's offense ranks 3rd to last based on DVOA. Expect a big Bills win today as they make a push to the postseason while the Panthers dive deeper into the cellar. Prediction: Bills 31 - Panthers 14.
Arizona -12.5
Here we have another team that is reeling from a tough loss last week and now has to figure out how to deal with an injury to its star WR. Still, Arizona is one of the best teams in the NFL. You asked most NFL fans around the middle of October who looked poised to see each other in the Super Bowl, most would say Arizona and Buffalo. Like Buffalo, Arizona is still a young team so it will take some time to figure out how to win those hotly contested games. Sometimes you need to lose to win as we have seen so often with teams who go on to win the Super Bowl (like the Bucs last year). Today's game in Motor City will serve as a "get right" game for the Cardinals. The Lions are just downright awful and they will be overmatched in so many ways when they host Arizona. Even though Kyler Murray won't have DeAndre Hopkins at his disposal, he still has AJ Green, Chistian Kirk, Zach Ertz, James Conner, and Chase Edmonds. Plus Murray can run it himself with great success against a team that is one of the worst at defending the run. Remember, Arizona has EIGHT double digit wins. EIGHT! That is the trait of a Super Bowl quality team. Meanwhile Detroit has five double digit losses. They are the epitome of sports futility and today's game will be just another reason why the Lions are a perennial cellar dweller. Arizona wins huge against Detroit with a 33-13 ass kicking.
Houston +5.5
Houston stinks. We know that. So does Jacksonville. Why this game has the Jaguars favored by 5.5 points makes no sense. The Jaguars are a team that is heavily distracted with the news of Urban Meyer's firing which is justified given all of Meyer's recent transgressions. He should have just stuck with coaching college football. Houston will go with Davis Mills again but I don't care. The Jaguars offense is worse scoring just 31 points in the last 4 games. For you math majors at home, that is less than 8 points per game. The Houston defense is not bad ranking 13th with DVOA. This game will be ugly. Close and low scoring. In such a situation, I will gladly take the team getting points, especially when they are probably the better team. Houston outright wins this game 21-20 so consider the moneyline play.
San Francisco -8.5
It looks like the glory days of the 49ers offense are back! Yes, I am a homer having grown up in the Bay Area during the 80s and 90s and I will tout my favorite football team whenever I get the chance. However, this team is legit. I was saying this often during the most recent offseason: the 49ers have a lot of firepower when healthy. Seriously, you have a top 5 rushing attack, a top 2 tight end, a dominant and versatile WR, and a strong complementary WR. George Kittle, Deebo Samuel, Brandon Aiyuk are all healthy and all playing great. All we needed was QB who can utilize their talents and Jimmy Garoppolo is precisely doing that right now. Of course Jimmy G has had some struggles in his career but right now he is clicking with his offensive weapons. It would be nice if Elijah Mitchell were healthy but the 49ers rushing attack won't skip a beat with Jeff Wilson and JyMcychal Hasty toting the rock at home today. The Falcons are 6-7 but that is very overinflated. Their DVOA is trash and they have been dominated when facing a strong offense. Look at what happened to them against Dallas, Philadelphia, New England, and Tampa Bay twice. Atlanta lost four of those five games by at least 23 points with the closest one being a 13 point loss to Tampa Bay. The average margin of defeat in those five games is 25.4 points per game. With cross-country travel and 3 time zone changes, I fully expect Atlanta to get demolished in Santa Clara today. 49ers win 34-15 as they create more separation between them and the other playoff contenders/pretenders.
Baltimore +7
I am sorry. The Ravens should not be a SEVEN point dog at home. Yes, the Packers are very good and will probably make it back to the NFC title game for the 3rd year in a row. The Packers have also done a great job of covering with a 10-2-1 record against the spread. However, did you know that those two losses and push happened when Green Bay was favored on the road? The Packers 1-2-1 in such situations with the only cover being a 10 point win in Chicago. There is risk since Lamar Jackson is questionable and is a true game time decision. The spread will probably move in favor of Baltimore if Jackson is active so the value is very good right now if you have faith in Jackson playing today and playing well. We all talk about Rodgers late game heroics and toughing it out when he is hurt. Jackson is no different. He has been exceptional this year with his back against the wall. His wins this season against Kansas City, Detroit, Indianapolis, Minnesota, and Cleveland have all been gritty performances. Last time the Ravens were a home dog was Week 2 when they hosted Kansas City, an offensive powerhouse similar to Green Bay. The Ravens won that game. Moneyline is risky but could be a great way to cap your NFL Sunday. However, only do so if Jackson plays. I say Green Bay wins but not by much, even if Jackson is out. A late field goal giving them a 28-25 road win sounds about right and we will gladly take the Ravens cover.
We have better balance this week with our picks. Three teams with heavy chalk but also two underdogs. Consider parlaying the Bills and 49ers and then a small parlay with Arizona and Houston moneyline. Then a single bet on Baltimore. I like our chances of a 5-0 week!