Big Five Picks for NFL Week 11 (2021)
The hot streak continues! 4-1 last week! Overall the Big Five Picks are 32-17-1. That would rank 27th out of 1950 entries in the SuperContest hosted by Westgate Casino, arguably the most well-known football betting contest in the world. What's interesting is that my record against the spread for all 14 games last week was 5-9 so clearly the model and the cover/no cover trend I discussed in my article last week was hugely helpful in identifying the teams most likely to cover. If you didn't read my article last week, the cover/no cover trend tells us to bet on the team that didn't cover the previous week (or the week before if the team was on bye) if that team happens to play a team that covered its last game. When you combine that trend with my model, the ROI is high: 48% after Week 10.
Last week, there were five teams that satisfied both my model and the cover/no cover trend. Baltimore was expected to take care of business in Miami on TNF during Week 10 but of course lost by 12 points. However, three of those five teams covered: Dallas, New Orleans, and Philadelphia. They were also featured in the Big Five Bets for Week 10. The other team that failed to cover was Las Vegas. However, it's questionable if that game satisfied the cover/no cover trend. Kansas City was considered a cover team for Week 9 but it all depends on what spread you had for the Green Bay - Kansas City game due to the dramatic point spread movement (moved from a pick 'em to a 7 point spread in favor of KC) thanks to Aaron Rodgers' deception regarding his COVID vaccination status. I wound up using the opening line for that game which was a pick 'em so in my book KC covered and I will take the loss there.
One thing to keep in mind is that you don't need to have action on every single game, especially if the model is predicting a point differential that is very close to the published point spread. That just tells us that the game is too close to call and it is best to stay away. Just stick with the Big Five Bets and you will be on your way to a profitable weekend.
Here is a table displaying my model's output along with the cover/no cover trend.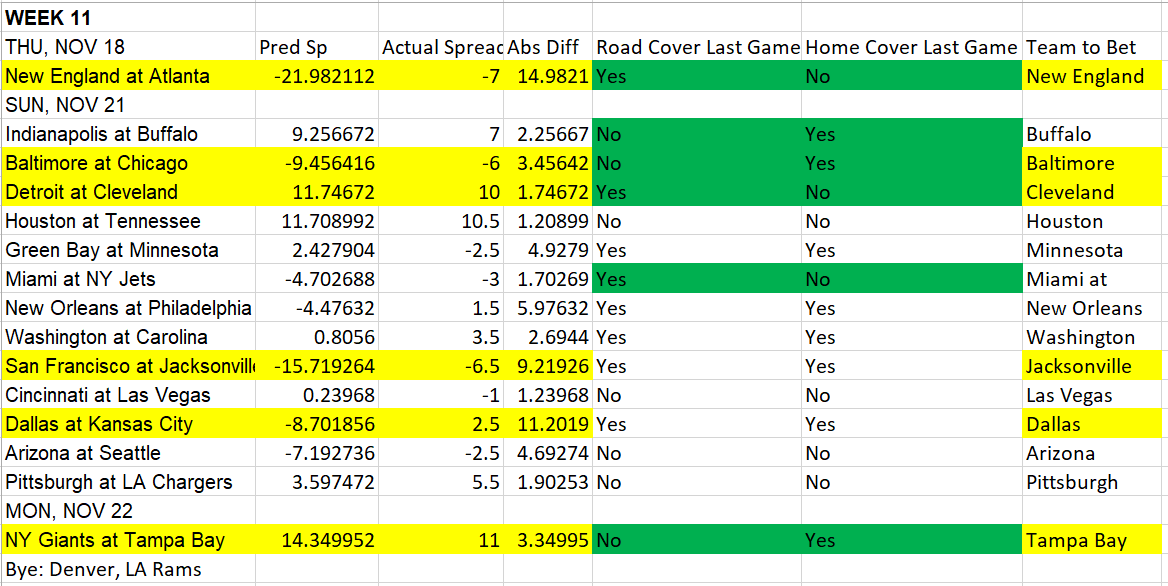 Games highlighted in green represent those that satisfy the cover/no cover trend. Those highlighted in yellow are the ones that will be featured in the Big Five Bets. However, you will see six games highlighted in yellow. That is because New England would have made it to the Big Five Bets if I published this article before TNF for Week 11. However, I am stickler when it comes to time stamps and holding myself accountable with my published selections so I won't take credit for that win (even though my sportsbook account shows otherwise!). Plus, I am sure you really want to read about FIVE teams instead of FOUR! Without further ado, here are the Big Five Picks for Week 11.
Baltimore -6
The Ravens find themselves in a very tight race for the AFC North crown as well as just getting to the playoffs. There are 12 AFC teams that are 5-5 or better and right now Baltimore is 6-3. It will certainly be a dog fight to the end so Baltimore will need to grab wins whenever they can. Chicago represents one of those "get right" games for Baltimore. While Chicago showed a lot of grit on MNF in Pittsburgh in Week 9 and had a week off, this is still a very young team and now will be without the services of pass rush specialist Khalil Mack who was placed on season ending injured reserve yesterday. When Mack played during Weeks 1 - 6, the Bears allowed an average of 20.67 points per game. Not great but not bad either. For the last 3 games, the Bears have allowed 33.33 points per game. Mack played in Week 7 against Tampa Bay but was also hurt in that game. He has not played since. The Bears earned 21 sacks for their first 6 games but just 4 for the last 3. All 4 of those sacks were against Pittsburgh, a team with a weak offensive line and a super immobile QB in Ben Roethlisberger. What was a strength for Chicago has quickly become a weakness. That should make things easy for Ravens QB Lamar Jackson who has grown tremendously as a passer this season. With no serious pass rush, the Bears will be at Jackson's mercy when Jackson decides to run it for a 15 - 20 yard gain or hit speedy WR Marquise Brown for 40 - 50 yard strike. It will be a "pick your poison" type of game for Jackson. Ravens win 30-20 in the Windy City.
Cleveland -12
The line has moved by 2 points since it opened at -10 earlier in the week. The model has the Browns winning by 11.76 points so a 12 point spread sounds about right. So why am I selecting the Browns in my coveted Big Five Picks? Because they are in a tight playoff race and need to take care of business against an inferior opponent like the Lions. No doubt the Lions showed a lot of heart last week in their overtime game in Pittsburgh that resulted in a tie. Still the Lions cannot defend the run ranking 4th worst in Run Defense DVOA. Cleveland's Run Offense DVOA ranks 1st and now the Browns get Nick Chubb back after being activated from the COVID/IR list. There have been three games where the Lions lost by 18 or more points. In Week 2, Green Bay beat Detriot 35-17 thanks to 4 TDs from RB Aaron Jones. In Week 6, Cincinnati won 34-11 due to 142 rushing yards on 36 carries (and a 35:52 time of possession). The Lions worst loss was a 44-6 ass kicking at home to the Eagles during Week 8. The Eagles literally ran the ball down the Lions' throats: 46 carries, 236 yards, and 4 TDs. It was a nice blend of Jalen Hurts, Boston Scott, and Jordan Howard so expect the blend of Chubb and D'Ernest Johnson to run wild. The Browns will quickly right the ship with a 31-17 win at home.
San Francisco -6.5
What a difference a week makes! The calls for Kyle Shanahan's head grew very loud after losing at home 31-17 to an injury depleted Arizona team (the same team that was dominated at home by Carolina a week later). If the 49ers lost to the Rams at home on MNF that would have put them at 3-6 and 4.5 games behind the Rams. Not just the 49ers won but they delivered several knockout blows in the first quarter due to an early INT that led to a time consuming TD drive followed by a pick 6. Levi's Stadium was buzzing when the 49ers went up 14-0 in the first quarter and Shanahan finally grew a pair by going for it on 4th and 6 late in the game to deliver the final nail in the coffin en route to a 31-10 victory. All of a sudden the 49ers find themselves back in the playoff hunt with a soft remaining schedule. One of the cupcakes on their schedule is Jacksonville. Like the other teams we have picked against so far, the Jaguars have recently shown some grit by upsetting Buffalo 9-6 during Week 9 and falling short in their comeback attempt last week in Indianapolis after going down 17-0 early in that game. The cross country travel and the three time zone changes are concerns for the 49ers but they are also a veteran team with several key players who were on the 2019 squad that won the NFC title. Defensively the 49ers are nothing special but the Jaguars don't have the offensive personnel to expose those "weaknesses". The Jaguars are even more suspect on defense and the 49ers offense is loaded with talent. WR Deebo Samuel could have another big game but I expect TE George Kittle and the run game to also show up. This should be another solid win for the 49ers: 34-14.
Dallas +2.5
So far we have eaten a lot of chalk with the Big Five Picks. This will be the only underdog we will take and to be honest with you, how this game is not a pick 'em is beyond me. Yes, the Chiefs' offense finally showed up last week but that was against the Raiders, a team that has had to deal with so much turmoil with Jon Gruden and Henry Ruggs. FYI, the turf at Allegiant Stadium is fast which played to KC's strength. Keep mind that the Chiefs have struggled for most of this season with protecting Patrick Mahomes and defending both the pass and run. The Bills marched into Arrowhead Stadium and laid the smackdown on the Chiefs by winning 38-20. The Browns, Ravens, Chargers, Eagles, and Titans all have had field days against KC. If you look at the Chiefs' other two wins during their recent 3 game winning streak, you will find that KC barely beat the NY Giants and Packers, the former being notoriously inferior and the latter missing Aaron Rodgers. And both of those games were at home! The Cowboys are humming right now and even without Amari Cooper, they have plenty of talent on offense to expose the Chiefs sieve-like defense. They also have a solid pass defense that ranks 3rd overall based on DVOA. I bet that if the Chiefs lost in Vegas or barely squeaked by, the game would be a pick 'em or Dallas would be a slight favor. This is where the betting public is completely ignorant by still holding onto the past. Dallas wins this game decisively by 8 - 10 points. I will predict 30-22. Moneyline for Dallas is +120 which also seems safe to me.
Tampa Bay -11
The theme for both Baltimore and Cleveland is all about "getting things right" after a bad loss. Same can be said about Tampa Bay. The Bucs are at home and on national TV. They get a weak opponent that is young and inexperienced. Tampa Bay head coach Bruce Arians called out his players for their lackluster performance in our nation's capital last week so I can assure you that Tom Brady won't disappoint when playing under the lights. Of Tampa Bay's four home games this season, three of them were won by at least 23 points. The first home game was a 2 point victory over Dallas and of course Dallas is a strong contender for the NFC title. Bottomline, Brady wins big at home and is plenty motivated to move past the Bucs' 10 point loss last week. Meanwhile, the Giants have had mixed results on the road. A good comparison is the Giants game in Dallas during Week 5. Dallas and Tampa Bay are very comparable with both ranking in the top 2 with Pass Offense DVOA and both in the top 10 for Overall Defense DVOA. What happened to NY in their road game at Dallas? A 44-20 demolition in which the Giants were outplayed in every facet of the game. Expect the same on Monday Night Football. Bucs get back on the winning track with a 31-17 victory.
There you have it! Three favored team in the morning, one road dog (an unusual dog I must say) in the afternoon, and then back to a strong favor a night later. No need to parlay. Just make reasonably sized single bets and you your cash flow will continue to grow. Just in time for Black Friday!