Super Bowl LII Prediction
The moment we have been waiting for ... the time to analyze the biggest game of the year! SUPER BOWL LII!
Will the Philadelphia Eagles earn its first Super Bowl title or will the New England Patriots continue their dominance with a 6th Super Bowl victory in 17 seasons? The comparisons between Nick Foles and Tom Brady have been dizzying! Here are two of our favorite images comparing these two signal callers with one more statistical and the other more comedic.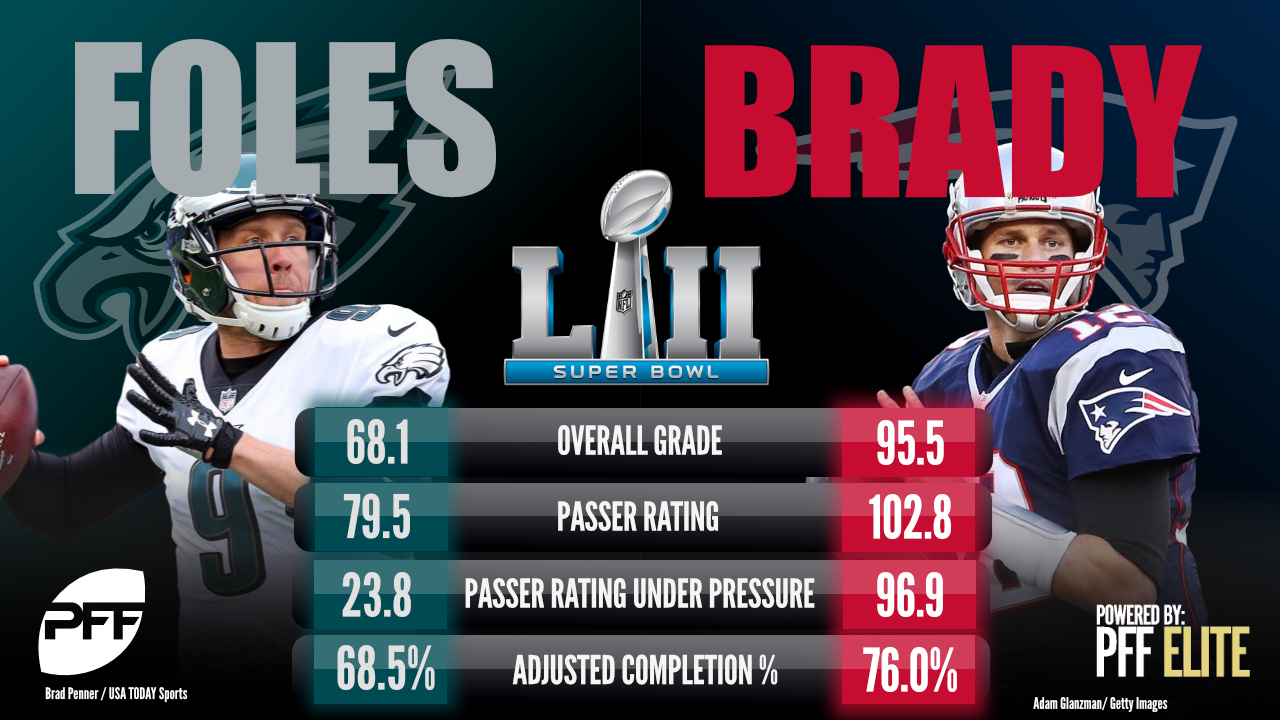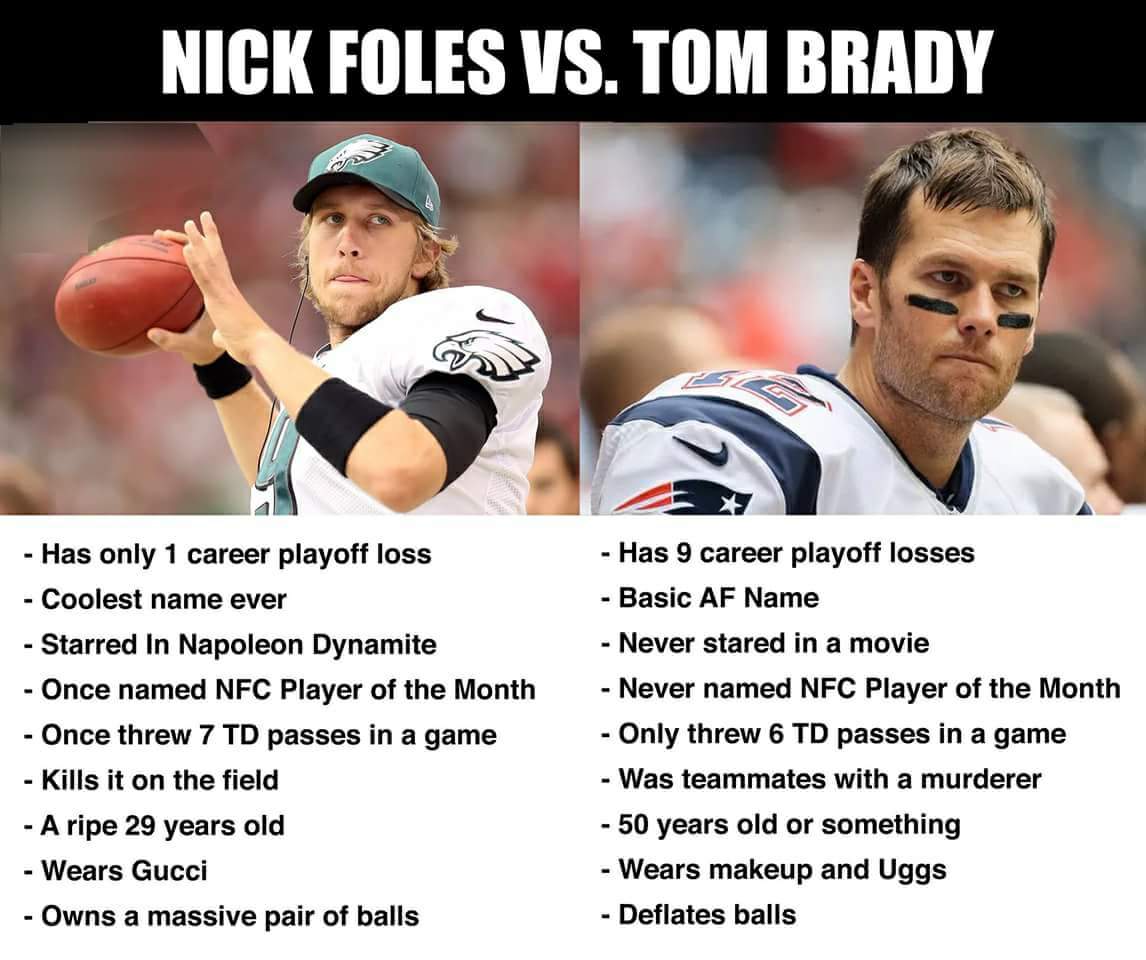 While it is worthwhile to go deep into the differences between both QBs, we feel the Super Bowl will be decided in other aspects of the game. Let's begin our discussion on what each team needs to do to earn the right to be called World Champs.
When Philadelphia is on offense ...
RUN THE BALL. Then RUN THE BALL some more. Oh, keep RUNNING THE BALL! The best defense against an offensive juggernaut like the New England Patriots is to keep Tom Brady off the field. The more you control the clock, the better your chances of winning. Here is the data to prove it.
Teams who controlled time of possession against New England since 2011:
Time of possession (including OT): 33 minutes and 5 seconds or 55.13%
Record: 18-48 (27.27%)
Average Score: 21.74 - 28.53 (Point differential of -6.79)
Teams record who didn't control time of possession against New England since 2011:
Time of possession (including OT): 26 minutes and 36 seconds or 44.35%
Record: 10-53 (15.87%)
Score: 17.63 - 30.89 (Point differential of -13.25)
First off, why go all the way back to 2011? That is when the current identity of the Patriots offense was established. Tight end Rob Gronkowski was in his 2nd year and has absolutely dominated the competition since then. He is arguably Brady's favorite target and a big reason why the Patriots are so hard to stop on 3rd down. Current offensive coordinator Josh McDaniels returned a year later in 2012 (he also served in several assistant coaching capacities for the Patriots from 2001 - 2008) and the Patriots have been one of the final four teams every year since 2011.
Secondly, even though winning the time of possession (TOP) battle doesn't necessarily mean you will win, it is better than the record when you don't win the TOP battle. We are talking about the Patriots after all who have won 101 out of 129 games since 2011. They are ridiculously good. Still, they are beatable and to beat them, you need to keep the Patriots offense on the sideline. The difference in point differential between the Patriots opponents who had higher than 50% TOP and those who did not is quite significant. Those who can control the clock by running the ball typically lose to the Patriots by a TD. When you don't have success with the run game, that differential jumps to a 2 TD loss.
So how does this help Philadelphia? Well guess which team led the league in TOP since 2016? You guessed it ... the Eagles! The Eagles ranked #1 in TOP in 2016 at 54.19% and again this season at 54.56%. This has coincided with the arrival of current Eagles head coach Doug Pederson who has preached the importance of TOP to his team. That is a stark contrast to his predecessor Chip Kelly who was more in favor of a fast paced game by scoring quickly and not letting too much time pass in between snaps so that the opposition cannot guess what the offense is going to do. That style of offense worked well in the college game at the University of Oregon but has no place in the NFL. Pederson is an old school guy having been a back-up QB for several successful teams in the 90's and learning from one of the best, Andy Reid, while working as an offensive coordinator for the Kansas City Chiefs from 2013 - 2015. He has a run-first mentality.
If you look at the teams who have had success against New England since 2011, running the ball (and ultimately hogging the clock) was a key reason for winning or at least keeping the game close. Just look at the times the Patriots divisional rivals like the Bills, Dolphins, and Jets have lost by less than a TD or outright won the game. Likewise with other teams who have beaten Brady and company like the NY Giants, Pittsburgh, and even the Kansas City Chiefs while Pederson was the offensive coordinator. It really helps to dominate the TOP.
The Eagles certainly have the personnel to pull that off. Their current rotation of RBs (Jay Ajayi, LeGarrette Blount, and Corey Clement) all offer a nice blend of speed and power. The offensive line is no joke either with center Jason Kelce leading the way. His Pro Football Focus (PFF) score of 91.7 ranks as #1 for all NFL centers. His run blocking score of 95.7 is absolutely insane with the next highest score coming from Dallas Cowboys center Travis Frederick (90.7). We all know how good Dallas's offensive line has been. Alex Mack comes in at 3rd for run blocking for the center position at 90.2 and he was a key reason why Atlanta had New England against the ropes in last year's Super Bowl. In addition to Kelce, the Eagles have the #4 tackle (Lane Johnson) and the #4 guard (Brandon Brooks) according to PFF grades. That is out of 100 players for each position! Could you imagine how much better this line could be if tackle Jason Peters were healthy?!
If we go a bit deeper, Football Outsiders does a nice job of categorizing how offensive and defensive lines rank in particular aspects of the running game. There are 2nd level yards which is when the running back has earned between 5 - 10 yards past the line of scrimmage. There are open field yards which is 10 yards past the line of scrimmage for the run game. The Eagles offensive line ranked 4th and 3rd in those respective categories. Since the Super Bowl is all about matchups, how did the Patriots defensive line fare in those categories? 29th and 28th. That shouldn't be surprising given that the linebacker unit for the Patriots ranks 29th in terms of PFF average grade. If the Eagles have success running the ball by getting to the 2nd level and open field often and the Patriots linebackers continue to struggle in that aspect of the game, then the Eagles should have no trouble winning the TOP battle and ultimately the game.
We haven't mentioned Nick Foles yet. Well now we have! He will play a big role in this game but there is no way he will have nearly as much success passing the ball as he did against Minnesota two weeks ago. Patriots head coach Bill Belichick won't allow it! The corners for New England are solid so it is imperative that Foles is judicious with his throws and let the run game do its thing. Short passing plays will help and Foles has the talent around him to keep the chains moving with short and intermediate throws.
When Philadelphia is on defense ...
Pressure Brady without blitzing. It's no secret how the NY Giants won two Super Bowls against Tom Brady and how Denver and Baltimore beat Tom Brady in the AFC Championship games in 2012, 2013, and 2015 (Jacksonville nearly did so this year). You need to knock Tom Brady on his ass early and often throughout the entire game. Even then, it's still not easy since the Patriots tend to keep the game close. The Eagles lead the NFL in QB pressure and rank quite low in blitzing which means they are able to get after the QB with their front four. While the Eagles might be new to the Super Bowl stage, they are not an inexperienced group. Eagles defensive coordinator Jim Schwartz has been in the league for a long time and has had really good success as a defensive coordinator for several teams. When he was with Tennessee from 2001 - 2008, Brady struggled against the Titans. Schwartz had a talented group of defensive lineman and linebackers back then and he has similar elite talent now at those positions. Interior defensive lineman Fletcher Cox ranks #2 according to PFF. Defensive ends Brandon Graham and Vinny Curry are top 10 and 20 for their PFF grades, respectively, and likewise with linebackers Mychal Kendricks and Nigel Bradham. Each of those five players are in their late 20's which indicates that they are in the prime of their careers. This is a very good defensive front seven and is no doubt championship quality. They are all healthy which pretty much explains why the Eagles have made it this far. They should be able to hold their own against a very good Patriots run offense and apply constant pressure on the QB even against a solid offensive line in front of Brady.
The secondary is not too shabby either. McLeod, Jenkins, Darby, and Mills have all done well and grade high on PFF. Mills might be the weak link here but he has shown up this postseason. Most likely Mills will be on Chris Hogan since Hogan has not been much of a factor lately for the Patriots. We expect Robinson to shadow Amendola in the slot since Robinson is the best cover guy out of his bunch. Defending Gronkowski and Cooks won't be easy but those guys are matchup proof. As long as Brady doesn't have a clean pocket and is not given all of the time in the world to make throws, then the Eagles secondary should be fine in not letting too many big plays happen. Winning the TOP (which falls on the shoulders of the offense) would help keep this talented defense fresh.
When New England is on offense ...
This is perhaps one of the best offenses in NFL history. Not necessarily this season but for the last decade. They are ahead of the curve and can beat you in so many ways. The offensive line protecting Brady is very solid and healthy. The Patriots were wise to spend money on the line. If Brady is the identity of your team, you need to make sure he stays upright. The running game is versatile and Brady has phenomenal chemistry with all of his WRs. Even when someone significant gets injured there is so much depth on this team that it's like the Patriots can just pick up some guy off the street and never miss a beat. For those who are children of the 80's, beating New England is like beating Mike Tyson in the old Nintendo game Mike Tyson's Punch-Out!!. Awfully hard to do and you need to be perfect to do so. You flinch once and you are done.
Blitzing might make sense but Brady is ridiculously good at identifying that kind of pressure and then adjusting at the line of scrimmage. Brady will quickly figure out which WR will be open or will have a mismatch. The Patriots are an uber-disciplined team so trying to disguise blitzes is a waste of time. You really need to pressure Brady with your front four. The Eagles can do that well. In fact, they did it better than anyone this season. That is why we think the Patriots will try to run more no-huddle, especially at the start of the game. Brady has several options at his disposal so we would be shocked if the Patriots have an off day on offense, especially with two weeks to prepare and being at this large of a stage so often. The Patriots may not light up the scoreboard but they should at least score 20 points and get close to 30.
When New England is on defense ...
Stack the box. Make Nick Foles beat you with his arm. We know the Patriots have struggled with the run game at various times this season and the Eagles will try to assert itself with their rushing attack. We also know that the Patriots have improved with their run defense lately. Still, Kenyan Drake of the Miami Dolphins carved up the Patriots on Dec. 11 and a week later Le'Veon Bell did the same. Leonard Fournette had a decent game two weeks ago. Miami won and Pittsburgh and Jacksonville came very close to winning. It is important that New England does not let Philadelphia dictate the tempo of the game with their three-headed RB committee.
The Patriots corners and safeties are probably the strength of this defense so they should be fine in not letting a good but not great group of WRs for Philly beat them at the line of scrimmage. Jeffery and Agholor are no slouches and likewise with Ertz but they are not matchup nightmares. Defensive coordinator Matt Patricia is the master at disguising blitzes and making the opposing QB guess what is coming next. Foles has been solid this postseason and has some experience but is still new to this big of stage.
So who wins ...
There is a good reason why we spent more time writing about when Philadelphia is on offense than any other part in this article. We truly think time of possession (TOP) is going to be the key reason why Philadelphia will win its first Super Bowl and first NFL championship since 1960. Very few teams have been able to beat New England when not winning the TOP battle. We know Carolina and Seattle did so but they also generated turnovers and put pressure on Brady. We feel Philadelphia will put a decent amount of pressure on Brady but it's the TOP that is going to win the day for Philly. Keep Brady on the sideline and don't let the foot off the pedal. Jacksonville two weeks ago and Atlanta last year in Super Bowl LI came close but didn't have the depth to keep up the intensity for 60 minutes. Philadelphia does have that depth and they are healthy. Defense certainly wins championships but more importantly, it's winning the war in the trenches that earns you a Vince Lombardi Trophy. No team has done that better this season than the Philadelphia Eagles so expect the City of Brotherly Love to have reason to celebrate next week.
Prediction:
Philadelphia 27
New England 24
MVP: Nick Foles (last minute TD pass to Nelson Agholor for the win)
Justin Timberlake Playlist:
Can't Stop the Feeling!
Sexy Back
Cry Me a River
What Goes Around .. Comes Around
Dead and Gone
Mirrors
What is a Super Bowl without the halftime entertainment! Let's just hope Timberlake behaves himself this time on stage with no "wardrobe malfunctions"!