NFL DFS Wild Card - Saturday Slate (2021)
It seems that the most popular slates for this first ever 3 day weekend of NFL playoffs are the ones that are Saturday only, Sunday only, and the single game showdown on Monday Night. It's too bad that the slate that features all 6 games is not getting enough traction since that is where I feel you can have more fun with your lineup construction and increase your engagement throughout the entire weekend. Perhaps the DraftKings (DK) and FanDuel (FD) are simply catering to the ephemeral tendencies of the younger generation of DFS players.
Well this middle-aged DFS player will just adapt to the slates with the best payouts meaning that my DFS articles this weekend will feature three separate lineup constructions: Saturday only, Sunday only, and Monday Night Showdown. I suppose we will just tackle the Wild Card round one day at a time!
Before we dive into the Saturday slate, check out the tables below. They represent my models' outputs for QB, RB, and DST.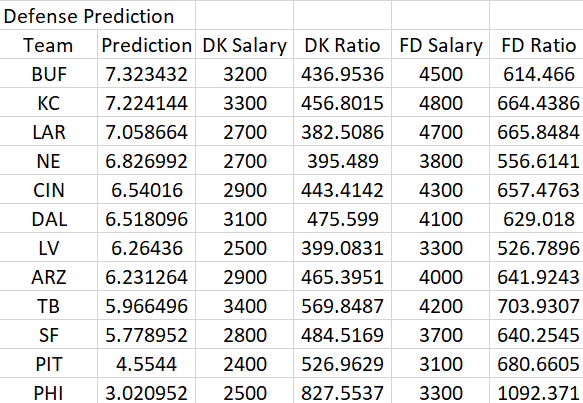 I don't have a model for WR and TE so that is where I will lean on the projections from Advanced Sports Analytics (ASA). You may want to consider a subscription with them, especially if you love to play DFS for other sports besides NFL. Here is a link to the ASA site.
www.advancedsportsanalytics.com
QB: Joe Burrow
Don't mess around here. The game in Buffalo is going to be very, very cold which will adversely impact the passing game. It also doesn't help that both Buffalo and New England are two superb teams when it comes to pass defense. The ball will feel like a rock and with maybe an exception to Stefon Diggs, I don't believe any of the other receivers or tight ends have soft enough hands to catch the ball with reliable consistency in frigid conditions. That means we will lean towards the earlier game of the day. You could go contrarian and save some money by rostering Derek Carr but are you really going to fade the QB who joined the 500 yard club three weeks ago and led the NFL in both completion percentage and yards per pass attempt? It's a home game for Cincinnati and while it will be cold, the weather won't be as brutal as it will be in Buffalo, especially for a QB who was born and raised in the midwest.
Meanwhile Derek Carr has struggled in games when the temperature drops below 40 degrees: 0-5 record and never scoring more than 17 points in any of those games. Going back to Burrow, while his overall numbers this season were impressive, they were even better at home. He completed 73.44% of his pass attempts for a 111.7 QB rating and 9.46 yards per pass attempt. The Raiders are a decent defense but nothing special. The Bengals pretty much had a bye week last Sunday while the Raiders needed OT to win a very intense battle on Sunday night just to get to the postseason. If you consider the long travel, one less day of rest, and three time zone changes, I don't believe the Raiders will have what it takes to stop the Bengals aerial attack as Burrow begins to pave his path to NFL greatness like two other QBs who share the same first name. If you don't know who I am talking about, just stop reading!
RBs: Devin Singletary and Josh Jacobs
When selecting RBs for DFS, please consider the following criteria: volume and game script. That is why snap count carries so much weight in my RB model but as I have said in the past, building a successful DFS lineup is both an art and a science. We all know the game will be cold in Buffalo which is very conducive to the run game. Singletary has been playing in at least 50 snaps since Week 14 and that has not changed even with the return of Zack Moss during Week 16. The Bills' game plan is to out muscle New England by beating Bill Belichick at his own game. Run the ball a lot and play great defense. You can't ask for a better strategy in true winter conditions and no other team has done that better this season than Buffalo. As for Jacobs, the Raiders would be wise to hand the keys of the offense to him. After all, the best way to limit a prolific passing offense as Cincinnati's is to keep Burrow and company on the sidelines. The Bengals tent to struggle with RBs who get involved as receivers in the passing game. Consider the stats for the RBs below who played Cincinnati this season.
Week 1: Dalvin Cook 6 receptions for 43 yards
Week 3: Najee Harris 14 receptions for 102 yards
Week 5: AJ Dillon 4 receptions for 49 yards and 1 TD
Week 6: DeAndre Swift 5 receptions for 43 yards
Week 8: Michael Carter 9 receptions for 95 yards
Week 13: Austin Ekeler 5 receptions for 45 yards
Jacobs has seen an increase in his target share and receptions over the last 3 seasons. His 64 targets this season ranks 4th on the Raiders and with Kenyan Drake out, you can bet that Carr will be looking for some dump off passes to Jacobs just to sustain drives. Jacobs will be the security blanket Carr needs in a cold weather game on the road against a formidable opponent. If Jacobs gets somewhere close to the receiving stats for the RBs listed above, that is at least 10 extra points on DK in addition to Jacobs' rushing stats.
You will notice that I am fading Joe Mixon on FD but might consider him for DK. His price is simply too high on FD and we are getting much better value with Singletary and Jacobs. As for the New England RBs, I don't like the timeshare there and I feel that the Bills defense will be too much for this young Patriots team.
WRs: Ja'Marr Chase, Stefon Diggs, and Gabriel Davis
Let me introduce you to Air Yards if you are not already familiar with this advanced metric. It's actually not that advanced but it has phenomenal predictive power. Air Yards simply represent how far the ball travels from the line of scrimmage to where ever the targeted receiver was located. In a nutshell, you can think of Air Yards as the intent of a QB to target his receiver on deep plays. It comes as no surprise to see both Chase and Diggs at the top of the leaderboard among all WRs and TEs playing on Saturday (see table below).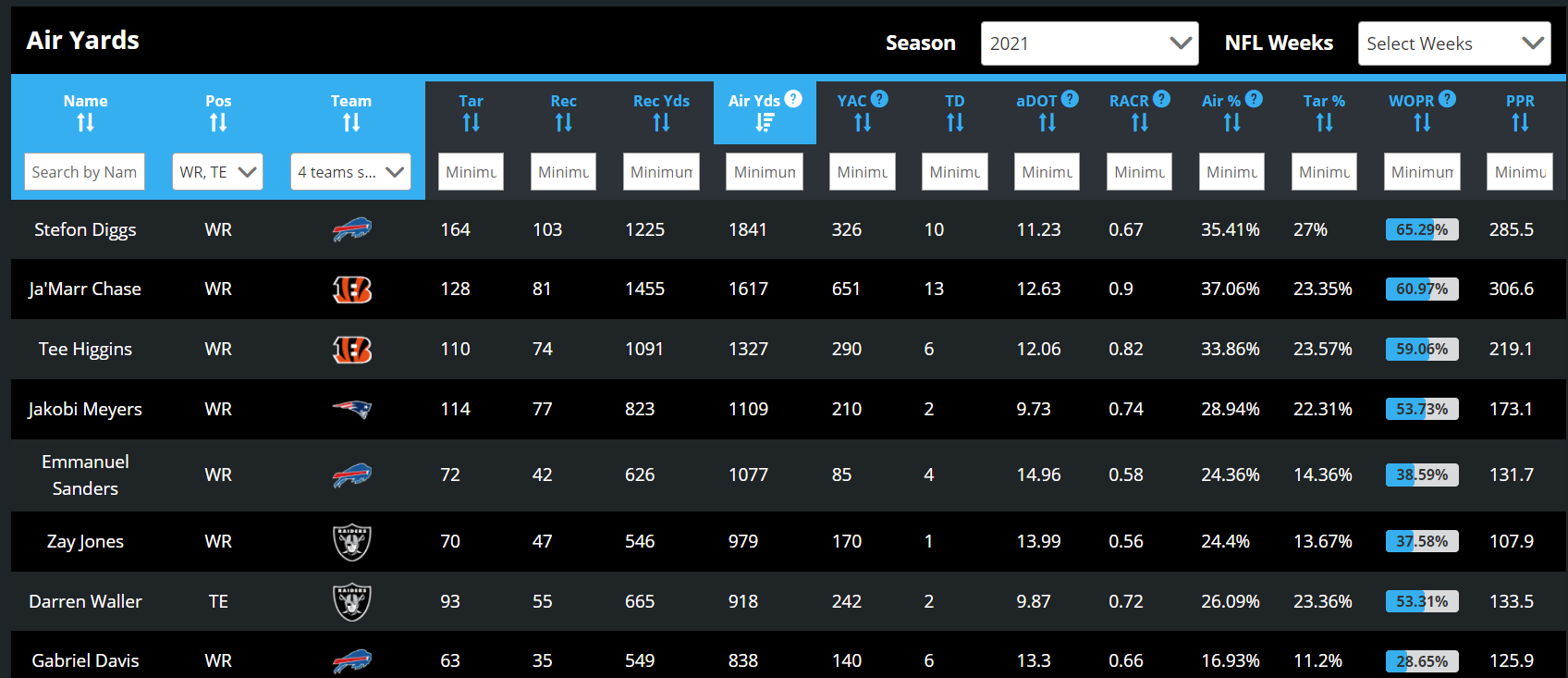 A pleasant surprise is Davis at the #8 spot. He is cheap on both DK and FD and has played in at least 63 snaps in each of the last 4 games. He is a gifted receiver and serves as a great complement to Diggs. Again, I am worried about the frigid conditions in Buffalo so a good pivot could be Zay Jones but I am also not so sure about having too many Raiders on my roster if I plan on selecting Jacobs and perhaps Darren Waller.
Going back to Chase and Diggs, no other WR playing on Saturday comes close to the explosiveness, route running, and physicality of Chase and Diggs. They each have a great rapport with their QBs as shown by the correlations tables and scatterplots below (courtesy of ASA).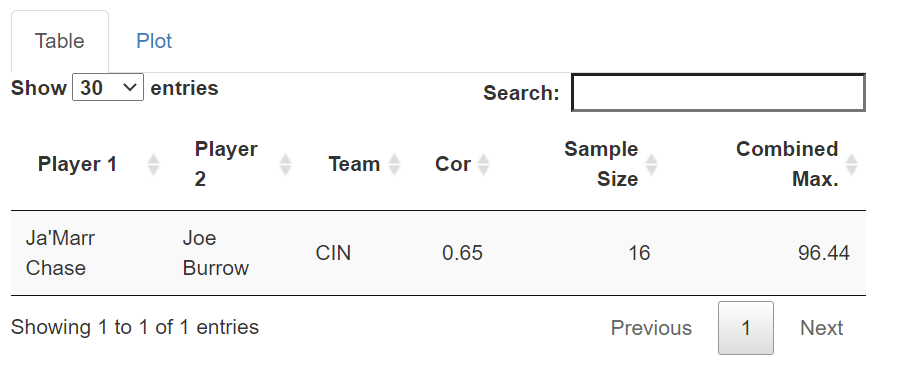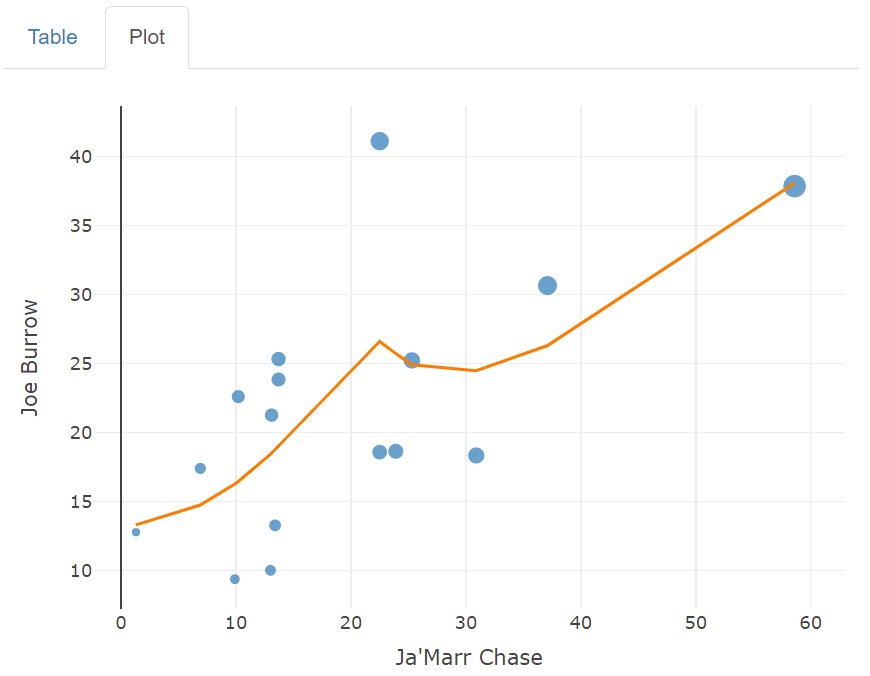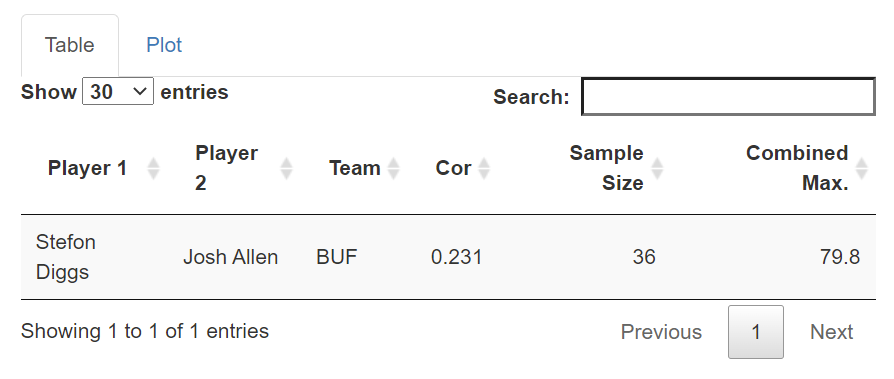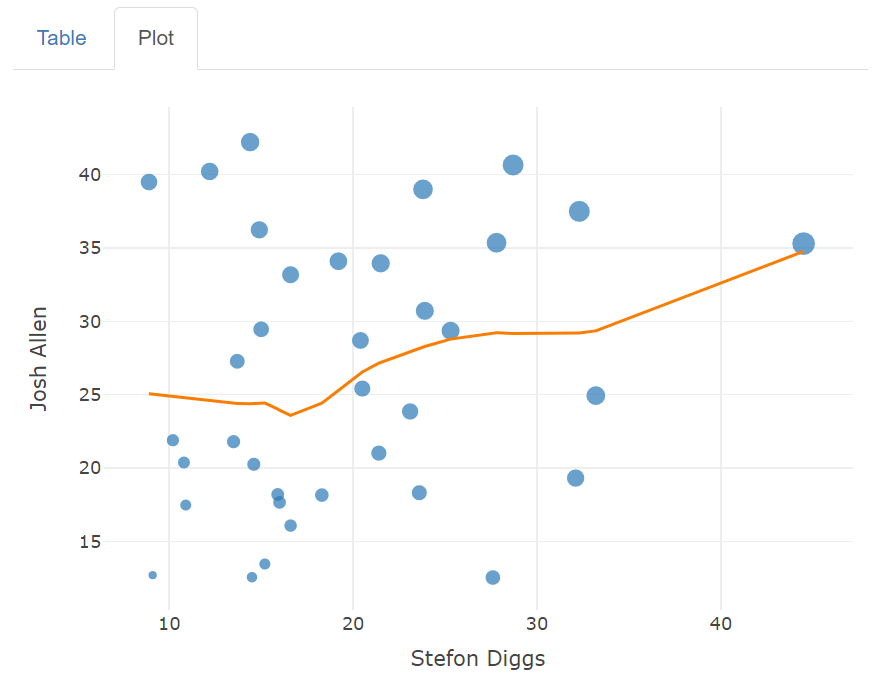 We can reasonably squeeze in Burrow, Jacobs, Singletary, Chase, and Diggs and still have enough money left for our #3 WR, TE, FLEX, and DST.
TE: Darren Waller
By now you are probably noticing that I have left off Hunter Renfrow from my analysis. Why? Because Renfrow played great when Waller was hurt from Weeks 12 - 17. Now Waller is back. During that 6 week stretch, Renfrow enjoyed being Carr's favorite receiver. He had 43 receptions, 501 yards, and 3 TDs. While Renfrow scored twice last week during Waller's first game back in several weeks, he just managed 4 receptions for 13 yards. Compare that to 100+ yards in each of the first 3 games Renfrow played when Waller was out. Waller has been with the Raiders for quite some time and in 2019 and 2020, he was easily Carr's most potent weapon in the passing game. Given that we are heavily stacking players in the early game, why not throw Waller into the mix? Lastly, consider the correlation between Burrow/Chase and the opposition. They both correlate well with opposing tight ends as shown in the table below.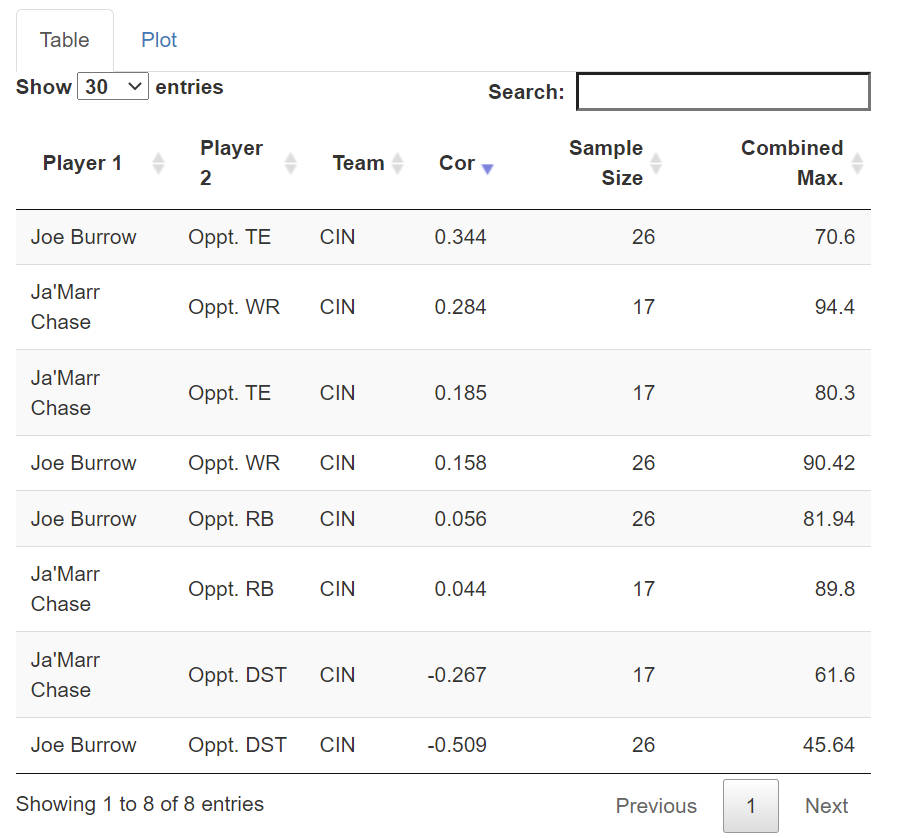 That is why I love the Player Correlation app so much on the ASA site. It is such a powerful tool that can give you a leg up on the competition in your DFS tournaments and cash games.
FLEX: CJ Uzomah/Hunter Henry/Kendrick Bourne
This selection all depends on which DFS site you are playing and how much salary you have left. We all know that FD tends to be more generous with its salary cap so you may want to spend a bit more on your FLEX on that site. Uzomah and Bourne both stand out to me since they are very good possession receivers. A good metric to consider is YAC or yards after catch. The table below shows that Bourne is 4th while Uzomah is 7th.
In cold weather games, possession receivers carry more value and with the pricing and possible suppressed ownership, grabbing either player can pay off huge dividends for you, especially if they get a big play. As for Henry, you may not know that he has the most receiving TDs out of all players on the Saturday slate after Chase and Diggs. FYI, Renfrow and Knox are tied with Henry at 9 TDs each but Henry is cheaper and New England will need to pass to someone unless the Patriots try to imitate their game plan from the first game against Buffalo. This is where player selection becomes a dart throw and just count your lucky stars if you pick the right FLEX player. This is also why you should enter several lineups. You will also notice that I am not selecting a RB for the FLEX spot. We just won't have enough salary for 3 RBs if we also want Chase and Diggs in our lineup. Remember, this is a small slate so it is conceivable that a WR or TE can provide better production.
DST: Buffalo
Just like the QB position, don't get too cute here. Sure, you can save some money by taking the Raiders and the ownership should be low. However, I am not going to build a lineup expecting Cincinnati to go gangbusters while my DST has negative points. Buffalo is at home and has a top ranked defensive unit. It will be a super cold game and the Bills are facing a rookie QB. I don't care how much Mac Jones has matured in his first year in the NFL. Rookie QBs typically struggle in their first playoff game. And Tom Brady doesn't count since he held the clipboard for Drew Bledsoe the year before he became a household name in 2001.
Whew! That was a lot of analysis just for a 2 game slate! I hope you found this article helpful and that it makes you money today. Sample lineups for both DK and FD are shown below. Good luck and please share your successful results with me should we hit the cash line!