Like we had during Week 1, the main slate for Week 2 features 13 games so there are several directions we can take. One such direction that can be very profitable is to focus on games with a high Vegas point total, a tight point spread, and an afternoon kickoff time. After all, we are playing daily fantasy sports where game theory can reign supreme. Games that are expected to be high scoring and close with low ownership will set you apart from the crowd.
For last week, the CLE-KC and GB-NO games fit the bill with CLE_KC having the highest Vegas point total at 54.5 and GB-NO having the 3rd highest. Both games had point spreads under 1 TD and were played in the afternoon. Ownership for Patrick Mahomes was high, as it should be, and likewise for Aaron Rodgers. Ownership for Mahomes for the DraftKings (DK) Millionaire Maker contest last week came in at 9.03% (2nd highest) and while Rodgers was at 6.91% (5th highest) according to the ownership database Rotogrinders.com keeps for the major DFS contests on both DK and FanDuel (FD). However, ownership was low for both Baker Mayfield and Jameis Winston with each at 2.93%. Twelve other starting QBs had a higher ownership %. While Mayfield didn't have a strong fantasy outing, Winston put up 29.63 points good for for 4th overall among all QBs in the main slate last week.
Why do NFL afternoon games have lower ownership? I firmly believe that there is an east coast bias when it comes to sports. That kind of makes sense given that a majority of major sports teams reside on the east coast and the start times for the games cater to east coast viewership. Many people who play DFS will focus on the early games whereas the later games are largely ignored. This is very true when you play DFS for MLB, NBA, and NHL since lineup stacks from the west coast could be the late night hammer you need to take down a DFS tournaments.
Another thing to consider is salary. Mahomes had the strongest fantasy output among all QBs last week with 36.28 points and, like his high ownership number, we expect that for the best QB in the league. His salary was $8100, also the highest of all QBs. Winston, however, had a salary of just $5200 yet put up 29.62 points good for 4th overall among all QBs. When you get a player with low ownership, cheap salary, and great fantasy production, you are sitting on fantasy gold. This strategy also allows you to pay up for other positions regardless if there is high ownership. Sometimes there are RBs and WRs (and even TEs) that are dangerous fades given the juicy matchup they might have so you bite the bullet by eating the chalk. Christian McCaffrey could be a good example from 2019 who had an impressive campaign by consistently scoring 30+ DK points each week.
Furthermore, when you start your NFL DFS roster construction by focusing on a QB that checks off the boxes (again, low ownership, not too high salary, and strong fantasy output) you can then pair him with a pass catcher for whom he has a strong correlation as well as the opposing WR/TE. After all, we are targeting games that will be shootouts so we want the best passing weapons for each team. From there we build out the rest of our lineups. For Week 2, there are two games I am eyeing: DAL-LAC and TEN-SEA. Both games kick off in the afternoon and have the two highest point totals for the week. Also, both point spreads are under 7 points.
Russell Wilson's salary is high on DK at $7500 which is 2nd highest for all QBs. He correlates well with DK Metcalf and Tyler Lockett who are also high with salary. Metcalf will cost you $7600 on DK whereas Lockett is at $7200. Sometimes high salaries will deter DFS players from rostering them so there could be low ownership. If you feel you can find some diamonds in the rough for the other positions, go for it but you could wind up with a bunch of duds and missing the cash line. Plus, the Seahawks had a very dynamic offense last year and didn't miss a beat last week so expectations could be high for them again this week. You could be somewhat contrarian by building a Titans stack with Ryan Tannehill, AJ Brown, and Julio Jones. However, I am worried with how out of sync they looked last week at home against Arizona. The NFC West is expected to be as strong, if not stronger, as they were the last two seasons so maybe we don't mess around with Tennessee.
That brings me to the Cowboys - Chargers game in southern California. I love the weapons featured on both teams and you can find some tremendous value. I feel a Cowboys stack or Chargers stack are equally viable. Dak Prescott and Justin Herbert are outside of the top 4 when it comes to QB salary on both DK and FD but could easily be 1st and 2nd in points scored once the dust settles for Week 2. Their top pass catchers are at even better value with Amari Cooper and Keenan Allen barely cracking the top 10 for salary. If you go further down the bargain bin, you could find slate breaking players such as Cee Dee Lamb and Mike Williams as awesome mid-priced options. Cedrick Wilson and Jalen Guyton could be the cheap flyers you need to put you over the top in a DFS tournament. Tight end is trickier since Jared Cook is old (compared to NFL standards) and Dalton Schultz is pretty much an afterthought in the Cowboys' offense but why not take a chance on either one!
This is where I will lean on Advanced Sports Analytics (ASA) for some help. The ASA site has a very helpful app that displays correlation coefficients for any combination of players. You can even select an entire team's group of RBs and WRs so that you don't have to enter each name manually. The link is below.
www.advancedsportsanalytics.com
Correlations for both Prescott and Herbert are shown in the tables and you will see that sticking with the top WRs is the way to go. You can also search for correlations with opposing positions and we see that opposing WRs do well. Another way to sort is to look at max combined score between the QB and other players. Don't get too cute here. We are anticipating a shootout so get the guys who will play a major role in the passing game.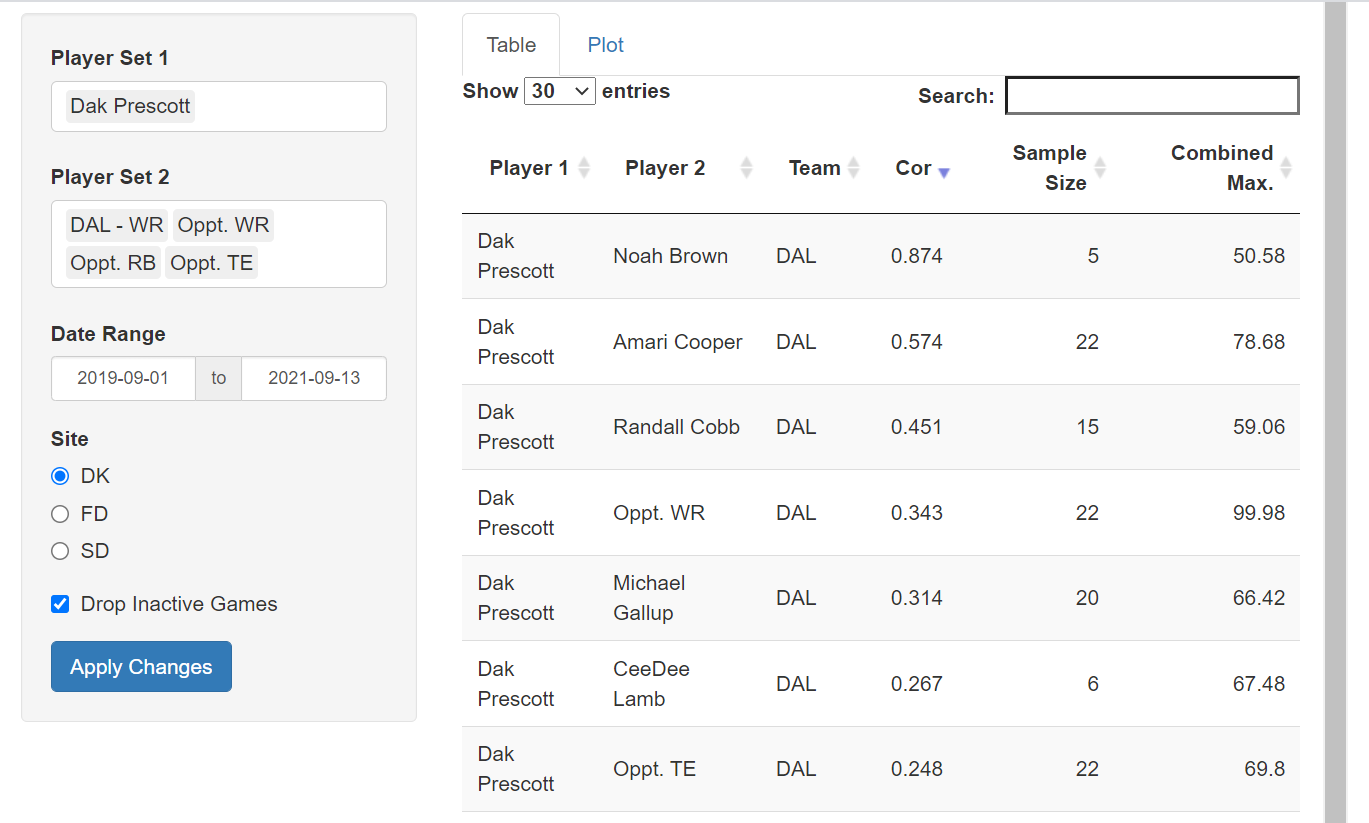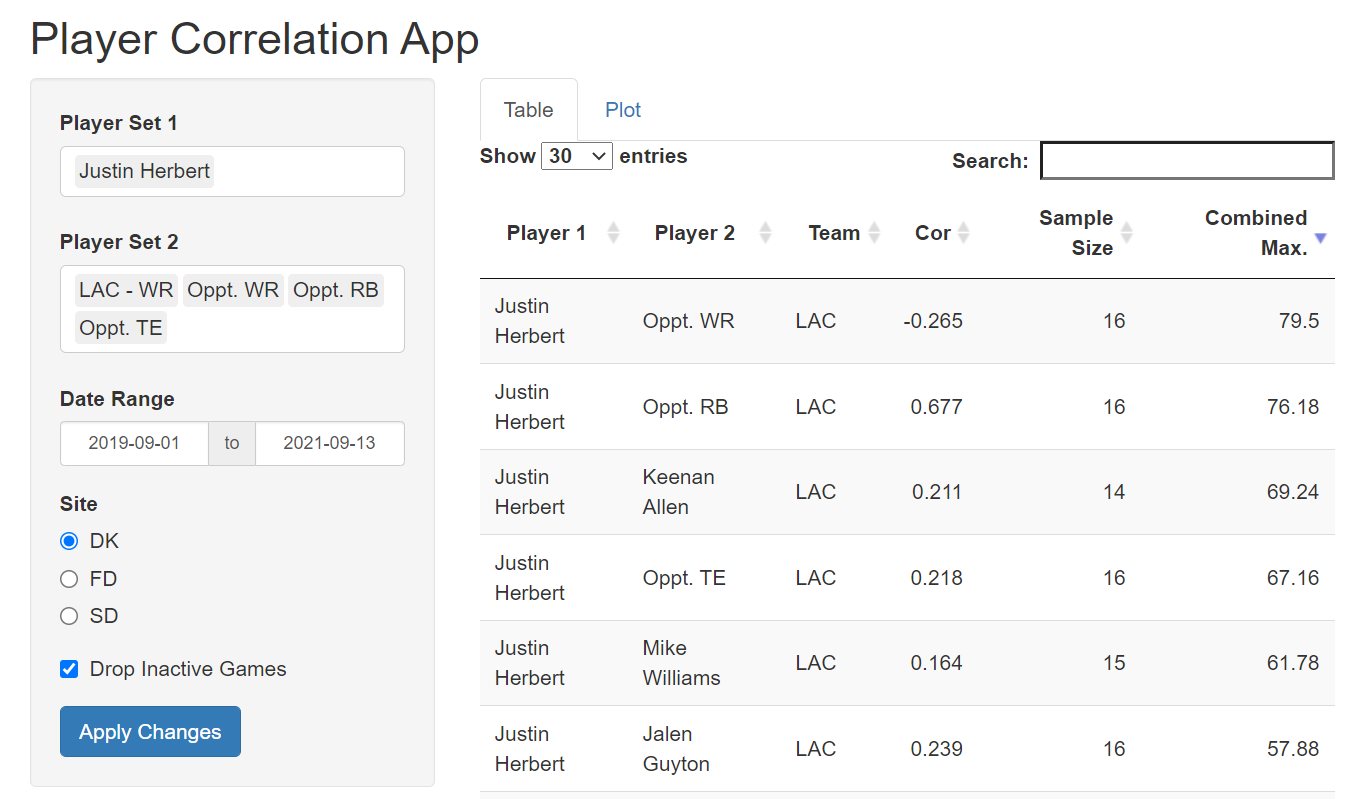 Now that we have a good feel for our game stacks will look, how do we build the rest of our lineup? For RBs, let's grab the guys with the softest matchups. Based on rush defense DVOA on Football Outsiders (see table below), there were 5 teams that were simply awful at stopping the run: New England, Kansas City, Minnesota, Houston, and Las Vegas. New England faces Miami which doesn't have any RBs that seem appealing. Kansas City plays on Sunday Night Football and besides, the Ravens had pretty much all of their RBs knocked out for the season even before the season started with torn ACL injuries. The Vikings travel to Arizona while the Texans will be in Cleveland and the Raiders in Pittsburgh. I think I smell some home cooking here! Nick Chubb should feast all day against an anemic Texans defensive front. Najee Harris is one of several Alabama RBs to make his way to an NFL starting job during his rookie season and he should do much better this week. I am not a big fan of the Arizona RB situation since it is a timeshare between Chase Edmonds and James Conner but Edmonds has been on Arizona for the last 3 seasons and is playing for a big contract with his rookie deal due to expire by the end of this season. Chubb is not cheap but he is a homerun hitter type of RB who can get you at least two big rushes of 50+ yards in the same game. He was a track star in high school so expect to see his blazing speed on display today. Harris should bulldoze the Raiders and I like the value Edmonds gives us.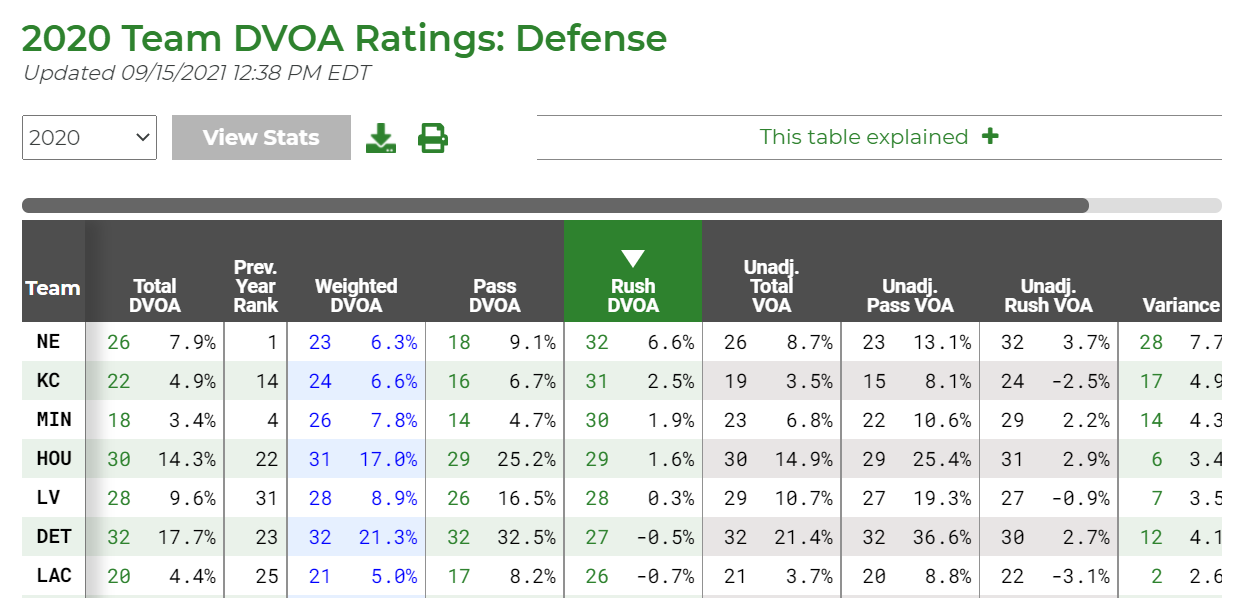 After you grab those three guys, let's go cheap but not too cheap at tight end. I am focusing on Noah Fant who had a high snap percentage last week and a decent amount of targets. He finally has a decent QB throwing to him and there are not too many solid WRs on Denver so Fant could be awesome value. For defense, I like the Saints. They pretty much shut down a great offense in Green Bay so what makes you think that Sam Darnold will do any better? For those who know me well, I can't stand USC QBs and Darnold is no different than the rest of those garbage QBs. The Saints' defense has consistently ranked high the last 3 years and are ready to roll again today. With whatever money you have left, get the best WR you can. DK is more restrictive with salary so you will need to get creative. Perhaps polish off your Cowboys/Chargers stack with one of the cheap options. On FD, you can pay up for a nice WR like Metcalf just so you have some exposure to the other afternoon game with a high point total and tight spread.
If you made it this far, thank you! I appreciate it! Here are some sample lineups using the players discussed in this article. Now go get some afternoon delight! Skyrockets in flight!