Just like last year, I plan on sharing my top daily fantasy sports (DFS) lineups before each NFL main slate and do so freely. Much of my analysis uses the tools found on the Advanced Sports Analytics (ASA) site and the link is below.
www.advancedsportsanalytics.com
The games start very soon (in about 2.5 hours from now) so I apologize if this seems rushed. I plan on publishing my NFL DFS articles by Saturday morning but Friday night was quite an ordeal thanks to poor customer service with a restaurant we frequent in our neighborhood. It's awfully hard to write articles when you are tired, hungry, and have cranky children you need to put to bed!
There are several directions you can take with such a large slate and no in-season data to work with. However, we can count on one team to put up big numbers at home: Atlanta Falcons. Not just they can light up the scoreboard but so can their opponents. Mercedes Benz Stadium plays fast and I expect Matt Ryan to air it out often to two of his top pass catchers: Calvin Ridely and Kyle Pitts. The Eagles are very far removed from their 2017 Super Bowl defense and last year's NFL (L)East was an absolute joke. While Pitts is starting his first ever regular season game, the kid is a beast. No tight end has ever been drafted so high but he was taken at 4th overall for good reason. Pitts gives Ryan a fantastic 1-2 punch when you pair him with Ridley. The correlation coefficient between Ryan and Ridley last from 2018 - 2020 was strong but even stronger with his tight end last year (see table below). There is no better way to stack the Falcons for today.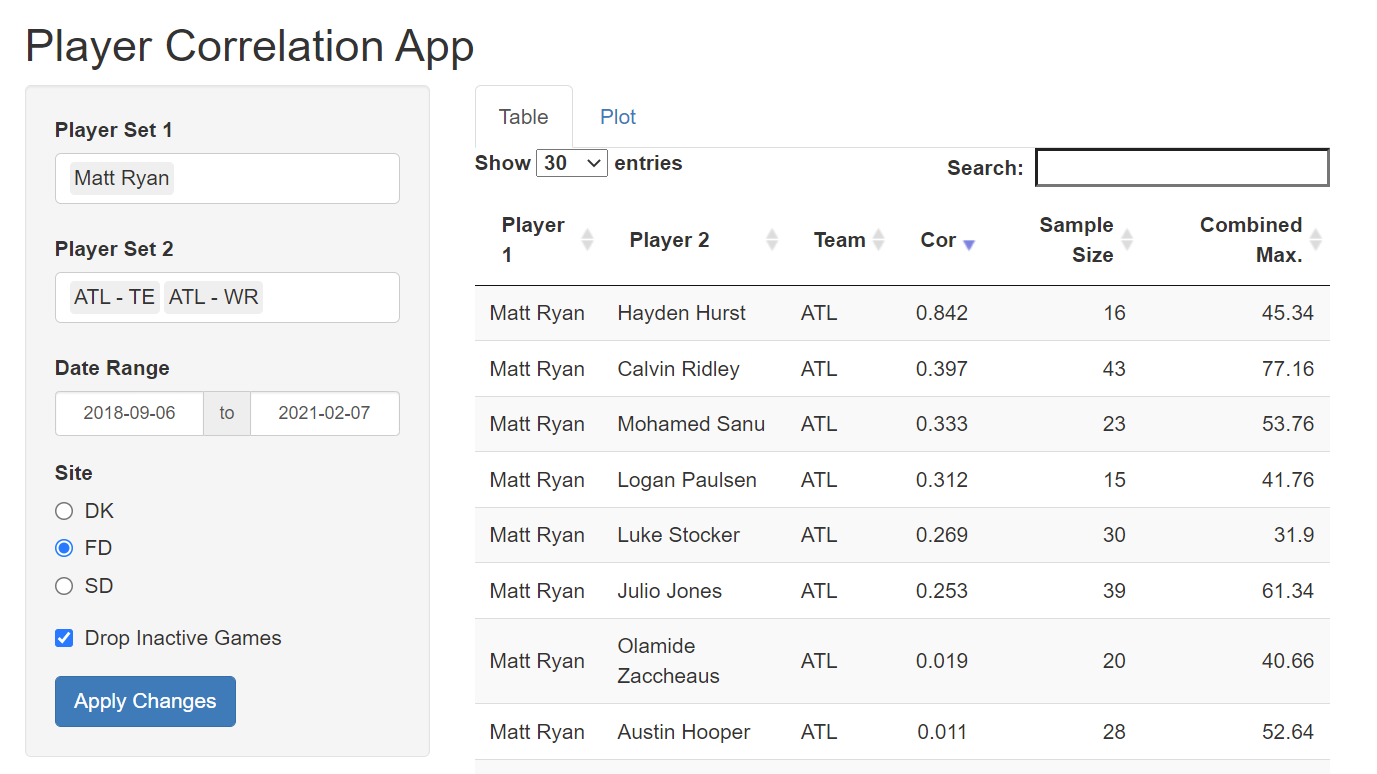 I would run it back with Devonta Smith, another very talented received playing in his first NFL game. He runs his routes better than I have seen any young WR. In fact, he reminds me of a very successful WR from back in the day. Remember Marvin Harrison? Besides for Jerry Rice, I can't think of another NFL WR to ran routes as crisp as Harrison but Antonio Brown during his prime with Pittsburgh comes awfully close. Smith was the 1st WR in nearly 30 years to win the Heisman last year for good reason; he is that special. He is also super cheap on both DraftKings (DK) and FanDuel (FD). He is the perfect piece to complement our Falcons stack.
For our RBs, I love to feast on the porous run defenses. Last year, according to Football Outsiders, Houston, Cincinnati, and Detroit consistently ranked in the bottom 10 of the NFL with most rush defense metrics (see table below). In fact, Houston allowed the most rushing yards per game with 160.3. Cincinnati and Detroit were 4th and 5th worst with 148.0 and 134.9 rushing yards allowed per game, respectively. That means we need to ride with Dalvin Cook, Raheem Mostert, and James Robinson. All of them are very talented RBs and are favored to win their games. Cook will cost you but Mostert and Robinson are very reasonably priced.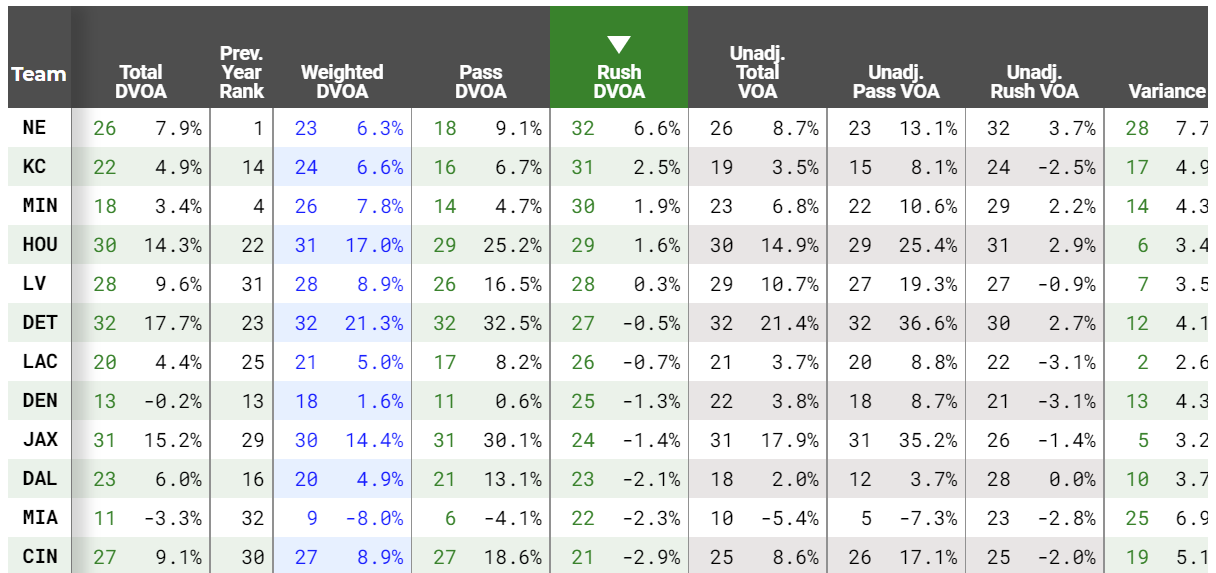 Now that we have 7/9 of our lineup set, we finish it off with one more WR and a DST. If you can get the 49ers, do it. If not, the Bills are a good consolation. After all, the Bills seem poised for a Super Bowl run and the Steelers offense is nowhere close to their hey day from 4 - 5 years ago. FD is not as restrictive with its salary structure so you could grab Terry McLaurin as your last WR. For DK, you will need to take a leap of faith with some cheap options. Gabriel Davis is not a bad option. Essentially we are hoping for a good day from Buffalo which seems safe.
Here are possible lineups for both DK and FD using the picks described in this article. Good luck and let's kick off this season right!