NFL DFS Divisional Slate (2021)
Finally! Both DraftKings (DK) and FanDuel (FD) decided to appeal to its middle-aged fan base by offering worthwhile contests for the entire weekend, unlike the wild card round. Of course you can still find big contests for the single day slate but now we can get more creative with our roster builds by focusing on all four games instead of just 2 games at a time. This article will discuss the best options among all 4 divisional round games and will share sample lineups for both single day and double day slates.
Last weekend went well. Both our Saturday and Sunday lineups cashed! Kendrick Bourne and Giovani Bernard were the one-off pieces that helped make our lineups profitable thanks to their low ownership, reasonable salaries, and high production. That is where the analysis pays off. Remember, game theory is paramount when playing DFS. You need to figure out how you will get an edge over the competition. For Bourne, it was all about YAC which is a big deal when playing in very cold weather. Scoring 2 TDs didn't hurt either! As for Bernard, it was all about opportunity. Still no Leonard Fournette or Ronald Jones II and Bernard had just been activated from the IR. Plus Bernard is a very reliable pass catcher out of the backfield, much like James White when Tom Brady was with New England.
Obviously we still need a strong core for our ancillary pieces to help us out. Who do my DFS models like for this? Check out the tables below.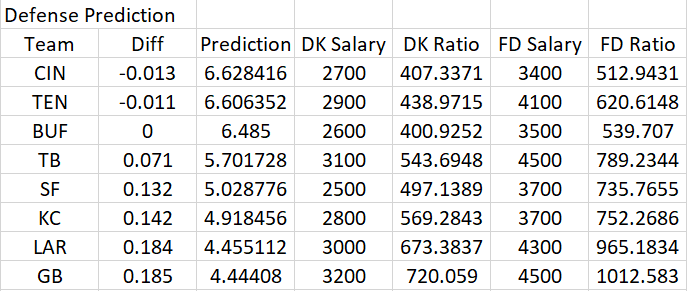 No surprise to see Josh Allen and Derrick Henry at the top of the list for QB and RB. As I have mentioned in the past, I will use the Advanced Sports Analytics (ASA) projections for WR and TE. Obviously Cooper Kupp and Travis Kelce have the highest projections. DST is kind of weird though. My model has Cincinnati as #1 and the best value. I am hesitant to go all in with the Bengals defense on the road against a well rested opponent that gets Henry back. We will get creative with DST today.
Weather is another concern. It will be very, very cold in Green Bay. While the top players should still have an impact, they probably won't pop off like they have at various times this season. Just look up some of the coldest NFL playoff games and the box scores for them. Expect a drop in offensive output in frigid conditions.
I am also concerned about the matchups. Now that we are in the round of 8, the opposing defenses are very good. Kansas City is usually a safe play but I am not so sure against the top rated defense. Both Tampa Bay and the LA Rams also have talented defensive units.
As I have said in the past, building a profitable DFS roster is both an art and a science. We will use the model and other data to guide our decisions but we must also keep the potential game script in mind. Here is a breakdown of each position for this exciting weekend of football.
QB: Josh Allen
To me this is a no brainer. True, we have the GOAT playing at home and we also have two other Super Bowl winning QBs at home as well (Aaron Rodgers and Patrick Mahomes). However, did you see what Allen did last week? Did you see what Allen did to Kansas City earlier this year? Did you see what mobile QB (and even not so mobile QBs) did to the Chiefs pretty much all year long? The biggest telling point was the Chiefs last regular season game against Denver when Drew Lock scored two rushing TDs to start the game. I am sure the Chiefs will be ready for Allen to leave the pocket for some carries but Allen is also an accurate passer with a laser cannon for an arm. Allen is smart as well so he will be judicious with his opportunities to gain big yards on the ground. In the red zone, Allen is always a threat to score and he is clicking right now with all of his offensive weapons.
For the Saturday only slates, I would roll with Ryan Tannehill. The Bengals have the worst pass defense among all teams playing this weekend (still a decent pass defense but not great) and the Titans return everyone. It also helps to be at home and well rested. The threat of Henry in the back field will give Tannehill was ripe 1-on-1 mismatches and I am sure Tannehill will exploit those mismatches. Garoppolo is too risky with his thumb and shoulder injuries and the 49ers may just opt to run it 40 - 50 times. I like Rodgers at home but it's just way too cold and the 49ers pass rush will bring the pressure. Keep in mind that Nick Bosa cleared the concussion protocol yesterday. And I don't feel comfortable taking Joe Burrow in his first ever road playoff game against a very good team. I like Burrow's career trajectory and he may very well win a Super Bowl in the next 2 - 3 years but it's not his time right now.
RB: Devin Singletary and Leonard Fournette
For the Saturday slate, you will need to find other RBs since Singletary and Fournette play on Sunday. Elijah Mitchell and Derrick Henry seem like good options. However, for the two day slates, I prefer Singletary and Fournette. The snap counts will be high for both Singletary and Fournette and they can dominant. Right now, Singletary is on a hot streak having scored 8 TDs in his lasty 5 games and crackng 24 DK points in the last 3 games. Why his salary has not caught up his excellent production is beyond me. His ownership will be high but it's chalk you have to eat. Singletary is a very dangerous fade, especially on a small slate.
There is some risk with Fournette. He has not played a down since the Bucs were shut out at home in Week 15 to the New Orleans Saints (what a weird game that was). Prior to that embarrassing loss at home on national TV, Fournette had a hot streak similar to Singletary's current production. Fournette scored 6 TDs from Weeks 12 - 14 and achieved at least 22 DK points per game during that stretch. Fournette was amazing in the postseason last year, especially in the Super Bowl. His price is right and he should be facing a somewhat tired Rams defense that had to play last Monday and travel cross country. With limited options in the Bucs passing game, I can see Brady leaning on Fournette quite frequently on Sunday. If Fournette somehow does not play, you can pivot to Giovani Bernard who is cheaper. You will be leaving some salary on the table but that is OK. That will just make your DFS lineups more unique.
WR: Deebo Samuel, AJ Brown, and Randall Cobb
Before I explain my selections here for WR, check out the Air Yards and YAC tables below.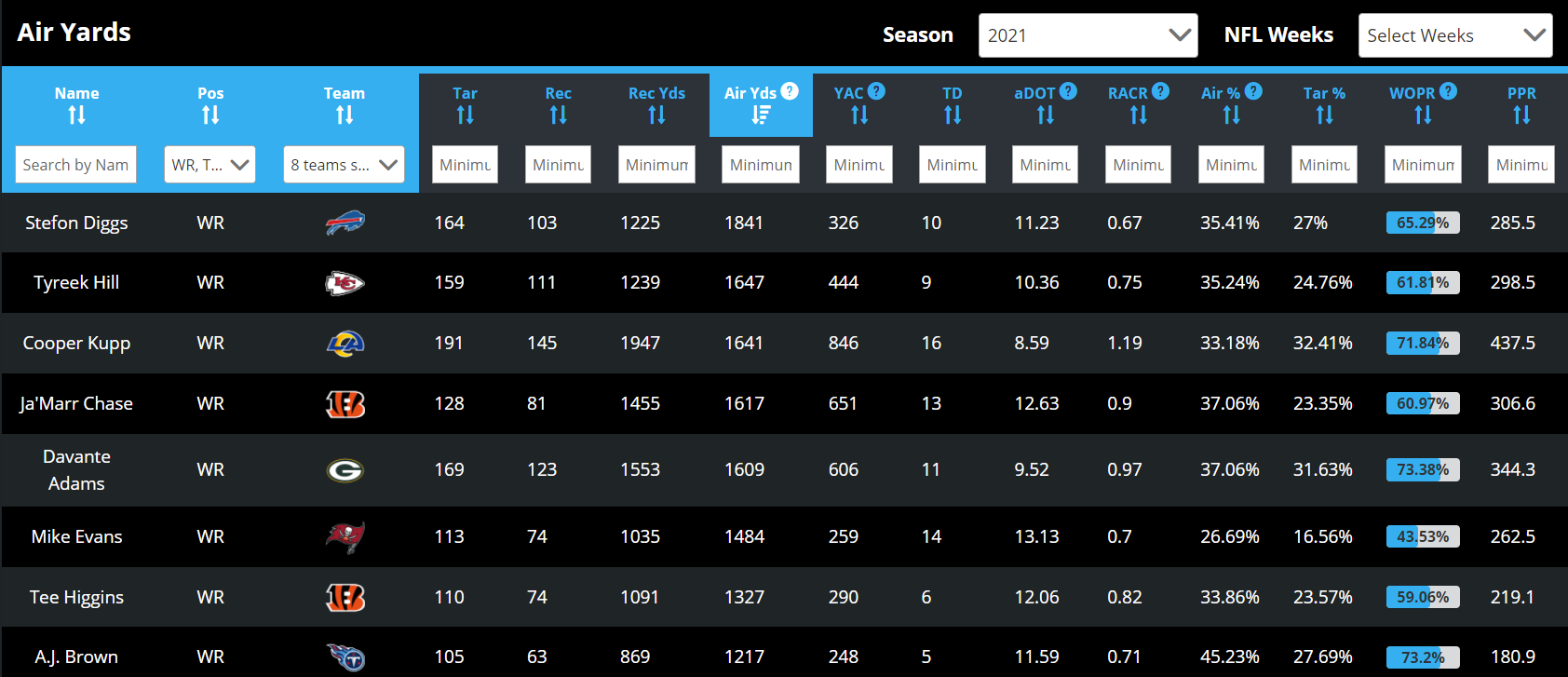 \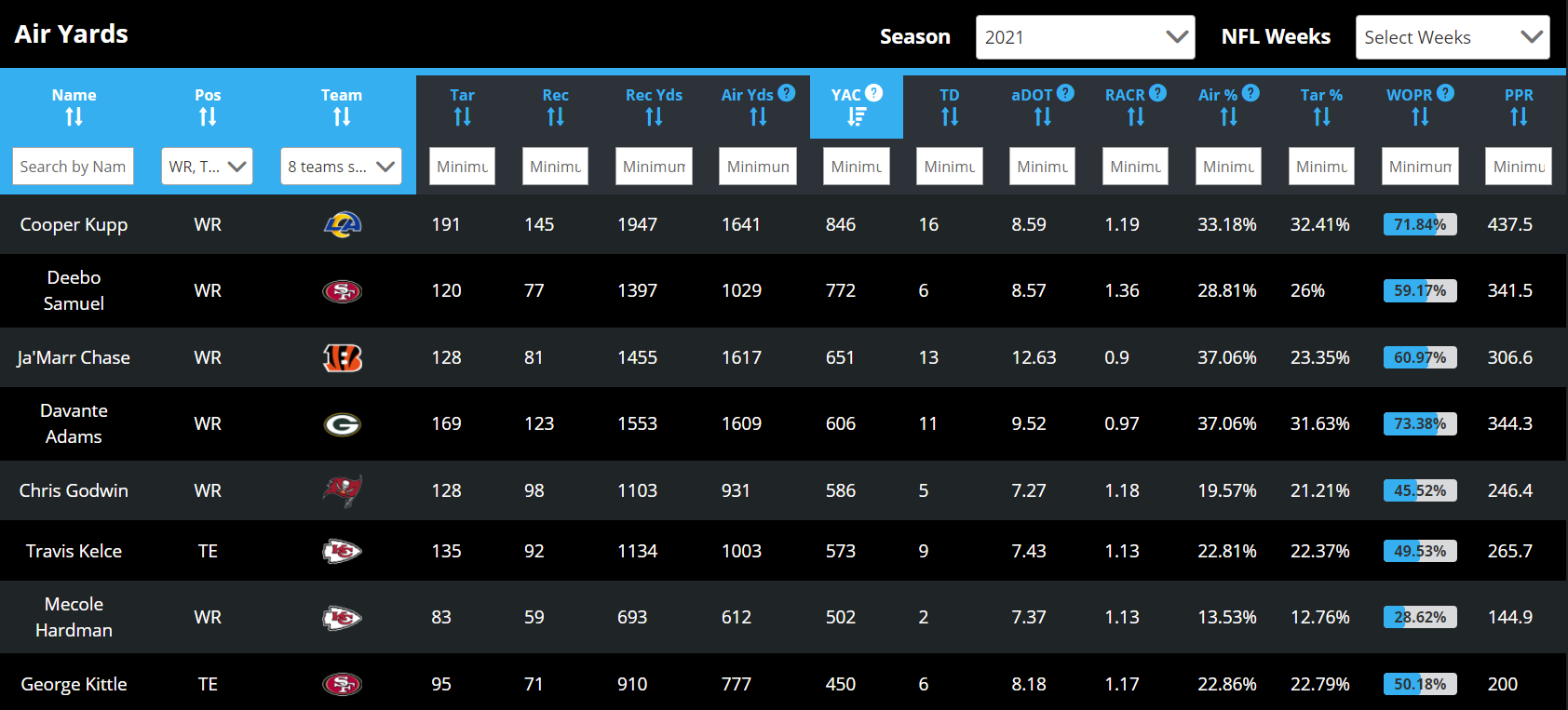 Considering such data was very helpful last week since it motivated us to roster Evans and Bourne, two WRs that led the way with Air Yards and YAC. We could go with Evans again but I like Brown a lot. Keep in mind that he missed 4 games this season so he could rank higher with Air Yards if he played a full season like his other WR1 counterparts. What is impressive is his Air Yards and Target team share. Clearly Tannehill looks to Brown often for deep plays. There will be some juicy matchups should Tennessee assert itself with the run game early and often. Something tells me that doing so should not be a problem with the return of King Henry.
As for Samuel, he is the king of YAC. For those who remember watching the 49ers 20+ years ago, there was a very talented WR by the name of Terrell Owens. What a character he was off the field! And a beast on the field! Samuel is really no different. Often times whoever is behind center will throw a short pass to Samuel and typically Samuel will gain some big yards thanks to some exceptional blocking from George Kittle and company. What makes Samuel even more special is his ability to carry the ball. He is a very versatile weapon who will be needed frequently in what will be freezing conditions at Lambeau Field. Also, Green Bay struggles against the run which is a bonus for Samuel.
Finally, we will go with Cobb. He comes back after missing a few weeks and MVS (I won't attempt to type his full name) is doubtful to play. He is super cheap and one of Rodgers' most trusted weapons. With so much attention on Davante Adams and Allen Lazard, Cobb could be one of those sneaky plays who gets us 5x or 6x value and separates us from the pack.
TE: Dawson Knox and Travis Kelce
I don't intend on using a RB at the FLEX spot this weekend. During the regular season, I like to roll with 3 RBs but there is just not enough value at the RB position right now. Plus, using an extra TE or WR at the FLEX spot paid off very nicely for us last weekend. Knox has a very strong correlation with Allen. In fact, it's over 0.6. That means that 36% of the variation in Knox's DK/FD score can be explained by any changes in Allen's DK/FD score. That is very significant. Also, consider that we will be playing the hot hand given Knox's awesome game last weekend. Knox also had a great game earlier in the season in Kansas City. I believe history will repeat itself.
On the other side (literally since the Chiefs play he Bills), Kelce should do well and typically does when the Chiefs are caught up in a shootout or playing from behind. Plus the correlation between Allen/Knox and opposing tight ends has been strong this year. Kelce's price is very affordable on DK. Given that the Bills-Chiefs game is the last game of the divisional round, we may wind up getting somewhat lower ownership and I don't believe too many lineups will feature two tight ends.
DST: San Francisco
You could go with Tennessee. That unit has decent correlation with Brown and the game script makes sense should Tennessee so up and early forcing Cincinnati to play from behind. Also, Joe Burrow gets sacked a lot. You could also go with Tampa Bay given Matt Stafford's penchant to throw multiple INTs in the same game. The Rams also tend to throw it often. Garoppolo is another QB who can throw 2-3 INTs but something tells me that the 49ers game plan will feature a majority of run plays.
However, I feel we should pay down for San Francisco. Their ownership will be low and the game conditions point to them having a good game. Again, it's hard to move the ball through the air when the temperature drops to the single digits. Plus the 49ers defense has done well the past 7 games scoring 8 or 9 DK points from Weeks 13 - 19 except for Week 16 in Tennessee. Most of that production has come from the pass rush with the 49ers sacking Stafford 5 times two weeks ago and Prescott 5 times last week. Overall, the 49ers have 28 sacks in their last 7 games which would lead the league over a 17 game season. The 49ers can get to Rodgers have done so in their last three playoff games against him, all resulting in victories for the 49ers. With Nick Bosa and Fred Warner ready to play today, the 49ers defense will bring the heat.
Lastly, Samuel and the 49ers defense has a strong correlation this season. The game script makes sense. Should the 49ers establish good ball control with Samuel and build a sizable lead, the Packers will be forced to throw in frigid conditions. That should enable the 49ers to get some sacks and perhaps 1 or 2 turnovers. An INT or fumble return to the house would be icing on the cake!
Hopefully this analysis will help you make some solid lineups that will reach the cash line this weekend. Some sample lineups are shown below with two of them for the entire weekend, two for Saturday only, and two for Sunday only. Good luck!