I will have to keep this short and sweet. The kids are already up (they usually sleep in on Saturdays!) and we have a full family day planned. Balancing my actualy job, DFS analysis, and famly life ain't easy!
I am liking Justin Herbert for Week 7. There are the big names QBs of course and you can't go wrong with them. Even though I play both DraftKings (DK) and FanDuel (FD), my analysis for Week 7 will be focused heavily on DK. Here is a list of my top 10 QBs based on DK ratio (predicted DK score based on my model divided by DK salary per $1000).
Kyler Murray 3.753729276
Matt Ryan 3.633298113
Aaron Rodgers 3.629557375
Deshaun Watson 3.54939628
Drew Brees 3.542458374
Matt Stafford 3.484801335
Joe Burrow 3.386532
Ben Roethlisberger 3.382816045
Ryan Tannehill 3.38079984
Justin Herbert 3.376461805
Gardner Minshew 3.351804674
Russell Wilson 3.338021723
Teddy Bridgewater 3.325434834
Andy Dalton 3.272572987
Josh Allen 3.241694461
Patrick Mahomes 3.179227354
Baker Mayfield 3.115481954
Kyle Allen 3.075172278
Cam Newton 3.010526581
Sam Darnold 2.976859935
Jimmy Garoppolo 2.735619141
Drew Lock 2.677628234
By the way, I am assuming the Tampa Bay - Las Vegas does not play tomorrow. FanDuel left it off the main slate. We shall see if there are new COVID-19 cases with the Raiders. Given that it's an afternoon game and that the NFL will be testing players for COVID-19 on game day, it's not worth the risk of trying to roster any players from that game. Of course you would have the benefit of low ownership if you take this risk!
While I love Kyler Murray and most of the top QBs in the list above, I will go somewhat contrarian. Justin Herbert is the guy for me. He was drafted high by the Chargers for a reason. The kid has the tools to be a very successful NFL QB and is proving that right away. For the first 4 games of his short NFL career, Herbert has a 68.8% completion rate, nearly 1200 yards, and 9/3 TD/INT ratio. His current QB rating is 107.1. I like what I saw from him two weeks ago on a national stage in New Orleans. He will be ready to earn his first NFL win tomorrow against one of the worse pass defenses in the NFL.
Who should we pair with Herbert? You can't go wrong with Keenan Allen. After all, Allen has a high percentage of the Charger's targets and air yards, metrics you can locate on the Advanced Sports Analytics (ASA) site. Check out the link below.
www.advancedsportsanalytics.com
Plus Herbert was great at getting Mike Williams and Hunter Henry involved against New Orleans but Allen is healthy. Whichever direction you take with the Chargers' pass catchers, you can count on at least one of them having a field day. ASA has an app called Defense vs Position which of course ranks teams for a variety of metrics at various positions. For WR and TE, I decided to rank how each NFL team performs with DKP per Target and per Air Yard. See the results below (spanning from Week 1 of the 2019 season until now).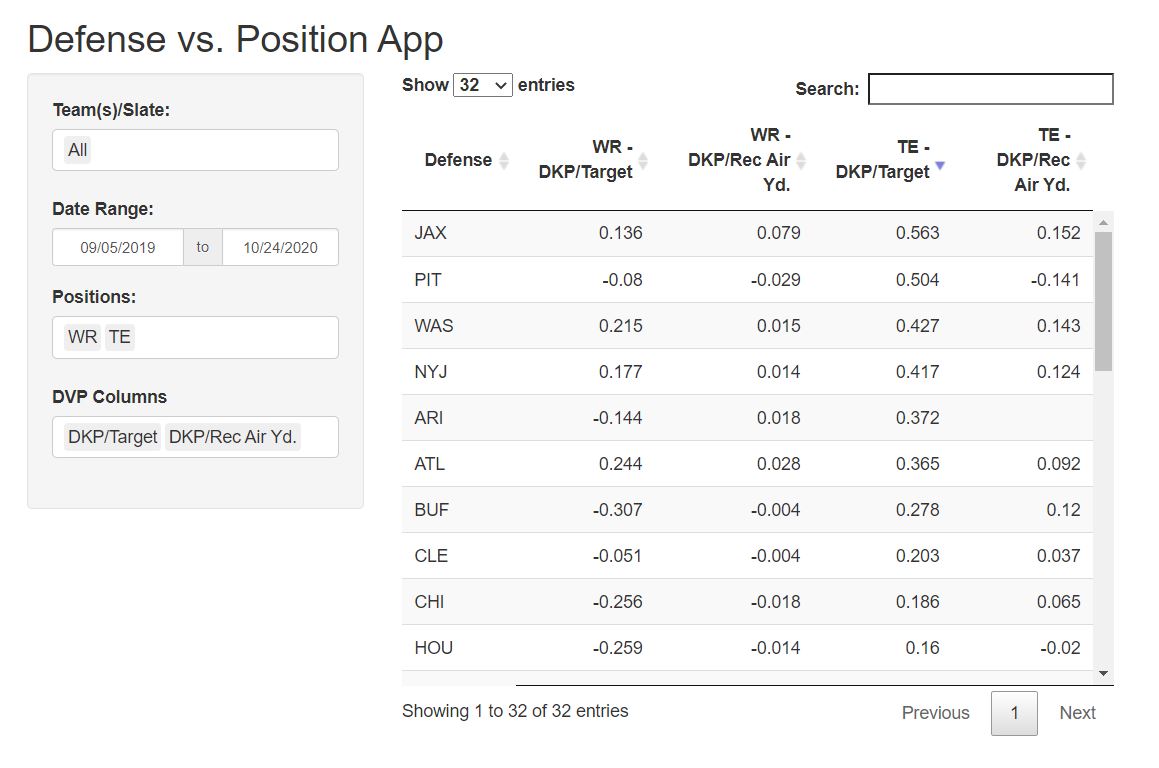 Jacksonville has given up the most DK points per air yard for WRs and most DK points per target for tight ends. The trio of Allen, Williams, and Henry easily rank in the top 3 in targets and air yards (in that order) and it's not even close. I would not build a stack of Herbert with all 3 of those other Chargers players but I would do a combination of 2 out of those 3 with Herbert. This is where you are being judicious when "casting a wide net" in NFL DFS.
After that, I want Alvin Kamara, Aaron Jones, and Todd Gurley as my RBs. If the Raiders game is on, then maybe I will swap Gurley with Ronald Jones but I will be very happy with Gurley given his soft matchup. Football Outsiders does a great job of rating each team's offense and defense and they also rate other components such as rush defense (See image below). The Panthers, Texans, and Lions have been gouged heavily by the opposition's run game and we all know that Kamara, Jones, and Gurley will get 20+ touches. Don't get cute with RB. Just get the best since we are already going somewhat contrarian with our QB/WR/TE stack.

With our leftover money, I like DK Chark. Typically I will pick up the best WR/TE opposite of my stack. Chark has been quiet this year but he has a decent number of air yards. He is a WR due for positive regression very soon. I also like Dontelle Inman as a cheap WR. He gets a huge share of the targets for the Washington Football Team (I almost used their previous nickname!) and they have a juicy matchup against a porous Dallas secondary. Finally, the Chiefs will be my defense. When most people think of Kansas City, they think offense. However, good offense leads to good defense. We all know the Chiefs will score regardless of the matchup. A weak offense such as Denver's will be forced to play catch up and that is when they will make mistakes. The Chiefs defense has been able to put up some monster games in the Patrick Mahomes era.
Here are some sample lineups. I will update my Twitter feed early Sunday morning with my final lineups. For now, it's family time! Enjoy the weekend!