I think I am in love with Friday nights. For the 3rd Friday in a row, I earned another HUGE DFS win. The images below tell the whole story.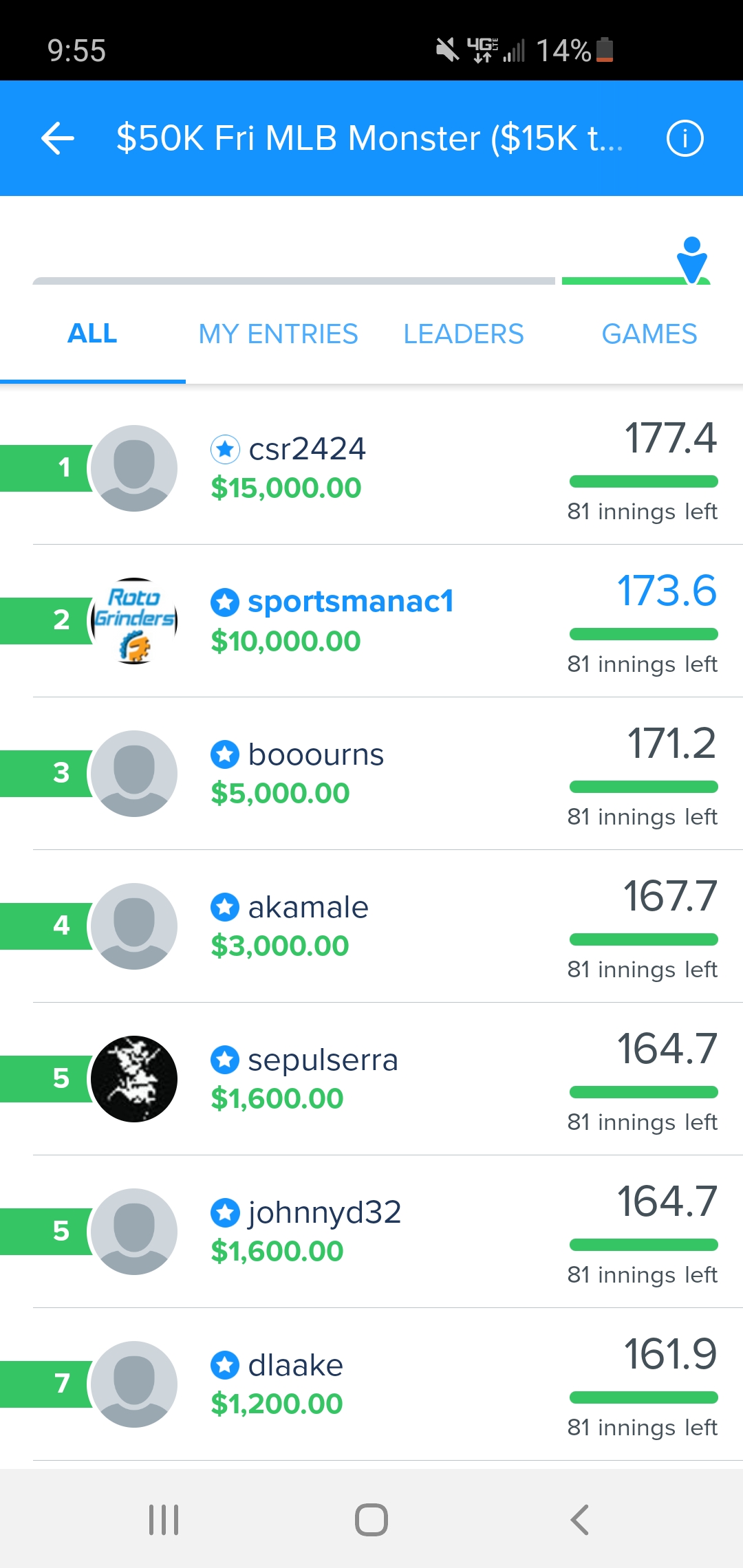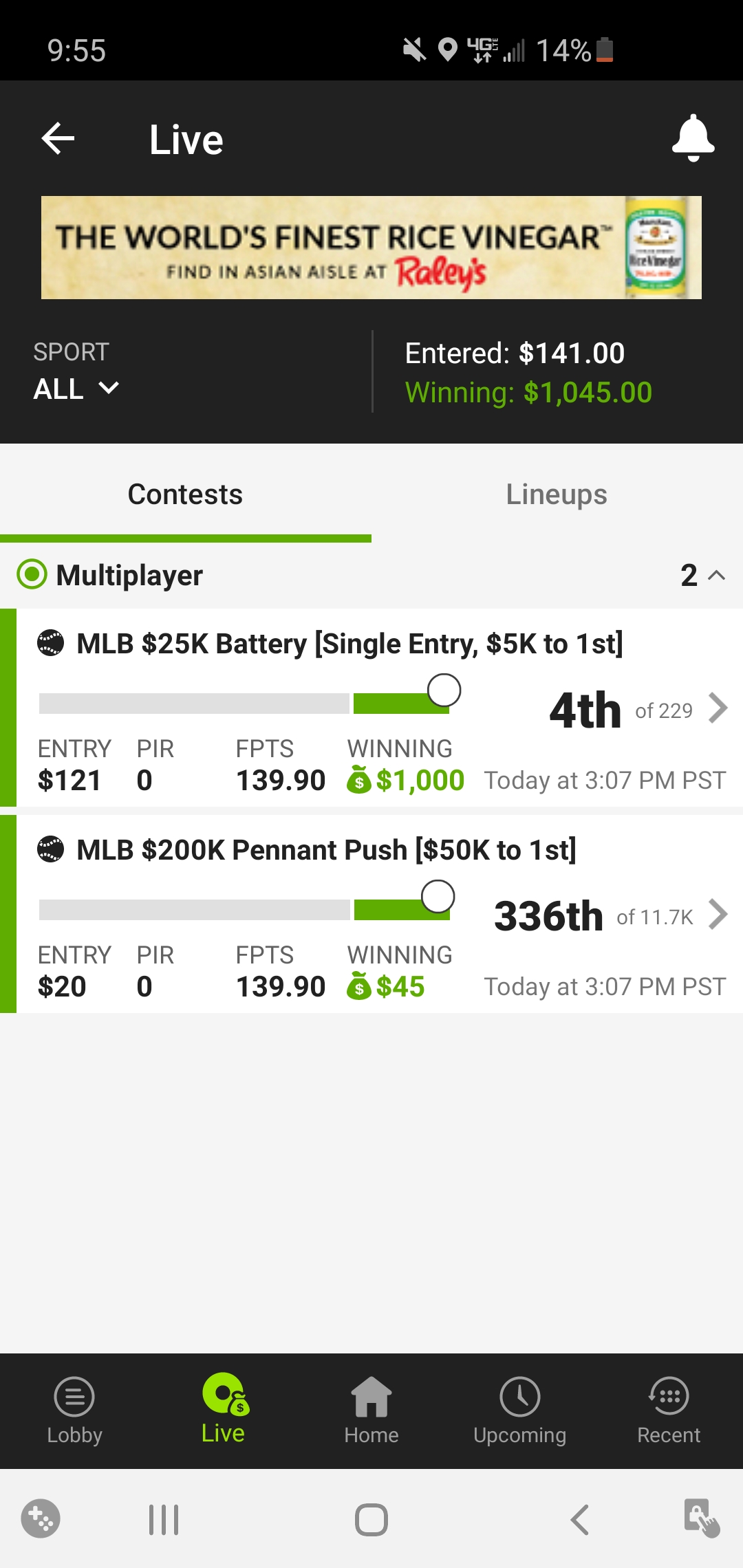 For those who know me well, I am a huge San Francisco Giants fan and absolutely despise the Los Angeles Dodgers. Still, I am a bigger fan of money and Corey Seager made me A LOT of it with his 2 home runs last night. I might consider buying his jersey and then giving it away to one of my Dodgers friends.
So how am I doing this? The Statcast app on the Advanced Sports Analytics (ASA) site (see the link below).
www.advancedsportsanalytics.com
I swear that app is a gold mine. Seager rates high with barrel rate so it's no surprise that he is having a tremendous postseason. Freddie Freeman is another hitter who also has a strong barrel rate. He had two doubles last night with the 2nd double and run scored in the 8th inning putting me over the top for another 10K win on FanDuel (FD). As for pitcher, the choice was easy. Framber Valdez is a K master and also had the lowest barrel rate of all pitchers last night. He was a shade over 50% owned in the FD tournament I played. How he was not higher owned with all of the other abysmal options for pitcher is mind boggling but I am not complaining!
I will probably play some more MLB today so hit me up on Twitter if you would like to know my thoughts and sample lineups. For now, we will shift our focus to NFL. As usual, I will take a deeply analytical approach. Now that we have 5 weeks of data, I am confident that our models can lead us to the promised land. For diehard DFS players, the promised land is the $1 million prize on either DraftKings (DK) or FD. I will be entering the $2,222 FD NFL tournament tomorrow. Even though I don't have the guts to submit multiple entries and might be outnumbered with the whales who will probably max out at 36 entries, I still feel that those playing in that tournament won't be pulling some random shit out of their asses like Chase Claypool or Travis Fulgham last week. Just like the game of poker, you want to play against good players, not the lucky asshole who serendipitously catches the right card on the river.
I won't beat around the bush here. My QB for tomorrow is Gardner Minshew and I won't over think this one. Actually the hardest part I had was deciding which image to use. The guy has a flamboyancy to him that the NFL has not seen since Broadway Joe but back to football! Jacksonville's defense is horrendous ranking dead last based on the DVOA metric by Football Outisders. Detroit's defense is just as bad with a DVOA ranking of 30th. The Vegas point total for the Lions-Jaguars game opened up at 53 and is now at 54.5. That is the 2nd highest Vegas total for the main slate and the 2nd biggest jump from the opening line. The highest total/jump belongs to the Green Bay - Tampa Bay game which no doubt will garner high ownership and justifiably so. However, to get to the promised land, you have to roster the players with low ownership. That is how you differentiate yourself from the pack.
Now you can play Minshew's counterpart Matt Stafford instead but my model is giving Minshew the highest predicted score/salary ratio for both DK and FD. Prior to Week 4, my analysis gave Dak Prescott the 3rd highest ratio for DK and the highest ratio for FD. He finished with 42.28 points on DK and sadly that might be his last best game for a long time or ever. Even though I cannot stand the Cowboys, I wish Prescott a full and speedy recovery. Last week, Patrick Mahomes was my top rated QB with a #1 ranking for DK ratio and #2 ranking for FD ratio. Heading into Week 6, Minshew is #1 for both DK and FD ratios and it's not close. You can check out my NFL DFS QB analysis in the link below. Just click on Week 6 after opening the Google spreadsheet.
docs.google.com/spreadsheets/d/1FeLxAAR1PPWMVf8BZeuAm_EAs_uaaWju4dQ0HpX5QWc/edit?usp=sharing
If you are having trouble accessing the Google spreadsheet, an image of my Week 6 analysis is shown below.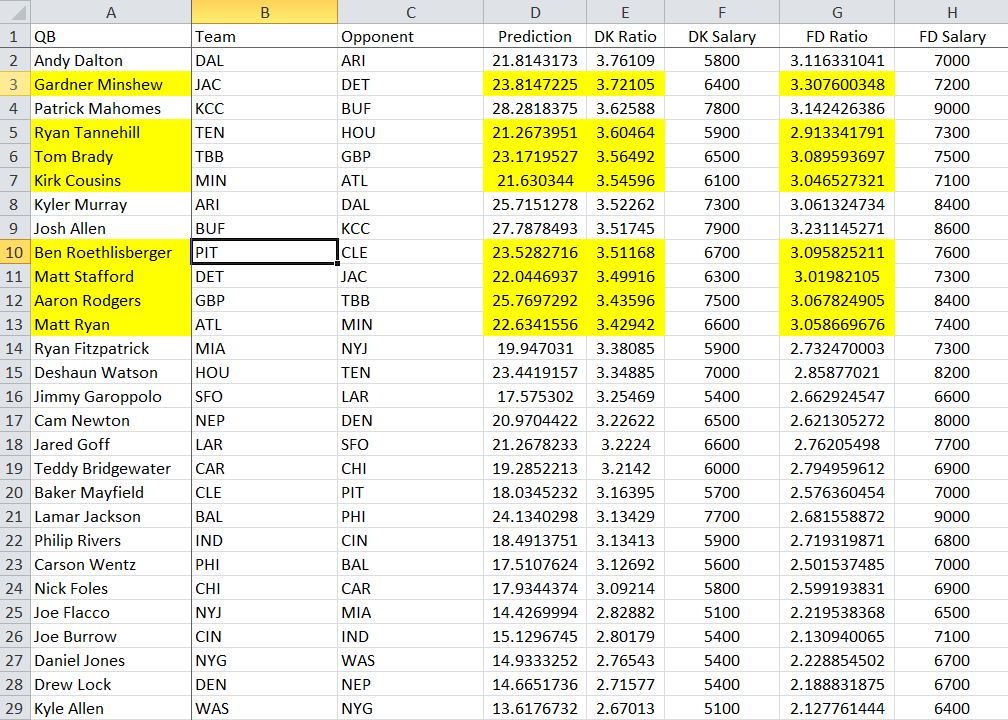 Now that I am settled at QB, I can proceed with building the rest of my lineup. Of course we want our QB to pop off which means you need to pair him with a pass catcher who correlates well with your QB. This is where I will lean on ASA for some help. Its NFL correlation app (see output below) is a fun tool to use and I feel carries the same value as the MLB Statcast app. I am living proof that the ASA tools will enable you to earn a shit load of money in DFS. The investment for a subscription is not much and your return on investment will be huge. You won't regret it.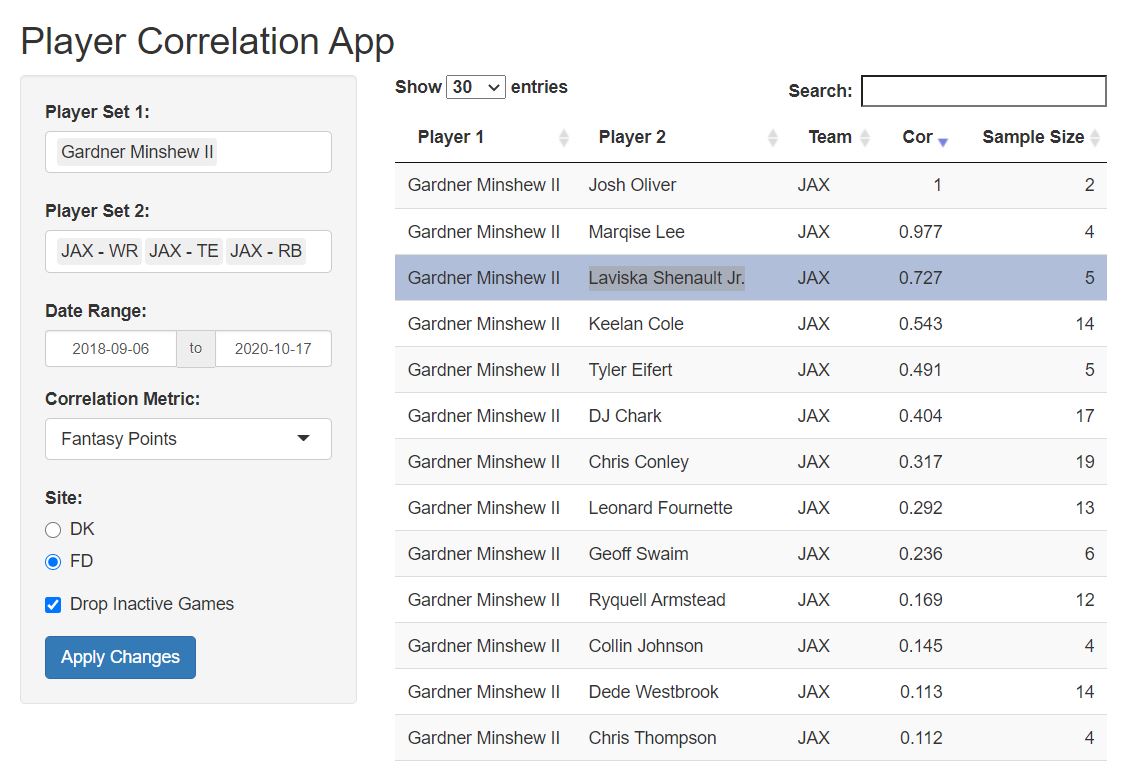 Minshew has a 0.727 correlation coefficient with Laviska Shenault Jr. based on the analysis above. Small sample size, I know, but you can't ignore that high number. Shenault is no slouch. He is 6'1" and 227 lbs and has been getting more target shares with each passing week. He will have his breakout game tomorrow. Watch and see. On the other side, one would be remiss to not go with Kenny Golladay, especially given his huge market share of targets and air yards. Even though you can find such data on several sites, ASA has it too on its NFL Optimizer app (see below). ASA is pretty much a one stop shop for your fantasy needs (not just football) so no need to have multiple subscriptions to various sites.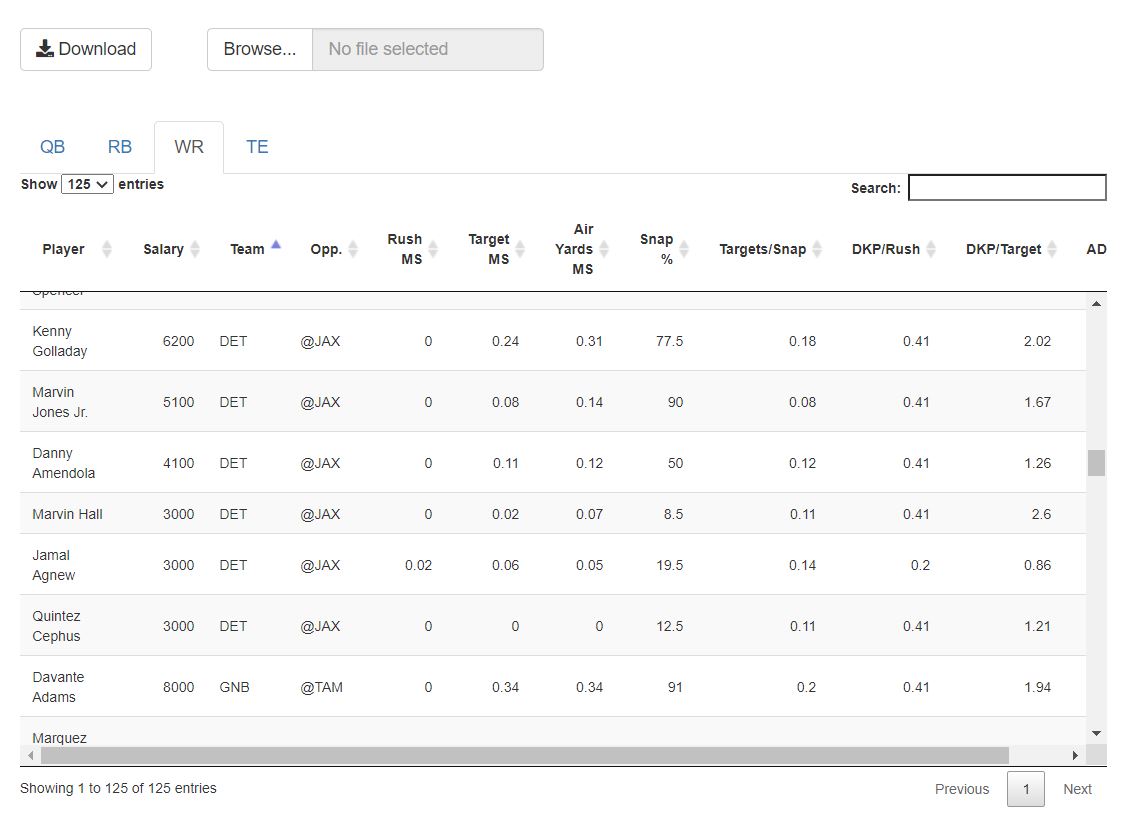 Furthermore, Golladay is Stafford's most trusted weapon and should have a 100+ yard and multi-touchdown game tomorrow against the porous Jaguars pass defense. He is also due for a big payday now that he is in the final year of his rookie contract and will be ready to bust out after missing the first two weeks of the NFL season.
For our 3rd WR, I will lean on the analysis by Mike Clay of ESPN. He does a phenomenal job of breaking down WR-CB matchups each week and his latest analysis is shown below.
g.espncdn.com/s/ffldraftkit/20/NFLDK2020_CS_WRCBchartWeek6al.pdf?addata=2020=WRCB_chtsht_week6al_xxx
If you don't have access to ESPN+, here is an image of some of his analysis.

Scroll down to the bottom of the second page and you will see that the Cleveland Browns rank 1st in most fantasy points allowed to WR based on a point-per-reception (PPR) scoring system. Dig even deeper and you will see that the Browns are awful at defending the slot WR position. Of course Claypool was all the rage last week and will be a popular pick tomorrow but let's get contrarian here. Juju Smith-Schuster is typically the WR the Steelers will line up in the slot and like Golladay, he also enters the 4th year of his rookie contract. Juju busted out 2 years ago but battled injuries last year. He is Ben Roethlisberger's most trusted weapon and if Big Ben can connect with a rookie for 3 TDs, I believe he can do something similar with Juju.
Now that we are set at WR, let's grab our RBs. We should pay up for this position and focus on RBs with high snap counts and favorable matchups. That leads me to Derrick Henry, Alexander Mattison, and Mike Davis. All three can score in the 25 - 30 range on both DK and FD. Henry is an obvious play. Houston's defense is subpar and the Titans, on short rest, might lean more on the run game. Mattison no doubt will be a chalk play but you have to eat this chalk. Atlanta's defense, like Houston's, is also terrible (strangely both cities might have their baseball teams meet up in the World Series next week) and Mattison is a stud athlete. He shined in track and field in high school, much like Dalvin Cook. I suspect Cook's understudy might give the Minnesota Vikings a good problem on their hands: two star RBs and a tough decision to make when Cook is healthy. I hope that those who play in traditional fantasy football leagues were wise to draft Mattison after selecting Cook. Yours truly did!
To finish off our lineup, we will go cheap at tight end with most of the top options not on the main slate. Sure, you can pay up for Mark Andrews and the Philadelphia defense does not defend the tight end position well but if you don't get the TDs (a very real possibility given Lamar Jackson's penchant for rushing TDs), you will have overpaid for the most inconsistent position in fantasy football. I would rather go with Trey Burton of the Colts. Mo Allie-Cox is hurt and Jack Doyle has not been able to take the reins of the tight end spot for Indianapolis. Plus the Bengals are not very good. Finally for defense, we have just enough money for the Pittsburgh Steelers. The Browns have injuries at most key positions on offense. I know I was high on the Pittsburgh DST last week and they let us down last week by allowing 29 points to the Eagles but I believe Pittsburgh will finally do us right tomorrow.
There you have it. Minshew, Henry, Mattison, Davis, Shenault, Golladay, Smith-Schuster Burton, and PIT DST for my FD lineup. That will make me a millionaire and perhaps we can split that prize if you run with the same lineup in the same tournament. Sample lineups for both DK and FD are shown below.


Good luck and be well everybody.