NFL Conference Championship Predictions (2017)
The time has come ... time to determine which two of the four remaining NFL playoff teams will travel to Minnesota for Super Bowl LII. One thing we know for certain is that the "Minnesota Miracle" Vikings (best to use that moniker now before it gets trademarked!) will be flying back home after tomorrow's game in Philadelphia. Will that return trip, however, entail preparation for a Super Bowl in their home stadium or fishing plans in the Land of 10,000 Lakes? Also, is Tom Brady's hand injury just one of the many ruses the New England Patriots like to put out there just to mess with the competition and media? These are two of the big story lines as we gear up for Conference Championship weekend.
Before we get into our analysis, here are details about each game such as time, TV network, and lines.
Jacksonville Jaguars at New England Patriots (Sunday, January 21 at 12:05 PM PT on CBS)
Vegas Line (Westgate Casino & Sportsbook): New England -7.5, O/U 45
GE Line: New England -0.04, O/U 46.71

Minnesota Vikings at Philadelphia Eagles (Sunday, January 21 at 3:40 PM PT on FOX)
Vegas Line (Westgate Casino & Sportsbook): Minnesota -3, O/U 38.5
GE Line: Philadelphia -2.57, O/U 38.21
We will start with the AFC Championship game.
Jacksonville has defied the odds. They were underdogs at Pittsburgh and not just won, but at times were dominating the Steelers with a 28-7 lead right before halftime. This is a team that went 3-13 last year and hadn't been to the postseason since 2007. In fact, the last time the Jaguars were this close to making the Super Bowl was 1999. The head coach then was Tom Coughlin. It's no coincidence that Coughlin's return to the Sunshine State has translated to a phenomenal season for the Jaguars. This time Coughlin is serving in a different capacity as Executive VP of Football Operations. He is a brilliant football mind and has been successful every where he has been.
Speaking of brilliant football minds, Belichick is not so bad himself. Considered the NFL's resident genius, he is notorious for being one sneaky son-of-a-bitch which makes us skeptical about how serious Brady's hand injury really is. Belichick is also well known for taking the opposition's key offensive weapon away so steer clear of Leonard Fournette if you are playing in any fantasy leagues for the NFL postseason. However, for as great of a coach as Belichick has been, everyone has his kryptonite. In the case of Belichick, it's Coughlin. The only two Super Bowls Belichick has lost has been to the NY Giants who were coached by Coughlin. We all know that the best way to beat Tom Brady is knock him on his ass early and often. The team most well equipped to do that is Jacksonville. They rank 2nd in adjusted sack rate and the secondary rivals some of the best secondaries in NFL history like the 2002 Bucs and 2013 Seahawks. Should New England's WRs have a hard time getting separation from Jalen Ramsey and A.J. Bouye, that will buy more time for the Jaguars front seven to pressure Brady.
On the flip side, New England has the GOAT at QB. Busted hand or not, Brady simply has too many weapons at his disposal. PLus, we think the Patriots are just blowing a bunch of smoke about the severity of the hand injury. Brady will be fine. Also, it is very unlikely that whatever pass rush the Jaguars bring, that Brady will allow the pressure to get to him and cause him to falter. First off, Brady has a very a good offensive line protecting him and they are healthy. Secondly, if his WRs are covered, he can always dump it off to his RBs and he has three really good ones who are great at pass catching out of the backfield: Dion Lewis, Rex Burkhead, and Super Bowl LI hero James White. All of them have earned Brady's trust and have delivered at various times this season. There is also tight end Rob Gronkowski who is pretty darn good! How the Jaguars defend Gronk will be interesting. Will they use Ramsey to cover him? They should since strongside linebacker Myles Jack will get destroyed by Gronk. Still, the Jaguars at times should limit what the Patriots will do on offense and the Jaguars are plenty capable with the passing game to find some open seams and get some big plays. While the Patriots have a very good secondary, the linebackers are weak at pass coverage and the WRs for Jacksonville are a talented and deep group. Whoever lines up in the slot for Jacksonville should have a decent game.
The linear regression we run for point differentials has had a nice correlation this season with what actually happens in each game and with so much in-season data we have inputted into our algorithm, we feel our prediction of this being a close game is accurate. Just don't expect an upset since the Jaguars thrive on generating turnovers and the Patriots are very good at not coughing up the ball. Expect a score in the low 20's for each team and perhaps the Patriots will need a game winning drive to earn an 8th trip in the last 17 years to the big game. We are betting that Tom Brady, as well as his throwing hand, will be up to the task.
Prediction: New England 24 - Jacksonville 23.
Now we transition to the NFC Championship game.
The NFL likes thick story lines for the Super Bowl and the story lines would be very intriguing should we get a Vikings - Patriots Super Bowl. Let's list a few ...
First time a Super Bowl team playing in its home stadium which will provide a unique challenge for the Patriots.
Vikings never winning a Super Bowl in its 57 year history and having so much heartbreak but might now be the team of destiny.
Randy Moss is up for Hall of Fame consideration and spent his formidable years with both Minnesota and New England.
Case Keenum started the season as a 3rd string QB for Minnestoa and will be a Super Bowl QB. Similar to how Brady got his start 17 years ago and perhaps we will see the passing of the torch.
Wide receiver Adam Thielen is a hometown boy who has spent his entire life in Minnesota. He went undrafted out of Minnesota State and was cut a few times by the Vikings (ironically the Vikings training camp takes place at Minnesota State). Thielen would enter the Super Bowl as one of the most imposing offensive threats.
Will the Patriots break up the band due to the rumored rift among owner Robert Kraft, Belichick, and Brady over the trade of Jimmy Garoppolo to the 49ers?
That is just six story lines and I am sure there are more I can't think of at this moment. For now, let's stay focused on the task at hand ... the NFC title game. Even though our linear regression analysis favors the Eagles and it has been adjusted for replacing Carson Wentz with Nick Foles, there are three reasons why we like Minnesota to punch a stamp to, well, Minnesota!
Third down conversion. The Vikings did not just lead the NFL in opponent third down percentage but also in third down conversion for the offense. This has not happened in the last 20 years. What is even more impressive is how low Minnesota's opponent third down conversion rate is. It's at 25.12% which is the lowest mark we can find on world wide web. Why is that important? When Eagles QB Nick Foles struggles, it's mainly because he is not converting third downs which pretty much stalls the offense. The correlation between the points a Foles-led team scores and third down conversion rate is strong at 0.611. Below is some linear regression analysis for those two statistics for every game Foles has been a starting QB in his career.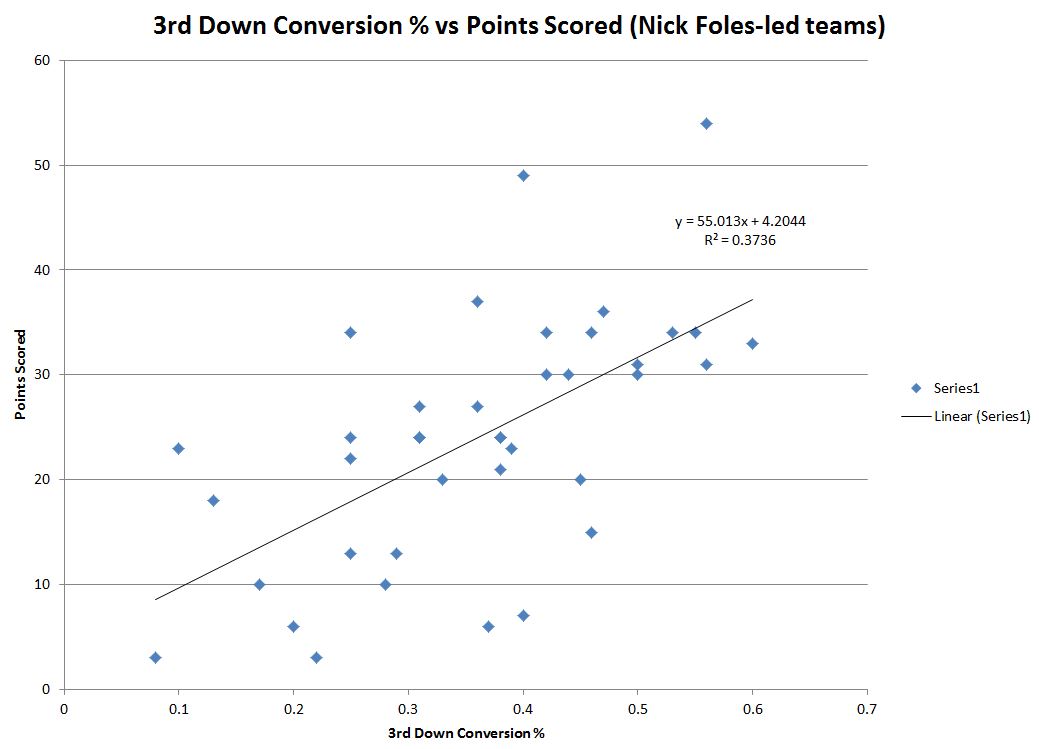 Here is another helpful graphic. This time, we are comparing the Minnesota Vikings 3rd down conversion % differential (difference between 3rd down conversion % for Minnesota offense and the opposition) and points differential for Minnesota. The data is for every game Minnesota head coach Mike Zimmer has coached for the Vikings (starting with the 2014 season).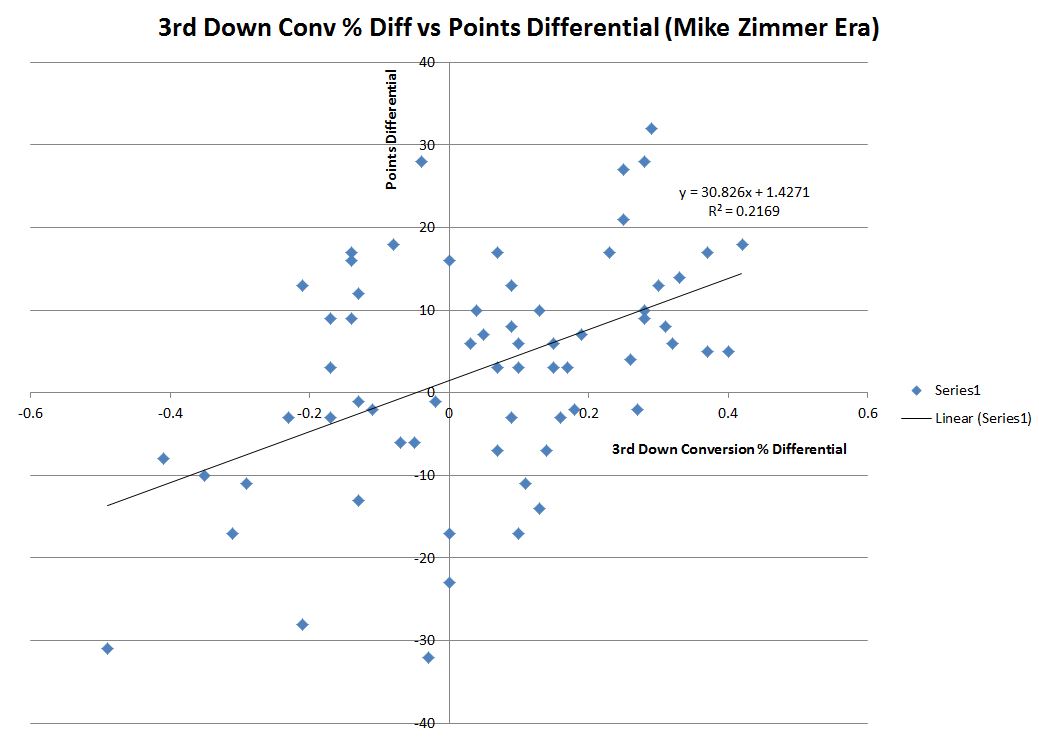 So which Nick Foles do we see? The one who passed for 7 TDs a few years ago during his first stint with Philadelphia or the one who converted just 1 out of 14 third down attempts a few weeks ago? Interestingly both of those games were against the Oakland Raiders! We tend to think it will be the latter considering that Foles has had several games when his team converted less than 20% of third down attempts, sometimes less than 10%. If that happens on Sunday, no way Philly wins. So what does Minnesota need to do to continue it's third down dominance? That leads us to reason #2.
The Jon Gruden effect. Say what? Yes, the Jon Gruden effect. Minnesota offensive coordinator Pat Shurmur was the offensive coordinator for Philadelphia before joining the Vikings. During his time for the Eagles, the starting QB was Foles. If there is anyone who knows Foles better than most NFL coaches, it's Shurmur. That will be of huge value for the Vikings as they prepare their defense for a tough road game in the city of brotherly love. We simply do not see how Foles has any success on sustaining drives when the opposition should be fully aware of most of his nuances. That should lead to a low third down conversion rate for Philly which, we already mentioned, plays into the Vikings hands. The game should be close and low scoring so any advantage the Vikings have in their back pocket must be utilized.

Lastly, we have to play the psychology card here. The "Minnesota Miracle" was perhaps one of the most exciting finishes to an NFL postseason game in recent memory but what made Stefon Diggs game winning TD so significant is the fact that Minnesota is a legitimate Super Bowl contender. Throw in the fact that the Super Bowl is in Minnesota and that the Vikings have never won a Super Bowl yet have an extremely loyal fan base, perhaps the "north" stars are lining up for Minnesota. We have seen this happen recently for other teams that ended long championship droughts like the San Francisco Giants, Boston Red Sox, Chicago Cubs, Houston Astros, and Cleveland Cavaliers. Sometimes the ball bounces a certain way or a certain call is made that may present itself as divine intervention. Should the Vikings finally win a Super Bowl this year, Diggs TD could go down as one of the most symbolic TDs in NFL history. If Diggs doesn't catch that ball or have the wherewithal to streak to the end zone after Marcus Williams missed the tackle, there is no "Minnesota Miracle" and the Vikings and their devoted fan base would be relegated to murmuring, "there is always next year." Want another intangible working for Minnesota? 99 year old Vikings fan Millie Wall has been a center of attention after Roger Goodell gave her two Super Bowl tickets. I am guessing she is going regardless of who is playing in that game but we suspect the team she has been rooting for since its inception in 1961 will be on the field for Super Bowl LII.
So we have some strong statistical evidence working in favor of the Vikings. Coaching and destiny are also in play for Minnesota. If Wentz were healthy, we would be torn about our prediction but with Foles behind center and all else we have discussed, we feel very confident in prognosticating this pivotal matchup featuring two very strong defenses with the winner hoping to dethrone the New England Patriots on February 4.
Prediction: Minnesota 20 - Philadelphia 17.
We welcome your predictions and are already getting pumped up for the Super Bowl, especially if our initial prediction of Minnesota - New England comes true!